The Nissan NP200 ICE Edition was recently introduced in South Africa in an effort to boost sales of the Silverton-produced pick-up, but is it worthy of your consideration? We recently had a turbodiesel-powered version on test to find out…
We Like: Good engine performance and added styling features

We Don't Like: Old interior that lacks some comfort features
Alternatives:
Consumers in the half-tonne bakkie market aren't exactly spoilt for choice and buyers will have to make a decision between the Nissan NP200 and the Chevrolet Utility. It's worth noting that the 1.5-litre turbodiesel NP200 is the only turbodiesel half-tonner currently on sale in South Africa and this particular ICE Edition is priced at R236 900 (February 2017).
For more features: The top-spec NP200 1.5 dCi SE is priced from R244 900 and includes features such as electric windows and a height-adjustable driver's seat. You can also consider the Chevrolet Utility 1.8 Sport (77 kW/161 Nm), which is attractively priced at R224 300 and comes equipped with electric windows and cruise control.

For something cheaper: Consider the petrol-powered ICE Edition. It's significantly cheaper at R191 900, offering 64 kW and 128 Nm of torque from its naturally aspirated 1.6-litre engine. You can also consider the Chevrolet Utility 1.4 UteSurf, priced from R178 700; it produces 68 kW and 120 Nm of torque from its 1.4-litre petrol engine.

Browse the used car market: Buyers can also consider buying a used Nissan NP200 or Chevrolet Utility. In a recent article published on Cars.co.za, it was revealed that the NP200 and Utility are some of the fastest selling used cars on Cars.co.za with average selling prices of R102 664 and R118 178 respectively. This is an indication that these models are highly sought-after in the used car market. Search for a used examples of the Nissan NP200 or Chevrolet Utility on Cars.co.za!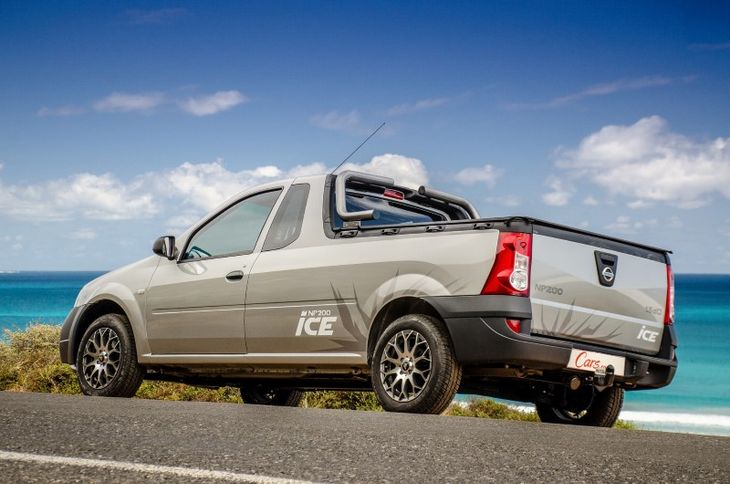 The NP200 ICE Edition features additional visual enhancements such as decals, dark-tinted windows, a nudge bar and sports bar.

The Nissan NP200 bakkie has been on sale in South Africa for many years and despite it being rather long-in-the-tooth now, it's still selling well. In fact, the NP200 is currently the best-selling "half-tonne" bakkie in the country (its designation is a bit of a misnomer, because its payload is, in fact, 800 kg) outselling the rivalling Chevrolet Utility by a fair margin.
However, current economic turmoil has put the half-tonne bakkie segment under pressure as small businesses are forced to cut expenditure to stay afloat. Sales figures from 2015 and 2016 confirm a downturn in sales that will likely persist in the short to medium term.

In an effort to counteract tough market conditions, manufacturers such as Nissan, have to get creative to find ways to crack more sales. One way to do this is to launch a special edition and in Nissan's case, the NP200 ICE Edition aims to attract private buyers as well as small business operations.

Is a mild styling makeover enough reason to consider the Nissan NP200 ICE Edition? We recently had the 1.5 dCi ICE on test to see what it has to offer…
The Good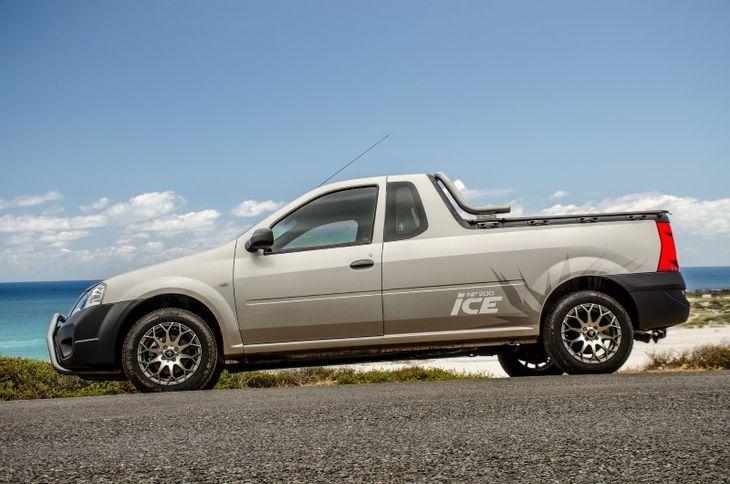 The NP200 1.5 dCi ICE Edition returns good fuel economy and provides adequate performance.
Willing Engine. The 1.5-litre turbodiesel engine under the bonnet of this ICE Edition develops 63 kW and 200 Nm of torque. That's enough to propel the NP200 round town at an acceptable pace and the 5-speed transmission is well-suited to the engine.
Considering the age of the NP200's underpinnings, ride quality was better than we expected and the car felt quite nippy through corners and uneven road surfaces don't unsettle the suspension too much. Out on the highway, the ICE Edition felt comfortable at the national speed limit and gearing down was occasionally required to get the most from the engine when overtaking. However, for the most part, the Nissan performed to satisfaction. Performance will likely suffer under full load, but 200 Nm of torque should help matters somewhat.

Good fuel economy. Buyers will be happy to know that the turbodiesel-powered NP200 is quite frugal too, with a claimed fuel consumption figure of 5.3 L/100 km. The fuel gauge hardly budged during its test period at Cars.co.za and you should easily achieve figures between 6 and 7 L/100 km.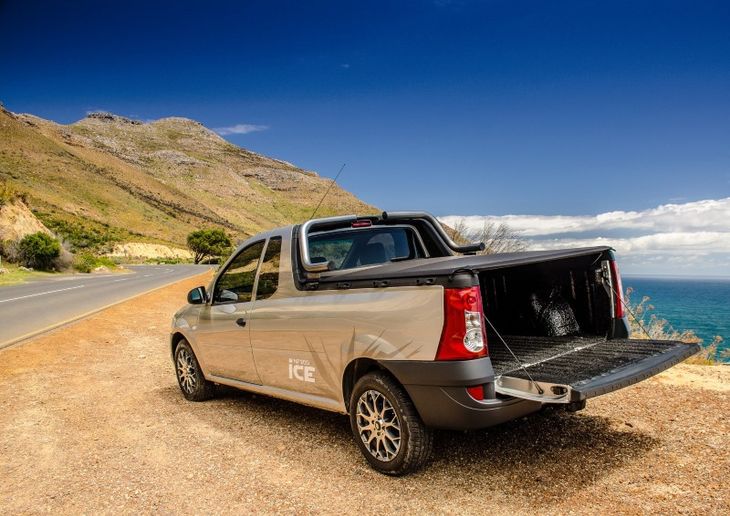 The NP200 has a sizable load bay and a tonneau cover is fitted as standard on the ICE Edition.

Practicality. The ICE Edition's rear tub is rubberised and big enough to carry a wide range of items. The loading area measures 1.8 metres in length and 0.5 metres in depth and we easily transported several surfboards to the beach without any hassles. You should also find the standard tonneau cover handy as it effectively hides your cargo from plain sight. Being a two-seater bakkie, the NP200 ICE Edition is not suitable for family use, but it's perfect for small business owners or single private buyers.
Improved looks. The ageing NP200 in not particularly good-looking in standard guise and the ICE Edition adds some much-needed life to an otherwise insipid offering. The ICE Edition gains features such as an aluminium nudge bar, sports bar, custom 15-inch alloy wheels and ICE decals around the rear wheel arches and tailgate. Smash-and-grab dark tinting is standard and the ICE Edition is offered in two colours, Bright Silver and Starling Blue. All these features enhance the look of the NP200 and make it appear appreciably more attractive.
If styling matters to you, then you should find the ICE Edition suitably more attractive than the standard NP200 and perhaps even the Chevrolet Utility.
The Bad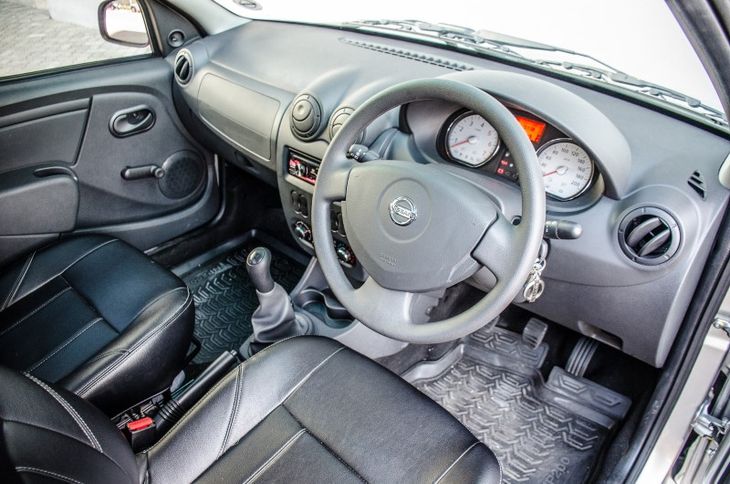 The interior is old, but leather upholstery lifts the ambiance somewhat.

Solid but uninspiring interior. The interior of the NP200 is best described as "uninspired". The design is painfully dated but features such as leather seats and an aftermarket radio with Bluetooth streaming functionality and a USB port are welcome additions. Hard-wearing rubber mats are a handy too and the windows can be opened/closed with manual winders.

The interior is very basic and the steering wheel is bulky and awkward-looking. It must be said though, despite the interior being lacklustre, it's solidly built and the hard-wearing plastic feels like it will survive tremendous abuse, which is a good thing for a working bakkie.

Annoying features. We found the positioning of the air conditioning controls annoying, as they are located low down ahead of the gear lever, making them difficult and distracting to use while driving. To keep costs down, central locking is not included and you have to keep reminding yourself to lock the passenger door from the inside when you exit the vehicle.
One size fits all. The steering column is not adjustable for rake and reach, which means you simply have to fit, no matter what size you are. The seats are manually adjustable and the driver seat is not height adjustable. There is, however, enough space behind the seats to store items such as a laptop bag and other smaller items. Storage nets are also provided to prevent items from rolling around behind the seats.

Verdict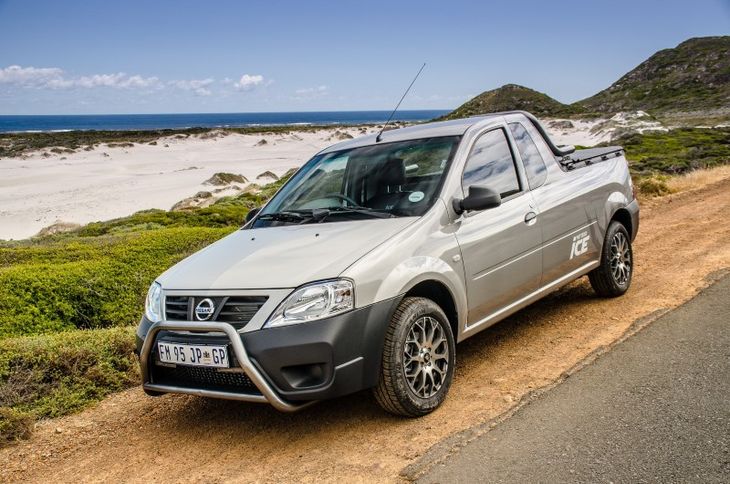 The NP200 1.5 dCi is the only diesel half-tonne bakkie on offer in South Africa. What you see is what you get!
Overall, the diesel-powered NP200 ICE Edition lacks some nice-to-have features such as electric windows and an adjustable steering column. However, its engine performs well and it returns good fuel economy that its petrol-powered rival won't beat. Yes, the interior is old and uninspiring, but at least it's built to last.

If you want a diesel half-tonne bakkie with a dash of style and are willing to forego some comfort features, then the NP200 1.5 dCi ICE Edition is worth a look. However, if you are looking for a petrol-powered half-tonne bakkie, then the Chevrolet Utility might just be the better buy as it comes with more features and will likely fetch a higher price when you decide to sell it. The attractive price of the petrol-powered NP200 ICE Edition is, however, difficult to ignore.
Related content
Nissan NP200 ICE Edition (2016) First Drive
Three Unusual Reasons Why The Nissan NP200 Stealth Is Awesome (Video)
Chevrolet Utility Club 1.8 Review
10 Fastest-Selling Used Cars on Cars.co.za
Interested in buying a Nissan NP200?