While we've only seen the first phase of the Navara lineup introduction, this much-delayed Japanese pickup has already sparked much debate, primarily about the real-world advantages of its all-new suspension setup. Tested here in manual LE 4x4 guise, does Nissan's newcomer have what it takes to back up its (theoretical) technical progress?
We like: Smooth and powerful engine, specification
We don't like: Small, hard-to-read, infotainment screen
Alternatives
The Market Favourite: The Ford Ranger is the top-selling leisure double-cab in the market, and similarly priced in 3.2 XLT 4x4 guise. It is a bigger bakkie overall, and inside the design and ergonomics are probably marginally superior to the Navara. The engine is thirsty though, and not as refined as the Nissan's. Leather upholstery is standard in the Ford. Read our review of the pre-upgrade model here.
The Legend: Toyota's current Hilux is, in some aspects, underrated. Available at the same price in 2.8GD-6 Raider specification, the Hilux is as tough as ever, but significantly more refined. It remains one of the firmer-riding bakkies, however, and the cabin is not as spacious in the rear as many of its rivals. We love the engine and off-road ability. View a video comparison with the Ford Ranger here.
Don't forget the Triton: Available at around R30 000 less, the Mitsubishi Triton 2.4DI-D 4x4 may lack some of the fancier features of its rivals listed here, as well as a few airbags, but it's a solid vehicle that impresses with its blend of refinement, power and on-/off-road comfort. Worth a look for sure. View our video review here.
Compare the Nissan Navara 2.3D 4x4 LE with the Ford Ranger 3.2 XLT 4x4 and Toyota Hilux 2.8GD-6 Raider 4x4 by clicking here
Straight into a fierce battle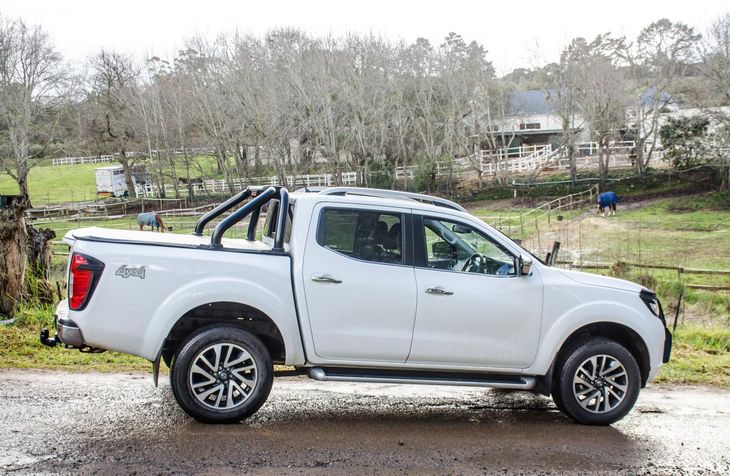 Adorned with some official Nissan accessories, the new Navara is an attractive new entrant. Good ground clearance and stubby front end promise good off-road clearance.
Shoppers in the market for a primarily leisure/lifestyle-oriented double-cab bakkie are truly spoilt for choice at the moment. From the superb (but pricey) new Amarok V6 to relative newcomers such as Mitsubishi's impressive Triton and "old-faithfuls" from Toyota and Ford in between, the market is packed with capable offerings. The general excellence in the market, however, does make it more difficult for each newcomer to make its mark.
Nissan, once one of the frontrunners of the Leisure Bakkie brigade, has taken its time to bring the all-new Navara to the market. On paper, it appears to be a strong new entrant, having scooped the international 2016 "Pick-Up of the Year" award and offering a new twin-turbodiesel engine and a radical (for this segment) suspension set-up that promises SUV-like ride quality. Does it live up to the hype?
How does it fare in terms of...
Design & packaging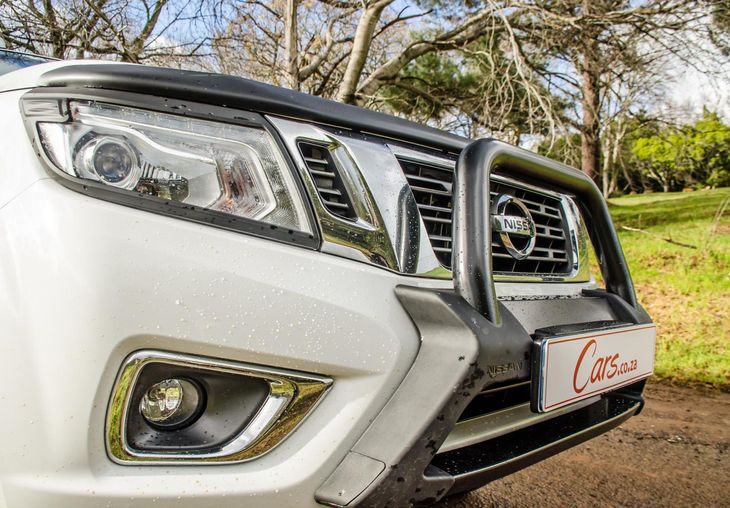 The bold front end can be further enhanced with official Nissan accessories such as headlamp surrounds and nudge bars. LED driving lights are standard.
The previous-generation Navara had a long model life and still appeared remarkably fresh even towards the end of its production cycle. This newcomer doesn't really break major design ground and can be considered a subtle evolution of a look that served Nissan well. Still, the Nissan is notably more muscular-looking compared with its straight-edged predecessor, courtesy of more pronounced sculpting of the bakkie's bonnet and "shoulders". In fact, those bonnet curves are really noticeable from the driver's seat. The roofline is lower than before, adding to the more squat appearance. There is also an interesting kick in the rear side window line, which adds a hint of "sportiness".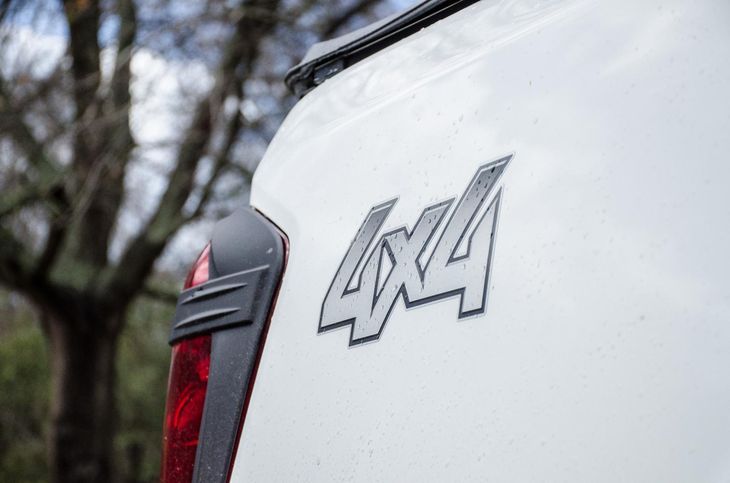 Nissan even offers black surround trim for the taillamps, as well as a sturdy tonneau cover.
This LE specification model further benefits from the standard fitment of 18-inch wheels, chrome side mirror housings and those LED daytime runnings lights are standard, too. Nissan offers a variety of optional extras for the Navara, and some of those fitted to this test unit (prices quoted August 2017) include: headlamp surrounds (R1 175), taillamp surrounds (R1 175), black nudge bar (R6 554), black sports bar (R7 419), tow bar with LED downlight (R4 813), black bonnet guard (R1 053), tonneau cover (R3 935) and steel side steps (R6 925).
From a practicality point of view, it's worth noting that the loading tub is bigger than before – it is 67 mm longer and 18 mm deeper – resulting in a capacity of 1 111 litres. This particular derivative is rated to lug up to 967 kg.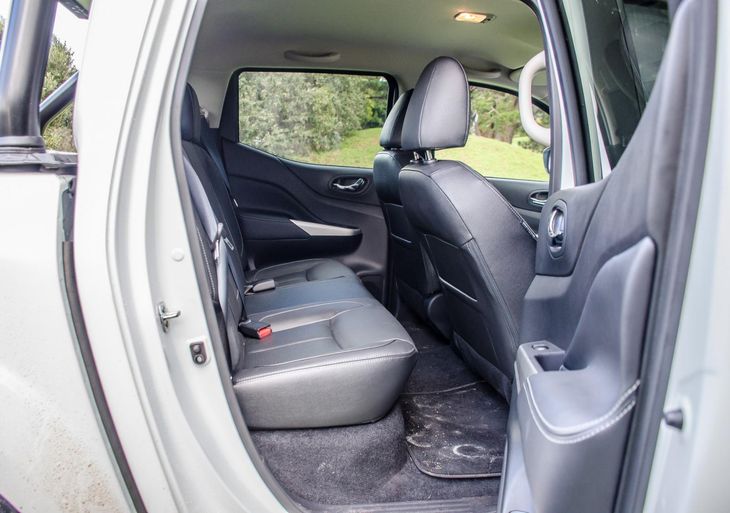 Rear legroom is above average for a vehicle in this segment and headroom is good. The seats proved comfortable. Rear ventilation outlets are fitted.
Inside, you'll find a spacious cabin with particularly impressive shoulder room. The seats are particularly comfortable and irrespective of whether you sit at the front, or rear, the legroom is better than fair. In front, it is disappointing to note that the steering wheel doesn't offer reach adjustment, and there's limited range of height-adjustment on offer, too. Now add to this the fact that the electrically adjustable seat (optional) doesn't adjust particularly low, and the driving position can feel a trifle too elevated for some. Nevertheless, having heated seats in a leisure bakkie (part of the optional electrically adjustable seat/leather package) is a real boon. Another convenient little "surprise" feature is the electrically operated rear sliding window.
The lack of attention to detail is regrettable. While the designers have added a few useful recesses for oddments storage, they lack rubber floors, so items slide around – and noisily so.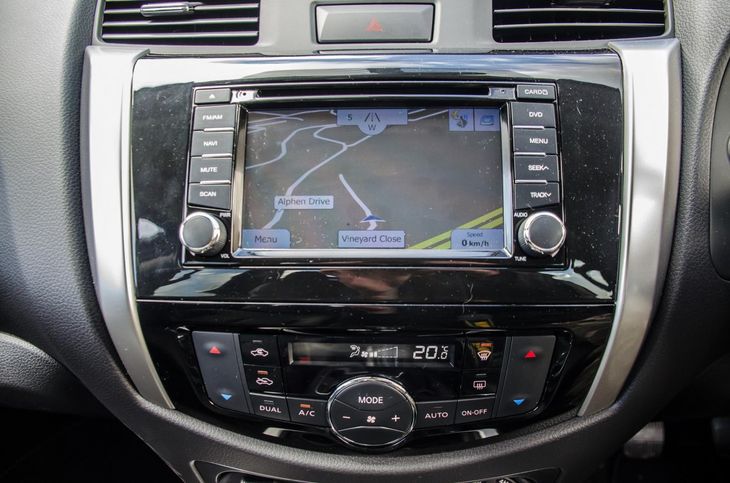 The infotainment screen is relatively small and legibility was a problem identified by our testers. Includes navigation as standard.
However, our main gripe with the interior concerns the infotainment system. While it is packed with functionality (SatNav, USB/aux and Bluetooth) and even includes a reverse-view feed courtesy of a rear-mounted camera, the screen is tiny and the virtual buttons hard to read. No amount of fiddling with the display's brightness levels improved matters – the setup is simply not as legible and, therefore, user-friendly as some of the systems on offer from the competition. For such a new, otherwise technically advanced product, this system is a real let-down.
Power & Economy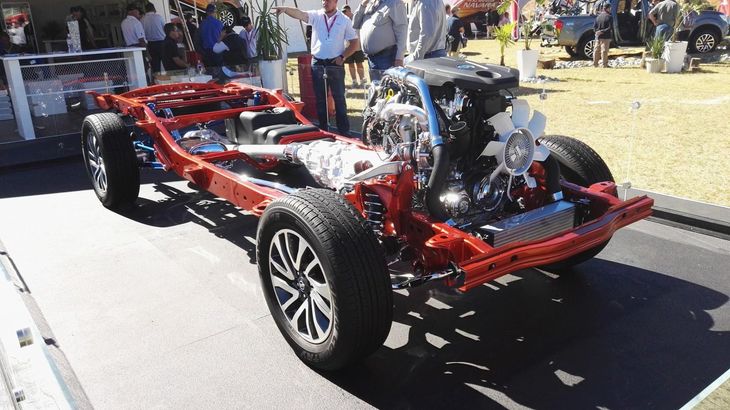 Shown here mounted on the Navara's ladder-frame chassis, the new twin-turbodiesel engine is impressively smooth.
Making its debut in the new Navara is a twin-turbo 2.3-litre turbodiesel engine that delivers a strong 140 kW and 450 Nm of torque. These figures compare very favourably with the larger engines used by the Nissan's main rivals, and the torque peak is available from 1 500 to 2 500 rpm. Nissan has not quoted performance figures for the Navara, but subjectively the bakkie's power/torque delivery feels strong and smooth, though it runs out of steam a bit earlier than expected at higher revs. A tow rating of 3.5-tonnes (for a braked trailer) is quoted.
In this derivative, the engine is mated with a slick-shifting 6-speed manual transmission. A rear differential lock is fitted for use in more difficult off-road scenarios and hill-start assist makes pulling away on inclines a cinch. You also get shift-on-the-fly 4-wheel drive, with four-wheel drive High and Low modes on offer. It is possible to switch to 4H at speeds up to 100 kph. In off-road situations, we found clutch modulation a little trickier to master than in some competitors' products, but there's more than enough crawling torque to clear most obstacles.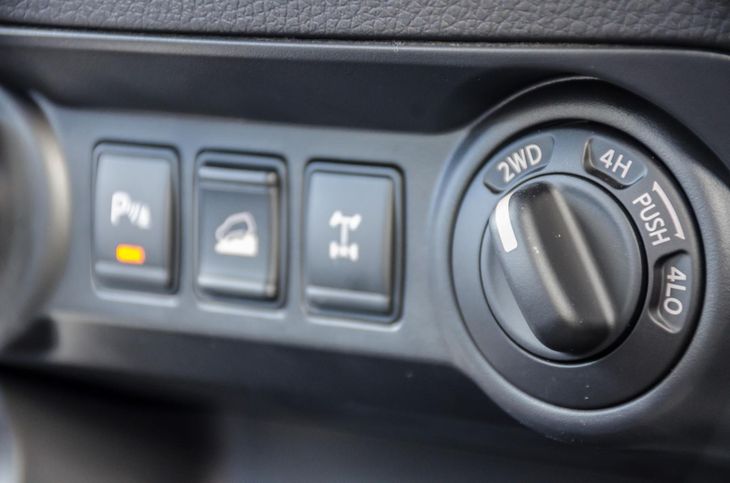 Easy shift-on-the-fly off-road modes are offered. Hill-descent control and rear diff-lock also standard.
Where the Navara most definitely has a number of rivals beat (in particular the Ford Ranger), is in terms of fuel efficiency. With a quoted combined cycle consumption figure of 6.5 L/100 km, it comfortably undercuts the Toyota Hilux, too. Our real-world test figure worked out to around 8.2 L/100 km.
Ride & Handling
Now on to one of the more controversial aspects related to the new Navara: its chassis/suspension. During the development of the Navara the decision was made to differentiate more workhorse-oriented variants from the leisure offerings such as this double cab. In line with a move that happened in the SUV market some time ago, the decision was to incorporate coil-sprung 5-link suspension for the leisure offerings, and traditional leaf springs for the workhorse derivatives. The theory is that a coil spring setup wouldn't only improve ride comfort, but also handling, body stability and even bring a weight saving (20 kg in this instance). The new Navara is claimed to be more than 170 kg lighter than its predecessor overall.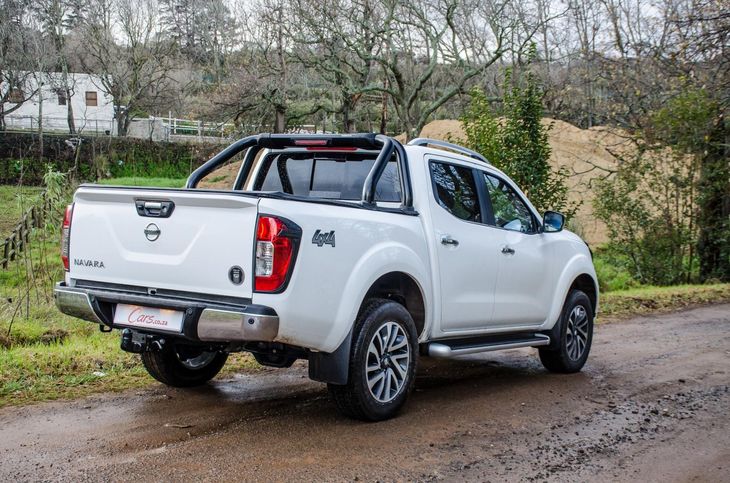 We tried the Navara on a variety of surfaces, but struggled to identify a significant ride comfort improvement compared with conventionally-sprung rivals.
There was, however, an obstacle... the more SUV-like ride comfort should not come at the expense of load-carrying ability. To this end, heavy-duty coil springs and shock absorbers are mounted in front of the solid axle for the main damping. The central damping point was then moved to right on top of the rear axle, which according to Nissan allows for heavier loads.
It is said that Nissan engineers conducted more than 1.6 million km of testing on this suspension set-up, and local engineers further enhanced the package to suit local conditions and to specifically allow for heavier loads, a higher ride height, and for more regular off-road and gravel driving.
Does it work?
In short, testing didn't offer up conclusive proof either way. We would agree that the Navara's rear end is less prone to the bouncing effect that is so typical of driving an unladen bakkie. We'd also agree that the set-up seemingly results in greater rear-end stability, which makes driving at higher speeds (particularly on gravel surfaces) a less scary or fraught exercise. But we're not sure that ultimate ride comfort has been noticeably improved, if at all. We'd like to add context to that statement by saying that, in comparison with, for example, a Toyota Hilux, the Nissan's ride is certainly softer, but when vehicles such as the Volkswagen Amarok and Ford Ranger are considered, the Nissan's advantage is seemingly negligible.

From a safety point of view, however, there may well be enough merit in Nissan going this route. As we said earlier in the review, the Navara feels stable at higher speeds and the safety package (active and passive) is comprehensive. The Navara carries a 4-star EuroNCAP rating (see crash video above).
Off-road, the Navara put in a solid showing, with its new suspension allowing for greater wheel travel, benefitting performance across rutted surfaces or cross-axle obstacles. It is also worth noting that a shortened wheelbase and a particularly stubby front-end has resulted in significantly improved approach and breakover angles. Even the departure angle is apparently improved by as much as 3 degrees. All of this contributes to the Navara feeling quite nimble and manoeuvrable in off-road conditions.
Standard features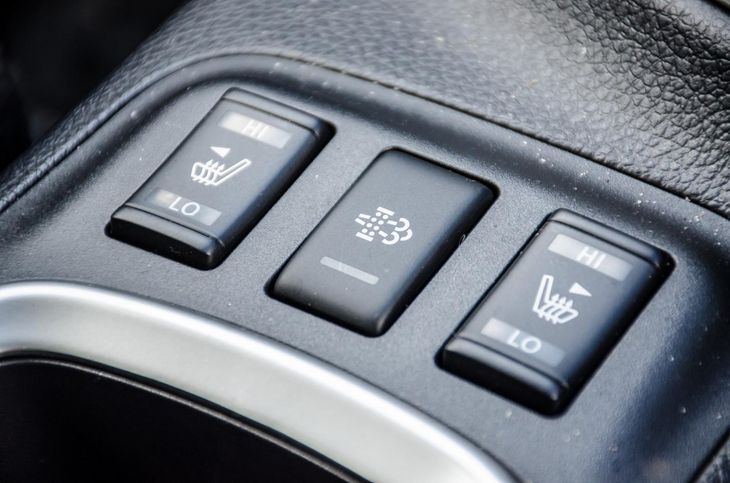 Heated front seats are optional, and bundled with leather upholstery and electric adjustment for the driver's chair.
The Navara is specced very competitively versus its similarly priced rivals and even beats them in some respects. For example, this derivative boasts 18-inch alloy wheels (Ford and Toyota on 17s), has keyless access/start and LED daytime running lights as standard. Those aren't necessarily decision-determining factors, but keep in mind that it matches its most obvious rivals in almost all other respects, except for not offering leather upholstery as standard. You can, however, upgrade your LE at a cost of R13 000, in which case you don't only get leather upholstery, but also front seat heating and a driver's chair that is 8-way electrically adjustable.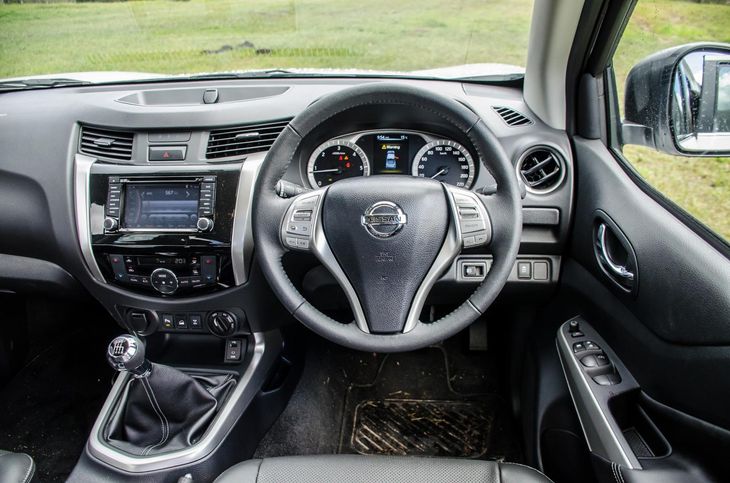 The Navara's cabin is packed with features but there are some disappointing details, such as lack of rubberising in storage areas and limited steering adjustment.
Also fitted as standard are; auto-lights, dual-zone climate control, rear park-distance control with a camera view (unfortunately not very clear), cruise control, electrically folding mirrors and the aforementioned disappointing info-tainment system that does, however include navigation, Bluetooth and USB/aux support.
The Navara is also packed with a comprehensive safety package, including 7 airbags, ABS with Brake Assist and EBD, as well an electronic stability system. Also fitted is ABLS, which individually controls each of the four wheels to optimise traction in challenging conditions. Essentially, it is similar to the benefits that a limited slip differential provides, but it works on all for wheels, not just the 2 primary driven ones. Furthermore, hill-start assist and hill-descent control are fitted, too.
Pricing and Warranty
The Nissan Navara 2.3D 4x4 LE sells for R567 900 (August 2017) without options. Included as standard is an impressive 6-years/150 000 km warranty as well as a 3-years/90 000 km service plan. Service intervals are every 15 000 km.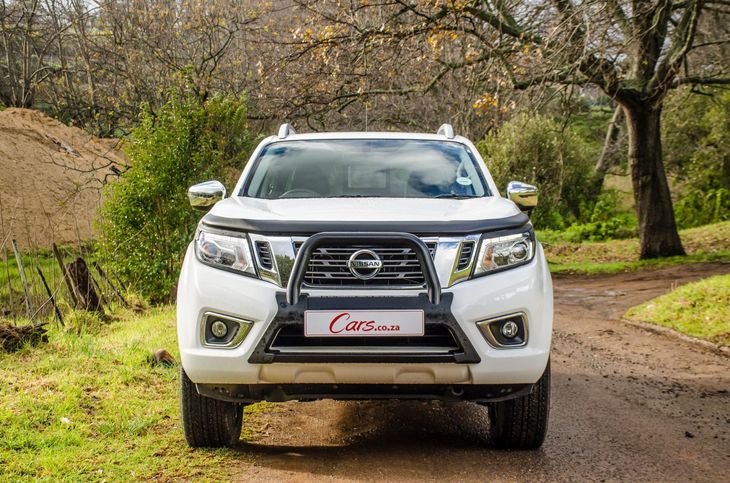 Some small detail refinements could easily turn the new Navara into a segment front-runner.
Verdict
This Navara derivative is a well-priced proposition in a very competitive segment, especially considering its generous standard specification, powerful and smooth engine, competitive warranty/service plan and spacious, comfortable cabin. The basics are certainly there for a very serious assault on overall segment leadership, but Nissan needs to rectify a few details if it is to topple the current market leaders...
First of all, the cabin needs an upgrade, not only in terms of the infotainment system, but also some grippier, higher grade materials wouldn't go amiss. It is also possible that some further tuning of the suspension could be required for the SA market. Perhaps, in the case of this leisure-oriented double-cab, too high an emphasis has been placed on load-carrying ability, which has potentially impacted the new suspension's ability to deliver a class-leading ride quality. Nevertheless, at its core the new Navara is a solid, impressive offering that we believe hasn't quite yet reached its maximum developmental potential. This is just the start...
You may also be interested in
Why the Nissan Navara shakes up the bakkie market
Are Double-Cab bakkies the new SUVs?
Mercedes-Benz X-Class and the rivals it has to beat
Most powerful Double-Cab bakkies in SA
Looking for a new / used Nissan Navara to buy?