With the new Nissan Micra scheduled to reach South African shores in 2018, some might argue that it would be pointless to consider the ageing current version... However, Nissan South Africa is hedging its bets: whereas the new Micra will move upmarket, the cheerful hatchback we all know will continue (in Active guise) as a budget car. It looks like quite the bargain...
We like: Solid, honest motoring experience, good safety spec, can be customised
We don't like: Optional radio, engine will struggle when the Micra's fully loaded with passengers and cargo
Alternatives
Budget-friendly award winner: The Suzuki Celerio is powered by a 1.0-litre engine (50 kW/90 Nm), is well specced with convenience and features, plus it won its category in the 2016/17 #CarsAwards. Just because it is cheap doesn't mean it's nasty – a highly underrated vehicle.
Go French: The Renault Sandero is the only turbocharged offering in this lineup and when the car's loaded up you'll appreciate the extra shove! It's a tad more expensive than the Nissan, but we think it offers a better versatility, especially thanks to its spacious luggage bay.
Compare the Nissan to the Renault Sandero and Suzuki Celerio here
Facts & Figures
Price: R159 900 (December 2017)
Engine: 1.2-litre petrol three-cylinder
Power/Torque: 56 kW / 104 Nm
Transmission: 5-speed manual
Fuel consumption: 5.2 L/100 km (claimed)
0-100 kph: 13.2 secs
Top speed: 166 kph
Boot capacity: 265 litres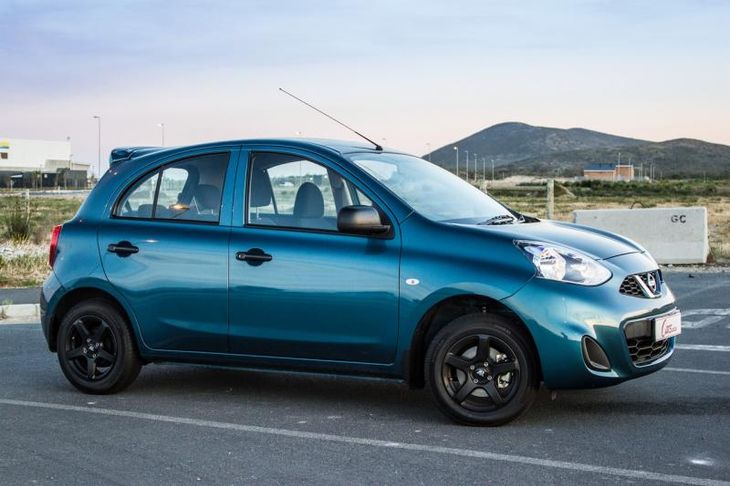 Nissan is positioning its Micra into the budget segment, while the new Micra will offer much more in the way of tech and performance.
What is it?
The new Micra arrives in South Africa in 2018, but Nissan's local subsidiary is "pulling a Polo Vivo" by retaining the outgoing model, which will be sold as a budget offering alongside the newer, high-tech Micra. Okay, there's nothing groundbreaking here and admittedly this Micra is getting on its years, but the strategy is a clever one: while the new Micra will take on the new Volkswagen Polo and Ford Fiesta, this older Micra Active will compete against the popular Volkswagen Polo Vivo and Renault Sandero, to name just 2 rivals. Given its price tag, is it worth your time and energy, or should you be looking elsewhere?
The Good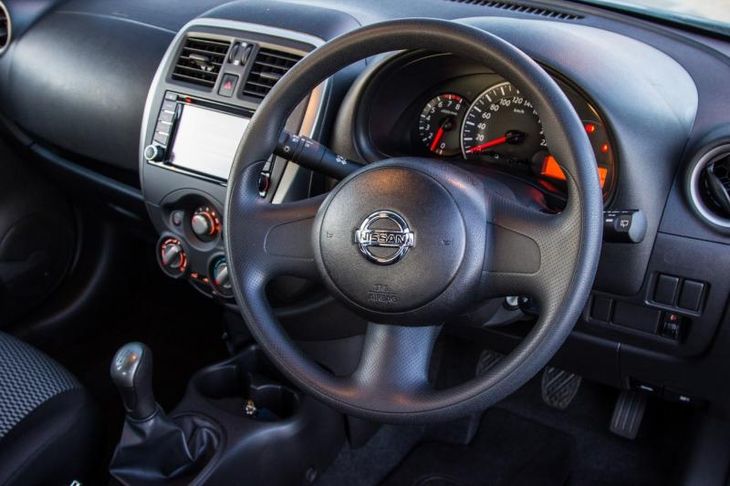 A simple and fuss-free motoring experience awaits you from behind the wheel of the Nissan Micra
Inherent solidity
It's hard to describe the feeling of substance, but we'll give it a go. See, many entry-level cars feel notoriously flimsy and thin in places; almost as if it would be a miracle if they (the cars) would last beyond 100 000 km. This Micra, however, is a little different. It has a reassuringly solid feel to it as if it has been designed to handle whatever hard use its owner or occupants can subject it to. It may be basic and affordable, but it feels tried and tested, not flimsy.
Ride and drive
That feeling of solidity continues in the way the Micra Active drives. While some (typically skinny-tyred) budget cars feel so light on their... wheels, so much so that they're vulnerable to crosswinds, the Active offers good stability and its cabin incorporates a fair level of noise, vibration and harshness suppression. At sea level, the little 1.2-litre 3-cylinder motor pushes out 56 kW and 104 Nm, which combines well with a neatly-spaced 5-speed manual gearbox. The engine is also reasonably thrifty and while the claim of 5.2 L/100 km is a little hopeful, we were happy to see returns of around 6.0 L/100 km.
Customisation
It may be marketed as a vehicle aimed at thrifty buyers, but you can have some fun with some visual upgrades such as a rear spoiler (R2 893), 14-inch black alloy wheels (R5 070) and metallic paint (R1 350). All of these were fitted to our test unit, which gave the Nissan an extra bit of street cred. No one said budget has to be boring and in this segment, you're not spoilt for choice when it comes to new cars with some visual personality...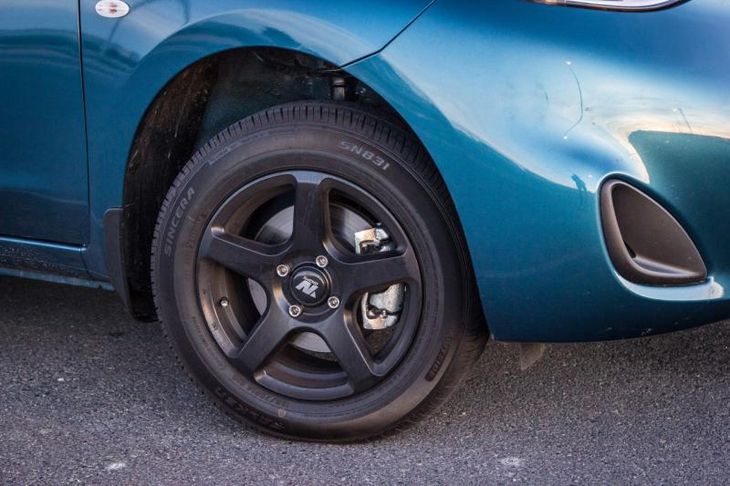 The metallic paint and black alloy wheels add some personality to the Nissan Micra Active
Features
Even though the Micra Active is a cut-price offering, it still boasts a reasonable amount of kit as standard. Remote central locking and electric front windows are nice-to-have features, but we were surprised to find that an audio system is an optional extra. The good news is that this touchscreen audio system is an item well worth ticking on the options list because it boasts AM, FM, CD, MP3, RDS, auxiliary & USB inputs, Bluetooth with audio streaming AND satellite navigation. In terms of safety features, the Micra Active includes a driver and passenger airbag and ABS, which is on par for the segment. Nissan was offering a killer deal when this vehicle launched, where the satnav audio system was added on for free. Perhaps there are still some units floating around?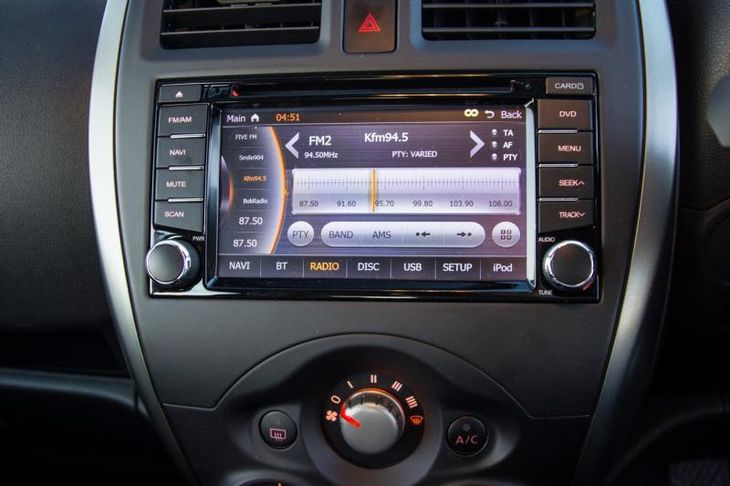 The infotainment system features navigation, Bluetooth streaming and a nice touchscreen interface. We'd like it to be a little brighter though.
The Not-so-good
Engine doesn't quite have enough
We've already said that the Nissan's engine is adequate for general use, but when you consider that the little car will have to work as hard as it can to lug 4 occupants, plus a capacity load of luggage/cargo in the thin air of Johannesburg, the outlook looks less than rosy. For those who are not aware, the higher you climb, the less dense the air is, resulting in a power drop for naturally aspirated vehicles. Typically non-turbocharged cars lose around 17%, which for the Micra means it's now pushing out a paltry 50 kW. Thankfully the proven powertrain should be able to withstand this sort of treatment now and again.
Price and warranty
The Nissan Micra Active costs R159 900 and it comes with a 3-year/90 000 km service plan and an excellent 6-year/150 000 km warranty.
Verdict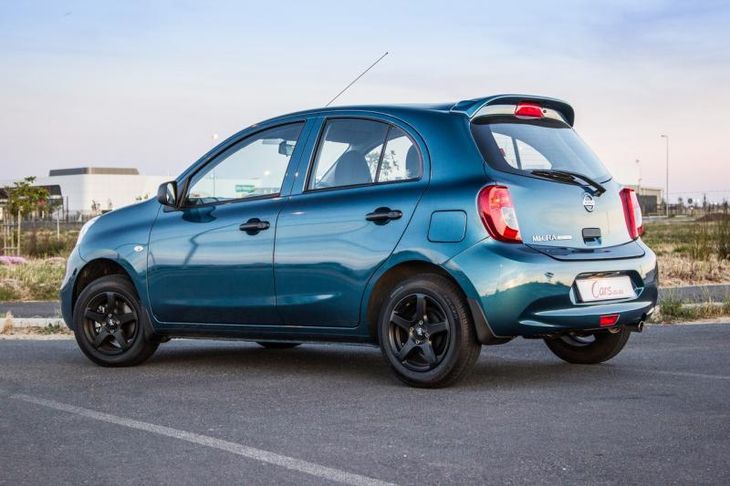 Simple and affordable, with a splash of personality. The Micra Active will be sold alongside its newer brother when it arrives next year.
It's a clever ploy by Nissan to tap into the budget car segment. If it has worked for Ford (Figo) and Volkswagen (Polo Vivo) then there's no reason why this Active derivative won't do well alongside its newer sibling, which we predict will cost at least R175 000. If you can get past the looks and don't have to lug much cargo, then the Micra should be on your shopping list as its price is hard to argue against. Save up to get the radio as an option, you won't regret it.
At this price point, there are very few cars that offer as much car as the Micra does. When you kit it out with some alloy wheels and the little wing, it gains some personality compared to the drab offerings in this segment. In a budget-sensitive segment, the 150 000 km warranty really sweetens the deal!
Related content:
Nissan Micra (2017) International First Drive
Volkswagen Polo Vivo (2014) Review
Volkswagen Polo Vivo GTS (2016) Review
Toyota Etios 1.5 Sprint (2017) Quick Review
Juliet McGuire tests a trio of budget cars
Searching for a used Nissan Micra?