The Nissan e-NV200 Workspace Concept aims to cater for people working on the move and it's actually quite impressive. Let's take a closer look…

The e-NV200 is an all-electric commercial vehicle targeted at business users as well as large families. Nissan has gone a step further and partnered with well-known design workshop, Studio Hardie, to create the world's first all-electric, zero emissions mobile office and it's called the e-NV200 Workspace Concept. At Cars.co.za, we love our coffee and we love our work and we think the e-NV200 is awesome!
If you are the kind of person that hates being chained to your desk on a daily basis, then the e-NV200 Workspace Concept will offer you a glimpse at a potential alternative reality. You see, flexible working routines and what is known as 'hot-desking', the ability to work on the move wherever and whenever you want, is on the rise and Nissan has tapped into this global trend and created the e-NV200 Workspace Concept to meet the needs of all you worker bees on the move.
Practical office space?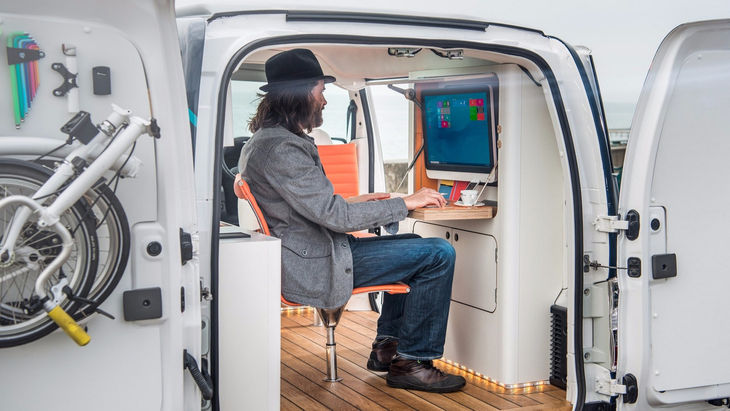 The Nissan e-NV200 is a fully-fledged mobile office, and it's got a coffee machine.
Simply put, the cargo area of the e-NV200 Workspace Concept has been converted into a flexible office environment. A fully operational desk folds down from one side, revealing a touchscreen computer and ample storage space for paper, notebooks, and stationery. A wireless mouse and keyboard is also offered and wireless Internet will keep you connected.
The best part of the e-NV200 Workspace Concept, if you are a coffee lover, is that a barista-grade coffee machine rises from the counter to serve your caffeine addiction while you get on with business, parked at your favourite beach. Furthermore, there are two office chairs fitted too, allowing you to hold meetings on the fly if you have to. Other cool features include a mini fridge draw, a wireless charging pad and Bluetooth speaker. You can even set the mood with smartphone-adjustable LED floor lighting.

The e-NV200 Workspace Concept also features a panoramic roof, attractive oak flooring with a pull-out deck and a foldable bike, just in case you need one.

"We specialize in creating amazing space in unexpected places, but we're never done anything in an electric vehicle before. We believe the future of technology is a return to quality craftsmanship, so we've also looked to hone an environment that professionals will really enjoy working in, with all the comfort and connectivity of a modern office, with a few surprising touches" said Designer, Will Hardie.

The video below explains the vision for the Nissan e-NV200.

Related content:
Nissan NP200 ICE Edition (2016) First Drive
All-new Nissan Micra Revealed in Paris
Nissan Kicks [2018] First Drive
Nissan GT-R (2017 model) Launched in SA
Want to buy a Nissan NV200?
Find a new or used Nissan NV200 on Cars.co.za