Last year it was announced that two of the world's biggest vehicle manufacturers had formed an alliance and would be cooperating on a number of projects, including the next Amarok, which will be built at Ford's Silverton plant. Now it's official!
Renders of the 2022 Amarok were created by Duwyne Aspeling of Cars.co.za
Given how the motoring landscape is rapidly changing and nimble brands such as Tesla has come to the fore and disrupted the status quo in the automotive market, it makes perfect sense for 2 of the biggest established players to form a product-, as well as a tech-focused, alliance.
Formally confirmed at the 2019 Detroit Auto Show, the relationship and agreements between Volkswagen AG and Ford Motor Company are in line with the brands' shared goals to satisfy customer demand and "boost competitiveness in an era of rapid change." It's a fascinating alliance in that it does not entail cross-ownership and will be managed by a joint committee led by the respective brands' bosses (Volkswagen recently appointed a new brand CEO). This is not a merger, nor is it an acquisition.
Ford and Volkswagen have now signed agreements that will expand their global alliance to meet the needs of customers around the world.
"In light of the Covid-19 pandemic and its impacts on the global economy, it is vital to set up resilient alliances between strong companies," said Volkswagen Group chief executive Dr Herbert Diess. "This collaboration will efficiently drive down development costs, allowing broader global distribution of electric and commercial vehicles, and enhance the positions of both companies."
Both Ford and Volkswagen will be developing commercial vans and medium-sized bakkies for global markets, the first of which should be hitting showroom floors as early as 2022. It is expected that demand for bakkies and vans will climb in the next 5 years.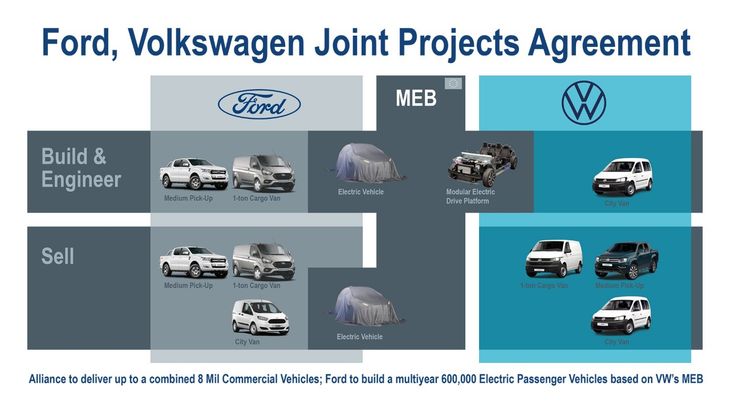 Notably, the next-generation Volkswagen Amarok will be based on the Ford Ranger and it has been confirmed that the new Amarok will be produced at Ford's Silverton plant in South Africa from 2022.
Thomas Sedran, Chairman of the Board of Management of Volkswagen Commercial Vehicles commented: "What is important for both partners is the utilisation of the same platform. At the same time, we will both be able to fully deploy our strengths. Through custom designs and interfaces we will clearly differentiate the two models. For us as Volkswagen Commercial Vehicles, our sights with the Amarok successor are on our main markets, above all in the EMEA economic area (Europe, the Middle East and Africa). Ultimately it is our customers who will benefit, as without the cooperation we would not have developed a new Amarok."
The light commercial sector is a profitable one and both brands offer players in this segment. Both the Ford Transit portfolio and Volkswagen Transporter/Caddy family have proven popular and both brands will be venturing into these segments. Ford will be working on larger commercial vans for Europe, while Volkswagen is working on a city van, which we could see as early as 2021. The commercial part of the deal is predicted to be profitable for both parties, with pre-tax operating results in the green from 2023.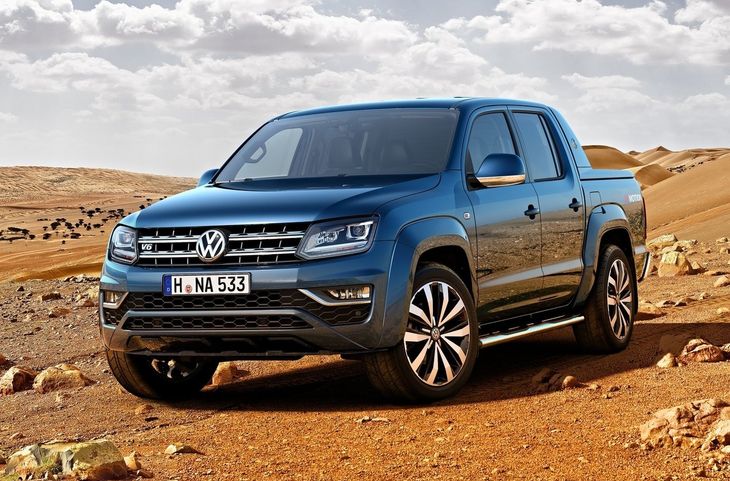 The next Volkswagen Amarok will be built at Ford's Silverton plant in South Africa. Read more about the newcomer here.
The alliance is expected to produce up to 8 million commercial vehicles collectively during the above-mentioned product life cycles.
"This alliance comes at a time of tremendous enthusiasm about the intersection of increasingly intelligent, connected vehicles in an ever-smarter world," said Ford CEO Jim Hackett. "This creates a huge opportunity to innovate and solve many of the world's transportation challenges and deliver extraordinary benefits to customers – even as companies need to be selective about how they use their cash."
There's far more to this alliance than just commercial collaboration, however. Volkswagen and Ford will collaborate on autonomous vehicles, electric vehicles, and mobility services. Given Volkswagen AG's experience with electrification thus far, it's Ford who will benefit greatly. Making use of Volkswagen's MEB platform, Ford will look to develop and engineer a new electric vehicle (expected in 2023) in addition to its Mustang Mach E, which could see as many as 600 000 units delivered in Europe.
In turn, Volkswagen will benefit from Ford's extensive foray and research into autonomous driving. As such, both companies will work with Argo AI to develop capable and autonomous vehicle businesses based on Argo AI's self-driving technology. Last week, Volkswagen closed its investment in Argo AI, a Pittsburgh-based company. Ford also has ownership and development interests in Argo AI and the result will be the large-scale deployment of critical autonomous technology.
"In 2022, we will be deploying a self-driving vehicle fleet in real conditions for the first time. This test will be the first level-4 deployment using our fully-electric ID.Buzz vehicles. We'll be collaborating closely on this with ARGO. In addition, I'm sure that ARGO is going to take a leading role in the development of self-driving systems in the entire industry, from which Ford and we will benefit greatly", said Thomas Sedran.
Buy a new or used Ford Ranger on Cars.co.za
Buy a new or used Volkswagen Amarok on Cars.co.za
Further Reading
2022 Volkswagen Amarok: What We Know So Far
190 kW Volkswagen Amarok Coming to SA
VW's Electric Strategy Kicks off in SA