The next generation of Renault Megane RS has been teased ahead of its first public appearance at the 2017 Monaco Grand Prix.
The Megane Renault Sport (RS) has been a long time coming and given the advancements from the competition, including Ford, Honda and Voklswagen, it'll have to be good to match the best in the FWD hot hatch brigade. We'll get a chance to see it take to the streets of Monaco on Sunday 26 May 2017, where it'll be piloted by motorsport driver Nico Hulkenberg.
Finished in the trademark yellow and black RenaultSport colours, the new Renault Megane RS will be unmistakable. We'll see it make a full reveal at the 2017 Frankfurt Motor Show in September, but from this image, we can see LED headlight signature as well as the chequered flag lighting elements in the lower bumper, as featured on the facelifted Renault Clio RS.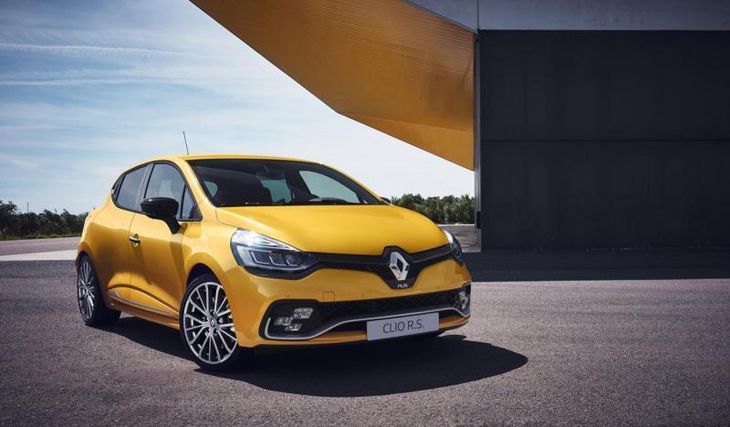 The warm up act: the Clio RS has just been introduced into the SA market. Note the RS logo fog lights which will be seen on the new Megane RS.

The new Megane RS will be a 5-door model (which will significantly broaden its appeal in South Africa) and will likely be powered by a new turbocharged 2.0-litre engine or the same 1.8-litre turbocharged engine found in the Alpine A110, which was recently revealed at the 2017 Geneva Motor Show.
The big question is whether it will be able to match the new Honda Civic Type R, which smashed the front-wheel drive record at the Nurburgring. The Megane RS will also have to try match the Volkswagen Golf R in terms of both outright performance and day-to-day driveability, something which RenaultSport products are not known for.
We can see that RenaultSport is on the right track with its thinking as the shift from a manual Clio RS to a dual-clutch Clio RS has been accepted. Few people will tolerate a race car for the road, especially in a congested environment where cars are crawling at slow speeds.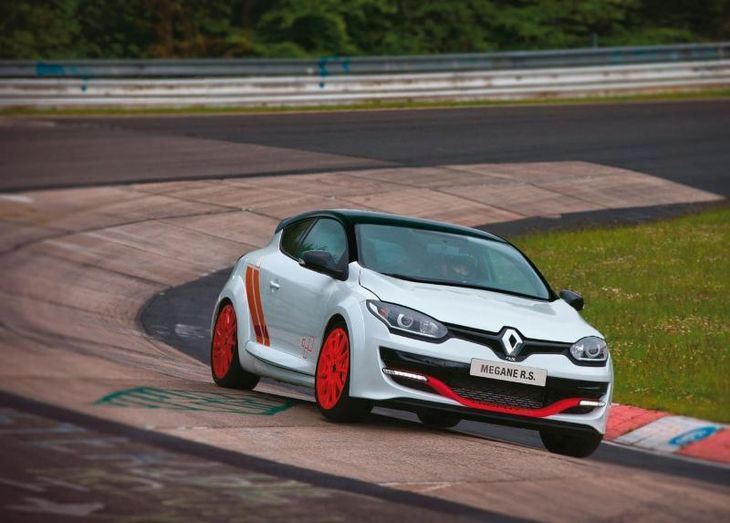 Renault's record-breaking Megane Trophy-R. We expect the new Megane RS to also be quick through the corners.
Could we be so bold as to speculate? We predict the car will come in multiple derivatives, with a Lux version for those who don't want to sacrifice comfort and a Trophy version, which is for the performance addicts. In terms of tackling the Nurburgring record, we'd bet that a hardcore derivative which has been on diet and fitted with trick tyres will come later. Remember the R26.R and Megane Trophy-R?
We've seen how far Renault has come with mechanical technology such as dual-clutch gearboxes and it wouldn't surprise us to see the new Renault Megane RS being offered with a choice of manual and paddle-shift transmissions. We're also expecting a tweaked version of the four-wheel steering system (as fitted to the Renault Megane GT) to be included.
Related content:
Renault Megane 1.2 GT Line (2016) Quick Review
Comparative Review: Opel Astra 1.6T Sport vs Renault Megane GT Turbo
Renault Megane (2016) First Drive
Renault Megane RS 265 LUX (2015) Review
Renault Megane RS 275 Trophy (2015) Review
Update: Renault Alpine sportscar on the cards for SA
Want to buy a Renault Megane?