Following leaked images on Instagram, Mitsubishi has now released an official teaser image and some details for its new forthcoming Outlander which is due to go on sale in February 2021.
The current Outlander SUV has been on sale in South Africa since 2013 and Mitsubishi updated the Outlander earlier this year, but a replacement is close to being revealed.
An image leak appeared on Instagram account, allcarnews, earlier this week and while the quality of the images are poor, they do reveal what the new Outlander will look like. Following the leak, Mitsubishi has now released a shadowy teaser image of the new Outlander as well as providing a few additional details.
Mitsubishi has revealed that the new Outlander will make its debut in the U.S., Canada and Puerto Rico in February 2021 before going on sale in other international markets. The brand says that the new Outlander was developed under the Japanese "I-Fu-Do-Do" philosophy which means 'authentic' and 'majestic' and features the brand's latest Dynamic Shield front-end.
"The OUTLANDER is an iconic SUV for the company, so when we developed the next-generation model, we took inspirations from our rich SUV heritage to realize a bold and confident styling with a solid stance that excites our customers," said Seiji Watanabe, Division General Manager of Design (Head of Design), MMC. "The all-new OUTLANDER is the first model epitomizing the new generation of Mitsubishi design and the frontrunner of our design strategy."

The image leak on Instagram shows a bold design for the new Outlander. Do you like it?
Back in 2019, Mitsubishi revealed its Engelberg Tourer Concept which is a twin motor, 4-wheel-drive, Plug-In Hybrid Electric Vehicle (PHEV) concept and it appears that the new forthcoming Outlander has taken inspiration from the concept which is clearly evident in its front-end design and at the rear. Note the split headlight design which also features on other Mitsubishi products such as the Eclipse Cross and Triton double-cab bakkie.
While we wait for the full reveal of the new Outlander, perhaps the Engelberg Tourer's interior also provides clues as to what's coming from the production Outlander and if that's the case, the new Outlander will feature a thoroughly modernised interior compared to the outgoing model.
The new Outlander is will be larger than the current model and is expected to be powered by a Nissan-sourced engine which will likely be a 140 kW 2.5-litre engine. A plug-in hybrid model will also be offered in select markets.

We will keep you updated as soon as official details are revealed.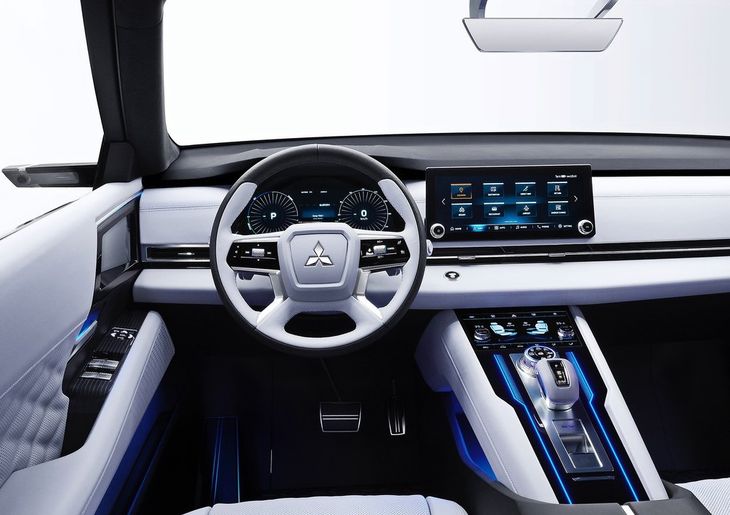 The 2019 Engelberg Tourer concept provides clues as to what to expect from the new Outlander.
Buy a Mitsubishi Outlander on Cars.co.za
Related Content
Mitsubishi Eclipse Cross Updated for 2022