The all-new 4th generation Kia Sportage is now available in South Africa and we took it for a drive at the launch in Cape Town. Take a look at what the new Sportage has to offer…
The Kia Sportage competes in the compact SUV/crossover segment against products such as the Toyota RAV4, Nissan Qashqai, Hyundai Tucson, Ford Kuga, Mazda CX-5 and the recently introduced Volkswagen Tiguan, to name only the major players. It's a hugely popular segment of the market and Kia's all-new Sportage has been improved in key areas to strengthen the Korean brand's product offering in South Africa.
We attended the launch of the new Sportage in Cape Town and had the chance to sample 2 of the 5 Sportage derivatives now available in our market.
Key design features
Compared with its predecessor, the new Sportage is 40 mm longer and its wheelbase has increased by 30 mm. The rear overhang has been shortened by 10 mm, while the front overhang has grown by 20 mm. The height and width of the Sportage are identical to that of the outgoing model.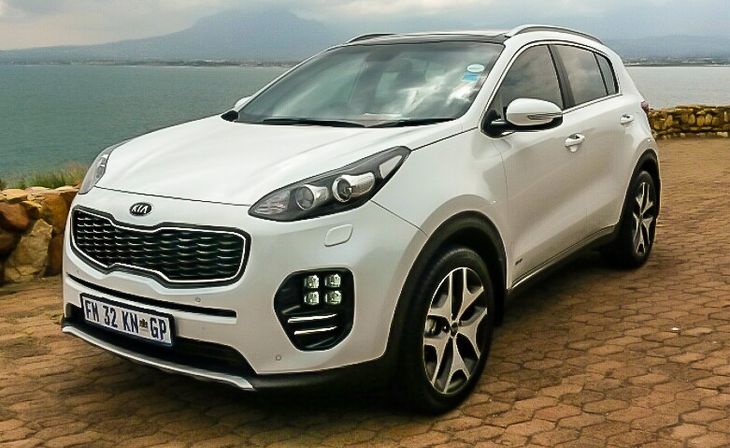 The 4th-generation Kia Sportage is attractive on the outside and the interior is completely new.
The new Sportage is certainly attractive from the outside; it exhibits a more distinctive design compared with its predecessors and the front end, featuring a highly detailed bumper with ornate quad-foglight clusters, really stands out. Buyers have the choice between 16-, 17- or 19-inch alloy wheel designs while the GT Line derivative is fitted with 19-inch alloy wheels as standard.

Perhaps more importantly, the Sportage's interior has been completely redesigned and now appears to be more upmarket with a quality material finish. The Korean carmaker has also improved NVH levels with increased insulation to keep road and engine to a minimum. Buyers who opt for the GT Line derivative can choose between two-tone interior colour options in either Dark and Light Grey or Black and Canyon Beige at no additional cost.
Regardless of which interior colour you choose, the console is black and all Sportage derivatives come standard with a black interior. The GT Line also gains sportier appointments in the form of a D-Shaped leather steering wheel, piano black fascia and aluminium alloy pedals.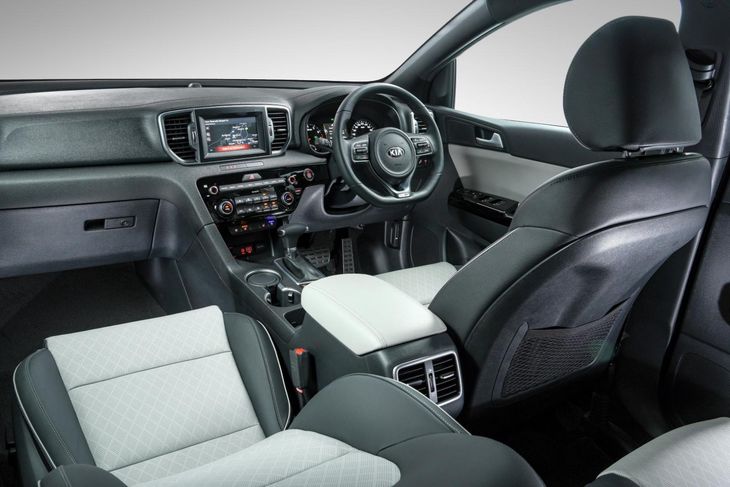 Kia has modernised the Sportage's interior to be more comfortable with improved ergonomics.

In terms of interior space, the Sportage offers more headroom and legroom for front and rear passengers. Luggage space has grown from 465 litres to 503 litres and when the seats are folded down, a claimed 1 455 litres of utility space is at your disposal. The aperture of the luggage bay is also some 35 mm wider than before and the sill has been lowered by 47 mm to make the loading of heavy items easier. Fuel thank capacity has also increased to 62 litres.
For more details see New Kia Sportage – Specs and Pricing
The Sportage Range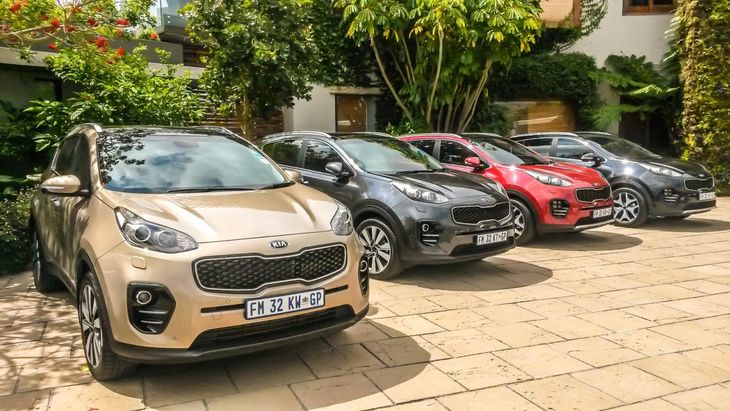 Sportage buyers have the choice between petrol or diesel engines with 5 derivatives to choose from.
There are 5 derivatives in the range. The base model is the Sportage Ignite and it's powered by Kia's revised 4-cylinder 2.0-litre petrol engine that develops 114 kW and 192 Nm of torque, powering the front wheels via a 6-speed manual transmission. Kia claims a fuel consumption figure of 7.9 L/100 km for this derivative.

The Sportage EX derivative is fitted with a 2.0-litre turbodiesel engine offering 130 kW and 400 Nm of torque. This engine is now 5 kg lighter than before and has been enhanced for optimum performance. Like the Ignite derivative, the Sportage EX is available in front-wheel drive only but makes use of a 6-speed automatic transmission. Fuel consumption for the EX is rated at 6.8 L/100 km.

For buyers seeking all-wheel drive capability, there are two Sportage SX derivatives on offer in both petrol and diesel guise. The diesel Sportage SX is powered by the same 130 kW/ 400 Nm 2.0-litre engine found in the Sportage EX. The petrol-powered Sportage SX is new to the range and comes fitted with Kia's familiar 2.4 GDI engine, developing 135 kW and 237 Nm of torque and with a claimed fuel consumption figure of 8.5 L/100 km. Both SX derivatives feature a 6-speed automatic transmission.
The new top-of-the-range Sportage 1.6 turbopetrol GT Line offers 130 kW and 265 Nm of torque and comes equipped with Kia's new 7-speed dual-clutch transmission sending power to all-four wheels. This is the same, albeit detuned, engine found in the Cerato 1.6T Koup. Claimed fuel consumption for the Sportage GT Line is 7.5 L/100km.
What's the new Kia Sportage like to drive?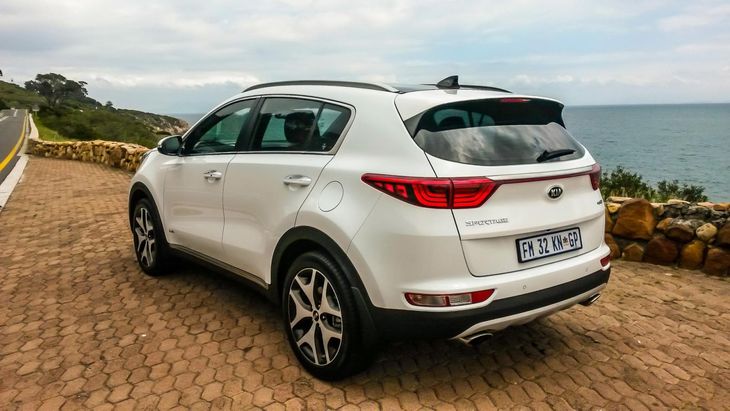 The Sportage 1.6 turbopetrol GT Line offers sporty features and come well-equipped with comfort and safety features.
The launch route totalled about 150 km and our first drive began behind the wheel of the Sportage 1.6 GT Line. We were met with a smart-looking leather interior featuring the optional two-tone Black and Light Grey colour scheme, which actually provides a nice contrast to the interior.
We were also treated to a host of comfort features such as fully electric and heated seats as well as a panoramic sunroof (standard). Other notable interior features included a 7-inch touchscreen infotainment system with integrated navigation, Bluetooth connectivity and two USB ports (front and rear) for charging devices. There's also a wireless charging pad ahead of the transmission lever where you can wirelessly charge your phone, provided that it's compatible. The interior was well equipped with safety features too, including blind spot detection and lane change assist.
Out on the road, the Sportage 1.6 GT Line delivered good performance and the turbopetrol engine seemed to provide adequate power on the highway and the ride quality was decent too. The driver can choose to drive in either Eco or Sport mode, and despite a hint of turbo lag, the engine and transmission work reasonably well together to extract the most performance from the engine. A number of curvy bends did little to unsettle the Sportage and it remained composed and confident, even in tighter turns. Apart from the sportier appointments of the GT Line, its performance wasn't as sprightly as we had expected.
We then stepped into the Sportage 2.0-litre turbodiesel SX derivative. This engine's performance impressed us more. With 130 kW and 400 Nm of torque, the Sportage SX seemed to be more willing and able to push on than its turbopetrol sibling. The additional torque is definitely beneficial on the open road and overtaking manoeuvres were easily executed. The 6-speed automatic transmission also delivered smooth, virtually imperceptible, shifts.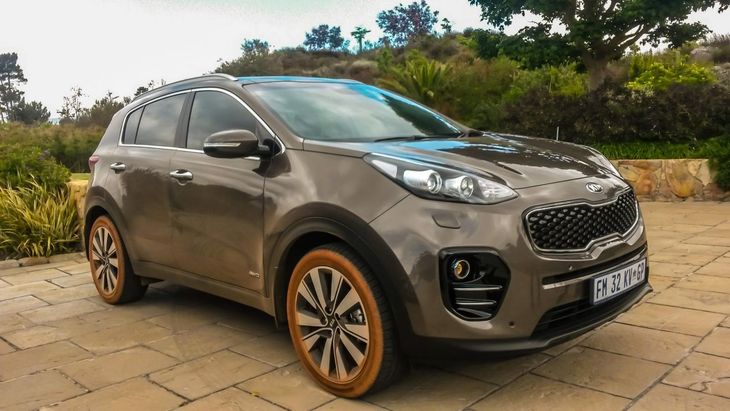 The Sportage 2.0 SX turbodiesel provided good performance and coped well in the dirt.

Our destination was Lothian Vineyards near Rockview Dam and somehow we managed to get lost. This mishap did, however, give us the opportunity to test the Sportage's suitability to dirt roads. The Sportage managed to deliver a surprisingly smooth drive over what seemed to be a poor quality surface and its suspension had no problem in ironing out bumps and ruts.

We also noticed a confusing quirk in the Sportage SX 2.0 turbodiesel. The opposing power/volume dial and tuning dials for the audio system are clearly marked, yet their functionality was reversed. So, when you turn up the volume, you are tuning to a radio station and the tuning dial serves as a power and volume button instead. Kia Motors SA, assures us, however, that the problem was limited to that unit and that its dealers have been alerted in case there are any other units that need to be rectified.
Summary
Based on our driving experience at the launch of the Sportage, we felt that the 2.0-litre turbodiesel SX derivative was particularly impressive in terms of performance and it should return more favourable fuel consumption figures compared with the petrol derivatives.
Although the Sportage now offers more space, it's still smaller inside than products such as the Toyota RAV4, Volkswagen Tiguan and Hyundai Tucson, and it's pricier too. For example, the range-topping Sportage 1.6 GT Line is priced at a lofty R599 995 and although it has all the bells and whistles, it's considerably more expensive than the rivalling Ford Kuga 2.0T AWD Titanium (R507 900) and Toyota RAV4 2.5 AWD VX (R513 000).
Kia is seemingly offering a more sophisticated and upmarket product in the new Sportage, but its pricing (especially of the AWD derivatives) will, in all likelihood, force many buyers to consider more affordable options in the market first. It's a smartly-packaged and fashionable Korean product, but, as is so often the case, the best value is to be found at the lower end of the range.
We should have the new Kia Sportage on test soon, so look out for a thorough evaluation in the near future. In the meantime, take a look at what you can expect to pay for the new Kia Sportage below.
Kia Sportage – Price in South Africa
2.0 Ignite R369 995
2.0 CRDi EX R487 995
2.4 GDI SX AWD R557 995
2.0 CRDi SX AWD R567 995
1.6 T-GDI GT-LINE AWD R599 995

The Kia Sportage is sold with a 5-year/unlimited km warranty, 5-year/90 000 km service plan and 5-year/unlimited km roadside assistance.
Related content:
Kia Sportage 2.0CRDi AWD (2014) Review
Nissan Qashqai 1.5dci (2014) Review
Toyota RAV4 2.2D AWD GX (2016) Review
Facelift RAV4 Video Review - Load Space, Comfort, Features
Volkswagen Tiguan 1.4 TSI 110 kW DSG (2016) Review
Volkswagen Tiguan 1.4 DSG (2016) Video Review
5 Cool Things About the New Volkswagen Tiguan
Hyundai Tucson 1.6 Turbo Executive Manual (2016) Review
Hyundai Tucson 1.6 Turbo 4WD Elite (2016) Review
2016 Hyundai Tucson – In-Depth Review, pricing and specs [Video]
Want to buy a Kia Sportage?