Jeep has unveiled its 7-seater Grand Cherokee, which brings an additional row of seating to an already spacious product.
Visually, the Jeep Grand Cherokee L is a little different to the standard 2-row model. With design cues straight from the mammoth Grand Wagoneer, it looks bold and imposing.
Inside, there's a smart-looking and luxurious cabin. There's an 8.4-inch touchscreen or an optional 10.1-inch touchscreen, with the FCA Group's UConnect 5 infotainment system fitted. There's also a 10.3-inch digital dashboard fitted. As far as trim levels go, there will be 4 derivatives for the American market.
In terms of engines, the Pentastar 3.6-litre V6 soldiers on, and in this application it develops 216 kW and 348 Nm. The engine we suspect most will go for is the 5.7-litre Hemi V8 which pumps out 266 kW and 528 Nm. Irrespective of engine, all Jeep Grand Cherokee Ls come with an 8-speed automatic gearbox. Interestingly, 4-wheel drive is an optional extra, with the standard model going the 2-wheel drive route. If you're an offroad enthusiast, you'd be keen to hear about the new Quadra-Lift adaptive air suspension that can raise the vehicle by 4 cm in Off-Road Mode 1 then with Off-Road Mode 2 engaged, go a further 6cm higher. There's also an Aero mode, which will lower the vehicle for on-road driving.
Will it come to South Africa? According to information we have received, the new Jeep Grand Cherokee 7-seater is scheduled to arrive in South Africa in the fourth quarter of 2021 along with the 5-seater version. We will keep you updated as and when we receive further details.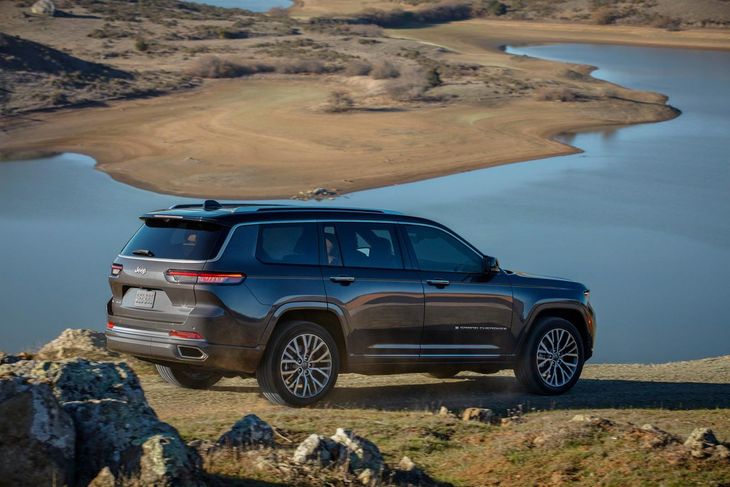 Further Reading
Jeep Grand Wagoneer Concept Revealed
Jeep Grand Wagoneer Concept Revealed