The next Hyundai Tucson is on the way and an alleged teaser sketch of the newcomer's interior shows what we can expect.
If one thing is certain, it's that Hyundai is not holding back on the design of its next Tucson SUV which is expected to feature a bold interpretation of the brands new 'Sensuous Sportiness' design language.
Prototypes of the new Tucson have also been spotted testing in heavy camouflage but even so, there is no hiding Hyundai's intention for its next Tucson SUV. In a crowded family car segment where the Tucson rivals cars such as the popular Volkswagen Tiguan, Toyota RAV4 and Mazda CX-5, it simply has to stand out from the crowd if it's to build on the success of the current generation.
But what can we expect from the Tucson's interior? Well, a teaser sketch has surfaced on an online forum showing what is believed to be the new Tucson's interior. Hyundai, however, has reportedly denied the official release of the sketch and the origins of the sketch can't be verified at this stage. Nonetheless, the interior sketch design does match interior spy photographs of the next Tucson which gives the sketch some credibility.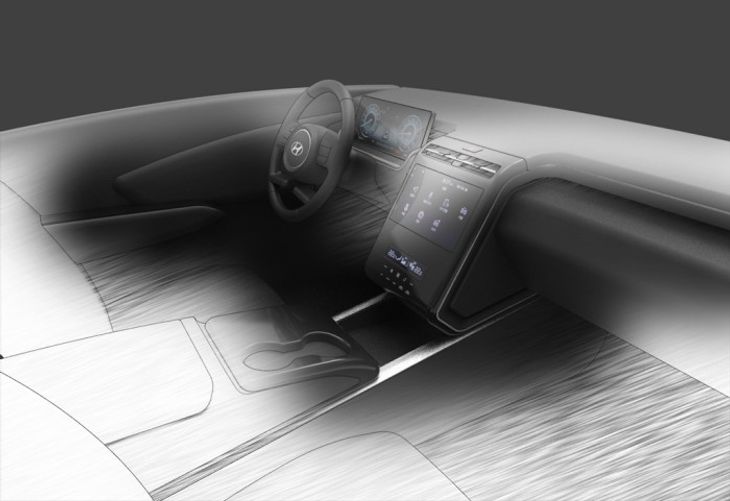 The next Tucson is going digital...
The sketch shows a tablet-style digital instrument cluster which is a refreshing change from the current-generation Tucson which features analogue dials. Also note the new steering wheel design. A large central touchscreen infotainment is positioned directly below a row of air vents with the air-conditioning controls integrated directly into the console. The overall design is very minimalist with little or no physical buttons visible. It's also interesting to note that the sketch does not feature a transmission lever or stalks on the steering wheel. You can, however, expect the production version to broadly follow the design theme seen here.
Powertrain details for the new Tucson have yet to be confirmed but a 4-cylinder turbopetrol engine is likely and the Hyundai might even retain the current naturally-aspirated petrol engine along with a diesel option. More so, hybrid and plug-in hybrid variants are also expected.
Of interest to N fans, is the likelihood of a Tucson N coming to fruition with 254 kW expected from a 2.5-litre turbopetrol engine.
The new Hyundai Tucson is expected to be revealed before the end of the year and as always, we will keep you in the loop as soon as more information becomes available.
Buy a Hyundai Tucson on Cars.co.za
Related Content
Hyundai Tucson 1.6T Elite Sport (2019) Review