There's a new 'Big Dog' on the block and it's Haval's latest addition to its SUV family.
First up, let's clear up the name. Haval reportedly ran a public poll on WeChat to determine the name of this vehicle and the options included DaGou (Big Dog), Yuanxingzhe (Hiker), Zhanfu (Battle Axe), Lantu (Billow Journey) and Lang (Wolf). DaGou came out on top and is the official name in China, but we think Big Dog just sounds cool.
The Haval Big Dog or DaGou, stands some 4 620 mm long, 1 890 mm wide, 1 780 mm high and has a wheelbase of 2 738 mm, making it roughly the same size as a Toyota Prado.
In terms of design, the Haval Big Dog adopts a boxy design with a bold, 3-tier grille flanked with round headlights set in dark trim housing. An under-body skid plate is also fitted along with rugged-looking black plastic wheel arches, hinting that the Big Dog can run offroad if need be which is further emphasised with its 200 mm ground clearance. Roof rails, running boars and all-terrain tyres further add to the ruggedness of the new model. The rear benefits from inverted L-shaped taillights along with a rear skid plate and a bold Haval badge.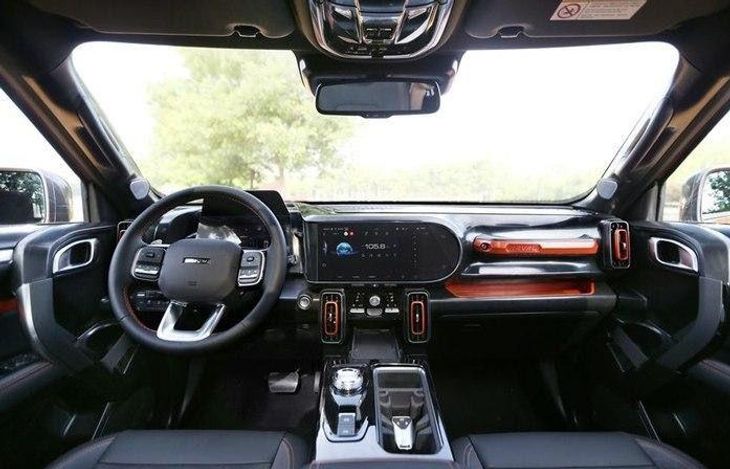 The Big Dog's interior is vibrant and comes equipped with all the bells and whistles.
Moving inside, the Big Dog is equipped with a digital instrument cluster and large touchscreen infotainment system as well as a neat multi-function steering wheel. A wireless charging pad is also fitted. The dashboard is equipped with vertical air vents as well as a large grab handle for the front passenger as well as on the A-pillars.
In China, the Big Dog will be powered by 2 turbocharged engine choices including a 125 kW/285 Nm 1.5-litre engine as well as a larger 2.0-litre engine offering 165 kW and 385 Nm. All-wheel-drive derivatives are also expected.
The Haval DaGou will go on sale in China in the coming months. We reached out to Haval South Africa to find out if the Big Dog will make it to South Africa and it has not been confirmed or denied, which means there might be a chance that it will be offered in South Africa at some point.
Do you want to see the Haval Big Dog in South Africa?
Buy a new or used Haval on Cars.co.za
Related Content
The Rise of Haval: Local MD speaks
New Haval H9 4x4 SUV Review (Video)
5 Small Crossovers for Under R200k