Ford has used the Shanghai motor show to showcase its new Evos!
At first glance, the new Evos looks strange. That's because it appears to mix the body styles of an SUV-coupe with the practicality of a station wagon. The Evos was almost entirely developed in China, where it will be initially produced and sold.
However, strong rumours suggest that the Evos could make it to the European and North American markets at some point, where it will replace the Mondeo and Fusion respectively, but that remains to be seen.
Last month, Ford announced that the production of its Mondeo executive sedan, which is currently in its fifth generation, will come to an end in March 2022. Spy photographs that surfaced earlier this year revealed a new crossover-like vehicle that was touted to be a reinvented Mondeo. The popularity of crossovers and SUVs has resulted in the erosion of the business case for sedans in general and the Evos is Ford's response to changing consumer demand.
Is this the most technologically advanced Ford Interior yet?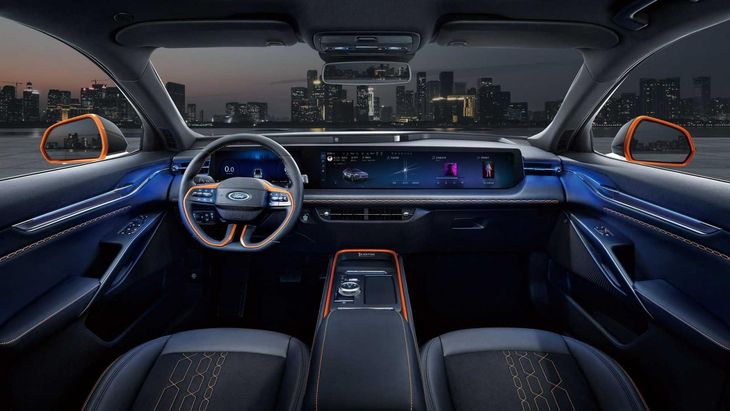 We can only hope that other future Ford interiors look like this!
The interior of the Evos is decisively upmarket with a notably long fully-digital display that measures 1.1 metres in length across the dashboard. The instrument cluster measures 12.3-inches while the infotainment display measures 27-inches, with both screens housed under a single pane of glass. The system features SYNC+ 2.0 as well as Baidu Artificial Intelligence (AI) technology as well as a virtual personal assistant and over-the-air updates.
At this point, exact powertrain details have yet to be revealed but a plug-in hybrid powertrain is expected. This is a developing story and more details are expected later this week.
Related Content
Compact Crossover Craze in SA for 2021