New car sales soared to new highs in March 2018 according to the National Association of Automobile Manufacturers of South Africa (NAAMSA) but commercial vehicle sales remained under pressure while exports declined as a result of BMW's switchover in production from the 3 Series to the X3.
Despite all the public holidays in March 2018, new passenger car sales achieved the highest level yet for this year recording an increase of 3.7% year-on-year and with 90.2% of sales occurring through the dealer channel, The improvement has been attributed to pre-emptive buying by consumers to avoid the increase in value added tax, new vehicle emissions taxes and ad valorem duty changes announced in the budget.
"Following the budget speech indicating an increase in VAT and ad valorem tax from 1 April, it is our view that consumers opted to avoid the increases these factors will have on vehicle purchase prices. These, combined with the renewed consumer and business confidence, and a reduction in the repo rate contributed to the growth in the passenger car segment," said Ghana Msibi, WesBank's Executive Head for Sales and Marketing.
Light Commercial Vehicle (LCV) sales declined marginally by 2.3% while exports registered a significant decline of 8.1%, mainly due to BMW switching from 3 Series production to X3 production at its plant in Rosslyn, Pretoria.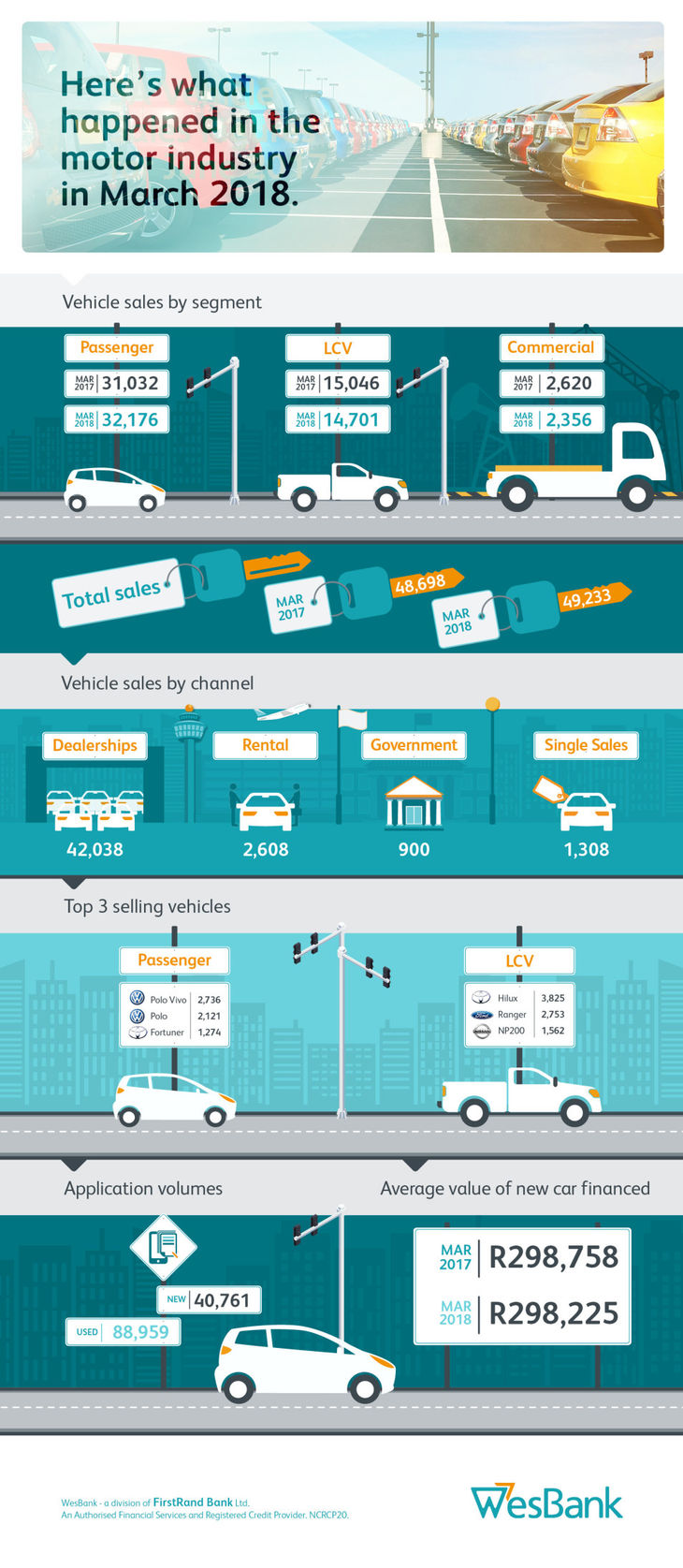 New Car Sales Summary for March 2018
Aggregate new car sales of 49 233 up by 1.1% (+535 units) compared to March 2017

New passenger car sales of 32 176 up by 3.7% (+1 144 units) compared to March 2017

LCV sales of 14 701 down by 2.3% (-345 units) compared to March 2017

Export sales of 27 438 down by 8.1% (-2 421 units) compared to March 2017
Most popular car brands in SA for March 2018
Toyota: 11 378 units sold with a market share of 23.1%

Volkswagen: 7 541 units sold with a market share of 15.3%

Ford: 5 595 units sold with a market share of 11.4%

Nissan: 5 410 units sold with a market share of 11.0%

Hyundai: 3 065 units sold with a market share of 6.2%
Most popular new cars in SA for March 2018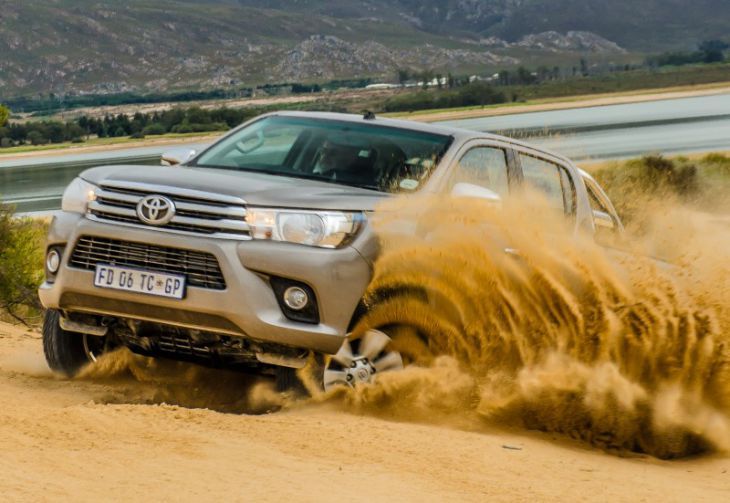 Sales Outlook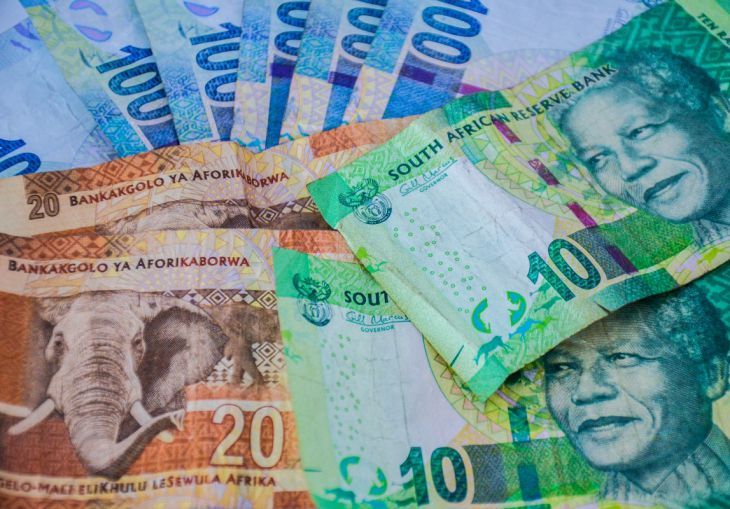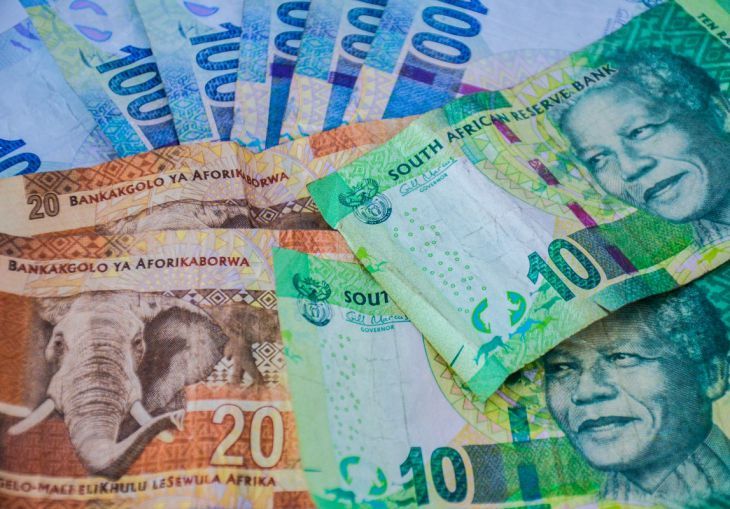 According to NAAMSA, the medium-term prospects for the local economy had improved following Moody's decision to retain South Africa's international and domestic credit rating at investment grade with a stable outlook as well as an interest rate reduction of 0.25%.
More so, the stronger Rand should have a positive impact on new vehicle price inflation and economic growth may recover to about 2.0% in 2018 as business and consumer confidence stabilises further. These factors are expected to impact positively on domestic new car sales during the course of the year. NAAMSA predicts a 3.0% improvement in new car sales volumes for 2018 compared to 2017. Strong global economic growth will support the export market and a modest increase in export sales is expected during the balance of 2018.
Related Content
5 New Hatchbacks to Look Forward to in 2018
6 High-Performance SUVs Coming to SA in 2018
5 Cool Performance Cars Coming to SA in 2018
5 Cool Crossovers Coming to SA in 2018
12 Well-Specced Cars Under R250k in SA
4 Simple Ways to Cut the Cost of Motoring
2 Major Reasons to Consider Buying a Used Car
5 Ways to Ensure Car Loan Approval