BMW is preparing to roll out the most technologically advanced X5 it's ever produced in the premium SUV market. The new X5 will make its public debut at the 2018 Paris Motor Show and arrive on South African soil at the end of November 2018. Gero Lilleike attended the International Media Launch in Atlanta, Georgia, USA to put the beefy newcomer through its paces.
In 1999, the 1st-generation X5 was introduced to the world in Atlanta and BMW recently returned to Georgia to present its new 4th-generation X5 to motoring media representatives from around the globe. Through its 3 previous generations, the X5 racked up more than 2.1 million sales worldwide and with this latest model, BMW seeks to further entrench and solidify its influence in the ultra-competitive, let alone pivotal, premium SUV segment.
The courtyard outside the Mandarin Oriental hotel in Atlanta was abuzz with activity as journalists ogled the striking X5 M50d derivative that was put on display in front of the swanky establishment. The most prominent aesthetic feature of the new X5 is its oversized kidney grille, which draws various opinions... Some like it, some don't, but either way, BMW has made the X5 look bolder and more accomplished than the outgoing model, and it needs to be, because it will compete with impressive competitors such as the upcoming new Mercedes-Benz GLE, recently-launched Porsche Cayenne and Volkswagen Touareg, and, don't forget about the Volvo XC90 and Audi Q7.
BMW appears to have ploughed just about every tech gadget at its disposal into the new X5, and when fully specced, it's an impressive product.
Bigger, better and more advanced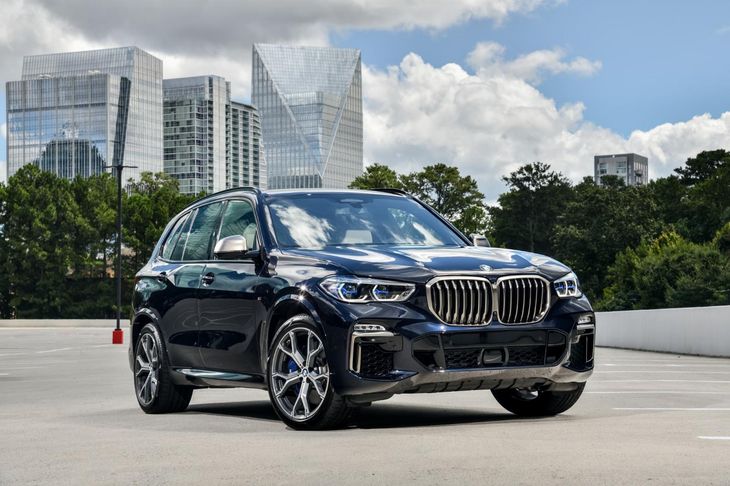 The X5's large kidney grille and BMW's Laserlight adaptive headlights give it a powerful frontal aspect.
The exterior appearance of the new X5 can be enhanced by choosing between the xLine and M Sport trim lines, while a wide range of additional optional equipment can be further specified to equip BMW's latest premium SUV to your preference.
The new X5 is noticeably bigger than before. In fact, it has grown in all directions, which feeds into its brutish appearance, but the BMW's larger dimensions have also resulted in a roomier cabin for passengers and their luggage (the luggage bay offers 650 litres, expanding to 1 860 litres with the 40:20:40 split rear seats folded down).
If we go by the numbers, the X5's wheelbase has grown by 42 mm, while its body is 36-mm longer, 66-mm wider and stands 19-mm taller than its predecessor.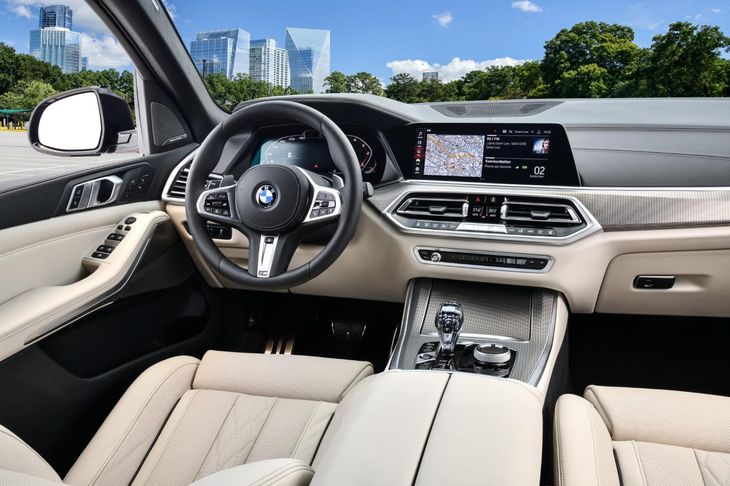 A new sporty instrument cluster and the latest iDrive 7.0 touchscreen infotainment system are major improvements.
The new X5's design is far edgier and progressive than before (in other words, it offers loads more kerb appeal than the outgoing model), but the newcomer's pretty impressive on the inside too. BMW has often been criticised for its conservative and derivative (some say dated) interior design and while the new X5's interior is somewhat familiar, BMW has upped the ante with 2 attractive 12.3-inch screens that serve as an instrument cluster and infotainment system.
The touchscreen infotainment system runs the latest iDrive 7.0 operating system, which features a slick layout that can be customised to your personal preference, while functions can be accessed via voice control or by using the familiar iDrive controller in the centre console. Gesture control is also part of the package.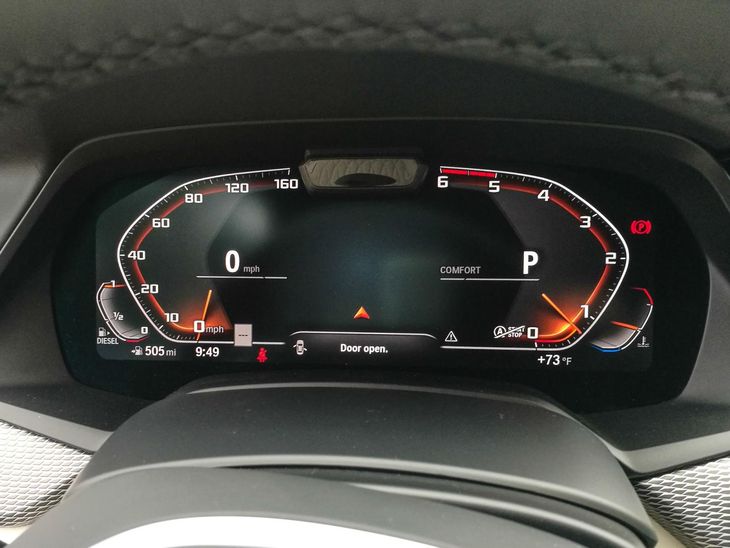 The instrument cluster can be customised depending on what you information you want to be displayed.
The instrument cluster is customisable according to the driver's information preferences and we think it lifts the visual appeal of the interior considerably. Combined with robust interior build quality, premium trim elements and a lavishly equipped cabin, the X5's interior is smartly-appointed and comfortable – it looks and feels the part.
If crystal-clear music is your thing (and, let's face it, it is to a lot of people), then you may want to consider the optional 1 500W Bowers & Wilkins Diamond Surround Sound System with 20 speakers – it produces phenomenal sound quality. Other notable optional features include two 10.2-inch rear entertainment touchscreens, a panoramic glass roof (with 15 000 illuminated graphic patterns) and a wireless induction charging pad for charging smartphones. Heated and electrically adjustable sports seats are standard, but customers can increase comfort by opting for the optional multifunction seats, which offer massage and ventilation functions.
Read more about the specification for the new BMW X5 here!
Driver assistance galore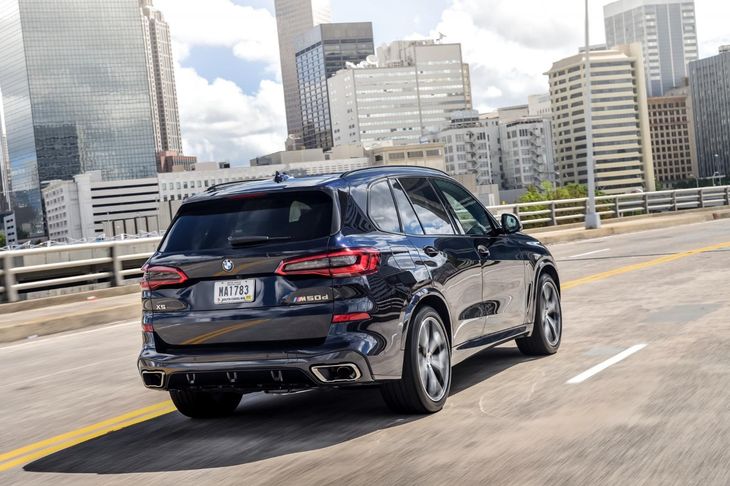 A wide range of driver assistance features is available on the new X5, making BMW's premium SUV easier and safer to drive.
Meanwhile, the level of driver assistance technology available in the new X5 is nothing less than staggering. Using a wide range of cameras and sensors, occupant safety and driver assistance have been significantly enhanced. Some of the highlights include a new Reverse Assistant feature, which stores the vehicle's latest forward steering position (up to 50 metres) and uses the same steering line to automatically reverse the vehicle out of position.
A Parking Assistant can also automatically find and manoeuvre the X5 into a parking space, while a new Emergency Stop Assistant will bring the vehicle safely to a stop in case a driver becomes incapacitated (is no longer able to control the vehicle). This feature is activated by pulling the electronic handbrake switch. Emergency services are also automatically alerted once this feature is activated.
Other notable features on offer include the optional Driver Assistance Professional Package, which comprises features such as steering and lane control assistant, traffic jam assist, lane keeping assist, crossing traffic warning, priority warning, rear collision warning, wrong-way warning and lane change warning. The list goes on and on...
What's the new BMW X5 like to drive?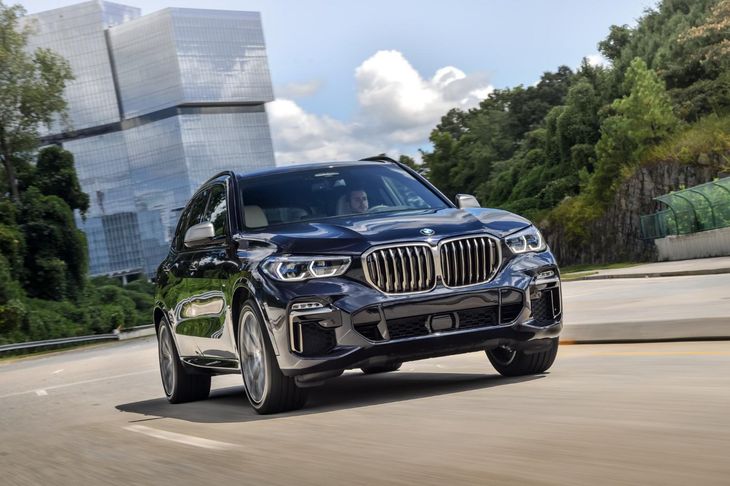 The X5 M50d will top the X5 range when it arrives in South Africa in November 2018.
A BMW spokesperson has confirmed that South Africa will only receive 2 turbodiesel derivatives at launch (scheduled for late November 2018): the X5 xDrive30d and the range-topping X5 M50d. We had the opportunity to sample both versions in Atlanta.
Our drive started behind the wheel of the mighty X5 M50d. Its firepower comes courtesy of a 3.0-litre turbocharged 6-cylinder diesel engine that whips up peak outputs of 294 kW and 760 Nm of torque, which are channelled via an enhanced 8-speed Steptronic automatic transmission. What makes this headlining engine special is that it features multi-stage turbocharging which comprises 4 turbochargers including 2 high-pressure and 2 low-pressure turbochargers that produce a surge of torque from very low in the rev range. Up to 450 Nm of torque is delivered from 1 000 rpm, while the full 760 Nm is realised between 2 000 and 3 000 rpm.
Under hard acceleration, the X5 M50d pulls strongly and while the engine is refined, it delivers a deep and throaty exhaust note that adds some aural pleasure when you press on in Sport mode (other driving modes include Comfort and Eco Pro). The X5 M50d gets up to speed rapidly and effortlessly, plus we found the transmission to be quick and unobtrusive in shifting gears. Europe may be falling out of love with turbodiesels, but that doesn't concern us: the flagship X5 is a wonderfully powerful car.
BMW claims a 0 to 100 kph time of 5.2 seconds, which is impressive when you consider the X5 weighs well over 2-tonnes. Fuel consumption is about 7.2-6.8 L/100 km.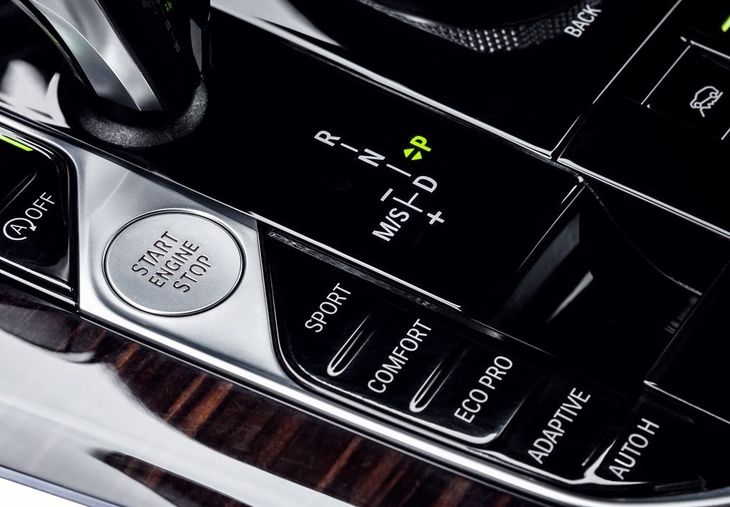 Choose your mode to suit your mood. The X5 M50d offers powerful performance.
As before, BMW's xDrive all-wheel-drive system can direct torque between the front and rear wheels on demand to improve traction and dynamic ability. Despite its heft, the X5 M50d felt agile and direct when cornering and, coupled with reasonably well-weighted steering, the X5 can be coaxed through corners with reassuring precision.
A Dynamic Damper Control system is fitted as standard on all X5 derivatives and the X5 M50d features specific suspension settings, including individual spring and damper tuning to improve dynamic performance. Large 21-inch M light alloy wheels fill the wheel arches and an M Sport rear differential is also standard.
On the road, the X5 M50d delivered high levels of ride comfort on our test route (considering its immense wheels and low-profile tyres); we were pleased by how well the X5 absorbed road imperfections, especially on poorer sections of tarmac, which suggests it should fare reasonably well on South African roads too.
Ride comfort can be maximised further with the optional 2-axle air suspension with automatic self-levelling, while Adaptive M suspension Professional (with active roll stabilisation and Integral Active Steering) is also available at extra cost.
Can it off-road?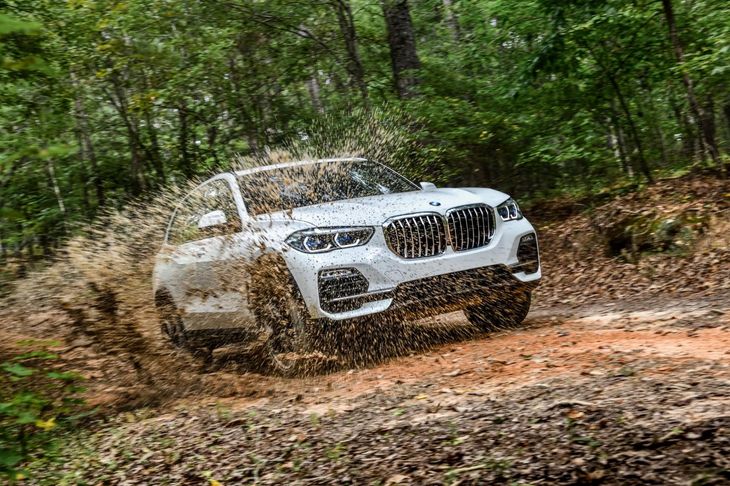 A new off-road package will be offered on the new X5 for the first time.
For the first time, BMW will offer an off-road package for the X5, which comprises front and rear underbody guards, 2-axle air suspension and an electronically controlled rear differential lock. As a result, we were keen to put the X5 through its paces in the dirt and the xDrive30d derivative was ready for the task. This derivative has a 3.0-litre turbodiesel engine (with 195 kW and 620 Nm of torque), which should be more than adequate for most buyers' needs, whether it be on the road or in the bundus.
Equipped with air suspension, the X5's ride height can be raised or lowered by as much as 40 mm to suit the situation and a full suite of cameras, including a 360-degree view camera, plus a hill descent control system proved to be particularly useful on the wet and slippery 4x4 track. The off-road package offers 4 driving modes including modes for sand, gravel, rock and snow. Even though the X5 was fitted with road tyres, it still performed surprisingly well and it coped with all the obstacles in its path.
So, the answer to the question is a resounding yes, the X5 can cope with the demands of off-roading, but perhaps the question you should be asking yourself is – do you want to take your new X5 off-road, or is it good enough just to know that it can? Note that the off-road package is not available on the X5 M50d...
Final thoughts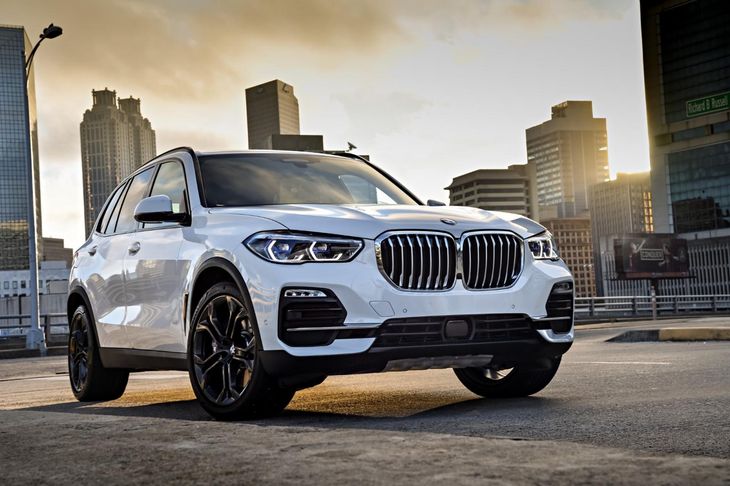 With a near-perfect blend of performance, luxury and safety, the new X5 makes a strong case for itself.
While we didn't have the opportunity to drive the X5 xDrive30d on the road, we suspect that this derivative will offer the best balance between comfort, performance and economy and it will likely net the lion's share of sales for the range when it arrives on local soil. However, the sheer power of the X5 M50d makes it utterly desirable.
Overall, the new X5 left a positive impression on us and, by all accounts, the new X5 is primed to take the fight to its rivals – it should be well-received by buyers. Along with its commendable performance, bold styling, attractive interior and comprehensive technology offering, the new X5 is a compelling product.
However, while starting prices for the X5 appear to be in line with rivalling products, the vast array of impressive optional features will come at a price. When comprehensively-equipped, the cost of the X5 will be hefty. But, then again, that's the price you pay for quality, right?
We can't wait to test the new X5 on local soil and to pit it against its latest rivals. Look out for a detailed local launch report around early December 2018...
New BMW X5 – Prices in South Africa
BMW X5 xDrive30d R1 194 296

BMW X5 M50d R1 502 581
Prices include a 5-year/100 000 km maintenance plan.
Buy a new or used BMW X5 on Cars.co.za
Related Content:
2019 Mercedes-Benz GLE and 2019 BMW X5: What can we expect from these SUVs?
New Mercedes-Benz GLE Revealed
Porsche Cayenne (2018) Launch Review
2018/19 Cars.co.za Consumer Awards - Powered by WesBank; Semi-Finalists