BMW has always denied that it would build a supercar. However, this new BMW Vision M Next concept looks and sounds very much like a supercar is in the offing and it's been confirmed for production within the next 3 years. Featuring petrol and electric power, the BMW Vision M Next looks sensational.
"The BMW Vision M NEXT provides a glimpse into the future of sporty driving," says Adrian van Hooydonk, Senior Vice President BMW Group Design. "Where the BMW Vision iNEXT illustrated how autonomous driving is set to transform life on board our vehicles, the BMW Vision M NEXT demonstrates how state-of-the-art technology can also make the experience of driving yourself purer and more emotionally engaging. In both models, the focus is firmly on the people inside. Design and technology make the 'EASE' and 'BOOST' experiences more natural and more intense."
Powered by a 4-cylinder turbocharged petrol engine and mated to electric motors, the BMW Vision M Next Concept is said to make 447 kW. Combined with a lightweight body and in full hybrid mode, 3 seconds to 100 kph is the claim. What's even more impressive is there's a pure electric range of 100 km. There's the option of running the car in all-wheel-drive mode or rear-wheel-drive, to ensure that BMW lives up to its sheer driving pleasure tagline.
As for the looks, well we're getting a distinct M1, i8 and M1 Hommage mashup, which is great. Wedge styled-supercars will never go out of fashion. "The BMW Vision M NEXT is a progressive hybrid sports car that makes a very clear and confident statement, in terms of both appearance and interaction," said Domagoj Dukec, Vice President BMW Design. There's carbon fibre galore in this new BMW Vision M Next, both inside and out.
The cabin is a gorgeous exercise in minimalism. In true sportscar fashion, the driver sits low and take a look at that eccentrically-shaped steering wheel. Notice how there are no buttons on it, with BMW favouring purity. There's an augmented reality heads-up display taking care of the majority of information, but the craziest part has to be the gyroscopic cupholder which keeps your drinks from spilling when cornering at speed. Obviously, this is purely a work of science-fiction for now, but it does look like BMW plans to revamp its rather bland interiors for the next generation.
For a brand that's been heavily criticised for not having a halo supercar, it's pretty special to see BMW getting creative and enthusiastic. With these eccentric looks, promising performance and credible tech, we can't wait to see what the production version will look like.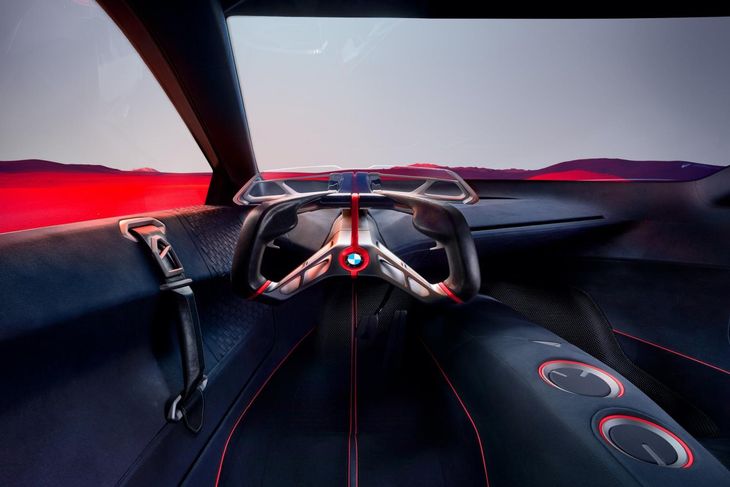 The minimalistic and futuristic cabin of the BMW Vision M Next looks sensational
Further Reading
BMW Wows with i Vision Future Interaction Concept
BMW previews i5 with i Vision Dynamics concept