BMW has announced details of its new strategic plan that will place sustainability and efficient resource management at the core of its business in an effort to drastically reduce CO2 emissions by 2030.
BMW has set itself science-based CO2 goals that will drastically reduce the firm's carbon footprint by the year 2030.
Chairman of the Board of Management Oliver Zipse said, "I firmly believe the fight against climate change and how we use resources will decide the future of our society – and of the BMW Group. As a premium car company, it is our ambition to lead the way in sustainability. That is why we are taking responsibility here and now and making these issues central to our future strategic direction. This new strategic direction will be anchored in all divisions – from administration and purchasing to development and production, all the way to sales. We are taking sustainability to the next level."
The main aim is to reduce CO2 emissions per vehicle by at least one third across the lifecycle including the supply chain, production and end of use phase. On a production level, BMW aims to reduce CO2 emissions at its facilities by 80% come 2030. To meet this goal BMW will look to source 100% green power while also optimising its energy efficiency through increasing digitalisation of processes at its sites across the world.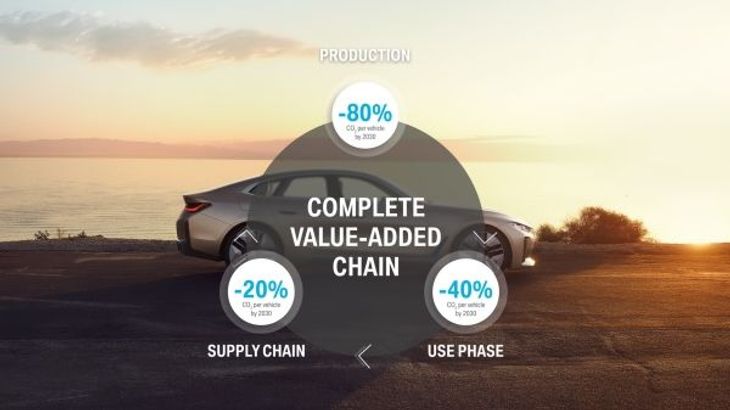 More electric cars, less CO2
In terms of vehicles, BMW aims to reduce vehicle CO2 emissions by 40% per kilometre driven and this will be primarily achieved by the expansion of e-mobility which ultimately means putting more electrified/electric cars on the road.
The aim is to have more than 7-million electrified cars on the road with two thirds of them being all-electric.
"The best vehicles in the world are sustainable. That is why premium and sustainability will be even more inextricably linked in the future," said Zipse. "We are using our exceptional technological expertise in both hardware and software not only to make these vehicles desirable, but also to help reduce CO2 through them."
At the end of 2021, BMW will have 5 full-electric vehicles in its stable including the i3, Mini Cooper SE, iX3, iNext and the i4.
The next-generation 7 Series will also feature an all-electric Battery Electric Vehicle (BEV) model in addition to a plug-in hybrid derivative and petrol and diesel derivatives with 48-volt technology. By 2023, 25 electrified models will be on the roads with half of them being fully electric.
More than this, BMW will also be 'electrifying' other high-volume models in its range including the X1 and the 5 Series which will be offered with 4 powertrain options (fully-electric, plug-in hybrid, and diesel and petrol engines with 48-volt technology).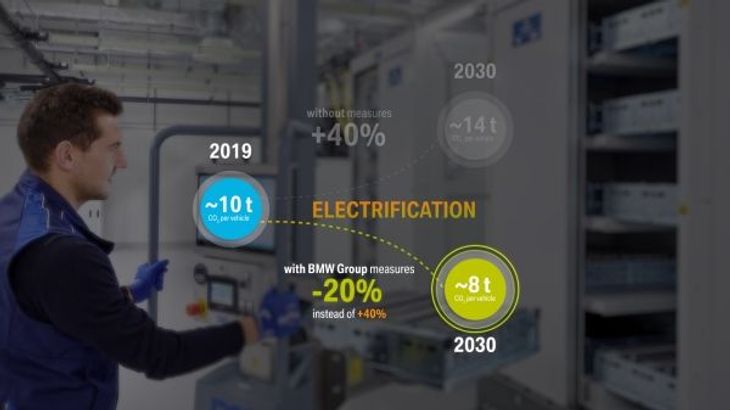 In terms of the supply chain, BMW will look to reduce CO2 emissions per vehicle by 20% by 2030. The focus here will be to implement corrective measures to avoid rising CO2 emissions per vehicle as a result of growth in e-mobility. Merc says that attention will have to paid to upstream added value in order to reduce CO2 emissions and sites energy-intensive production of high-voltage batteries as an example. More so, the firm will establish CO2 targets for its supply chain, comprising roughly 12 000 tier 1 partners worldwide and will factor-in a decision criterion in its contract award process.
"Our aim is to ensure the most sustainable supply chain in the entire industry," said Zipse.
An agreement is already in place for BMW's battery cell manufacturers to only use green power to produce fifth-generation battery cells which will save about 10 million tons of CO2 over the next 10 years. In addition, BMW too will increase its use of green power and will continue to encourage its supply chain partners to do the same.
Lastly, BMW will also enhance its resource management in an effort to reduce the reliance on primary material over the long term and introducing more high-quality secondary material.
"Our goal is clear: We want to further close the material cycles to protect nature's finite resources and use them even more efficiently," said Zipse.
BMW, in partnership with specialist recycling company, Duesenfeld, is developing a method to achieve a high-voltage battery recycling rate of 96% where the current EU recycling rate requirement is 50%.
The recycling of batteries will become more critical over time as demand for high-voltage batteries increases in conjunction with the rise of e-mobility.
Related Content
BMW SA Working on 325iS Gusheshe Tribute
BMW Anywhere: A new way to buy a BMW
Behind the Scenes - How we made the BMW Anywhere spinning advert