Mitsubishi has introduced a striking limited edition Triton Xtreme in South Africa! Take a look at what the Triton Xtreme has to offer.
Using feedback from its customers, Mitsubishi South Africa welcomes a new limited edition Triton Xtreme double-cab bakkie to market in South Africa. Only 50 examples of the Triton Xtreme are available in either 4x2 or 4x4 double-cab guise.

"This Xtreme Limited Edition is a local development, based on customer research from the launch of the new Triton earlier this year. With this new limited edition derivative, we offer traditional bakkie lovers a customised bakkie developed to their personal taste" says says Nic Campbell, General Manager of Mitsubishi Motors South Africa (MMSA).
Key features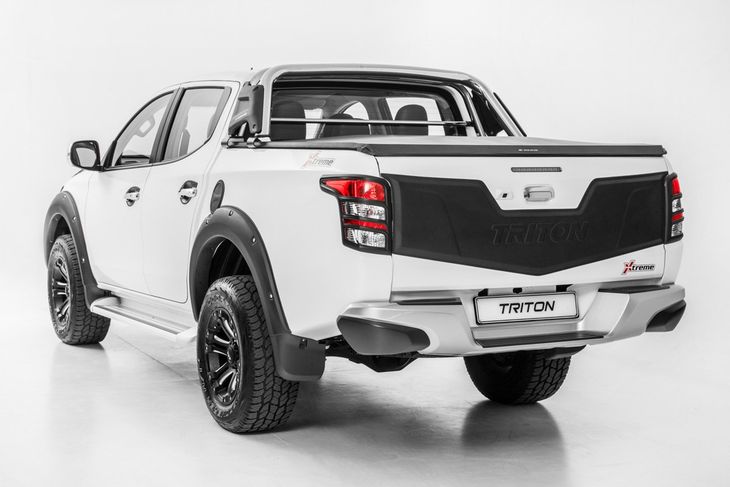 Protective cladding on the Triton Xtreme will help prevent damage while on the 4x4 track while also providing a unique look.
The Triton Xtreme wears a striking body kit which includes a range of additional features and accessories worth R60 000. The factory-installed body kit, however, will only cost buyers R20 000 over and above the listed retail price of the Triton double-cab it is fitted to.
Notable features of the body kit include:
Bonnet guards

Grille and fog lamp covers

Front and rear light guards

Wheel arch covers

Front and rear door handle protection covers

Triton branded scuff plates

Heavy-duty rubber mats

Tonneau cover

Style bar

Tailgate cover

Fuel flap cover

Black and chrome alloy wheels

Cooper Adventurer All-terrain tyres
"Triton is known for offering a lot of added-value with many additional features included at no cost as part of its standard specifications level. Offering a new bakkie owner a customised, limited edition bakkie with a high level of standard specification included in the base retail price, lets the Triton Xtreme not only stand out as an extreme physical competitor, but also a great value purchase," states Campbell.
The Triton XTreme is powered by a 2.4-litre turbodiesel engine with 133 kW and 430 Nm of torque in both 4x2 and 4x4 guise. The Triton Xtreme 4x4 derivatives can be had with either a manual or automatic transmission.
"The Xtreme package includes some of the highest-cost additions new owners often opt for when they order their new vehicles, but now form part of the latest special-edition Triton Xtreme Double Cab at a fraction of the cost," concludes Campbell. "All fitments are done and quality-checked by Mitsubishi SA, using imported body kits, which means all the additional Xtreme accessories are covered by the original manufacturer's factory warranty."
Mitsubishi Triton Xtreme - Price in South Africa
Mitsubishi Triton Xtreme 2.4 DC 4x2 M/T - R499 995
Mitsubishi Triton Xtreme 2.4 DC 4x4 M/T - R559 995
Mitsubishi Triton Xtreme 2.4 DC 4x4 A/T - R579 995
The Mitsubishi Triton Xtreme is sold with a 3-year/100 000km warranty and a 5-year/90 000km service plan.

Buy a Mitsubishi Triton on Cars.co.za
Related Content
Mitsubishi Triton (2017) Video Review
Mitsubishi Triton 2.4DI-D Double Cab 4x4 (2017) Quick Review
Mitsubishi Triton 2.4DI-D Double Cab 4x4 Auto (2017) Review
The Journey: 4x4 & Surfing in Transkei
6 Most Fuel-Efficient Double-Cab Bakkies in SA