Mitsubishi's previous-generation Pajero Sport was always a fringe player in the Toyota Fortuner's corner of the market. Can this well-priced new model elbow in on the action more convincingly?
We like: Probably the most refined vehicle in this category, off-road ability, engine power/economy balance, build quality
We don't like: Outdated infotainment system, challenging rear-end looks, low maximum tow rating
Alternatives
The top seller: Toyota's Fortuner 2.8GD-6 4x4 Auto is a dominant player in this segment and was recently slightly upgraded – read more about that here. It offers an enviable reputation for unburstable reliability, good off-road ability and, in its latest form, a much more upmarket cabin. It can't, however, match the Ford or Mitsubishi for on-road ride comfort. Resale value should be strong. It sells for R633 500 – about R34 000 more than the Mitsubishi, but around R11 000 less than the Ford.
The big softie: The Ford Everest 3.2 4WD XLT costs R45 000 more than the Mitsubishi, but is a somewhat larger vehicle with more power. If you need maximum space and on-road ride comfort in your SUV, then the Everest should feature high on the test-drive list. Though XLT specification is comparable with its rivals, it doesn't quite have the upmarket feel of the Fortuner and Pajero Sport inside.
A used Trailblazer?: With Chevrolet about to exit the country the Trailblazer is no longer offered on the new-vehicle market. It was, however, updated not that long ago and was always a better vehicle than the market gave it credit for. You can pick up a demo or relatively low-mileage example for good pricing at the moment – have a look here.

Compare the Mitsubishi Pajero Sport with the Toyota Fortuner and Ford Everest by clicking here
Enters a tough market
It is true that South Africans seem to love the rugged 7-seat body-on-frame SUV... but that's mostly been the case because they've clearly fallen passionately in love with the Toyota Fortuner. The popular Toyota commands an intimidating sales lead and generally outsells its nearest rival (the acclaimed Ford Everest) by 2:1. And the rest? Well, the Chevrolet Trailblazer failed to make an impression in the market even though, when it was originally launched, it was arguably the best product in this segment) and the previous Mitsubishi Pajero Sport was always a bit player.
But now that the Trailblazer is no more and there's a seemingly dramatically improved Mitsubishi, can the Pajero Sport steal some market share? The Fortuner/Everest/Pajero Sport trio will also fight it out for the title of Adventure SUV of the year in the Cars.co.za Consumer Consumer Awards – Powered by WesBank. The winner will be announced in January, but for now, let's take a closer look at the current flagship Pajero Sport.
How does it fare in terms of...
Design & Packaging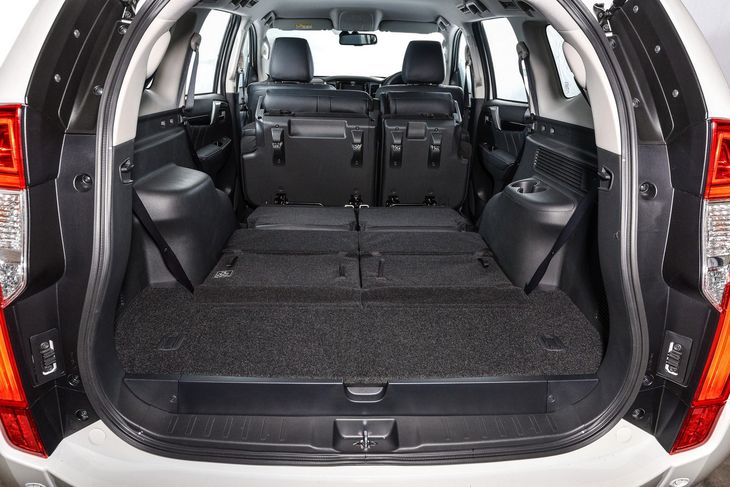 A large, flat loading area is available with the seats folded away, but ultimately the Pajero Sport is not as spacious as an Everest.
The exterior design of the Pajero Sport is controversial to say the least. While the entire test team (and most on-lookers) were in agreement that the front and side views of the vehicle are sufficiently modern and macho for this segment, comments on the back-end were largely negative with some suggesting that the appearance was so alienating that it would be a deal breaker. Look at it in the metal before making up your own mind.
Inside, Mitsubishi's designers have been far more successful in delivering a coherent, attractive appearance. The charcoal black theme, piano black surfaces and satin silver accents combine well to lend the Pajero Sport cabin an upmarket ambience. Mitsubishi has been particularly clever with the priority it has clearly given the frequently touched surfaces. While the facia is predominantly hard plastic, the steering wheel, for example, is a very high-quality item, as is the gearknob. Throughout our test period, and particularly during the punishing testing at Gerotek on a variety of poor surfaces, the Pajero Sport's cabin remained a rattle-free place, pointing to good build integrity – as one would expect from this brand.
A minor practicality-related flaw is the lack of oddments stowage in the centre console/transmission tunnel area. Yes, there are 2 drinks holders in addition to a lidded storage box between the seats, but another receptacle would have been appreciated.

The Pajero Sport has an initially confusing seat-folding process, but familiarity should help.
With regards to spaciousness the Pajero Sport should be sufficiently large inside for most families, but it is not the biggest vehicle in this segment. Lower, shorter and narrower than both the Everest and Fortuner, it offers less outright luggage space (in 7- or 5-seat modes) and also less overall utility space, with the cabin being noticeably narrower than its rivals.
We also found access to the rearmost seats somewhat more difficult compared with its competitors, and the folding/tumbling arrangement of the 2nd and 3rd rows is quite unique to this model, and somewhat counter-intuitive at first. However, with familiarity this should not be a long-term problem, and at least the Pajero Sport's rear seats are not suspended from the side of the cabin as is the case with the Fortuner. With the 2nd and 3rd row seats folded flat, the load area is flat and long.
Occupant space is pretty good all-round, with generous legroom for those in the 2nd row – the Pajero Sport's wheelbase is longer than the Fortuner's. Predictably the 3rd row seats are really aimed at kids or small adults and somewhat disappointingly the 2nd row can't slide fore/aft, but does offer a reclining function.
Engine power & Efficiency

The new 8-speed gearbox is smooth and the ratios are well-matched to the refined engine.
One of the highlights (there are quite a few!) of the new Mitsubishi Pajero Sport is the drivetrain. We already know that the Triton-sourced 2.4-litre turbodiesel punches above its size, but it's particularly well-matched to this new 8-speed automatic transmission (with shift paddles) to deliver silky smooth shifts that contribute a lot to the vehicle's overall feel of refinement.
The engine delivers 133 kW at 3 500rpm and 430Nm of torque. The latter figure is slightly lower than the outputs offer by its rivals from Ford and Toyota, and is available at a relatively high 2 500 rpm. Although the Pajero Sport is not much lighter than its competitors, one doesn't really feel the torque deficit during day-to-day driving. During Gerotek evaluations for the Cars.co.za Consumer Awards - Powered by WesBank, however, we also performed towing tests back-to-back with its rivals and it coped admirably, though it is in this situation, and faced with steep hills, where the fact that it has slightly less grunt gets accentuated. It is worth noting that the maximum tow rating (braked) for the Pajero Sport sits at a comparatively low 1 800kg, compared with the 3 000kg figure quoted for both the Everest and Fortuner.
If towing really heavy trailers is not going to be a major concern, we have no hesitation in recommeding the Pajero Sport based on its refined, punchy and economical engine. Mitsubishi claims a combined cycle consumption figure of 8.1L/100 km, which is lower than its 2 main rivals. In our testing, we achieved a figure of closer to 9.8L/100 km which is significantly better than what we've managed to achieve with the Everest 3.2 in the real world.
Ride & Handling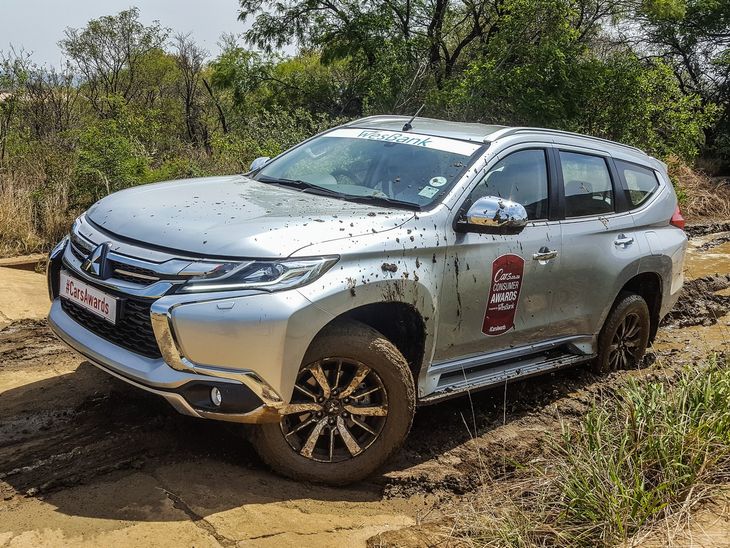 The Pajero Sport is both impressive off-road, and better than the Fortuner on tarred surfaces.
Arguably the Pajero Sport's greatest talent is the fine balance it strikes between being a go-anywhere off-roader, and a comfortable daily driver on normal roads. In that regard this Mitsubishi is probably the new class-leader. Its multi-link-with-stabiliser rear suspension appears to be a major contributor to what is a winning ride/handling recipe. Yes, there's still a hint of its bakkie origins on really poor surfaces but overall the Pajero Sport delivers such a comfortable ride that, combined with its refined, quiet and luxurious cabin, this Mitsubishi could be a perfect one-car-for-all-scenarios acquisition.
As you would expect from a Mitsubishi, it also puts in a very impressive showing when the going gets very rough. Mitsubishi claims a ground clearance of 215 mm, which seems conservative, and approach and departure angles of 30 and 24 degree respectively. Note, however, that during our tough off-road testing at Gerotek for #CarsAwards, the Pajero Sport's aftermarket towbar and particularly its electronic coupling appeared to be more susceptible to damage than the fittings on the rival vehicles.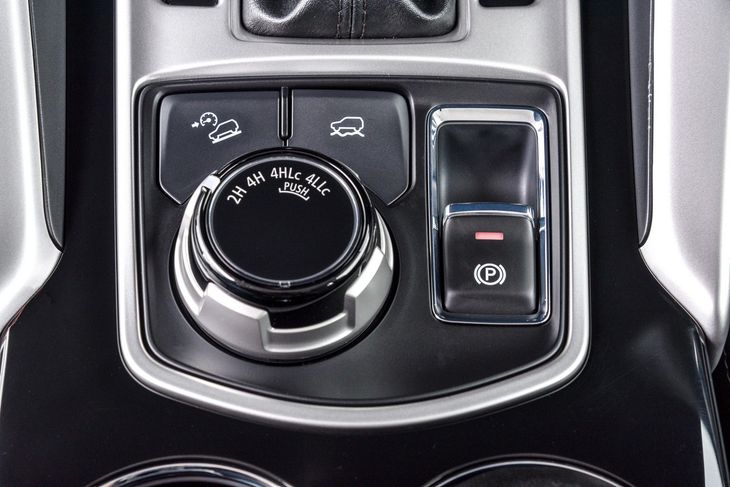 Shift-on-the-fly is available at speeds of up to 100kph and a selectable off-road mode system is fitted for the first time.
This flagship derivative of the Pajero Sport is certainly packed with all the gear required to head off-road confidently. It features Mitsubishi's Super-Select II 4WD system (with hill-descent control and centre differential lock), accessible through a simple rotary dial on the transmission tunnel, as well as a new off-road mode system (essentially terrain response), that allows the driver to tweak the various systems for the terrain that is about to be tackled (gravel, mud/snow, sand, rock). It also get a lockable rear differential.
As you can see in the video at the top of this article, and also the #CarsAwards test routine at Gerotek, we've spent plenty time in the Pajero Sport off the beaten track. It's a very capable vehicle, undoubtedly, but even better is the fact that comfort levels remain so high in the cabin throughout. An often-ignored contributing factor to the comfort levels is relatively impressive turning circle for such a big vehicle.
Standard Features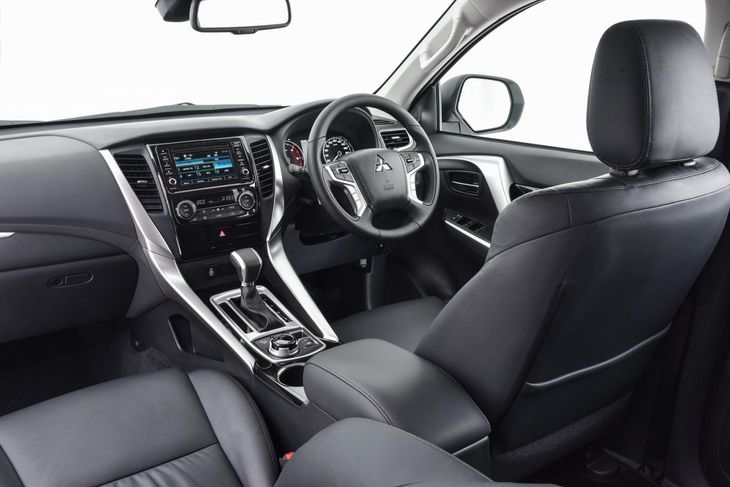 Very neat cabin is generously equipped, but the touch-screen infotainment system's functionality seems outdated compared with current market trends.
These bakkie-based SUVs may have a rather agricultural origin, but these days they are luxury vehicles that are able to not only venture off-road confidently come the holiday season, but also perform the school run and home-to-office trips in comfort. Mitsubishi has seemingly been very tactical in the way it has specced and priced its new offering. At just under R600 000, it offers a features list that compares very well with its more expensive rivals.
Premium-looking and -feeling leather upholstery is standard, as are; dual-zone climate control (with rear passenger controls), electrically adjustable driver's seat, multi-function steering wheel, auto lights/wipers, 6 airbags, a comprehensive active safety package, keyless start/entry, rear park-distance control, cruise control, rear-view camera and a touch-screen infotainment system that includes Bluetooth and USB functionality.
Sadly, the local specification Pajero Sport features a somewhat outdated touch-screen system that doesn't include navigation or Apple CarPlay/Android Auto functionality.
Pricing & Warranty
The Mitsubishi Pajero Sport 2.4 D4 4x4 Auto sells for R599 995 (November 2017) and the pricing includes a 3-years/100 000 km warranty and 5-years/100 000 km service plan. Servicing intervals are scheduled for every 10 000 km (which is short) or 12 months, whichever comes first.
Verdict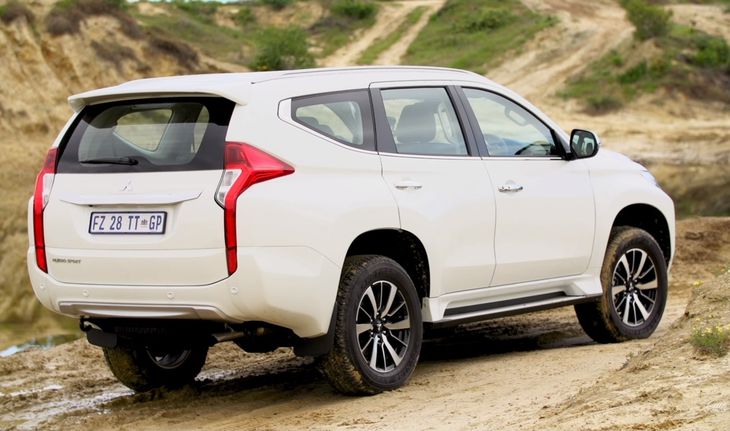 Mitsubishi's designers arguably dropped the ball with the rear-end look of the new Pajero Sport. Not many like it.
So, is the new Mitsubishi Pajero Sport good enough to justify consideration in this segment? Absolutely... It offers excellent value for money, courtesy of its lower pricing and standard features mix. It arguably represents the best balance of on-road comfort and refinement and off-road ability, and its engine is both sufficiently powerful and more economical than its competitors.
Provided you don't need to tow 3 tonnes and you can live with the rear-end styling and outdated infotainment system, there really isn't much to find fault with here. It deserves to do well.
You may also be interested in;
Mitsubishi Triton (2017) Video Review
Toyota Fortuner vs Ford Everest Comparison Test (2016) Video
Extended Test Report: Toyota Fortuner 2.8GD-6 4x4 Auto (2017) - Video
Looking to buy a new / used Mitsubishi Pajero Sport?