The Mitsubishi Pajero Sport has been updated with new technology, a slightly revised look and a number of other changes. Do the changes help this bakkie-based Adventure SUV stand out in a segment dominated by the Toyota Fortuner? Matt Campbell drove the updated 7-seater in Australia ahead of its arrival in South Africa later this year.
The Mitsubishi Pajero Sport – for the uninitiated – is a 7-seat Adventure SUV based on the Triton bakkie. It carries over a lot of the Triton's technology and equipment, not to mention the same underpinnings (aside from the rear suspension). Revised pricing and equipment levels are still to be announced for South Africa, but here's an early taste of what to expect of the updated model.
New look, but is it improved?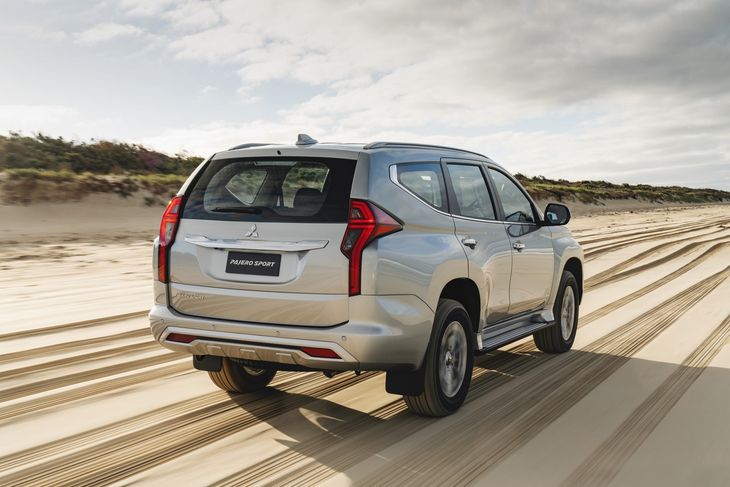 The rear light design has been trimmed down somewhat but remains a polarizing aspect.
One of the most interesting things about car design is just how subjective it can be. You might see this new-look Pajero Sport and think: "That's hideous." Alternatively, you might be in the other camp and say: "That looks a lot better than before." Comment below to let us know into which camp you fall...
The exterior styling changes aren't far-reaching, but somehow they are substantial.
The front-end design has been adapted to suit the "Dynamic Shield" finish already applied to some of the other models in the range. Essentially, there are now large fog lights where there were previously plasticky finishes, as well as broader chrome trim and a higher bonnet line as a result of the reworked grille. For the record, all Aussie derivatives of the Pajero Sport have LED headlamps and -daytime running lights.
The rear-end has seen those "crying clown" tail-lights trimmed a tad, thanks to a revised design and re-shaped lower rear bumper. There are new wheel designs offered in international markets, and in Australia, there's also a more rugged all-terrain tyre design for the range-topping derivative.
Creature comforts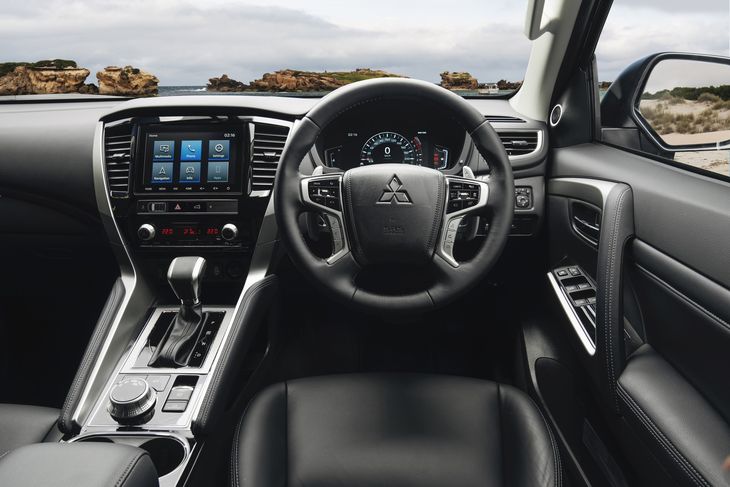 Now kitted with more modern tech, the Pajero Sport is a stronger match for the Everest.
The top-of-the-range derivate in the Australian market sports a number of new additions inside the cabin, including a larger (8.0-inch) touchscreen infortainment system with Apple CarPlay and Android Auto, as well as built-in satellite GPS navigation (for the first time), not to mention Bluetooth and USB connectivity. There's also a new 8.0-inch driver LCD display with a sizeable configurable layout and a speed display – very handy to keep an eye on your pace.
Aside from a couple of other minor trim changes inside the cabin, it's otherwise a carryover offering. That means nice-to-have elements such as dual-zone climate control, smartphone-charging USB ports and a 12V power outlet in the 2nd row, electically-folding mirrors, electric windows and a leather-trimmed steering wheel (with audio and cruise control buttons) are retained.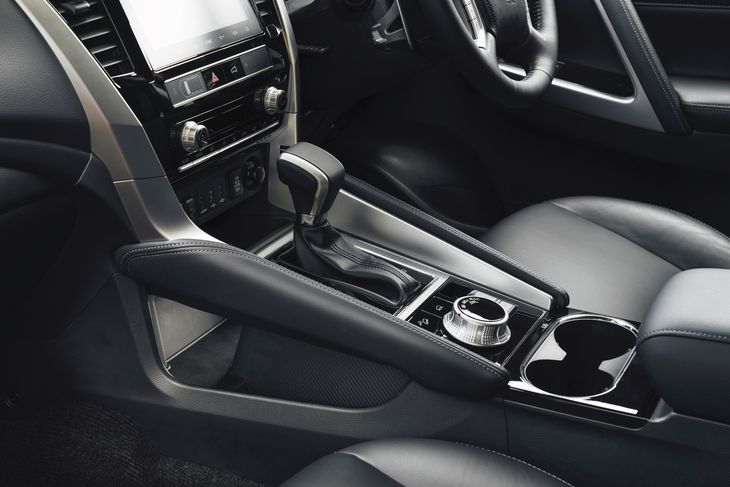 An easy to use off-road system and multiple charging and power outlets have been added in the new model.
As before, the Pajero Sport has a 7-seat layout. However, the 2nd row doesn't slide fore and aft, as it does in most of the Mitsubishi's rivals. Instead, the 2nd row flips and tumbles forward to allow access to the 3rd-row occupants.
The rearmost row retains its "stowaway" seat bases, which makes their operation fiddlier than in, say, an Isuzu MU-X or Ford Everest. You need to click the seat bases into place separately to the seatbacks, which means it's arguably a harder job to do with your hands full.
But the Pajero Sport does retain good practicality overall. With the 3rd row in place, 131 litres of luggage capacity is at your disposal (which is enough for a pram or some small suitcases). With the 3rd row stowed, space increases to 502 litres and, when the 2nd and rearmost row are folded away, a claimed 1 488 litres of utility storage becomes available.
Note, however, that if you're buying the Pajero Sport as an alternative to a conventional people-mover, the positions of the tether points for child seats could be an issue. The 2nd row features a pair of ISOfix mounting points, with a trio of anchorage points mounted far back in the ceiling above the 3rd row. That means when child seats are correctly mounted, their extended tethers render the last row (which doesn't feature ISOfix points itself), unusable for seating.
On the road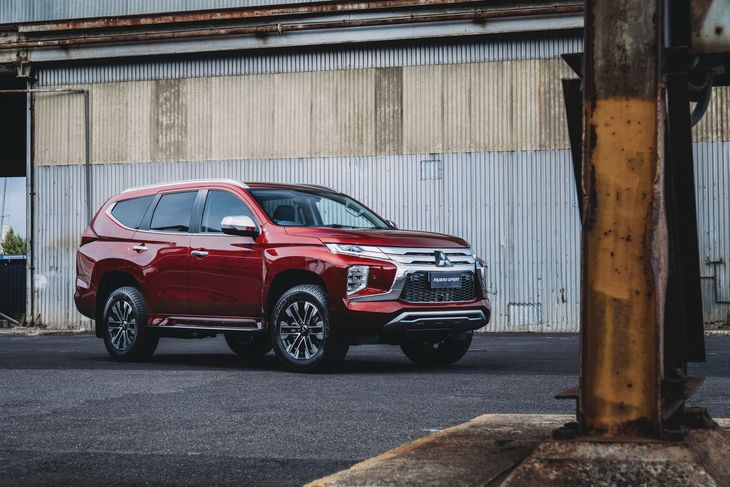 It remains powered by a 2.4-litre turbodiesel engine.
There haven't been any notable changes to Pajero Sport's driving experience – that wasn't the focus of this update, but that doesn't really matter much, because it was already one of the most agreeable bakkie-based SUVs to drive.
The 2.4-litre 4-cylinder turbodiesel Mivec engine produces the same peak outputs (133 kW and 430 Nm of torque) and is still mated to an 8-speed automatic transmission as standard, whether you opt for the 4x2 rear-wheel-drive derivative, or the flagship 4x4 version (as I drove in Oz).
The engine is a quiet and reliable; it offers reasonable pulling power and feels unflustered at cruising speeds. At lower speeds, however, it can be a little less eager, but it's never slow and, come to think of it, considerably more refined than some of the other agricultural motors in this segment.
The 8-speed auto does a nice job of shifting between the gears, and hardly ever gets caught in the wrong gear (it's well calibrated to the engine's performance characteristics). Overall, it's smooth and inoffensive.
The way the Pajero Sport drives on the road is, funnily enough, quite similar to the Triton. The front suspension is the same (double wishbone), but the rear suspension (3-link coil spring with stabiliser bar) feels more road-focused.
The ride is decent if not perfect, with a bit of roughness if the surface isn't perfect. But overall, it is nicely settled at pace, and easy to drive around town. The steering is accurate, and the action is easy, too – the turning radius is smaller than most other SUVs of this size (5.6 metres), making it easier to park than most of its rivals.
The model sampled in Australia had the full gamut of safety technology, including auto emergency braking with forward-collision warning (but not pedestrian or cyclist detection), blind-spot monitoring, rear cross-traffic alert, lane departure warning and 7 airbags (dual front-, side-, driver's knee- and full-length curtain units).
Off the road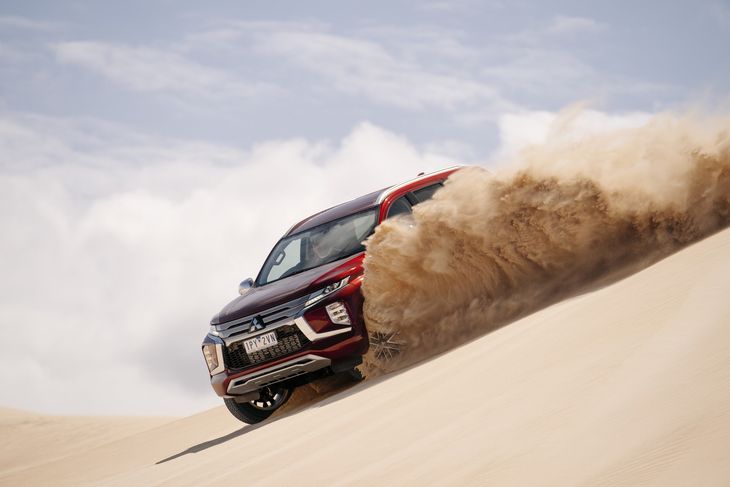 It remains a sure-footed off-roader with 2 lockable diffs.
The Pajero Sport is not only an effective and comfortable on-road option, but it's also surprisingly adept at serious off-road driving. The 4x4 version has Mitsubishi's excellent Super Select II 4WD system, which allows you to lock the centre diff and choose specific modes if you're in high-range (Gravel, Mud/Snow, Sand, Rock [4L only]). In low range, if you lock the rear diff as well, you can't choose the mode you want – but it should theoretically get through just about anything with everything engaged, based on our testing.
It has a steep 30-degree approach angle, reasonable 23.1-degree ramp-over angle, and a good 24.2-degree departure angle. That, combined with a clever and not-too-obtrusive hill descent control system, a 700-mm wading depth, 218 mm of ground clearance, and the new Toyo A/T Open Country tyres fitted to the derivative I drove, made for pretty impressive off-road progress.
Over an arduous, angular hill climb with deep ruts, an at-times slippery surface, washouts and fallen trees to dodge, the Pajero Sport proved capable, if lacking a bit of wheel articulation. In some instances it fell deep into ruts and holes, leading its rear-end to kick up and lose contact with the surface below.
However, it was easy to place the Pajero Sport where you needed to: its steering offers good feel, forward visibility is good and the powertrain operates very predictably in low-range.
During high-range four-wheel-driving on loose gravel tracks, the Pajero Sport was nicely resolved and felt ready to eat up the kilometres. But just keep in mind, with a fuel tank capacity of only 68 litres, longer drives in the great outdoors might require you to take extra fuel with you, just in case. Most rivals have 80-litre – or larger – fuel tanks.
Summary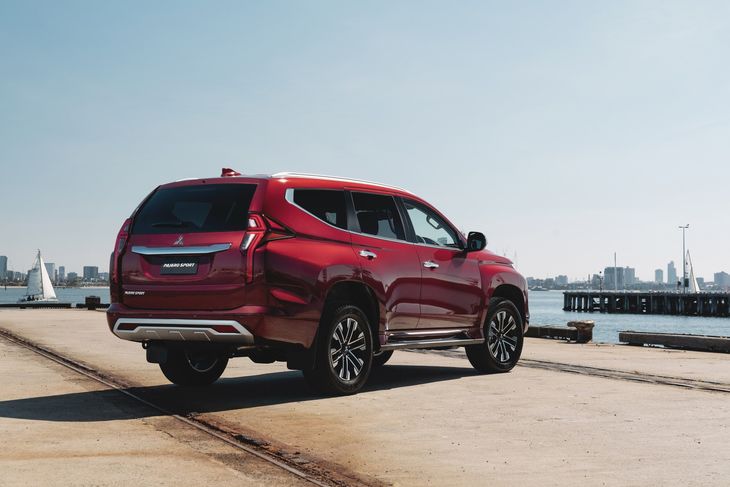 The Pajero Sport still has a smaller fuel tank than its rivals, which is something to think about when venturing far out.
The Mitsubishi Pajero Sport was already a commendable option for those looking at a reasonably affordable 7-seat Adventure SUV, and its appeal hasn't been hampered as a result of this mid-life facelift – quite the opposite, in fact.
Mitsubishi South Africa has historically priced itself extremely keenly against locally-produced rivals. Expect this model to continue that trend, but with its improved visual appearance and updated tech features, it certainly offers a stronger proposition than before...
Related content
Ford Everest 2.0 Bi-turbo 4x4 XLT (2019) Review
New Haval H9 4x4 SUV Review (Video)