Mitsubishi has given its well-equipped and practical (if nondescript) Outlander SUV a bolder look at both ends. Is revised styling inside and out enough to garner this four-wheel drive, Japanese seven-seater more attention from high-rider-hungry buyers? We decide if the only Outlander derivative Mitsubishi offers, the 2.4 GLS Exceed, deserves a spot on your shortlist.
We like: Full-house specification, ride comfort, practicality, seven-seat flexibility

We don't like: Mundane driving experience. CVT soundtrack
Alternatives
The direct rival: The only vehicle that neatly mirrors the Outlander's mechanical configuration and seat count is the Nissan X-Trail 2.5 SE 4WD CVT. A match on performance and efficiency, the X-Trail gives away a fraction of luggage space to its slightly longer rival, but hits back with a more consistent design and a far cheaper price tag of R417 900 (April 2017).
Seven seats, no four-wheel drive: Two facelifts and a major cabin redesign have just about kept the Chevrolet Captiva 2.4LT Auto in the game. Yes, it's old and is no longer available with four-wheel drive, but it has room for 7 occupants, has solid on-board tech and competes well in terms of ride comfort. Priced at R428 600, the Captiva makes the 4WD X-Trail look like even more of a bargain.
Four-wheel drive, but just 5 seats: The current Honda CR-V 2.4 Executive AWD costs a tad more (at R568 100) than the Outlander, but bests it in terms of specification levels. A premium feel to the cabin's design and build quality plus a longer warranty also easily make up for the extra outlay. Take note though, a new-generation CR-V is due in South Africa in coming months.
Compare the Mitsubishi Outlander with the Nissan X-Trail and Chevrolet Captiva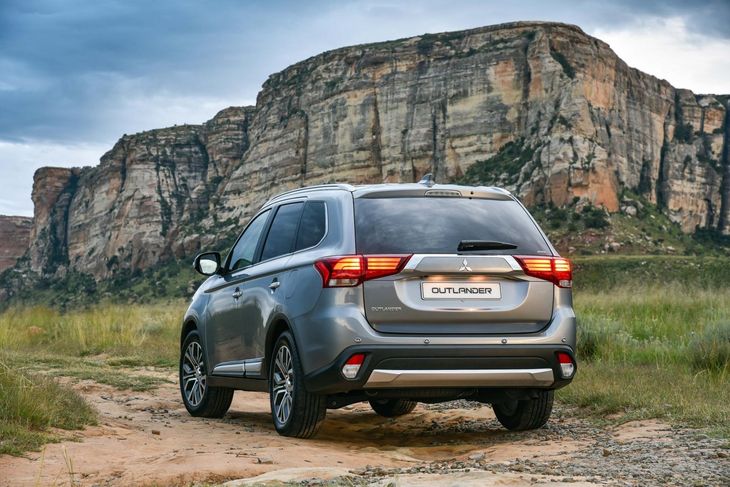 Offering revised styling, a host of standard features and 7-seat capability, the Outlander is a suitable multi-tasker.
Still lost in the crowd?
There certainly isn't a lack of choice for consumers in the market for a spacious, well-equipped crossover for around R550k. Insist on 4WD and 7 seats, however and the list of contenders thins out dramatically. Yes, there are the bakkie-based alternatives, such as the Toyota Fortuner, Chevrolet Trailblazer and Ford Everest, but improvements in refinement and on-road manners aside, they're still rough and gruff, mostly turbodiesel-powered SUVs derived from commercial vehicles. That leaves just the Outlander and Nissan's X-Trail. The more distinctive Nissan's greater popularity is not in dispute, outselling its far more demure countryman many times over... Mitsubishi's riposte is this comprehensive facelift.
How does it fare in terms of...
Design and packaging?
As with a number of Japanese carmakers, Mitsubishi has been unable to establish a single, strong design language. This has resulted in huge variations not just between generations, but even between facelifts. The Outlander is a prime example. Not so long ago it featured a large gaping grille obviously referencing the marque's Evo X sports sedan. That model was replaced in 2014 by a softer-surfaced, more generically styled body that failed to make an impression on loyal Outlander fans, let alone owners of other makes.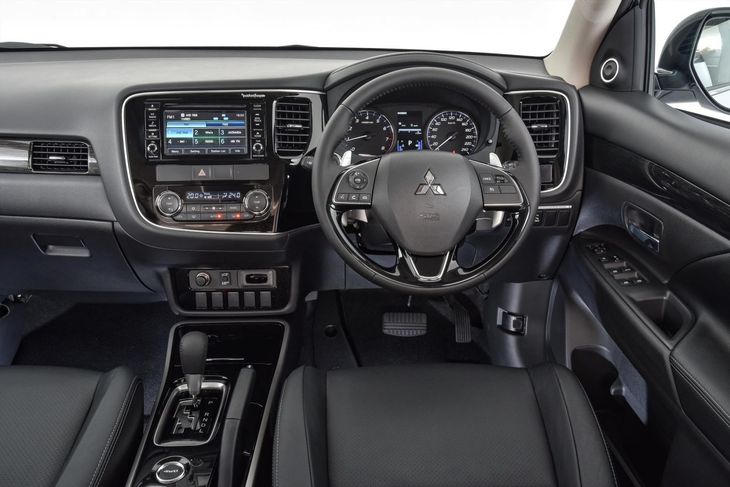 The interior benefits from a mild revision giving the Outlander a greater sense of perceived quality.

Mitsubishi's response is this facelifted model, which incorporates the brand's latest style statement. Called "Dynamic Shield", the new look is characterised by a set of shiny, angular walrus tusks that flank a blacked-out lower grille and bumper section. New HID headlights and shapelier chrome grille slats add expression. Is it prettier? No. More purposeful? You bet.

The rear end has also received attention with redesigned tailgate lamps and an all-new black bumper with fog lights positioned further apart to emphasise width. Faux skid plates finished in matt silver plastic complete the visual makeover. It's a comprehensive facelift that endows the Outlander with more standout appeal.
Apart from swapping the previous model's somewhat garish fake wood door trim for classier black grain as well as a new gear selector and handbrake housing finished in piano black, the interior revisions are less obvious. The steering wheel is unchanged in terms of functionality, but a touch more chrome and a gloss black lower insert subtly increase perceived quality. Two sets of physical buttons have appeared either side of the central touchscreen and, well that's pretty much the extent of the cabin upgrade.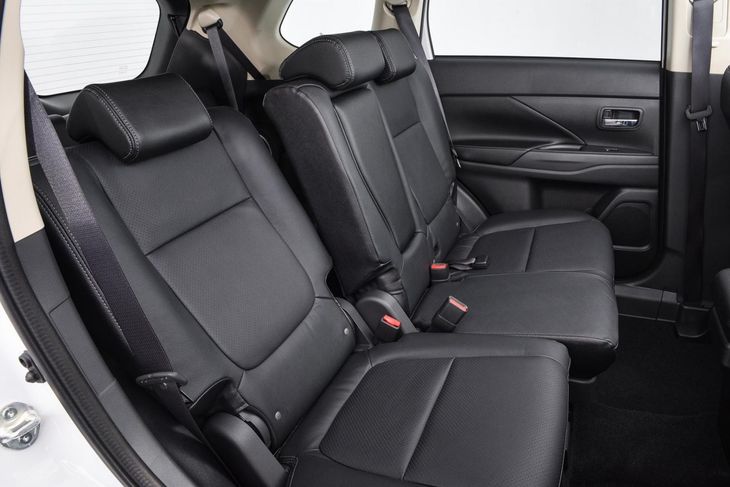 The second row of seats can slide forward, allowing to access to the third row. Legroom is sufficient no matter where you choose to sit.
As for packaging, the Outlander makes very efficient use of its 4.7-metre length, featuring 3 rows of seats with a decent amount of legroom all round. Access to the third row is via 60:40-split second-row seats that slide forward by as much as 250 mm with tilting and flat-folding backrests. There's a retractable-type luggage cover, but no place to store it when the rearmost seats are in use. The luggage area is large and usefully shaped, though some cargo capacity has been absorbed by a (frankly ridiculous) moulded-in sub-woofer...
It would be interesting to hear how many Outlander buyers yearn for the deep bass of the 9-speaker 710W Rockford Fosgate audio system. Owners will appreciate the full-size alloy spare, but may be less pleased that it's externally mounted, behind the rear bumper and underneath the car.

Visibility from the driver's seat is better than most thanks to the vehicle's more pragmatic side styling, which trades trendy rising waistlines and overtly angled pillars for sensibly sized and shaped glazing.
Ride and handling?
Vehicles of this nature are forced to wear a few hats: family-friendly road trippers, school run people movers, reasonably capable off-roaders and one-up commuters. Therefore, to meet that array of demands requires a well-sorted suspension setup. The Outlander ticks this box emphatically. As you'd expect, it delivers a comfortable ride in town, yet is still firm enough that it doesn't turn to jelly when you're alone on a deserted winding back road or bottom out too easily when you're travelling with 7 occupants on board. So yes, while there is a certain degree of body roll apparent during higher-speed cornering, the ride versus handling compromise is pretty much spot-on.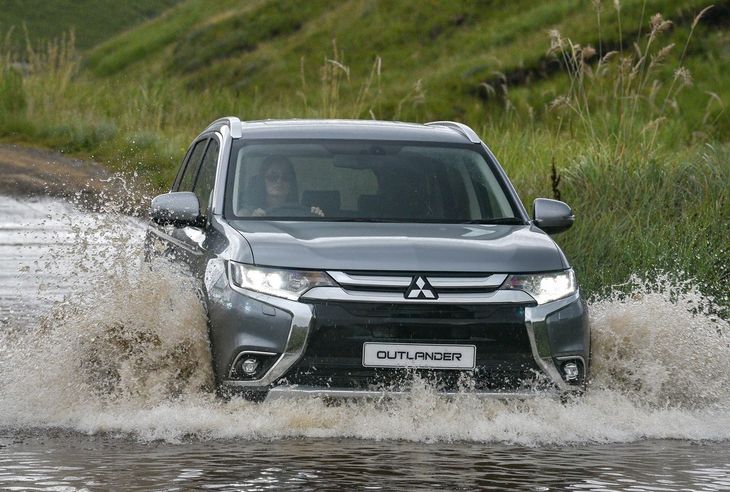 A 3-mode four-wheel drive system and a ground clearance of 190 mm provide a degree of versatility in varying terrain.

It's much harder to get the steering to feel right in a wide variety of scenarios, and it's here where the Outlander is both hit and miss. While the level of assistance on offer is just fine, keener drivers may find the slow gearing tedious. On the plus side, it results in relaxed gravel road cruising and makes descending a rocky road down to a secluded glampsite less of a wrist-jarring affair.

Adding to the Outlander's capabilities is 190 mm of ground clearance and a 3-mode four-wheel drive system that starts with a predominately front-drive setup called 4WD Eco, a more alert mode labelled 4WD Auto and a 50:50 torque split Lock mode for maximum traction in all conditions.
Performance and efficiency?
Charged with powering the Outlander is Mitsubishi's familiar 2.4-litre inline 4-cylinder petrol engine. Though generally refined, the naturally aspirated motor's not exactly cutting edge in tech terms – it still shouts about having 16 valves and a variable valve timing system – or power and torque outputs. However, most direct and indirect rivals (front-wheel-drive 7-seaters and four-wheel-drive 5-seaters) feature similar engine configurations and performance stats, so in that context, figures of 123 kW at 6000 rpm and 222 Nm at 4100 rpm are on par.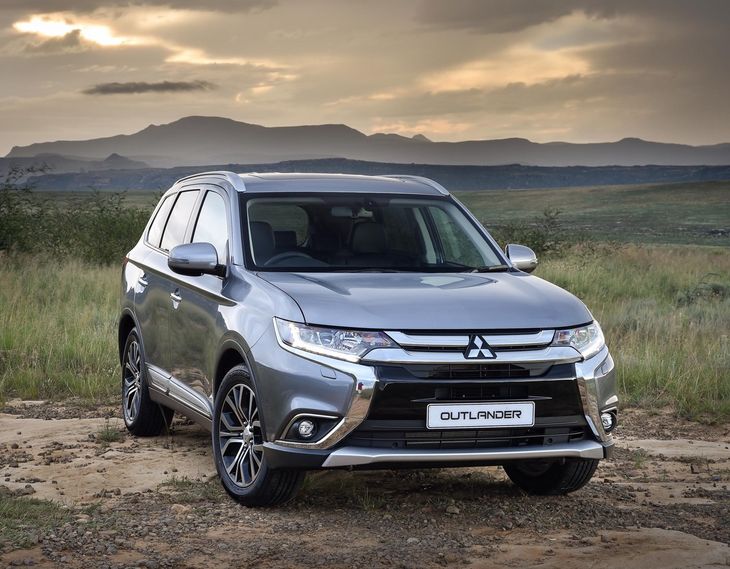 The Outlander is on par with its rivals in terms of power and torque, but the CVT can become cumbersome when driven enthusiastically.

Still, the motor's not an aural delight when it's forced to rev harder (during overtaking manoeuvres, for example). Drive it as if you're on vacation with loads of time to get anywhere and progress is hushed and pleasant enough, making great use of a continuously variable transmission to keep the engine off the boil. Driving with much more enthusiasm though does bring out the worst attribute of CVT, namely: constant rpm acceleration and an associated engine whine. Fortunately, the Outlander has a set of metal gear-shift paddles fixed to the steering column housing that provides manual access to 6 pre-set steps or artificial gear ratios – essential for sportier driving stints and when towing.

Mitsubishi quotes a combined cycle consumption figure of 8.2 L/100 km, which compares favourably with similar capacity petrol models in the Honda CR-V, Nissan X-Trail and Chevrolet Captiva ranges. In reality, expect an average of around 10.5 L/100 km.
Comfort and features?
As the name suggests, the Outlander is supposed to be an ideal getaway car. Okay, so it's not likely to feature on any bank robber's wish list, but as a road-trip companion, it doesn't disappoint. General roominess, tinted side windows, a glass sunroof and firm, yet comfortable leather covered seats all play a part here. For the record, the front seats have a heating function with electric adjustment on the driver's side. Storage areas include a large cubby beneath the front central armrest, a lidded space ahead of the gear selector and wide door pockets. Middle row passengers have access to 2 cup holders in the central armrest and 2 bottle holders in each rear door pocket.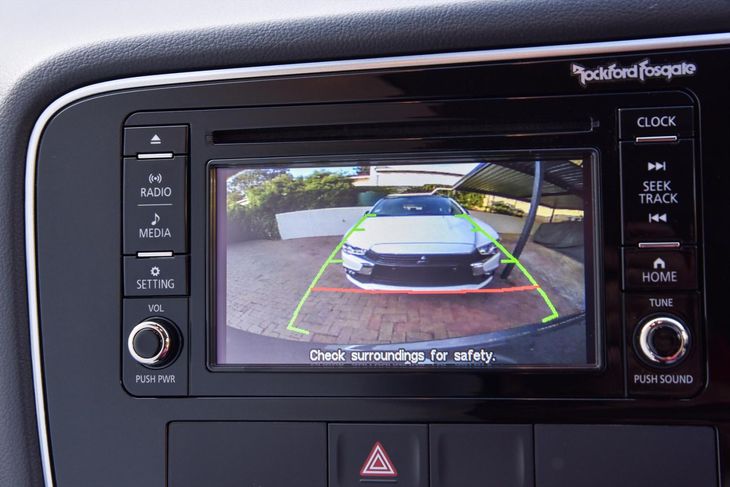 Rear parking sensors and a rearview camera are useful features, while a rear roof-mounted DVD entertainment system will get the thumbs-up from the kids.

When it comes to charging devices, only front rowers get easy access to a 12V outlet and USB input. Providing amusement for those in the rear is a standard-fit roof-mounted DVD entertainment system complete with wireless headphones and a remote control unit. You don't see that very often, but then the Outlander features all the convenience items you'd expect such as auto headlights, rain-sensing wipers and dual-zone automatic air-con plus cruise control, rear parking sensors, rear-view camera and an agonisingly slow powered tailgate.

As before, there's a 9-inch touchscreen interface for audio and Bluetooth-based functionality. However, its operation is now more intuitive thanks to the addition of physical menu buttons and a second dial for rotational fine-tuning. A comprehensive list of safety features includes 7 airbags, ABS, EBD, Brake Assist, stability control, ISOfix seat anchors and headlamp washers.
Pricing & Warranty
The Mitsubishi Outlander 2.4 GLS Exceed sells for R549 900 (April 2017) and is backed by a 3-year/100 000 km warranty and a 5-year/90 000 km service plan. Service intervals are scheduled for every 15 000 km.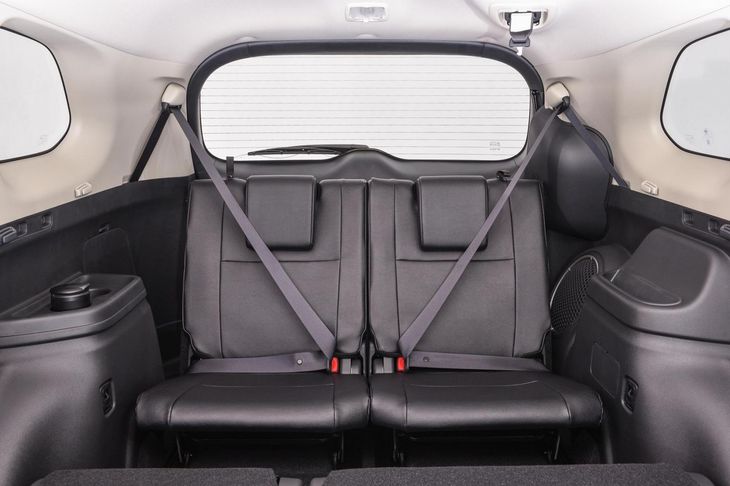 Although the rearmost passengers aren't afforded much in the way of legroom, 3-point safety belts and drinksholders are fitted.
Verdict
You don't have to be a Mitsubishi fan to like the Outlander. It's comfortable, easy going, spacious, now more distinctive to look at and is loaded with useful and desirable features. It's not particularly involving (nor entertaining) to drive, but then it was never designed to lure folk out of their sports activity vehicles anyway. The Outlander's real USP is the combination of a 4WD automatic transmission and an extra set of pop-up seats. The trouble is the 7-seater X-Trail 2.5 SE 4WD CVT sells for just R417 900, which means you can add Nissan's Techno Pack (sat-nav, 360-degree bird's eye view, lane departure and blind-spot warning systems) and still have more than R100 000 left over.

Foregoing the extra 2 seats blows the list of competitors wide open while increasing the net to include turbodiesel derivatives adds cars with more torque-rich driving experiences, too. So while the interior revisions and new walrus tusk snout have made the purchase case more compelling, the Outlander is still unlikely to make its way onto the best-seller list anytime soon. Those who insist on 7 seats and are willing to pay the premium will no doubt appreciate the exclusivity...
Related Content
Facelifted Mitsubishi Outlander (2017) Specs & Pricing
2014 Mitsubishi Outlander Review
Nissan X-Trail (2014) Review
Chevrolet Captiva 2.2D LT (2016) Review
New Honda CR-V Coming to SA in 2017
Honda CR-V 2.0 Elegance (2015) Review
SUV Comparison: Ford Kuga vs Honda CR-V vs Subaru Forester
Extended Test: Toyota Fortuner 2.8 GD-6 4x4 Automatic [with Video]
Toyota Fortuner 2.4GD-6 (2016) Review
Ford Everest 2.2 XLT auto (2017) Video Review
Toyota Fortuner vs Ford Everest (2016) Comparative Review [Video]
Comparative Review: Ford Everest 3.2 4x4 XLT vs Toyota Fortuner 2.8 GD-6 4x4 6At
Off Road in the New Ford Everest 4x4 Video Review
Chevrolet Trailblazer 2.8D LTZ (2017) Quick Review
Chevrolet Trailblazer 2.5D LT (2017) Quick Review
Chevrolet Trailblazer 2.8D Z71 4x4 Auto (2016) Review
Want to buy a Mitsubishi Outlander?