Mini has rejuvenated its Clubman compact 'wagon (or 6-door hatchback, if you really want to split hairs about it) and the Oxford-based marque is gearing up to bring its most potent version, the Clubman John Cooper Works (JCW), to South Africa before the end of 2019. Gero Lilleike travelled to Frankfurt, Germany to give it a whirl...
The year 2019 is quite a significant one for the Mini brand, which is celebrating 60 years of producing fun-to-drive cars and instilling youthful energy into thousands upon thousands of nostalgia-enthused car buyers across the world. But whereas the original Mini was designed to bring compact car transportation to the masses, the current iteration of the iconic British marque is more of a niche brand that caters to particular tastes in terms of design. And, while its products may not be for everyone, performance remains a key deliverable and plays a vital role in the brand's success story.
While we eagerly await the full reveal and arrival of the latest Mini JCW GP, which looks like a properly focused track toy, the latest Mini Clubman JCW has the same engine as the GP and we were eager to see how it performs. Europe was experiencing a heatwave last week and Frankfurt was boiling at over 40°C – a record for the German city. Was the Clubman JCW responsible for bringing the heat? We were keen to find out…
Better looks, more power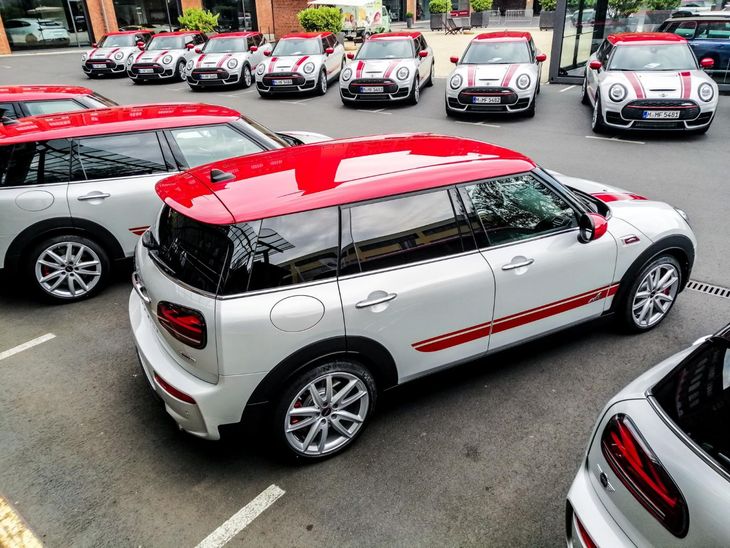 A major increase in power and torque is a key highlight of this latest Clubman JCW. The Union Jack taillight design is a nice touch too...
The aesthetic changes to the Clubman are subtle. A keen eye would notice the newly designed grille flanked by revised LED Matrix headlights as well as the unique Union Jack taillight design, which are the key identifiers for this latest Clubman. Exterior colours, mirror cap choices, wheel designs, exterior trim packs and interior trim and leather options have also been revised and expanded to meet the needs of potential buyers.
The big news for the Clubman, however, pertains to the JCW derivative, which boasts a host of exciting upgrades, the most notable of which are sizeable increases in its peak power and torque outputs. By virtue of its thoroughly redesigned twin-turbocharged 2.0-litre 4 cylinder petrol engine, the Clubman JCW's now produces 55 kW and 100 Nm more than the outgoing version, with outputs totalling 225 kW and 450 Nm, which is mightily impressive. In fact, this powerplant makes the Clubman JCW the most powerful road-going Mini in the brand's 60-year history…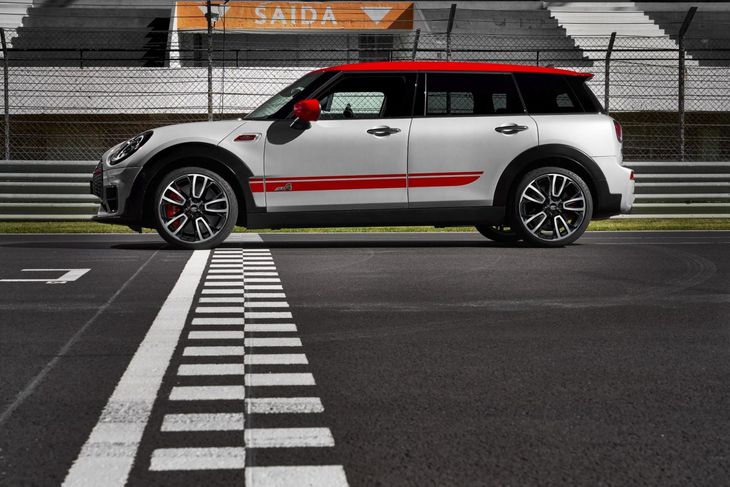 Decisively sportier than the outgoing version, the latest Clubman JCW is 1.4 seconds quicker from standstill to 100 kph.
The Clubman JCW's potent motor is mated with a new 8-speed Steptronic transmission, which works in conjunction with an integrated font-axle differential lock and a revised ALL4 all-wheel-drive system. Mini claims a 0 to 100 kph sprint time of 4.9 seconds for this version, which is 1.4 seconds faster to the mark than the previous Clubman JCW. It's also the first time that a Mini's top speed has been electronically limited to 250 kph.
What's more, chassis strengthening measures and a revised sport braking system all contribute to improved performance and hot-hatch aficionados may be happy to know that the Clubman JCW comes equipped with a sport suspension, which lowers the vehicle by 10 mm, as well as an adaptive damping system. Lastly, a new model-specific sports exhaust system is fitted to provide added aural pleasure via the 95-mm dual tailpipes.
On paper, this all sounds tantalising, but how does it perform on the road?
What's it like to drive?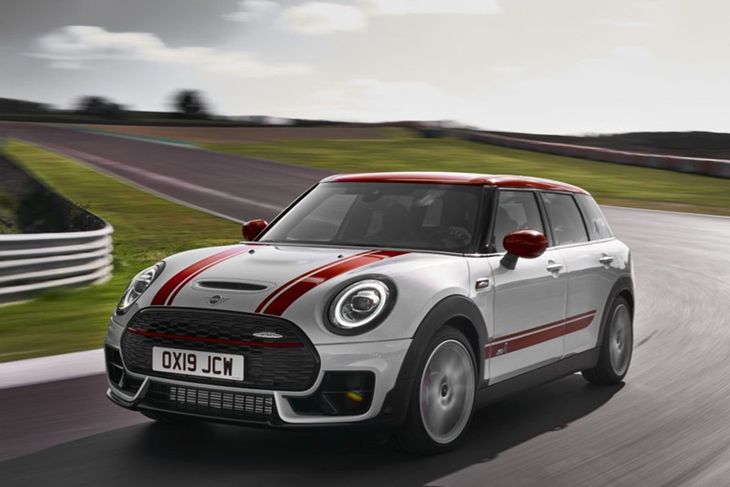 The engine is impressively refined and power delivery is commendable thanks to a slick new 8-speed transmission.
Mini utilised the KlassikStadt in Frankfurt as a base for the international launch event of the Clubman JCW and the media contingent was duly set loose to complete a 190-km route, which would take us through Frankfurt city, on the autobahn and through windy roads in the German countryside.
Of course, the newcomer's interior is familiar and youthful in that unmistakably-Mini way. At start-up, the Clubman JCW emits a throaty thrum as its exhaust ends warm the air with a low hum. Like in South Africa, the road quality around Frankfurt is generally uneven and the firm, sporty suspension setup immediately makes its presence felt over poor sections of road, but thankfully it isn't overly intrusive.
Acceleration from standstill is impressive and when left to its own devices, the transmission delivers quick, smooth and seamless shifts. The throttle is responsive to inputs and the Clubman JCW feels sprightly on its rubber. I got the distinct sense that it wanted to stretch its legs...
30 kph...
As I turn onto the freeway with a long, straight span of tar before me, I select Sport mode and bury my foot deep into the right corner of the Clubman JCW's driver's footwell. The Mini barely hesitates and lunges forward with intent. The exhaust sounds racy, but to my surprise, it doesn't emit crackles or barks. As my fingers work the steering wheel-mounted shift paddles, the JCW gathers pace. Gears flick by with direct, well-timed shifts.
150 kph...
The Mini's acceleration feels so effortlessly refined. The speed piles on.
180 kph...
The Clubman JCW's forward thrust just keeps going, it seems relentless. The newcomer feels solid, comfortable, unphased, predictable.
200 kph...
I come to my senses and tap off to a gentle cruise at 180 kph with little effort, if at all. Only in Germany can you legally drive a car in this manner.
We turn off the highway and head into the countryside, passing through a series of small German towns along the way. The speed limit is restricted but the sinewy sections of tar shed light on the Clubman JCW's ability to claw through corners, something it does with reassuring confidence, which is a product of a well-sorted all-wheel-drive system, which, in conjunction with Dynamic Stability Control (DSC), is able to calculate and apportion power to the front and rear wheel wheels as required to ensure maximum dynamic ability in relation to the driving situation. Furthermore, the steering is communicative and the car's front end bites into corners with precision. It feels fun and playful, just like a Mini should feel.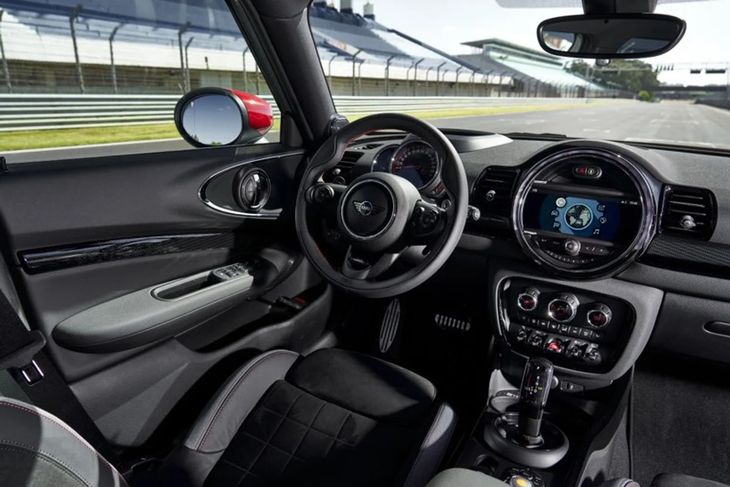 Not much has changed inside the Clubman. The sport seats are comfy and the cabin has youthful appeal.
For the second half of the drive, I have time to reflect on the JCW Clubman's interior from the passenger seat, which happens to be well-bolstered and heated – not that I could be bothered to test the latter function in the sweltering heat. The dual-zone climate control was working overtime and the large, central 6.5-inch infotainment touchscreen system, with integrated navigation (optional), prevented us from getting lost in the German countryside forever (note that the system can also be controlled using the familiar Mini Controller on the centre console). The funky, changeable light-surround adds splashes of colour to the interior; I felt at least 10 years being shaved off my age by just by looking at it. It's so disco...
At a stopover, I slide onto the back seat to test rear passenger space and find space is ample in all directions. Open the unique double-door tailgate and a 360-litre luggage bay is at your disposal, expanding to 1 250 litres if you fold the rear seats down. So yes, the Clubman JCW is practical too…
Final ramblings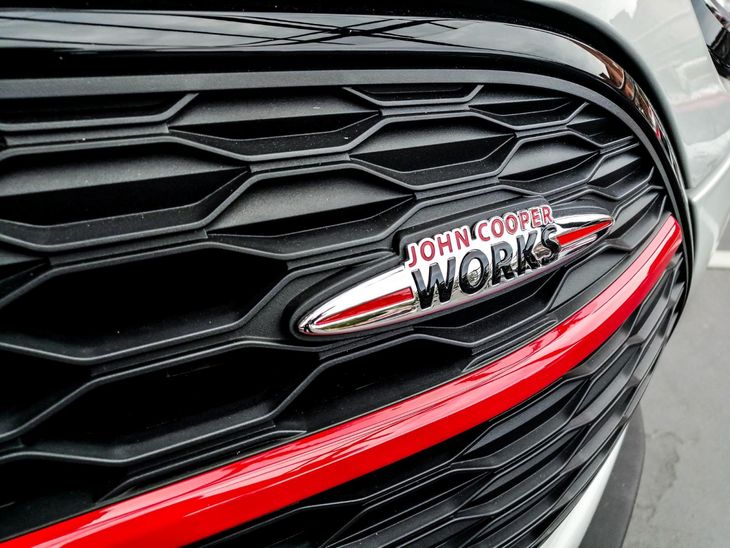 The Clubman JCW is undoubtedly fun to drive, but the subdued exhaust note was underwhelming. Just a little louder please, Mini.
In the blink of an eye, our drive was over and it was time to head back to South Africa. Just hours later, at 37 000 feet in the air and rocketing south at 900 kph, I reflect on the merits of this latest Mini Clubman JCW…
I am deeply impressed with the performance of the Mini. It's fast (courtesy of a magnificent engine), refined and clearly competent through the twisty stuff. There's a lot to like about the Clubman JCW, but I can't help but think that there is something missing, as if it fails to land a knockout punch.
Perhaps it was the Clubman JCW's muffled soundtrack that planted the seed of doubt in my mind. I honestly expected more drama or perhaps a greater sense of occasion when I flicked the drive mode switch into Sport and mashed the Mini's throttle pedal. Instead, I was treated to a car that sounds good and performs admirably, but the overall driving experience just wasn't eventful enough to match my (and I feel that of many others') perception of what a JCW derivative is supposed to be: an unashamedly sporty, loud and slightly unhinged car that oozes youthful rebellion. Perhaps ever-tightening European noise regulations are to blame and Mini's engineers felt inclined to dial back on the pops and bangs to prevent suburban pooches from piping up into a barking frenzy and ruining people's peaceful rest on Sundays... My response? "If it's too loud, you're too old."
The updated Clubman is expected to arrive in South Africa towards the end of 2019 (Q4). The local range will start with the Cooper Clubman powered by a 1.5-litre 3-cylinder turbopetrol engine with 110 kW and 220 Nm of torque. The Cooper Clubman S will up the ante with a 2.0-litre turbopetrol engine developing 141 kW and 280 Nm of torque and of course, the Clubman JCW will top the range. See pricing for the range below…
Mini Clubman Price in SA
Cooper Clubman - R433 000
Cooper S Clubman - R519 000
Clubman All4 JCW - R642 000

A 2-year/unlimited warranty and 5-year/100 000 km maintenance plan will be offered as standard.
Buy a new or used Mini Clubman on Cars.co.za
Related Content
New Mini Clubman Revealed

New JCW Clubman most powerful Mini yet