After months of spyshots and teaser images, we finally have a look at the Mercedes-Benz bakkie, dubbed X-Class and it goes into production in 2017. The good news is that it will be coming to South Africa too.
Update: Ahead of its international unveiling, Mercedes-Benz put out a teaser trailer of the production version of the X-Class bakkie. The premiere will be taking place in Cape Town in July 2017 and it's great to see a big brand choosing South Africa as a location to show off its all-new offerings. We'll be in attendance and can't wait to sample this new entrant into the hotly contested bakkie market.
The Mercedes-Benz bakkie finally emerges after months of speculation and we can finally share some details about this eagerly anticipated model. "With the X-Class, we will close one of the last gaps in our portfolio," says Mercedes-Benz chairman Dieter Zetsche. "Our target is to offer customers vehicles matching their specific needs. The pick-up will set new standards in a growing segment." The Mercedes-Benz X-Class design has not changed radically from the sketches and renders we've seen up until this point.

Head of Mercedes-Benz's commercial vehicle division, Volker Mornhinweg, has confirmed the X-Class will offer seating for five and be pitched as what it describes as an "urban lifestyle and family vehicle". Mornhinweg added that the company has identified five different customer groups for its latest model: families, tradespeople, land owners, adventurers and individualists. "We will thus appeal to new customers who have not considered owning a pick-up before."
Showcased at the launch unveiling event in Sweden were two models, the Stylish Explorer and the Powerful Adventurer. The Stylish Explorer featuring a body-on-frame steel exterior, an on-road road biased wheel and tyre package, moderate ride height and a luxurious leather lined interior, while its more hardcore sibling looks far more offroad biased with its generous ground clearance, four-wheel drive, additional wheel arch and body side cladding and off-road wheels shod with traction enhancing tyres.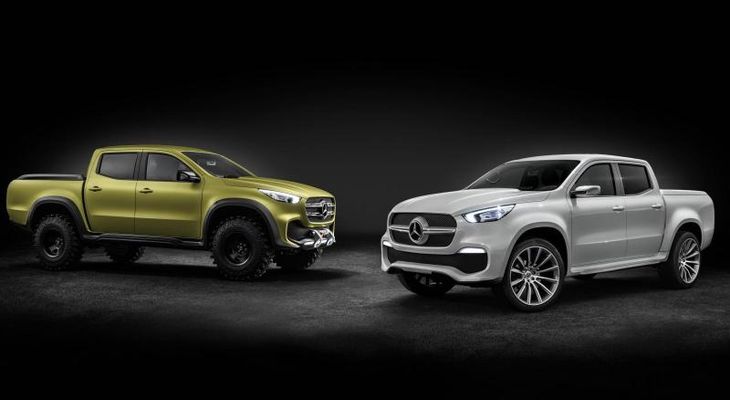 The two Mercedes-Benz bakkie concepts: Stylish Explorer and the Powerful Adventurer.
Cabin and Safety
The cabin looks smart and features two individual seats in the front, while the rear has a bench seat which seats three. The dashboard and cabin trim are not too dissimilar to the V-Class commercial vehicle, and there are definite touches lifted straight from the C-Class. Straight from the Nissan Navara and Renault Alaskan is the cable-operated handbrake. Some of the features which will appear in the production version include a communication module featuring an on-board SIM card that will enable owners to communicate with the infotainment system directly from their smartphone.

There will be many safety features and Mercedes-Benz suggests that the X-Class will offer many of its existing camera, radar and ultrasound sensor-based driver assistance aids. It's not confirmed yet, but it's looking likely that the Mercedes-Benz X-Class will be one of the safest bakkies on sale.
Engines and Ability
The technical numbers make for interesting reading. Mercedes-Benz is claiming that its new X-Class has a load carrying potential of 1 100 kg, while the flagship model can tow 3 500 kg. While the engines are not confirmed as yet, Mercedes-Benz is planning four-cylinder petrol and diesel units together with the top-of-the-line V6 diesel engine.
Mercedes-Benz is planning rear-wheel drive for the low-spec models, while 4MATIC four-wheel drive will be available as an option. The flagship V6 receives 4x4 complete with a transfer case offering low-range gearing, on-demand differential locks and electronic traction control for added ability.
While there's no hiding the underpinnings straight from the Nissan Navara and the Renault Alaskan, Mercedes-Benz has some work to create a uniquely tuned version of the body-on-frame steel chassis. It features a MacPherson strut suspension at the front and five-link arrangement at the rear.
Market Plans
Mercedes-Benz is going large with its X-Class and trying to elbow its way into the global mid-size bakkie market. This segment does 2.3-million units a year with the segment rival coming straight from Toyota. Mercedes-Benz will be pitching its X-Class against the premium portion of the market such as the recently facelifted Volkswagen Amarok. Key markets for the X-Class are Australia, Argentina, Brazil, Europe and South Africa. Production for the Australian, European and South African markets will kick off at an existing Nissan factory in Barcelona, Spain in 2017. The X-class for South American markets, including Brazil and Argentina, will roll off assembly lines in Cordoba, Argentina beginning in 2018.
Further Reading