The arrival of Mercedes-Benz's eagerly awaited X-Class in the local market puts an official stamp on the advent of the luxury double-cab bakkie era in South Africa. But what of the new X-Class? Of course it's similar to the Nissan Navara, but what's bad about that?
There's no point dancing around the one contentious issue of the new Mercedes-Benz double cab. So let's unpack this right at the start so that we can better appreciate a really great bakkie. First, the chassis and componentry are shared with Nissan, as is the engine, the suspension and even some hard points on the bodywork have been carried over, most notably the greenhouse, especially apparent at the C-Pillar, where the door sill rises to meet it. Many vehicles share a lot more than this; proper sticker jobs, badge engineering. This is not that. This is Teutonic engineering and lots of it. Meet the Mercedes-Benz X-Class: a premium double-cab experience.
View the specs & price for the Mercedes-Benz X-Class in South Africa
Those rugged looks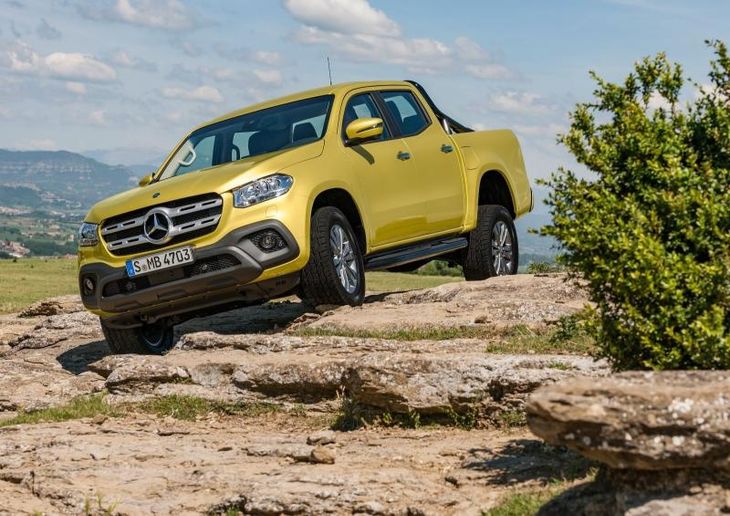 Despite its Navara platform, there's no mistaking it for anything other than a Mercedes-Benz
The clearest point of distinction is in the aesthetic, in particular, the familiar GLE/GLC/GLA DNA in its front end. That's bold grille dominated by two perforated lamellae rendered in chrome in our Power test unit, as is the bottom diffuser (or belt) and foglamp surrounds. Alternatively, you can have the more affordable Progressive model with body colour or dark plastics for similar surfaces. South Africa will not receive the bottom rung Pure models, which, to be fair, are workhorse-spec vehicles.
Towbars come standard at the rear, a bottom flanked by tall tail lamps and underscored by a chrome (also on Power models) rear bumper, and then – and this part is crucial, a Mercedes-Benz three-pointed star is placed dead centre beneath load bin's handle. Out here at the back, traces of Navara are way less concealed than elsewhere, such as the cabin, where the Stuttgart firm has gone to great lengths to stamp its mark into everything from the Alcantara seats and 3-spoke steering wheel.
I miss a bit more stowage space in the space between the front seats... as it stands there's enough for two cups and some loose change and that's about it, unless you're content with chucking the rest of your junk into the centre bin. It's hardly a fault, but it does take some getting used to if you're the type of bakkie-enthusiast who packs a lot of small gear on your trips.
Safety technology and infotainment levels are at a level that you'd expect of a Mercedes-Benz, but that's also par for the course considering how far double-cabs have come as lifestyle vehicles, or, in #CarsAwards parlance, Leisure Double-Cabs. The X-Class' meaty helm fills the palms well, the sign I hope of an engaging steering experience and since it will be the most direct connection between the front wheels and myself, we must talk about handling and performance next.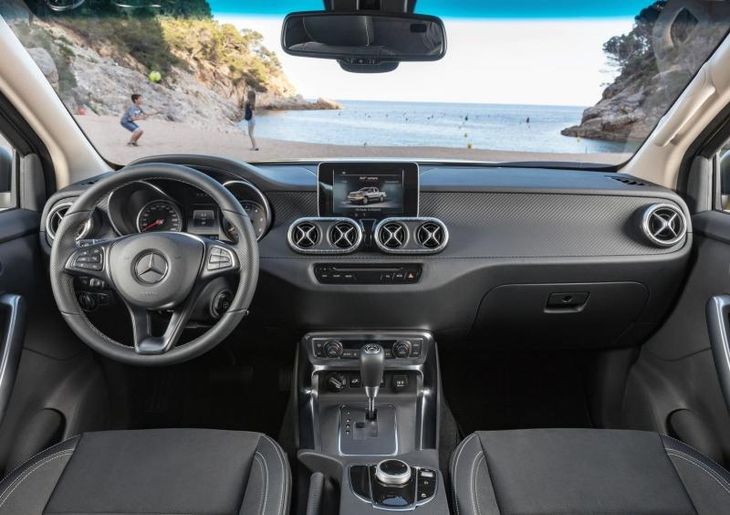 The cabin is upmarket, but lacking in stowage space
What's it like to drive?
Mercedes-Benz must be confident in the way its new bakkie handles as the firm constructed an interesting test route for the local media launch, replete with a compelling challenge. We covered a route of just under 200 km of asphalt and gravel sections, including the Montagu and the Outeniqua Passes, which the X-Class had little problem dispelling from the windscreen to the rearview mirror. It's a tall "car" and handles as you'd expect, like a well-sorted bakkie and that's just fine. But then we had the privilege of pointing our double-cab Benzes through the notorious Devil's Peak/Duiwel's Kop Pass, an old Voortrekker route that is both narrow and windy and here's the clincher, usually closed to the public. Also, it's a product of Thomas Bain, perhaps South Africa's most prolific builder of mountain passes.
Power is supplied from the same 2.3-litre turbodiesel engine in the Nissan Navara, but here it can be had in two outputs, 120 kW/403 Nm in the X220d or 140 kW and 450 Nm (X250d), all of which brings us neatly to that all-important sticker price.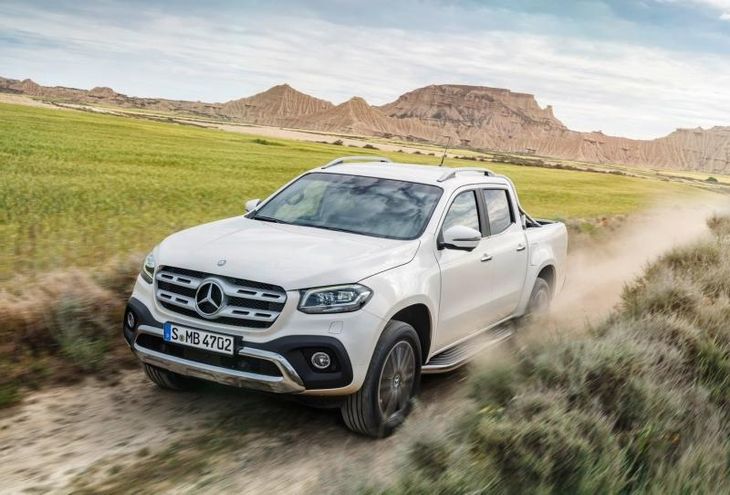 Our test route covered many kilometres of gravel and tar, and we did some 4x4ing. The X-Class passes the first impression test.
So, how much will all this premium cost me?
Well, the entry level X220d 4x2 Progressive derivative can be had as "cheaply" as R624 103 – that's a 2-wheel drive manual transmission bakkie – but even that can be optioned to the high heavens if you're not too careful. Pricing of the Progressive versions tops out at R696,785 before accessories. Opt for a Power X250d derivative, however and pay-to-play is a lofty R763 256, again without options, which, if added too liberally will take you frightfully close to a million-Rand bakkie. You can always have those accessories retrofitted, or spec them from a dealer. An automatic derivative will cost R791 315 and the V6-engined X350d is scheduled for later introduction.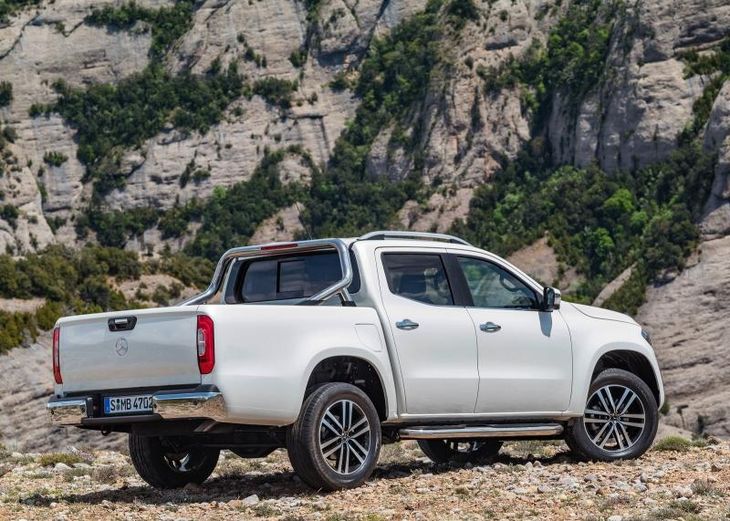 It's nice, but it should be considering the price you're paying
View the specs & price for the Mercedes-Benz X-Class in South Africa
Summary
Mercedes-Benz claims "this is the first bakkie to convincingly combine the versatility of a double-cab with the luxury of a passenger car." We don't agree, the Volkswagen Amarok, of which the 3.0 V6 TDI 4Motion Highline Plus derivative is 2017/18 #CarsAwards Leisure Double-Cab Bakkie category champion, has long played this game and even the Navara has been a relatively premium affair, if only in comparison to its own NP300/Hardbody sibling.
The Benz offering is an expensive bakkie and much more than a "utility vehicle". It is refined, well-appointed, and for all intents and purposes a Mercedes-Benz. We have no doubt that it will sell well, and are watching closely to see if it overtakes the aforementioned more affordable Navara with which it shares its underpinnings. Should you buy it? Well yes, if you want a rugged Mercedes-Benz, a premium lifestyle-oriented one-tonner or both. And you're not afraid to spend whatever it takes to get one.

The good news is that there will be a brawny biturbo V6 diesel engine fitted to the X-Class. Watch this space.
Further Reading