Mercedes-Benz's double-cab bakkie will be launched in SA during the first half of 2018. We've seen the concepts, we rode shotgun in the pre-production units at the international reveal in Cape Town and now, finally, we head across the Atlantic Ocean to drive the X-Class on a 400-km route through Chile. Does it live up to the hype?
The X-Class is a radical departure for the Stuttgart-based firm. Because this is new territory for Mercedes-Benz, it's not difficult to understand why the German firm would partner with Nissan, an established player in the bakkie market, for this project. It would've cost Benz plenty, both in time and money, if it had to develop its own bakkie from the ground up. It'd probably still be a concept, if that was the case...
The Navara presents a logical choice for a shared platform. While sales of the recently launched Nissan were initially sluggish, the numbers have started ticking over, although they're nowhere near those of the Ford Ranger and Toyota Hilux. The Navara is comparatively popular in continental Europe, but that region's bakkie sales are minuscule when you see how many are sold in South Africa. This is not the first collaboration between the brands either: Mercedes and the Renault-Nissan alliance has been sharing powertrains and there are shared components across a number of products.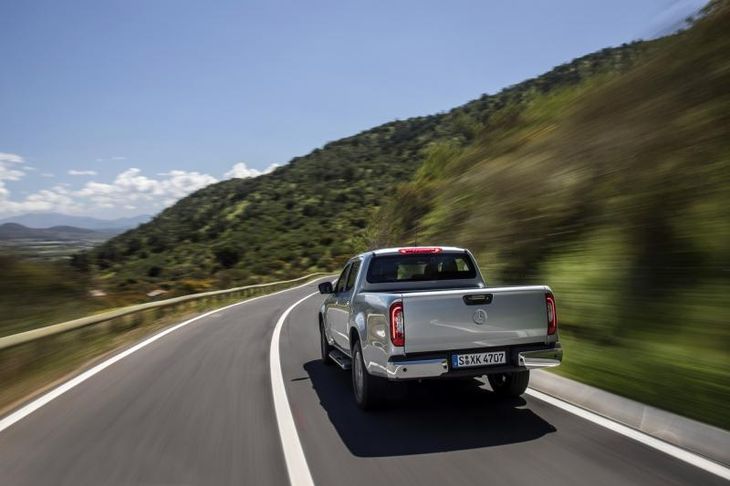 From an on-road point of view, the X-Class features a specific suspension tuning for greater ride and cabin refinement.
How much has Mercedes-Benz adjusted the Navara to suit its own needs? According to the engineers and experts we spoke to, there are considerable changes and revisions to existing componentry. To name a few examples, the suspension has been reworked, a more direct steering setup has been adopted and there are reinforcements to the ladder frame. Critically, we were very interested to hear that Mercedes-Benz had replaced Nissan's drum rear brakes with more potent ventilated discs. The axles have also been replaced by wider units, front and rear. Would we be able to tell the difference? Perhaps, if only if we had the opportunity to have an X-Class and a Navara together for an extended test...
For the man on the street, the biggest changes will be apparent in the cabin design and execution. The Benz's interior feels substantially more upmarket than that of a Nissan Navara and it's not a simple case of switching the badges on the steering wheel. The infotainment system has been overhauled and replaced with a Mercedes-Benz sourced unit, and there are some repositioning of buttons and switches. For example, the heated seats in the Navara are located just aft of the gear selector, whereas in the X-class they've been moved to the outer edges of the seats.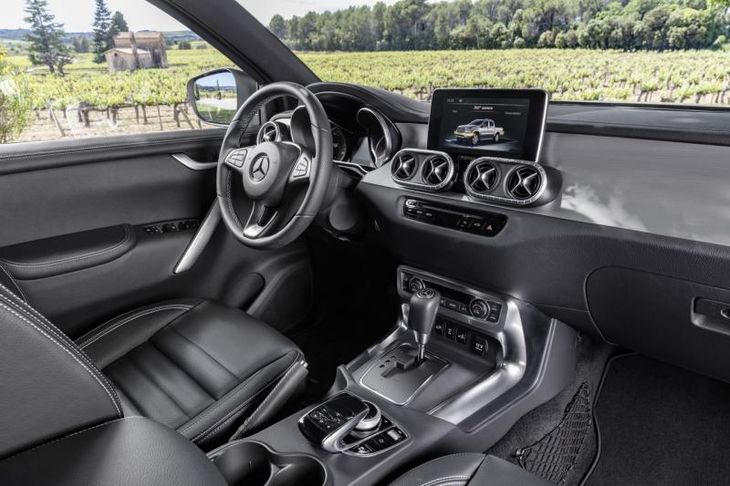 Premium finishes abound in the X-Class' interior, but in some ways they look smarter than they feel.
When is it coming and what spec?
The million Rand questions have to be answered promptly! The first Mercedes-Benz X-Class units will be arriving in South Africa in Q2 of 2018, with a flagship V6 model estimated to arrive at the end of next year. As it stands, we'll be getting the following derivatives: Pure, which is essentially a workhorse; Progressive which combines lifestyle and work, and Power which is the high-end flagship trim level.
Mercedes-Benz is also putting together a comprehensive accessories catalogue, comprising styling bar, tonneau covers, canopies and the like. As for pricing, Mercedes-Benz is still exceptionally cagey about how much its X-Class will cost when it comes to South Africa, so we'll just have to wait for the new year. Dare we speculate? Why not! We predict that the flagship Mercedes-Benz X-Class will breach the R1 million barrier, or at least come very close. While some will wince at that price tag, we'd just like to point out that Mercedes-Benz SA already has a queue of customers who have already put down deposits.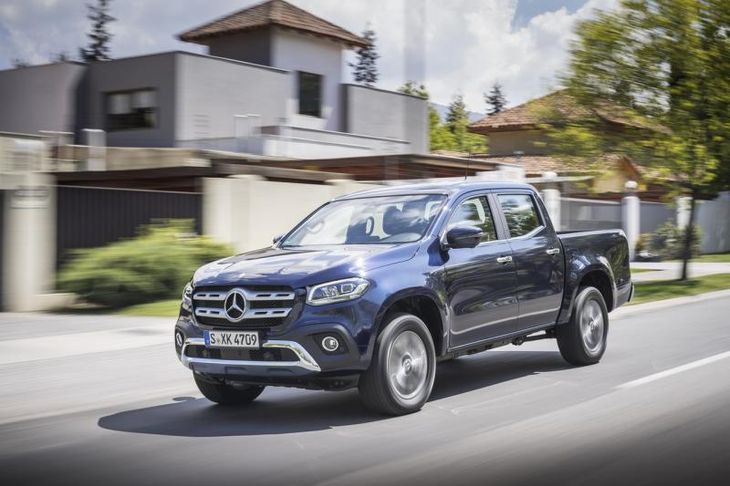 Judging by the levels of pre-launch interest, demand for a R1-million bakkie might be greater than some people expect.
What's it like to drive?
Our launch route took us through some spectacular Chilean countryside. On offer for us to sample was the X250d, but we did have the opportunity to ride as passengers in the flagship V6. These V6 units are essentially still pre-production models and aren't quite the finished product.
The roads leading out of Santiago are of varying quality and we put the X-Class through highway, winding country roads, gravel tracks and pothole-infested mountain paths. The first key takeaway here is that Mercedes-Benz has worked hard to minimise road-, mechanical- and trim noises. The cabin is a tranquil space, irrespective of whether you're pounding down a highway at the national limit or traversing gravel.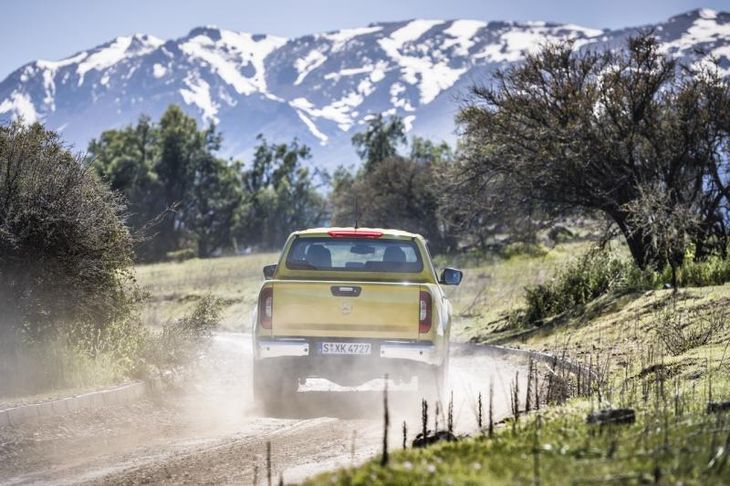 Gravel roads present a minor challenge to the X-Class, which impresses with good NVH suppression on- and off-road.
Our test vehicle was the X250d 4Matic in Power trim, powered by a 2.3-litre 4-cylinder turbodiesel engine. Peak outputs are 140 kW and 450 Nm, with shove going to the rear wheels via a 7-speed automatic transmission. Interestingly, we find this engine more than adequate in the Navara, but in the X-Class application, the additional weight of the Mercedes-Benz means that it loses some of its responsiveness and urge. It's not crucial, but we were expecting a bit more responsiveness. On a positive note though, is the fact that the engine note hardly intrudes into the cabin unless you're really wringing its neck.
We have our criticisms, however. There's a lack of reach adjustment for the steering wheel, meaning you're never going to get that perfect driving position. Unless you're specifying a top-spec trim model, the X-Class cabin contains some plastics that are of a quality not appropriate for what's being marketed as a luxury bakkie. At first glance, the cabin looks smart and upmarket, but upon closer inspection, you'll spot some cheap finishes here and there. You could argue that these cheaper plastics are tough and long-lasting in their defence, but surely at this end of the price spectrum, it's unsightly?
Finally, our biggest gripe is the lack of rear cabin space. The sit-behind-yourself test is barely a pass as the author (who admittedly is taller than average) found his knees up against the back of the driver's seat. It'll be okay for children, but for four adults? That's not going to be pleasant on longer journeys.
But can it go off-road?
We've experienced the Nissan Navara's off-road prowess a few times and a member of our team has sampled the sibling Renault Alaskan too (with favourable feedback). Neither the Japanese nor the French bakkies disappointed when the tarmac has turned to sand and gravel, and we expected the Mercedes-Benz X-Class to perform in much the same manner. Predictably, that's exactly what it did.
Fundamentally and mechanically it's so close to the Nissan Navara, but somehow Mercedes-Benz has imbued its X-Class with something intangible that you can only feel from behind the wheel. Perhaps its the spirit of the Gelandewagen, but we felt indestructible and commanding from behind the wheel of the Benz bakkie on the rougher stuff. If you're wondering why Mercedes-Benz didn't go down the G-Class route, it would have simply been too expensive to make a G-Class double-cab.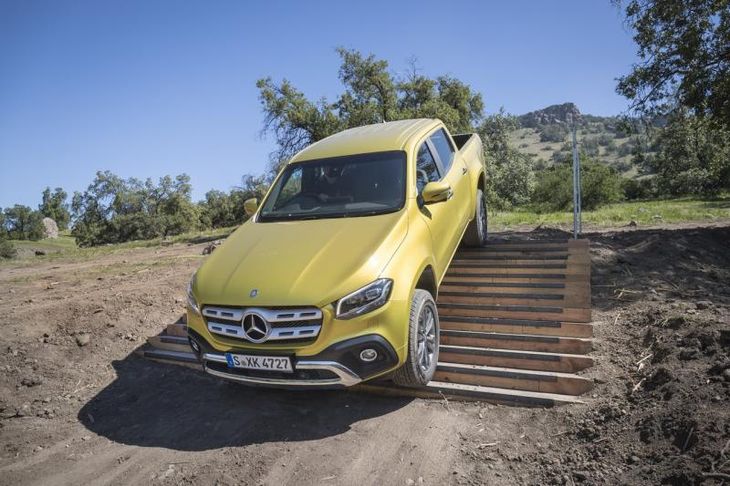 The X-Class offers all the off-roader characteristics that enthusiasts crave and expect, yet never loses its premium feel.
The vital offroad numbers should keep the 4x4 fanatics happy and we're keen to really give it a test when it arrives on our shores. The new Mercedes-Benz has a ramp breakover angle of 22 degrees, a maximum tilt of 49 degrees, 100 percent maximum gradeability, 600 mm of wading capability, 222 mm of ground clearance and angle of approach front/rear of 30 and 25 degrees respectively.
All X-Class derivatives, bar the flagship, come with switchable 4Matic all-wheel drive and you can select between 2- and 4-wheel drive (high and low range). There's also a differential lock on the rear axle and downhill assist. The flagship X350d 4Matic comes with permanent all-wheel drive. On the quick 4x4 course we felt confident and the Mercedes-Benz X-Class coped admirably with what we put it through.
We experienced the flagship 190 kW and 550 Nm V6 X350d from the passenger seat. The V6 engine delivers good power despite some initial lag and it's going to make for a phenomenal comparison against the Volkswagen Amarok towards the end of next year. This will be marketed as the ultimate incarnation of the X-Class and it'll come with luxuries such as shift paddles and dynamic driving modes.
Summary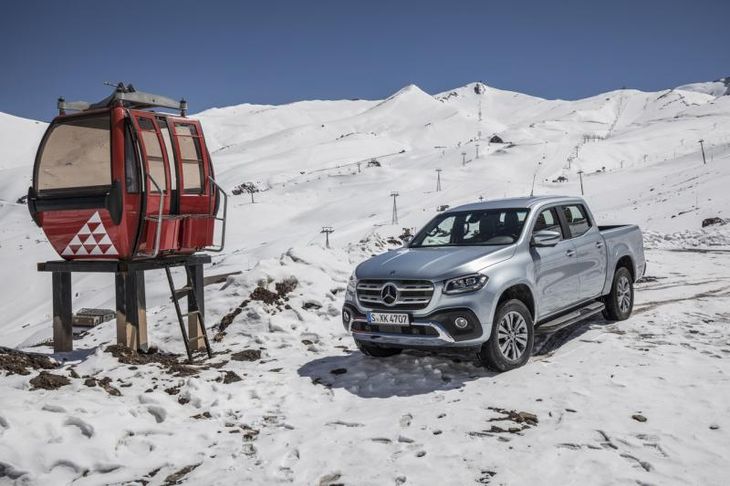 The various specifications available for the X-Class should see it vault to the top of the bakkie price lists immediately.
In the context of South Africa, which Mercedes-Benz global has identified as a key market for X-Class, has the newcomer done enough to ensure some success? We believe it has. While it fundamentally remains a Nissan underneath, Mercedes-Benz has polished it's rougher commercial edges and an injected it with a borderline unhealthy amount of premiumness. Sure, these bakkies are meant to be workhorses and there's no doubting that the Mercedes-Benz is certainly capable enough, the question remains if someone will actually fork out the money to do what a cheaper Navara/Hilux/Ranger/Amarok can do?
The answer is yes, buyers will definitely be queueing up for the Mercedes-Benz X-Class. It adds desirable levels of luxury and refinement into the bakkie segment and while that projected top-of-the-range price will take some justifying, for many, being able to get behind the wheel of a luxury bakkie with a Three-pointed Star on its front grille is enough. For a first time effort, Mercedes-Benz has made the most of its relationship with Nissan and moved the entire bakkie segment forward. The safety features and connectivity options really bring the bakkie market into the modern era. Is the X-Class' interior as well screwed together and presented as the best the Amarok can offer? That's debatable, suffice to say the X-Class is a valiant effort and we're eager to see the production models make their way to South Africa.
Related content:
Renault Alaskan Officially Revealed
Nissan Navara 2.3D 4x4 LE (2017) Review
Why Navara shakes up the double-cab market
6 Most Fuel-Efficient Double-Cab Bakkies in SA
Mercedes-Benz X-Class: Finally Revealed
Mercedes-Benz X-Class: Off-road demo & video wrap
X-Class & rival double cabs it needs to beat [with Video]
2016 Toyota Hilux vs Ford Ranger – Offroad & Review

In-Depth Comparison: New Hilux vs Ranger vs KB vs Amarok (video)
Want to buy a Mercedes-Benz?