The ultimate convertible in the Mercedes-Benz arsenal has gone on sale in South Africa. Here are the specifications and pricing for the 2016 Mercedes-Benz S-Class cabriolet.
As is the case with the sublime S-Class coupe, there are three engines to choose from. The entry-level model - if you can label a machine like this as such - is the S500. Next up are two AMG models, the S63 and finally, the mighty V12-powered S65. Despite the S500 being the baby of the range, it still packs a mighty wallop thanks to a turbocharged 4.7-litre V8 engine which pushes out 335 kW and 700 Nm of torque. This is enough grunt to see the striking cabriolet hit 100 kph in a claimed 4.6 seconds. Mercedes anoraks will notice that this is the same sprint time that is claimed for the coupe model.
Unleash the AMG
The AMG S63 uses the meaty 5.5-litre turbocharged V8 engine which has 430 kW and 900 Nm. It's probably the best-sounding model as AMG really knows how to extract a glamourous soundtrack from eight cylinders. The 100 kph sprint time is down to 4.2 seconds. Finally, there's the top-of-the-range S65 which has a monstrous 6.0-litre turbocharged V12 engine. It has 463 kW and a stupendous 1 000 Nm, and if you're in the mood to drive briskly, it'll decimate the 100 kph sprint in 4.1 seconds. All three models are limited to a top speed of 250 kph.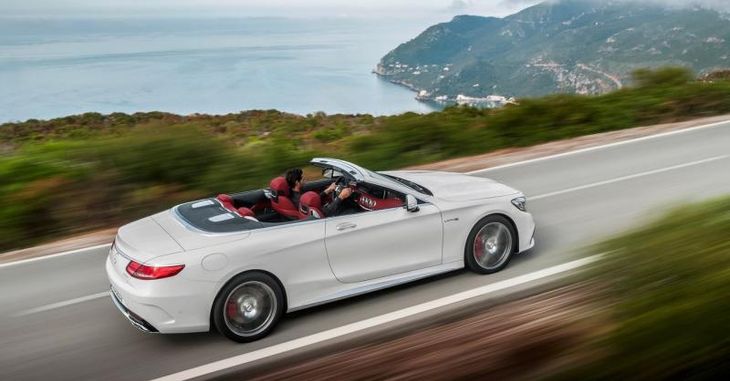 The S-Class Cabriolet could just be the ultimate drop-top on sale today.
Focus on ultimate comfort
With the S-Class Cabriolet Mercedes-Benz set out to build the world's most comfortable cabriolet. As such, the S-Class Cabriolet is offered with an enhanced automatic wind protection system, called AIRCAP, as well AIRSCARF which provides neck-level heating. The armrests and seats are heated too. An all-new THERMOTRONIC intelligent climate control system is also offered and ensures maximum comfort, even with the roof open.
Talking about the roof, it's a retractable three-layer acoustic soft-top and can be had in either black, dark blue, beige or dark red. The roof opens and closes in about 20 seconds at speeds up to 60 kph. The S-Class Cabriolet also features a number of interior upholstery options which include leather, nappa leather and designo Exclusive nappa leather.
Mercedes-Benz S-Class cabriolet price in South Africa
These prices are before extras and being an S-Class, you can go to town with custom features. The prices include VAT and CO2 tax.
Mercedes-Benz S500 Cabriolet R2 309 488
Mercedes-AMG S63 AMG Cabriolet R2 914 036
Mercedes-AMG S65 AMG Cabriolet R3 518 368
Not a fan of convertibles? Check out our video of the Mercedes-Benz S-Class coupe