The Mercedes-Benz EQC is the first product to fall under the Stuttgart-based manufacturer's EQ brand. With an expected launch date of mid-2019, we get a first look at the new electric crossover SUV.
What you see here is an interesting-looking vehicle. It's called the Mercedes-Benz EQC and is the brand's first production all-electric car. It'll be assembled in Bremen, Germany and will go on sale globally around the middle of 2019. It's powered by an all-electric setup. There are two motors, combining to push out 300 kW and 765 Nm. There's one motor on the front axle and a second at the rear, making it an all-wheel-drive vehicle. The front motor is optimised for efficiency in the low to medium load range, with the rear taking care of dynamic duties.
The battery has an energy content of 80 kWh and there are five driving modes, which result in different performance and ranges. The Mercedes-Benz EQC features a water-cooled onboard charger (OBC) with a capacity of 7.4 kW, making it suitable for AC charging at home or at public charging stations. If you opt for the later, you can go from 10%-80% in just 40 minutes. The battery comprises 384 cells and is located in the vehicle floor between the two axles.
Inside, the Mercedes-Benz EQC features the new MBUX infotainment/dashboard system with EQC-specific features. The cabin boasts a futuristic look and there will be two levels of trim; Electric Art and AMG Line.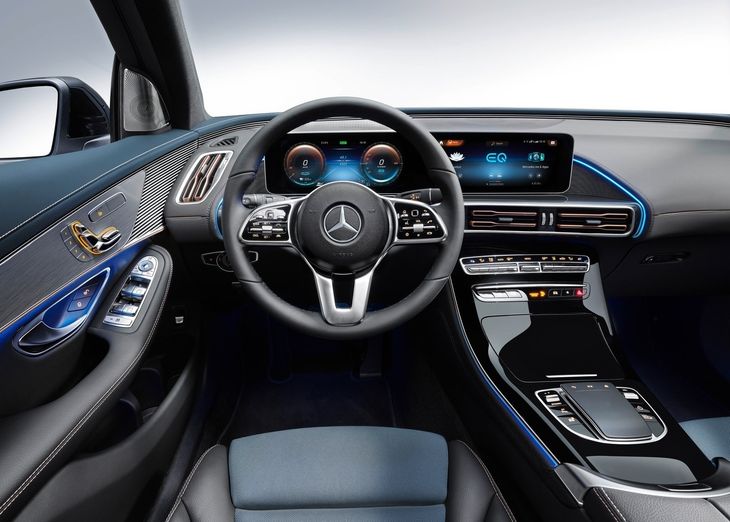 Further Reading