Mercedes-Benz has updated its flagship 7-seat off-roader to position it as the "S-Class of SUVs". Can the Benz balance supreme luxury with loads of comfort as well as off-road capability? We review the newcomer in GLS 500 guise
We Like: All-round comfort, practicality, strong and willing engine, off-road ability

We Don't Like: Prodigious thirst when pressing on, perhaps the GLS 350d is a more prudent choice?
Also Consider:
Similar experience and ability: Range Rover. The English have been masters at this luxury SUV game for years and the popularity of the JLR's flagship SUV range speaks for itself. The Range Rover offers much the same as the GLS, but packaged in a very classy outfit.
Need the seven seats: Volvo XC90 T8 Twin Engine. For substantially less money you can opt for the techno festival that is Volvo's XC90 hybrid flagship. Don't let the hybrid part put you off as the tech is extraordinarily good, plus it does offer all-wheel drive for mild offroading.
For more sportiness: Porsche Cayenne. Zuffenhausen's big SUV promises big performance and handling as well as that fabled Porsche build quality. It lacks the outright offroad ability and seven-seat capability, but it's an excellent product.
For more offroad ability: Mercedes-Benz G-Class. From the factory in Graz, Austria comes a Mercedes-Benz that's genetically closer to a tank than a passenger vehicle. Its seriously butch and seriously expensive. It's also as tough as nails and supremely capable offroad. If you don't need seven seats and loads of comfort, but want to cross the Kalahari, then this is your port of call.
What is it?
The Mercedes-Benz GLS is aiming to be a one-stop solution for those requiring premium and comfortable transport for 7 passengers, offroad capability, and the latest in-car entertainment. It's essentially a facelifted version of the formerly-known-as GL model and the changes between this new version and the outgoing model are not that substantial. Firstly, the name has changed to make it fit better into the Mercedes-Benz hierarchy of SUVs and to tie it to a sedan equivalent. ML became GLE, which is crudely an E-class SUV. This then is the S-Class in the Mercedes-Benz family. Other changes include some exterior visual tweaks, but the big changes are in the cabin, which now features new tech and infotainment systems. The range currently comprises 3 derivatives: a pair of turbopetrols and a turbodiesel. We've got the GLS 500 petrol on test, which sits between the sensible GLS 350d and the rapid GLS 63 AMG.
How does it fare in terms of…
Comfort and practicality?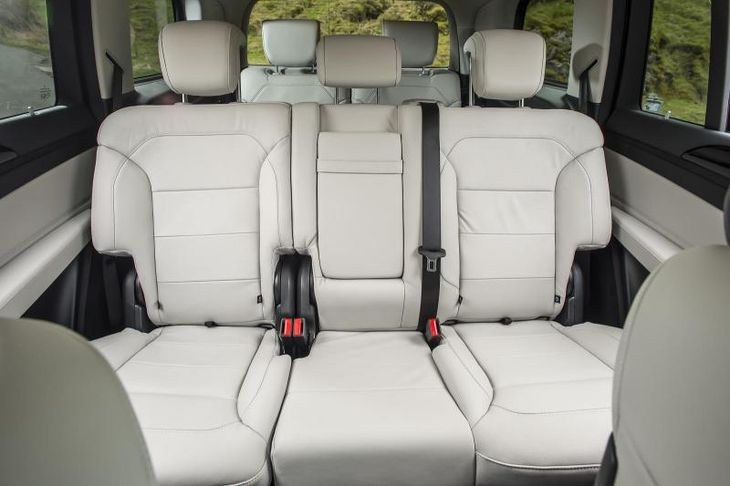 The GLS is a 7-seater SUV, but unlike some vehicles with this many seats, the rearmost ones are large enough and installed in such a way that adults can sit comfortably in them. It's not the easiest to access them, but once you're ensconced in the third row, it's quite comfortable for adults. The second row of seats is where the majority of passengers will find themselves and we found ourselves enjoying being driven more than actually driving the GLS.
The second row is a luxurious place to be and the fit and finish is exactly what you'd expect at this end of the market. Our test unit came with the rear entertainment system that featured a remote and two sets of wireless headphones with screens mounted to the front headrests. It's a R33 500 option, but it'll keep the young ones busy and quiet on longer journeys. We appreciated that the seats offered heating functionality and a separate climate control console.
If you need plenty of space to carry cargo, all the seats behind the driver and front passenger can be folded flat resulting in a super luxurious 4x4 panel van. Being a flagship product, there's no need to collapse the seats manually. Perish the thought! Instead, you simply push a button and the seats neatly tuck themselves away. With all the seats stowed you can load and haul longer-than-usual items such as curtain rails and flatpack furniture with ease.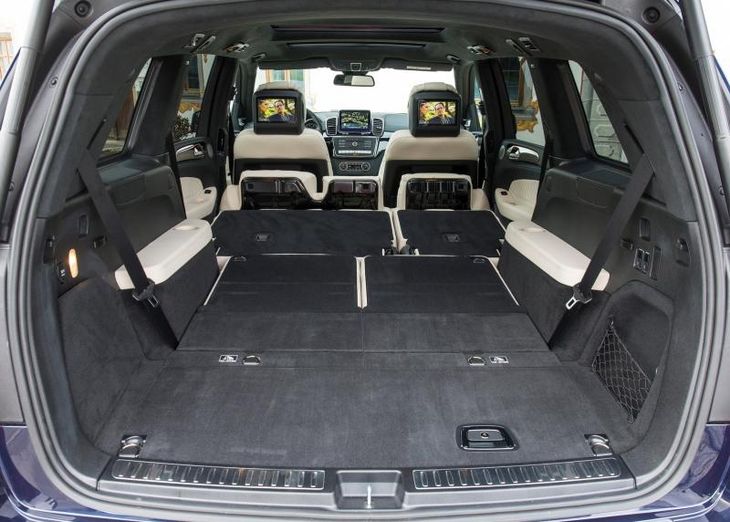 Fold all the seats down and you gain extra cargo-carrying capacity. Furniture, curtain rails and sporting equipment fit in with ease. Potentially an inflatable mattress could go in there too.
Refinement and features?
The GLS 500 really excels on longer trips, especially under low-grip road conditions when the weather is inclement – you'd be hard-pressed to find a more confidence-inspiring and reassuring vehicle to drive, or be transported in, for that matter. Its 4MATIC all-wheel drive system keeps the behemoth stable and it feels sure-footed even during the worst of the Cape winter storms. You can steer it enthusiastically into a series of corners in Sport mode, but the laws of physics still apply and pitching a 2.5-tonne SUV into a tight bend will always end in tyre-squeal. But don't hustle the GLS; rather appreciate its lofty levels of comfort and refinement instead. The steering and steering feel is excellent and at times it feels as if you're piloting a vehicle much smaller than the GLS.
Being a flagship product from a premium brand, we were expecting a generous level of specification and some gadgets to boot. We were not disappointed. In terms of connectivity, the vehicle came with Android Auto and Apple Carplay. There's also quad-zone climate control, adaptive air suspension, satellite navigation, and all-round park distance control. It has excellent safety features as well. There are 9 airbags, collision prevention assist plus, crosswind- and attention assist, pre-safe, brake assist, traction- and cruise control. If you feel that's not adequate, tick the box called Driver Assistance which adds Distronic Plus radar-guided cruise control, automatic pedestrian braking, cross-traffic assist, active blind spot- and lane-keeping assist and speed limiter into the mix.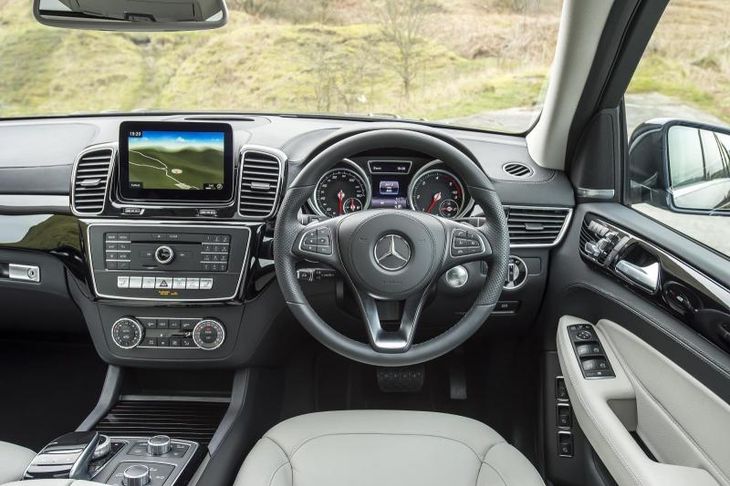 The GLS 500 cabin offers exceptional comfort and technology. The driving position is commanding and you sit high up.
Offroad ability?
Unlike some premium SUVs on sale, this is not a soft-roader that can only do the basics when it comes to venturing off sealed road surfaces. The GLS comes loaded with dedicated 4x4 technology such as low-range mode, hill descent control as well as the option to manually adjust the ride height. The Airmatic air suspension features adaptive damping and different modes to suit different conditions.
The air suspension can be cranked up and down to suit the driver's needs. For example, in Sport mode, the vehicle lowers to improve its centre of gravity, which in turn improves the handling. For offroad applications, the vehicle rises up majestically. It can go from 201 mm right the way up to 306 mm, making it one of the best vehicles in class when it comes to ground clearance. If you're brave enough, you can cross channels of water up to 600 mm deep.
However, given the Benz's substantial price tag and luxuriousness, just because it can go off-road does not mean you'd want to. The GLS is a plush vehicle and we'd feel awful taking it on a serious off-road track. Imagine hitting a rock or having thorns scratch the bodywork? It's too awful to fathom. That said, given this vehicle's capabilities, you will always be reassured to know that you can traverse the rough stuff with confidence if you absolutely have to...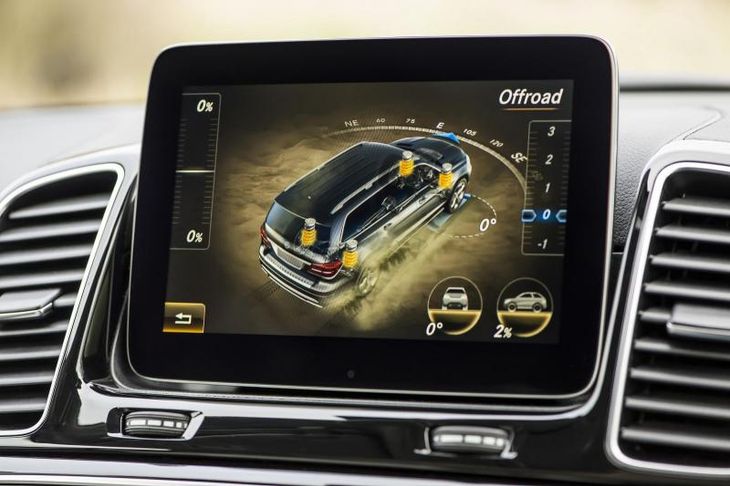 Each driving mode comes with its own fancy graphic. Here, Offroad mode is in action, showing ride height, geographic direction, pitch and lean data.
Performance and economy?
As one would expect, a middle-of-the-range "S-Class of SUVs" needs the sort of engine that commands respect and in this application, a 4.7-litre biturbo V8 is on duty. It's quiet upon start up and goes about its business with a professional air. Those craving more oomph and more premium fittings will be delighted to find that AMG has fiddled with the GLS to create the GLS 63, which is, in a word, indulgent. For those who wish to tow horse boxes (or the like) and have fuel economy at the top of their priority list can opt for the capable GLS 350d (which we reviewed not long after this GLS 500). The GLS 500 really tickled our fancy as it offered tremendous grunt, without coming across as brash or unruly, words which can readily be applied to anything with an AMG badge.
This particular engine's outputs make for impressive reading. There's 335 kW and 700 Nm, all of which is accessible from as low as 1 800 rpm. Essentially this means that you can put your foot down and most of those horses will break into a gallop. A 9-speed automatic is responsible for ensuring power on demand and its smooth in operation. We did notice that it does need some time to warm up and slow-speed cold gear changes are a little jerky.
Once the transmission and engine are up to optimal operating temperatures, you can appreciate what a magnificent powertrain the Benz has. The firm claims the GLS 500 will catapult from zero to 100 kph in 5.3 seconds, which is astonishing when you consider the mass and dimensions of the GLS. You'd expect this performance from a hot hatch, but from a 7-seat SUV tipping the scales around 2 500 kg? That's mightily impressive in anyone's book.
It's not just off-the-line performance that gets the thumbs-up. There's no shortage of in-gear urge and provided you can see far enough ahead, overtaking multiple vehicles is an effortless task. It's a wonderful engine and the V8 soundtrack, which accompanies it, was well appreciated. However, if you're a driver that treats the throttle pedal like an on/off button, you're going to experience "consumption" that will put a matric student on a Rage weekend to shame.
See, once both turbochargers are on song and the V8 is at full chat, the GLS 500 chugs petrol at quite a rate. You'll see consumption sitting around the 15 L/100 km mark in town, but it'll settle nicely on the open road, providing you're gentle with the throttle. During its time with us, the Mercedes-Benz GLS 500 averaged 12.9 L/100 km. On the other side of the coin, if you can afford a R1.5-million luxury SUV, then fuel bills are likely to be the least of your worries.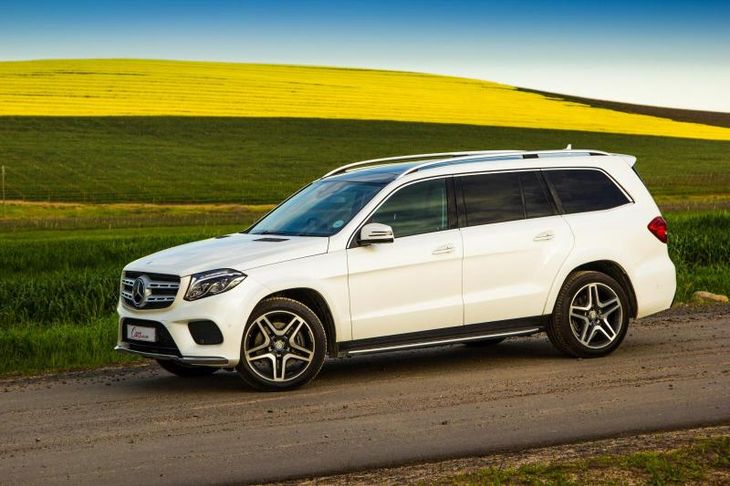 The gleaming white paintwork does anything but hide the GLS' bulk, but the Benz makes an unashamedly bold statement.
Mercedes-Benz GLS Price in South Africa
The Mercedes-Benz GLS range starts with the 350d which retails for R1 290 626, while this GLS 500 cost R1 459 676 before any extras. The GLS is backed by a 2-years/unlimited km warranty and a 6-year/100 000 km maintenance plan.
Conclusion
The Mercedes-Benz GLS 500 is a superb large luxury SUV. Should you need to a) transport 7 adults, b) in absolute luxury and c) tackle off-road courses, there is no other vehicle that can hold a candle to the Benz, and that includes anything that Range Rover or the other German luxury marques currently produce. It's big, imposing, exceptionally capable and it offers seating comfort that would not be out of place on a posh airline's business class cabin.
It offers a plethora of luxury and safety features and there are myriad options available to ramp up the vehicle's capability and exclusivity. We'd suggest opting for the climatised seats and parking package.... The GLS is a big, powerful SUV that's remarkably easy to drive, but although it doesn't feel like a large vehicle on the open road, its bulk is apparent in urban confines. We're thankful for light steering and Merc's determination to ensure comfort all round.
Unlike many vehicles, this is a genuine 7-seat vehicle and even when fully occupied there's still room for a few items in the boot. It rides well, can deliver a turn of speed that will embarrass some hot hatches and has plenty of technology to keep you safe. If you're looking for a vehicle that does it all and still continues to surprise and impress, then the GLS 500 presents a fine proposition. Humour us and don't take it off-roading... Our hearts could not bear it.
Further reading:
Find a used Mercedes-Benz GL/GLS for sale here.
Mercedes-Benz GLS First Drive
Interested in buying a Mercedes-Benz GL?