The ultimate Mercedes-Benz SUV is about to be launched in South Africa and we have specifications plus pricing for this seven-seat juggernaut.
The GLS is claimed to be the "S-Class of SUVs". In other words, it is supposed to offer more comfort and luxury features than the overwhelming majority of SUVs. And, in the case of this seven-seater, Benz is in a class of its own. But, when you're paying in excess of R2-million for a vehicle, it ought to be!
The outgoing GL was an impressive vehicle and despite its awkward size, pleasant and refined to drive. For the renamed and updated GLS, there are a number of improvements. There's a focus on improved efficiency, remapped dynamic select driving modes, updated air suspension, which should result in a smoother ride, and the firm's new 9-speed transmission, as well as the latest Mercedes-Benz's safety and connectivity systems, have been included.
At this level of the market, vehicles' specification lists are comprehensive and for the GLS, there are surprisingly few optional extras listed on Mercedes-Benz SA's online configurator. Options worth mentioning are the Bang & Olufsen audio system, rear climate control system and the heated steering wheel.
There's also a high level of safety equipment for the seven passengers. Apart from 9 airbags, collision prevention assist plus, crosswind- and attention assist, pre-safe, brake assist, traction- and cruise control are fitted. The Driver Assistance Package, which includes Distronic Plus radar-guided cruise control, automatic pedestrian braking, cross-traffic assist, active blind spot- and lane-keeping assist and a speed limiter, can be specified additionally.
Check out more specification details about this vehicle here
The SA line-up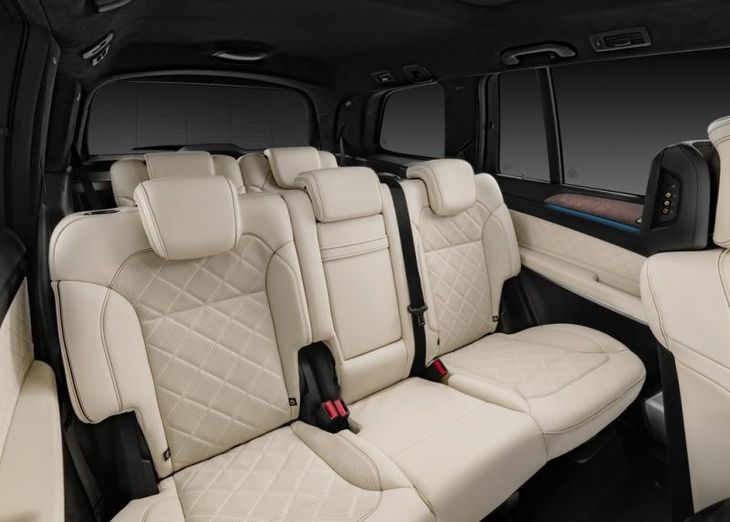 Seven seats and ultimate SUV luxury is what the Mercedes-Benz GLS is all about
There are three engines to choose from: two turbopetrols and one turbodiesel. Starting from the bottom of the price spectrum, the GLS350d is powered by a 3.0-litre V6 turbodiesel motor that develops 190 kW and 620 Nm and Mercedes-Benz claims an average fuel consumption figure of between 7.1 and 7.6 L/100 km for this model. Power is directed to all four wheels through a 9-speed automatic transmission.
Moving into the sportier turbopetrol options, you have the choice of two V8 engines. First up is the GLS500 – it is equipped with a 4.7-litre V8 that produces 335 kW and 700 Nm, will accelerate from zero to 100 kph in 5.3 seconds and go onto a limited top speed of 250 kph. It's claimed to consume between 10.9 and 11.3 L/100 km and is, like the GLS350d, equipped with a 9-speed auto 'box.
Meanwhile, the flagship GLS63 AMG offers lofty outputs of 430 kW and 760 Nm of torque, which are enough to propel it from 0 to 100 kph in 4.6 seconds, the firm says. Power is transmitted to all four wheels through a 7-speed automatic 'box. A combined cycle consumption figure of 12.3 L/100 km is claimed.
Mercedes-Benz GLS prices in South Africa
GLS350d R1 283 900
GLS500 R1 444 400
GLS63AMG R2 246 900
Interested in buying a used Mercedes-Benz GL? Search for one on Cars.co.za