Always a favourite among those looking for a luxurious, large premium SUV, the Mercedes-Benz GLE is moving with the times by offering more of everything, except underneath the bonnet, where the 300d is now powered by the marque's 2.0-litre 4-cylinder turbodiesel engine. Is it up to the task?
We like: Willing engine, spacious cabin, build quality, cabin ambience
We don't like: Ride comfort, occasionally lacks punch
Fast Facts:
Price: R1 417 080 before options (July 2020)
Engine: 2.0-litre 4-cylinder turbodiesel
Power/Torque: 180 kW/500 Nm
Transmission: 9-speed Tiptronic
Fuel consumption: 6.4 L/100 km (claimed)
Boot capacity: 630-2 055 litres
Performance: 0-100 kph in 7.2 sec.
What is it?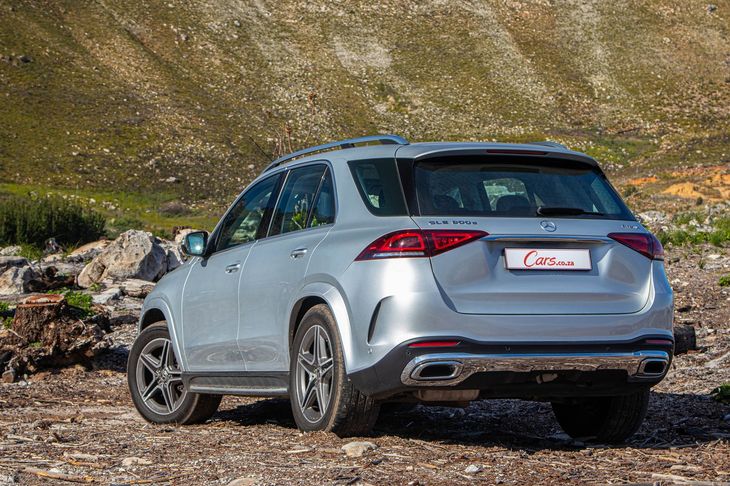 The new GLE has grown in size (again), and the new body makes the 20-inch alloy wheels look small!
Gone are the days when large luxury sedans were the preferred mode of transport for the well-to-do; these days, it simply must be a Premium SUV. The 1st-generation M-Class arguably started the trend in 1997 and has remained a forerunner in the segment. Now named the GLE, and in its 4th generation, the 'Benz Premium SUV faces a staggering number of rivals and its desirable badge alone may not be enough to ensure first-choice status.
The subject of this review is (what is likely to be) the top-seller in the current line-up, the GLE 300d 4Matic, replete with the desirable AMG Line styling package. Inside and out, this GLE looks like a segment champion, but with a "small" turbodiesel engine under its bonnet, does the derivativate offer enough go to match the show?
How it performs in terms of...
Performance, fuel economy and ride/handling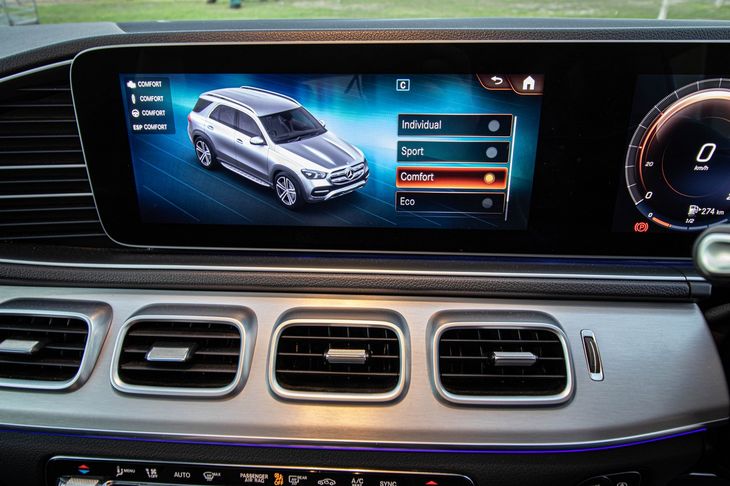 The "small" 2.0L 4-cylinder turbodiesel is a willing and refined engine, and in most instances, provides enough gusto.
It will take Mercedes-Benz traditionalists some time to get their head around the fact that this big SUV, with the 300d lettering on the tailgate, is motivated by a "little" 2.0-litre, 4-cylinder turbodiesel. Having said that, it's an engine that has impressed in other applications and, comparatively speaking, its peak power (180 kW) and torque (500 Nm) outputs compare reasonably well with those of its competitors. Still... with a weight of well over 2 tonnes to lug around, it will have to work smartly with that smooth 9-speed automatic transmission to impress potential buyers.
The good news is that during general driving, particularly around town, you'll hardly ever feel the need for more power. The GLE 300d responds swiftly to throttle inputs and the well-calibrated transmission makes the most of the peak-torque band (from 1 600 to 2 400 rpm) to facilitate swift, smooth progress.
It's only when travelling at higher speeds and when the vehicle's fully loaded when you'll wish for a bit more grunt. By comparison, the Benz's archrival – the BMW X5 xDrive30d – has an extra 120 Nm to play with... and, as a consequence, is a fair deal fleeter of foot when you're in a hurry.
The engine is, however, very refined and also relatively frugal (if there is an eco-conscious driver behind the wheel). Mercedes-Benz claims a combined fuel-consumption figure of 6.4 L/100 km but, as is to be expected, that's highly optimistic. You'll do well to average around 8 L/100km, which is very acceptable given the size/nature of this machine.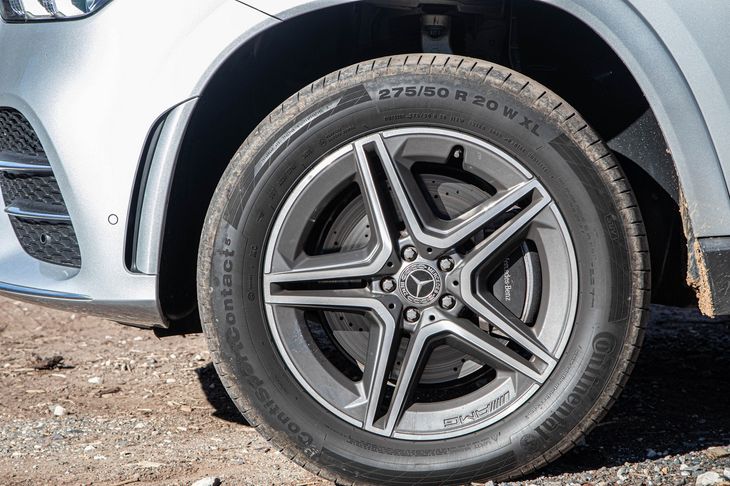 Our test unit featured Airmatic air suspension but still struggled to maintain a composed ride on poor surfaces.
We've already mentioned the refinement of the engine, and it's a trait reinforced by the cabin insulation. In most conditions, the ambience is calm, with occupants enjoying a serene cabin that brings back that "vault-like" feeling of Mercedes-Benzes of old. Unfortunately, there is a fly in the refinement ointment, and it's the ride quality. Our GLE test unit was equipped with the optional Airmatic air suspension system, but even so, it struggled to maintain ride composure over poorer surfaces – it never felt entirely "settled". Thankfully, matters improve at higher speeds and though there is plenty of lean in the corners, the GLE feels more composed and, again, more refined at higher velocities.
Exterior design & Packaging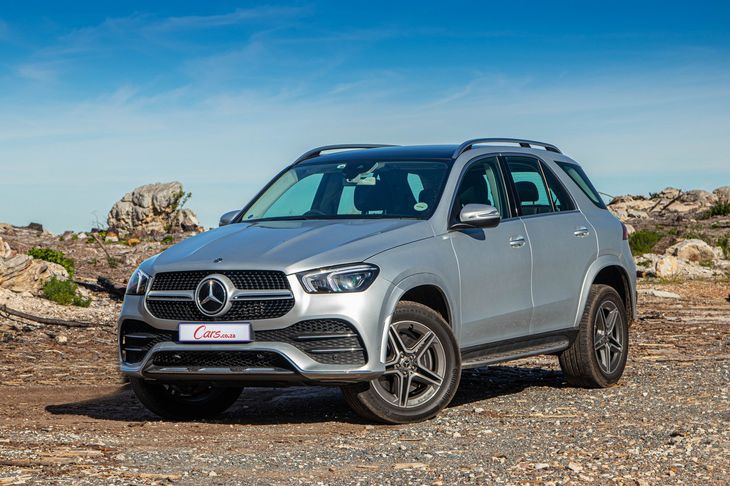 With its AMG Line exterior package, the new GLE looks sporty as well as imposing – as is preferred by most customers.
The latest GLE looks notably more "macho" than its predecessor. Wider (by a whopping 231 mm) and with an 80-mm longer wheelbase, but 24 mm lower than before, the GLE gains a more muscular look that is further enhanced by the AMG Line package, as specified for this vehicle. Even though our test unit sported 20-inch alloy wheels shod with relatively plump tyres, the overall consensus was that the look (but not the ride) would be further improved by opting for even larger wheels.
The increased dimensions have resulted in a notably more spacious cabin, particularly for rear passengers, who now can enjoy arguably class-leading knee-room (the rear seats slide/recline as well). The luggage compartment capacity is quoted at 630 litres, which is slightly less than what is offered by the X5, but the GLE hits back with greater utility space with the seats folded down (2 055 litres vs 1 870 litres). It is worth noting that 3rd-row seating is available at an extra R16 000, which is very reasonable in our view. Less reasonable is the fact that you have to pay extra for the luggage-compartment cover (R3 800)!
Interior execution and features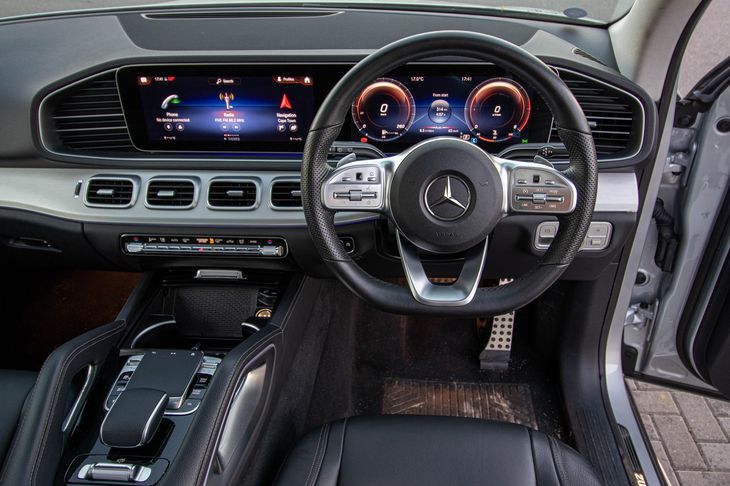 Undoubtedly one of the highlights of the new GLE is its striking facia design and advanced MBUX infotainment system.
One of the GLE's major strengths is the impression it makes once you slide in behind the attractive leather-wrapped steering wheel. Fire it up and the wide digital screen lights up with impressively crisp graphics and a plethora of information. The GLE features the advanced MBUX system – one of the most advanced in-car infotainment systems around – as standard. Also fitted is an ambient light package, which allows you to set the mood lighting to your preference. Fit and finish is excellent too and, overall, this is a cabin that excels not only in wow-factor but also leaves a lasting impression of quality. Also immediately apparent is the extra shoulder space provided by the extra cabin width.
Notable optional items fitted to our test unit included the smart Nappa leather upholstery (pricey at just over R30 500), a panoramic sliding sunroof (R23k+), a Burmester surround sound system (R13k+), which are all fair enough (just about), but having to fork out extra for heated seats, keyless access and a wireless charging pad is a bit cheeky.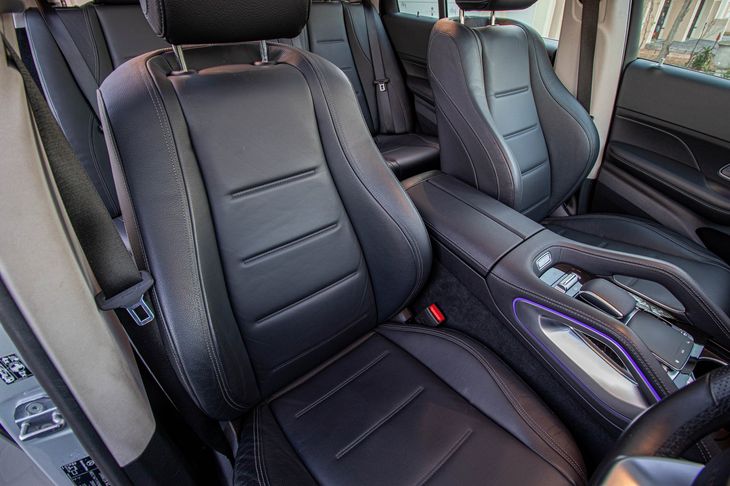 Grippy, supportive seats of our test unit featured black Nappa leather (a more than R30k option).
Pricing and warranty
The GLE 300d AMG Line is priced at R1 417 080 (July 2020) before extra-cost options... of which there are many. Our test unit carried an extra R180 000-worth of optional extras, in fact. We might be nitpicking, but at this price level, we really think keyless go, heated front seats, metallic paint and the wireless charging pad should be standard.
The price includes a 2-year/unlimited km warranty and 5-year/100 000 km maintenance plan.
Take a look at specification details
Browse for a used Mercedes-Benz GLE on Cars.co.za
Verdict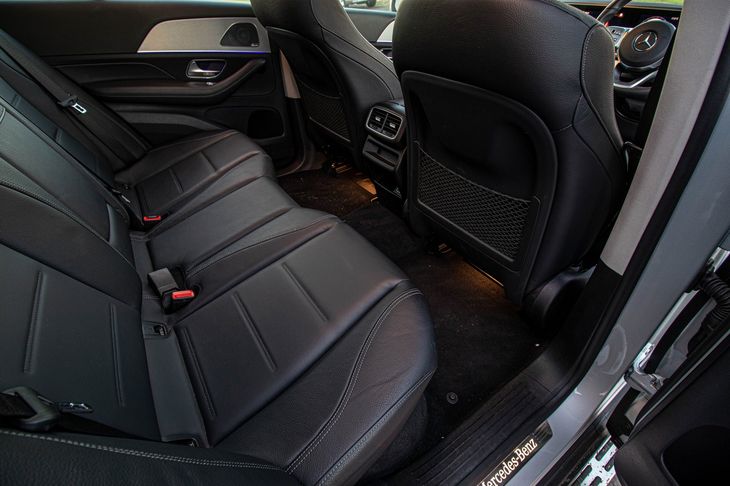 A major improvement in rear passenger legroom, courtesy of the stretched wheelbase.
This is a tough segment populated by excellent vehicles. The latest GLE ranks right up there with the best of them (the X5 is our current Cars.co.za Consumer Awards – Powered by WesBank Premium SUV category champion) and the Bimmer will have its work cut out to defend the title from this excellent all-rounder.
The GLE's major strengths are its design, cabin space and on-board technology. When ensconced in the properly up-to-date and luxuriously finished cabin (admittedly with many option-boxes ticked), owners will be pleased with their purchase. But there are a few niggles. The fact that the GLE 300d 4Matic's small engine can, at times, be caught napping was to be expected, but the jiggly, unsettled ride quality was a surprise... and a disappointment.
Related content:
Mercedes-Benz GLE 400d vs BMW X5 xDrive30d Comparitive Review (video)