Pricing for the facelifted Mercedes-Benz GLC has turned up on the website of Mercedes-Benz South Africa. Here's how much the newcomer will cost.
The C-Class based SUV from Mercedes-Benz has proven quite popular amongst the fans of the 3-pointed star. With an array of petrol and diesel engines, as well as AMG and coupe versions, there really was a GLC for everyone. For 2019, the Mercedes-Benz GLC has received a facelift and we can share pricing and some engine details. While there's no mention of the AMG version, Mercedes-Benz SA has updated its website and we can confirm the updated lineup.
In terms of engine, the facelifted Mercedes-Benz GLC will be available with petrol and diesel options. Kicking off the range is the 220 d which is a 2.0-litre turbocharged diesel engine. It produces a reasonable 143 kW and 400 Nm. The 300 d promises 180 kW and 500 Nm from the same engine but tuned to deliver higher outputs. All derivatives feature 4Matic all-wheel drive as well as the 9G-Tronic automatic transmission. For those wanting petrol, there will be a 2.0 litre turbocharged 4-cylinder with 190 kW and 370 kW.
Naturally, you can go to town when it comes to options. There's a strong lineup of packages such as Lane Tracking (R13 900), Driving Assistance (R36 900), Stowage Space (R3 800), AMG Line (R40 000) and Offroad Package (R17 800) to name but a few. Final specifications and features will be announced closer to the vehicle's launch.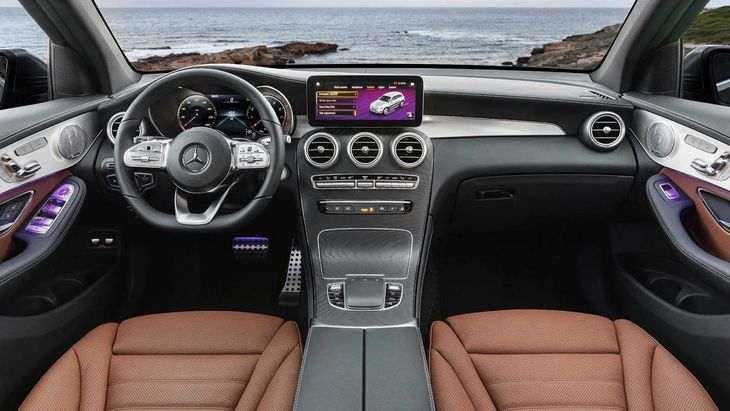 The facelifted Mercedes-Benz GLC features MBUX in the cabin.
Mercedes-Benz GLC Price in South Africa (July 2019)
Note these prices exclude VAT, but are inclusive of the CO2 tax.
Mercedes-Benz GLC 220 d R788 630
Mercedes-Benz GLC 300 d R829 401
Mercedes-Benz GLC 300 R848 619
Mercedes-AMG GLC 43 R1 078 921
Mercedes-AMG GLC 63 S R1 668 420
Mercedes-Benz GLC 220 d Coupe R931 750
Mercedes-Benz GLC 300 d Coupe R968 248
Mercedes-Benz GLC 300 Coupe R990 486
Mercedes-AMG GLC 43 Coupe R1 265 968
Mercedes-AMG GLC 63 S Coupe R1 868 040
Further Reading
Revealed: Mercedes' Revised GLC Coupe
Mercedes-AMG Brings GLC Firepower to NY
Mercedes-AMG GLC 63 S Coupe (2019) International Launch Review