It's been just over 2 years since the all-new G-Class reached South Africa. The potent AMG G63 used to be the sole offering on the local market, but Mercedes-Benz added a new turbodiesel-powered G400d Stronger Than Time edition last year. Does the G400d make more sense than the "63"? Let's take a closer look…
We like: Kerb appeal, build quality, performance, interior tech, off-road prowess
We don't like: What's not to like? Okay, its eye-watering price tag
Fast Facts
Model Tested: Mercedes-Benz G400d Stronger Than Time
Engine: 3.0-litre, 6-cylinder turbocharged diesel
Power/Torque: 243 kW/700 Nm
Transmission: 9-speed automatic
Fuel consumption: 9.6 L/100 km (claimed)
Load capacity: 667–1 941 litres
What is it?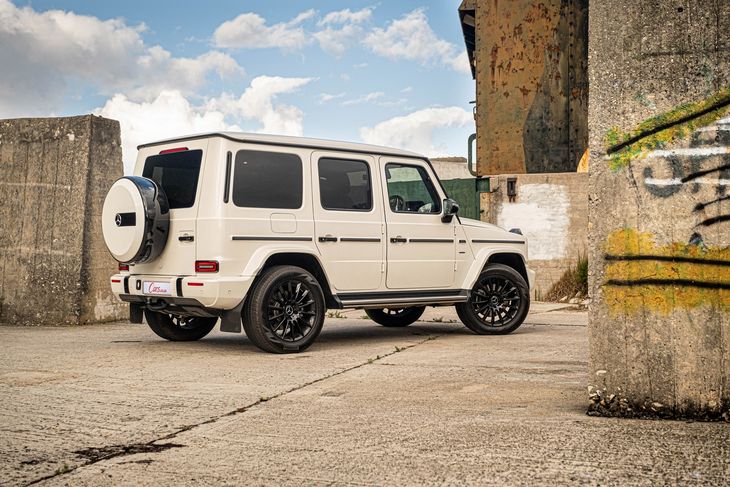 The new G-Class boasts familiar design elements, but it's now thoroughly modern and more capable than ever.
The G-Wagon (an abbreviation for Geländewagen) is perhaps the most revered off-road vehicle on the market. It has an illustrious history and its capability in tough terrain has garnered respect the world over. Apart from its notable ability to conquer just about any terrain on earth, the G-Wagon (or G-Glass, as it is now known) is also a status symbol, a spoil of success that shouts "I'm rich, I've made it!"
With the introduction of the new G-Class back in 2018, Mercedes-Benz had to strike a fine balance between retaining and refining the key attributes of the G-Class while modernising and pushing the technological boundaries in the luxury off-road-SUV segment. The range-topping V8-powered Mercedes-AMG G63, which we reviewed in 2019 was mightily impressive. To say that the Stuttgart-based firm hit the nail on the head with the W463 is an understatement; it is said that the blocky Benz provided the benchmark against which Jaguar Land Rover developed the new-generation Defender...
While the Mercedes-AMG G63 remains the pinnacle of the G-Class range, a non-AMG, turbodiesel-powered G400d Stronger Than Time edition, equipped with a potent in-line 6-cylinder, 3.0-litre turbodiesel engine and an array of special equipment features that pay tribute to the 40th anniversary of Benz's longest-surviving passenger-vehicle range, arrived in South Africa in 2020. So, what's so special about this G400d Stronger Than Time and does it represent a more "sensible" purchasing proposition than its more expensive and supremely powerful V8-engined G63 stablemate? Read on.
How it performs in terms of…
Kerb appeal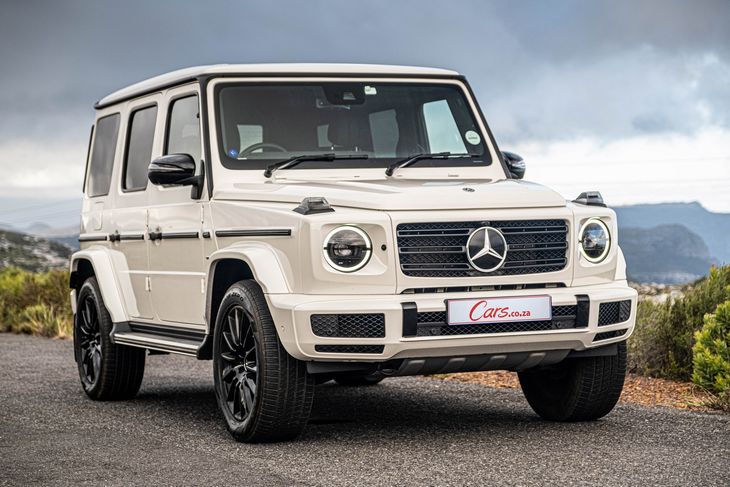 You will either love it or hate it, but there's no denying that the G-Wagon offers heaps of kerb appeal.
Not many cars on the road exude as much road presence and kerb appeal as a G-Wagon. Yes, sure, its sheer size has something to do with that, but courtesy of its head-turning appeal, the Austrian-made Benz permeates popular culture. Its stratospheric price tag taps into a fantastical realm of wealth and glamour. It's the mechanical embodiment of excess; it strokes your ego wherever you drive it.
This particular G400d Stronger Than Time edition features a bespoke G-manufaktur diamond-white paint finish, which is a R94 500 option, and in the sunlight, the G400d really does sparkle. Twenty-inch multispoke alloy wheels shod with road tyres fill the arches, the optional rear mud flaps (R1 100) add a rugged touch, while the dark-tinted windows elevate the Benz's visual character appreciably.
Overall, we think this G400d Stronger Than Time looks the part and to be fair, at the price, it would be a trifle awkward if it didn't...
Interior execution and features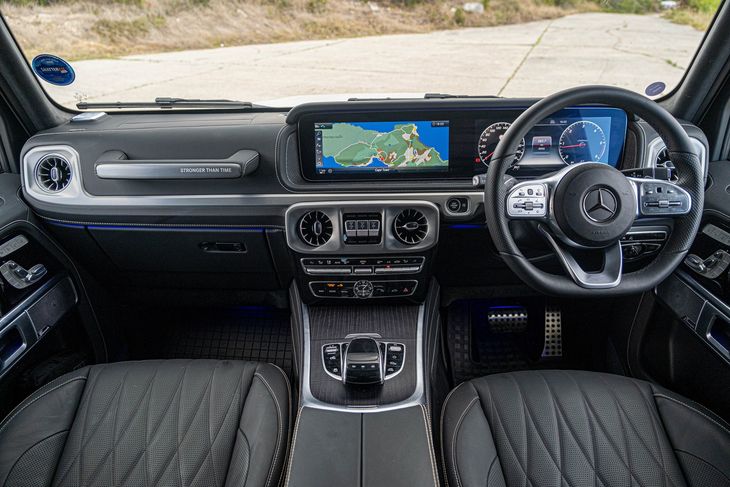 The G400d Stronger Than Time is packed with the very best technology and comfort features as standard.
The sound that a vehicle's driver's door makes when you open or close it can tell you a lot about the car's sturdiness. The G-Class is a fortress... Push the button on the door handle and the G Wagon's door opens with a solidity that immediately imparts an impression of impressive build quality. This perception is confirmed by a confident and satisfying "click" when you thud the heavy-set door closed.
Step inside and the hey-shoo-wow continues with an interior that looks and feels like it was hewn from granite. You are met with swathes of fine Nappa leather and tech galore, especially the Widescreen Cockpit, which incorporates 2 large digital screens under a single pane of glass. The displays are wonderfully crisp and the one directly ahead of the driver can be configured to your liking by using the Nappa-wrapped multifunction steering wheel. As for the infotainment system, it's comprehensive but the now-familiar MBUX "Hey Mercedes" operating system is missing. The infotainment functions can be accessed via the command control interface in the centre console. While it's intuitive to use, you'll likely have to set apart some time to become fully familiarised with the system's menus and functions.
Other notable features on offer in this Stronger Than Time edition include a Burmester surround-sound audio system, ambient lighting (with a choice of 64 colours and 10 colour schemes), as well as a glass sliding sunroof. A parking package with a 360-degree camera is also standard, which is useful for manoeuvring the G400d in tighter spaces and the standard Driver's Assistance package includes features such as blind-spot assist, adaptive cruise control and lane-keep assist with steering assist, the latter of which can be quite intrusive, so be ready to disengage it when it gets on your nerves…
Another feature that impressed us was the Active Multicontour Seat Package (a standard feature), which not only offers various massage programmes and ventilation on demand, but provides active bolstering support, which is activated every time the vehicle is made to corner above a certain speed.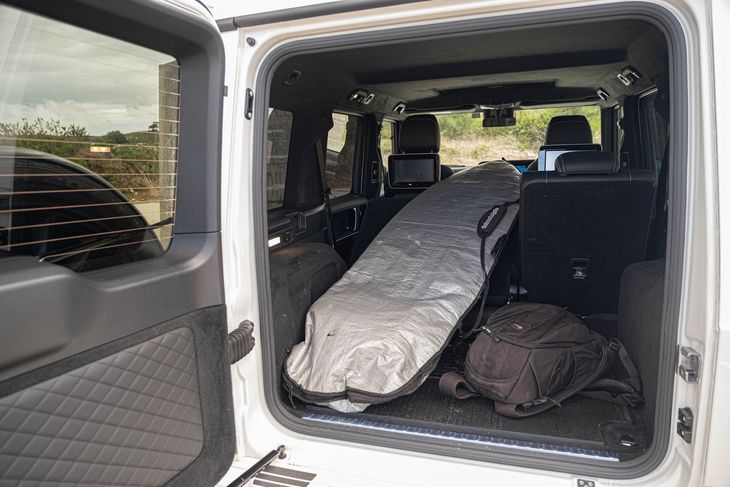 The rear seats don't fold completely flat, but the G400d still passed the obligatory Cars.co.za surfboard test.
Passengers seated in the back should find the rear bench adequately comfortable in terms of leg-, head- and shoulder room. This particular test unit also came fitted with an optional rear-seat infotainment system, which can be specified for an additional R47 900 – it may be a useful option to tick if you have kids to entertain on those long, out-of-town journeys.
As far as the load bay is concerned, the G-Class offers generous space for loading items. Mercedes-Benz claims a 667-litre capacity with the rear seatback in the upright position and up to 1 941 litres of utility space is said to become available with the seats folded down. It must be noted, however, that the seats don't fold completely flat, which could pose a problem if you are loading bulkier items.
Performance and efficiency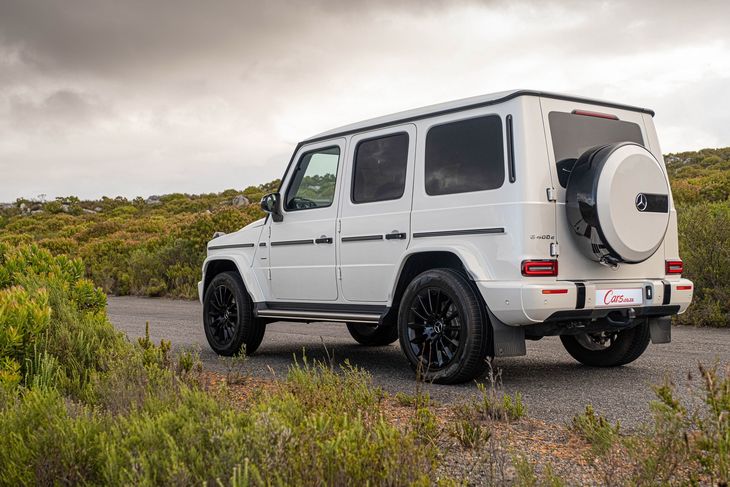 The G400d's performance is not as brutal as its V8 G63 sibling, but it's still a powerful performer.

While the V8-powered G63 offers raucous performance (not least for an SUV of its size and heft), this G400d is far more civilised in its performance delivery. That's not to say that this G400d isn't powerful or engaging to drive. In fact, the opposite is true – there's plenty shove on offer! The engine bay is home to a 3.0-litre, 6-cylinder turbodiesel engine that develops beefy outputs of 243 kW and 700 Nm, which is transferred to the terra firma via a 9-speed automatic transmission that drives all four wheels.
Don't think for one second that the G400d is a slouch... it certainly isn't. While it might not be as potent as its revered Affalterbach-fettled G63 sibling, the turbodiesel-engined G-Class is quite capable of delivering a fair turn of speed with little effort. Mercedes-Benz claims a 0-to-100 kph time of 6.4 seconds, which is significant if you consider that the G Wagon's kerb weight is about 2 472 kg. That 700 Nm of torque comes on song low in the rev range (from 1 200 to 3 200 rpm), which is great for executing thrusting overtaking manoeuvres on the highway, but it's also useful when driving off-road, of course.
The transmission shifts gears in a wonderfully smooth and refined manner. In most driving situations, it's best left to its own devices, but you can initiate manual shifts using the steering-wheel-mounted shift paddles. Whether you're looking for a more comfort-oriented or a sportier driving setup, you can hone the steering, suspension and engine mapping's settings by toggling the Drive Mode selector.
Fuel efficiency is not something a G-Class buyer will typically be concerned about, but it's good to know that moderate consumption is one of the major advantages of this Mercedes-Benz powertrain. The Three-pointed Star claims an ambitious average figure of 9.6 L/100 km and our test consistently returned figures around the 12 L/100-km mark, but that's a return you're very unlikely to see in a G63!
Overall, the high refinement offered by this turbodiesel engine is admirable and even better, it delivers strong and confident performance while being markedly more efficient than its turbopetrol sibling.
Ride and handling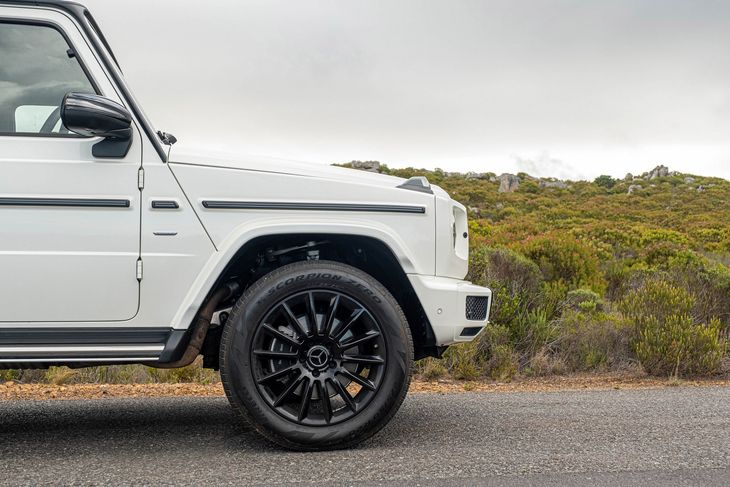 The G-Wagon offers a composed demeanour on tar thanks to its new suspension and standard adaptive damping.

There's no doubt that the new G-Class displays a marked improvement in terms of its overall ride quality and general on-road demeanour compared with its immediate predecessor. Much of this improvement can be attributed to the new, more pliant suspension setup (which, in this case, features adaptive damping as standard), as well as an electrically assisted rack-and-pinion steering system. The G400d was far more comfortable on-road than what we expected and because it's shod with normal (as opposed to off-road) tyres, the road noise was kept to a minimum too.
The steering, although firmly-weighted at speed, presents a fair degree of vagueness when the G400d is tasked with cornering at higher speeds. Considering its inherent top-heaviness and undeniable heft (even though it's nearly 200 kg lighter than its predecessor), the Benz is not, um, dynamically gifted. In truth, we did not expect it to be and at least the G400d's handling is NOT ponderous.
What's more, while it does deliver suitable levels of comfort and pliancy for average daily use in the city and in off-road situations, the G-Class' general ride quality isn't as plush as you find in a Range Rover, for example. It still retains an element of ruggedness as it gets down the road and that is part of the G-Wagon's go-anywhere character, which ultimately, is a good thing...
Off-road performance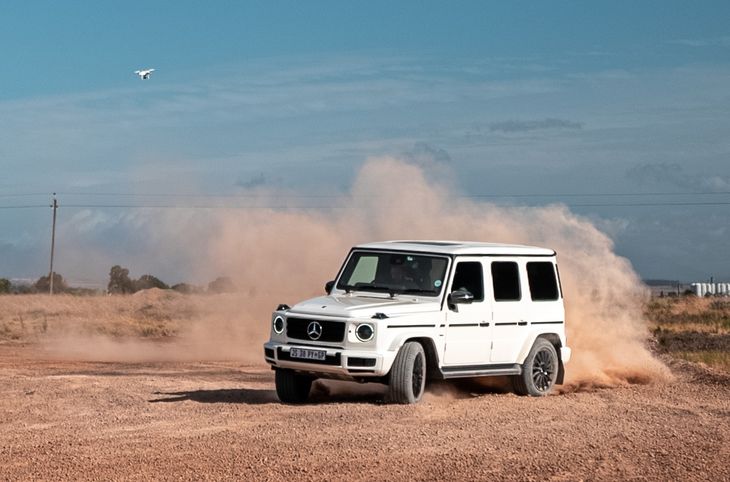 The G Wagon remains one of the most capable 4x4s on the planet. Watch our video review above to see the G400d in action.
Graz, Austria is the home of the G-Class and it's where all derivatives are produced on one production line. On the outskirts of the town is a mountain called Schöckl and it's here where the G Wagon's off-road prowess has been honed and perfected. It's for this very reason that you will find a "Schöckl proved" plate on the inside of the door frame, which is an off-roading "stamp of approval" of sorts.
This review mostly focuses on the on-road abilities of the G400d. We didn't have the opportunity to find out if the G-Wagon is able to scale Table Mountain via the famous Platteklip Gorge, but we are fairly confident that it would give it a fair go! The G-Wagon is, after all, equipped with not 1, not 2, but 3 electronically-controlled differential locks that can be activated via the centre console. With all of those activated – in combination with low range, there's little that will stand in the G-Wagon's way, whether it be steep inclines/declines or varied rugged terrain. After all, it's what the G's meant to do.
Our very own Ciro De Siena, however, did drive the G400d at speed on a gravel track. If you want to see the G-Wagon going sideways in the dirt then we suggest you watch the video review above.
Price and warranty
The Mercedes-Benz G400d Stronger Than Time is priced from R2 892 840 and is sold with a 2-year/unlimited km warranty and a 5-year/100 000km maintenance plan.
See specification details for the Mercedes-Benz G400d Stronger Than Time
Buy a Mercedes-Benz G-Class on Cars.co.za
Verdict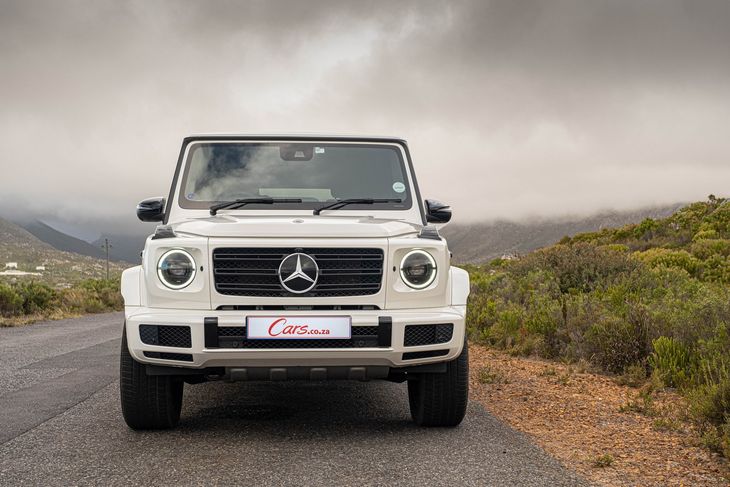 There's so much to love about the new G-Class and if you can afford it, we doubt that you will ever look back.
The G-Class is, in many ways, a ludicrous product. Its monolithic presence and the full breadth of its off-road capability is far beyond what most of its intended buyers will ever need and even fewer will ever engage but one of its diff locks. Here you have perhaps one of the world's most capable vehicles and it's mostly – if not all – just for show. It's a travesty, considering what the Benz is capable of.
The G-Wagon, however, is more than capable of putting on a show/almost justifying its prohibitively high asking price. It's got the kerb appeal and it's fantastically equipped with all the technology and comfort features that you would expect at this price point. As far as the turbodiesel engine's performance is concerned, it has enough grunt (as well as sufficient economy) to do this application justice.
This engine will appeal to more conservatively-minded prospective G-Class buyers who couldn't care less about having the fastest and loudest "G" on the market. The G400d is more civilised and less "shouty" than its AMG-fettled G63 stablemate, but it's also more fit for purpose when it comes to tackling off-road terrain and we think there's notable value in that.
Your purchasing decision will ultimately depend on what type of person you are. If you're about to launch a new rap album and have something to prove or need to show the world you've made it, then the G63 is probably the one to go for. However, if you have a finer appreciation for the G-Glass and intend on tapping into the Benz's capability in a more efficient manner, then the G400d is a good bet.
No matter what you choose though, know that the affectionately nicknamed G-Wagon is in a class of its own. There's simply nothing like it...
Related Content:
Mercedes-Benz Tweaks G-Class for 2021
Spy Shots: 2021 Mercedes-Benz G-Class Squared
Spy Shots: 2021 Mercedes-Benz G4x4