The wave of Mercedes-Benz electric vehicles is in full flow as the brand has just revealed this EQB. It's a 7-seater electric SUV with 420 km range.
The Shanghai motor show has seen almost every brand display some form of electric production vehicle or at least a hybridized version of a current production vehicle. Mercedes-Benz has followed suit and added the EQB to its EQC, EQE, EQA and recently launched EQS electric range.
The EQB is different in that it has 7 seats as an option where the 3rd row can accommodate passengers up to a height of 1.65 metres. Both seats can handle child seats, taking the total number of child seats you can fit in an EQB to 5 (1 in the front, 2 middle and 2 in the 3rd row).
Boot space is claimed at 495 litres in 5-seat mode and with all the seats down it copes with 1 620 litres of luggage. Overall it's a reasonably practical SUV with similar dimensions to the current GLB.
Merc EQB Range and Power
Multiple versions of the EQB will be available including front- and all-wheel-drive versions. Different power outputs will be available too, which Merc says will produce over 200 kW in Europe. The battery onboard has a capacity of 66.5 kWh and in the EQB 350 4Matic will have a range of 419 km (WLTP cycle).
In terms of charging capability, the EQB can be charged at up to 11 kW at AC power, usually used at home or up to 100 kW with DC power, at charging stations. At 100 kW it should charge from 10%-80% in 30 minutes.
Merc EQB interior details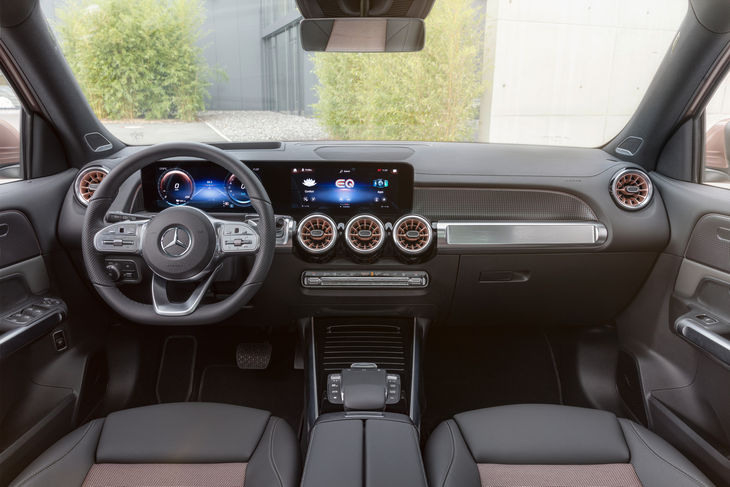 A basic interior by electric car standards.
The insides of the EQB are more traditional than we've come to expect from new EVs. The familiar skateboard screen deals with instrument dials in front of the driver and the infotainment on the other side of the split-screen.
Depending on the design and equipment line, a backlit trim piece and rose gold-coloured decorative elements on the air vents, seats and vehicle key provide clues to the electric character in the interior of the EQB. The instruments, with their electric car-specific displays, pick up on the same colour scheme with rose gold-coloured and blue highlights.
The EQB will go into production in order to be ready for the Chinese market at the end of 2021 before being made available in Europe in early 2022. It is being built in 2 Mercedes plants around the world, Hungary and Beijing.
Related content
6 Things You Need to Know: Updated Mercedes-Benz SUV range
Mercedes-AMG GLE 63 S (2021) Launch Review
Nuts & Bolts - A Properly Useful Review of the new Mercedes-Benz G-Class 400d