Mercedes-Benz has unveiled its updated CLS. Here's a look at the changes.
Many would think Mercedes-Benz has too many models and the overlaps are quite blatant. In the case of the CLS, internally there's a rival in the E-Class while the AMG GT 4-door stands toe to toe with the CLS 53. It all boils down to personal preference and we'd suspect people who don't want the predictably styled E-Class to go to the CLS for a touch of unique style.
For the 2022 model year, the facelifted Mercedes-Benz CLS has received cosmetic and trim updates. Visually, you can spot the updated grille and more aggressive front bumper. Customers can opt for the new-look alloy wheels and there's a new paint, which you can see here. Called Spectral Blue Metallic, there's no denying it's very pretty! There are exclusive designo matte paints added to the palette; jupiter red, cashmere white magno and emerald green.
The cabin gets a subtle nip and tuck, but the updated CLS gains the new-look Merc steering wheel with its array of buttons and sensor pads. As far as trim options go, there are new upholstery combinations as well as leather options.
2022 Mercedes-Benz CLS Engine Choices
The engine lineup has been carried over. Globally, there's an impressive array of powertrains for the CLS ranging from the 1.9-litre turbodiesel with 143 kW and 400 Nm, to the CLS 53 with its 3.0-litre turbo inline-6 delivering 320 kW and 520 Nm. It's the flagship of the range and capable of hitting 100 kph in just 4.5 seconds, thanks to its all-wheel drive setup and advanced EQ electrification.
The diesel options appear particularly tantalising with a 2.0-litre 4-pot with 195 kW and 550 Nm, and a 3.0-litre inline-6 punching out 243 kW and 700 Nm. The petrol options also look good on paper at least, with a 2.0-litre 4-pot packing 220 kW and 400 Nm. The CLS 450 has a 3.0-litre inline-6 with 270 kW and 500 Nm.
As it stands, Mercedes-Benz South Africa offers the CLS in two flavours; the CLS 400d 4Matic and the CLS 53 AMG 4Matic. We'll update this story if we get confirmation about the updated model's arrival in South Africa.
2021 Mercedes-Benz Specs and Pricing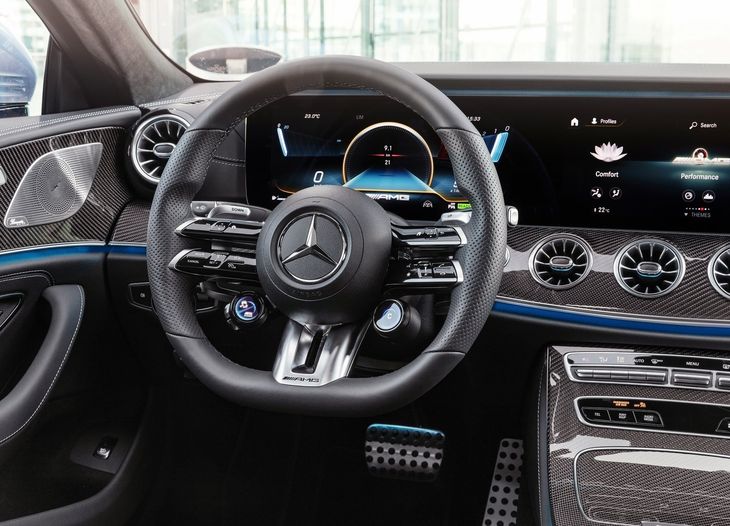 One of the updates is the introduction of the advanced steering wheel
Further Reading
Mercedes-Benz CLS 1.5 Announced
BMW, Mercedes-Benz or Audi? Who's winning the design war?
Mercedes-Benz CLS 400d 4Matic (2019) Review
Mercedes-AMG CLS 53 (2019) Launch Review