Mercedes-Benz South Africa has launched its compact duo and we had a chance to get behind the wheel of the new A-Class sedan and CLA.
The world has changed much over the past decade... Whether it's been for the better or the worse remains up for debate, but for a traditional carmaker like Mercedes-Benz, which used to sell large luxury vehicles to a typically older target clientele, to open its portfolio of compact offerings to the young, upwardly-mobile market, well that was quite a transition!
The compact range from Mercedes-Benz has been quite the success story. The W177 A-Class hatchback is doing brisk sales, bagged the Best Compact Hatch trophy in the 2017/18 #CarsAwards – powered by WesBank and is looking to defend its title this year against the Volkswagen Golf GTI and Mazda3 2.0 Astina. Globally, Mercedes-Benz has shifted more than 6 million compact products since the 1st A-Class debuted in 1997.
The new A-Class Sedan is now the 7th model in the compact family, reinforcing the idea that Mercedes-Benz will continue to play in this space... Despite the massive global demand for crossovers and SUVs, there are still markets, such as China and the 'States, that have a predilection for sedans. With a buying-down trend also taking place, it wouldn't be a surprise to see customers downsizing from a C-Class to an A-Class or CLA.
What's on offer?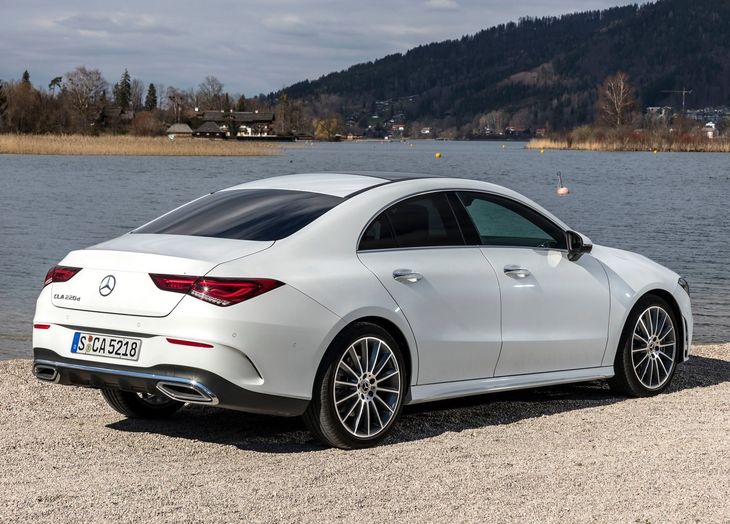 The Mercedes-Benz CLA is the sportier-looking of the two new compact offerings
Mercedes-Benz appears to have a solid strategy behind the launch of its compact 4-door offerings. The A-Class Sedan line-up comprises 2 petrol derivatives, while the low-slung and sportier CLA is available with either a turbopetrol or -diesel motor. The base engine in derivatives with a 200 designation is a 1.33-litre turbocharged 4-cylinder petrol-fed unit, which produces 120 kW and 250 Nm. The A250, on the other hand, boasts a 2.0-litre turbocharged 4-cylinder with maximum outputs of 165 kW and 350 Nm. In both cases, power goes to the front wheels via a 7-speed dual-clutch transmission. The CLA's turbodiesel motor is a 2.0-litre 4-cylinder unit with 140 kW and 400 Nm, with power going to the front wheels via an 8-speed dual-clutch transmission. When it comes to fuel economy, the diesel engine leads the way with an impressive claimed figure of 4.3 to 4.4 L/100 km, with the 1.33-litre turbopetrol derivatives returning 5.2 to 5.5 L/100 km. The A250's 2.0-litre motor, in turn, is said to consume 6.0 to 6.2 L/100 km.
The A-Class sedan is an all-new model, whereas the CLA (which is marketed as a 4-door coupe) is now in its 2nd generation. The changes for the latter are substantial... Not only does it look sharper than ever – one could say it resembles a "baby CLS" – but the concerns we had with the 1st-gen car's cabin quality have also been addressed. Indeed, the CLA's interior feels more solidly assembled and there's a bit more cabin space. That being said, rear space for tall passengers is going to be a tough challenge given the dramatically-sloped roofline and, as a result, rear headroom, in particular, is tight for adult passengers. The new CLA is a touch larger than the outgoing model, but it sits lower and wider than its A-Class sibling.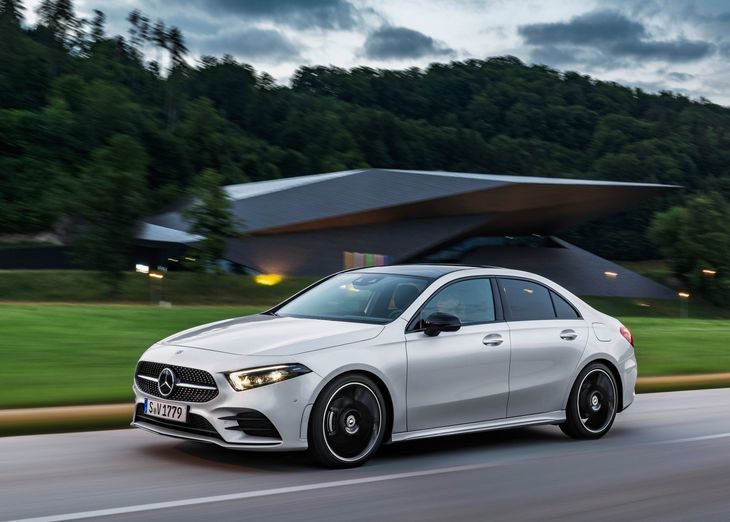 The Mercedes-Benz A-Class Sedan makes a compelling case for itself, with reasonable boot space and good rear legroom.
Both the CLA and A-Class Sedan boast the latest MBUX infotainment system. Its dual-screen setup features gorgeous graphics and its menus can be navigated by using a touchpad. It requires a little bit of familiarisation, but the "Hey Mercedes" voice command interface works particularly well.
Being a Mercedes-Benz, there are optional extras galore. The matte paint finish on the CLA in the main image costs R31 450, but it does look the business! Other noteworthy options in our CLA 200 test unit included the driving assistance package (R32 300), AMG Line (R50 175), MBUX 10-inch display (R11 100), adaptive dampers (R16 800), Panoramic sliding sunroof (R15 800). The A-Class Sedan is much the same: the A200 Sedan we drove had the head-up display (R15 000), heated seats (R5 000), Navigation (R11 000) and the Burmester surround sound system (R10 200).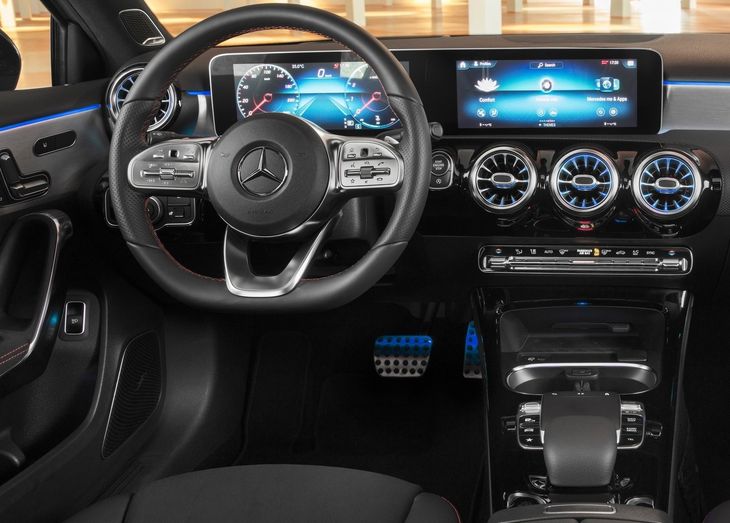 Both the CLA and the A-Class Sedan feature the new MBUX infotainment system, which works well.
What are they like to drive?
We had the opportunity to drive a CLA 200 and an A200 Sedan. First up was the CLA 200 and, while many would suggest that this model and the A-Class Sedan are virtually identical in terms of what sits underneath their respective body panels, the cars offer divergent driving experiences... Interestingly, you sit lower and in a slightly sportier position, giving you the illusion that you're in something low-slung and dynamic. The models share some underpinnings, but the CLA features a wider track at the front and rear, which gives it a good stance and makes it feel more dynamic to drive than the A-Class. The steering is light; inputs take little effort and, thanks to the car's aerodynamic design, there's precious little wind noise.
While the models are not marketed as performance vehicles (even if there are 35 and 45 AMG versions on the way), the CLA does feel somewhat sporty from behind its 'wheel. The suspension is firm, but not compromised, which is a great relief because its predecessor felt too stiffly-sprung on uneven road surfaces. If you want a more pliant ride, you could always opt for adaptive dampers. Body roll is low too; the car imparts a sure-footed feel. Its execution is subtly different, but if you're leaning towards the CLA for a dynamic edge over the A-Class Sedan, you won't be dissatisfied.
The A-Class Sedan, meanwhile, is more "old-school Benz" (not that it's a bad thing). We've already mentioned the CLA's low-slung driving position, but in an A-Class 4 door, you feel a bit more regal and stately behind the car's, um, tiller. It's certainly more practical in the back too, with plenty of leg- and headroom thanks to its classic shape. The boot offers 45 litres more space than the A-Class hatch (it has a claimed capacity of 420 litres).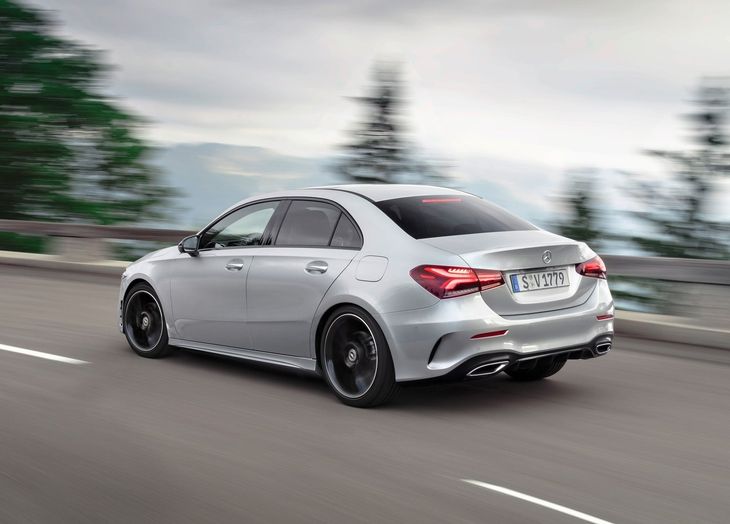 The Mercedes-Benz A-Class Sedan rides well, with excellent road manners. This or a C-Class? Tough call.
The A200 isn't as sporty as its A250 sibling, but offers a good driving experience and ride quality. Body control is fair, plus it coped well with the iffy road surfaces of the launch route, its sporty 17-inch alloys notwithstanding. Unlike the CLA's positive setup, the A-Class Sedan's steering lacks feel.
The 200 engine offers up 120 kW and 250 Nm, which we think is a reasonable blend of performance and economy (between 5.2 and 5.5 L/100 km). The quick-shifting dual-clutch (auto) transmission does a fine job of swapping cogs, although its apparent urge to get to the highest gear as quickly as possible (to the benefit of fuel consumption, of course), does detract a tad from the overall driving experience. You can change the driving modes and/or actuate shifts by using the shift paddles, which easily solves this minor issue. The best part for us was that both cars felt quiet inside/refined, a sure sign that things have improved in the build quality department. If you want more poke, it'd be best to wait for the 35-powered derivatives.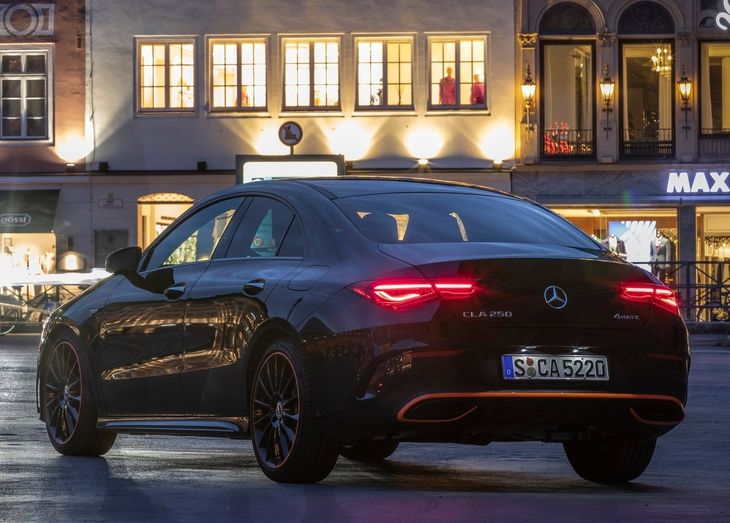 Want to go all out? Then spec your CLA with the Edition 1 kit.
Summary
Despite the prevailing crossover/SUV craze, Mercedes-Benz SA still believes there's a reasonable market for sedans. We think the A-Class Sedan and CLA will snatch more than a few sales from the C-Class, which is about to be replaced by an all-new model in the next 2 years. Both vehicles are nicely finished and didn't appear to have any squeaks or rattles (a common ailment in Mercedes-Benz press units). The onboard infotainment and tech, headlined by MBUX, is arguably class-leading, plus it makes the electronic interfaces of older Mercedes-Benzes look and feel ancient.
Should you buy one – and, if so, which one? It comes down to what customers are looking for... If they want something with a bit more style and road presence, and are prepared to sacrifice rear cabin space, then the CLA is the way to go. However, if they hope to transport 4 adult occupants, then it's best to lean towards the A-Class Sedan. Another thing to consider is: if you want to upgrade your C-Class in the near future (but don't want to wait for the all-new model), you won't be disappointed if you trade in your W205 for one of these stylish compacts. It will save you money as well.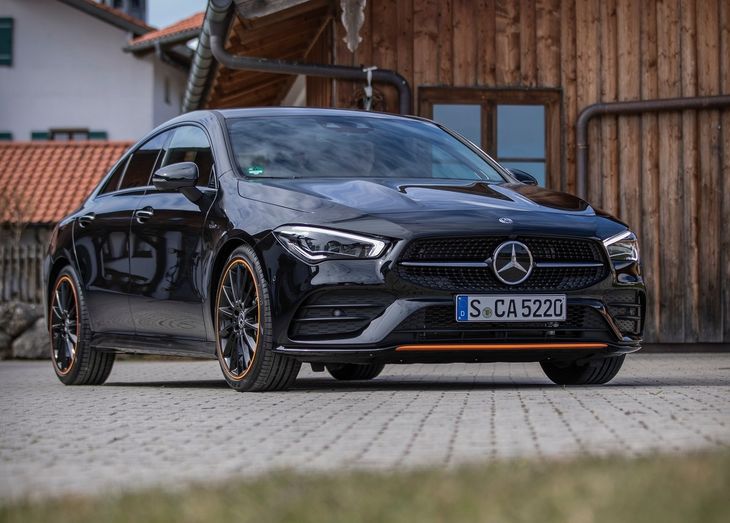 The Mercedes-Benz CLA is a great-looking sedan, but tall people won't appreciate the lack of headroom.
Mercedes-Benz A-Class Price in South Africa (October 2019)
Mercedes-Benz A-Class Sedan 200 R533 400
Mercedes-Benz A-Class Sedan 250 Sport R604 800
Mercedes-Benz CLA-Class Price in South Africa (October 2019)
Mercedes-Benz CLA 200 R570 500
Mercedes-Benz CLA 220d R612 800
Further Reading
Mercedes-AMG A35 Sedan Price in SA
Mercedes-Benz A-Class Sedan vs Mercedes-Benz CLA: What's The Difference
Mercedes-Benz A-Class L Sedan debuts in Beijing
2020 Mercedes-AMG CLA 45 Goes Official