The continued success of the Mercedes-Benz C-Class is critical to the Sindelfingen-based brand's passenger vehicle sales volumes (and its East London plant, in particular). Benz recently facelifted its business-class sedan and we got a chance to drive the newcomer, tested here in entry-level C180 guise. Do the changes make a big difference?
We like: Comprehensive interior upgrade, uprated safety systems, overall refinement
We don't like: Engine doesn't like being pushed, cost of options, some poor finishes
Fast Facts
Price: R590 168 (November 2018)
Engine: 4-cylinder, 1.6-litre turbocharged petrol
Power/Torque: 115 kW/250 Nm
Transmission: 9-speed automatic
0-100 kph: 8.3 seconds
Top Speed: 225 kph
Economy: 6.5 L/100 km
Boot Space: 480 litres
Serious About Buying?
Check out full specification details and finance estimates here.
Some Mercedes-Benz dealers regularly offer specials: Have a look here.
What is it?
The Mercedes-Benz C-Class is the money maker for the German brand (a point we alluded to in the introduction of this review), and on the back of a massive investment in the brand's East London facility, the facelifted version (W205) has gone on sale. Although the aesthetic updates to the C-Class are not immediately apparent, the upgrades to the sedan's electronics, ergonomics, build quality and safety are of greater relevance. There are some changes to the engine line-up too, but while we all dream of driving a Mercedes-AMG C43, the C180 and C200 are likely to remain the most popular derivatives. We got behind the wheel of the C180 to see if it represents a fair blend of luxury and value for money. Visually, our test car came fitted with the AMG Line kit which ups the ante in terms of kerb appeal. The diamond radiator grille and sporty wheels round off the package.
At the time this article was published, Mercedes-Benz offered a Special Deal on the C180. Check out our Car Specials section.
What's good?
New interior design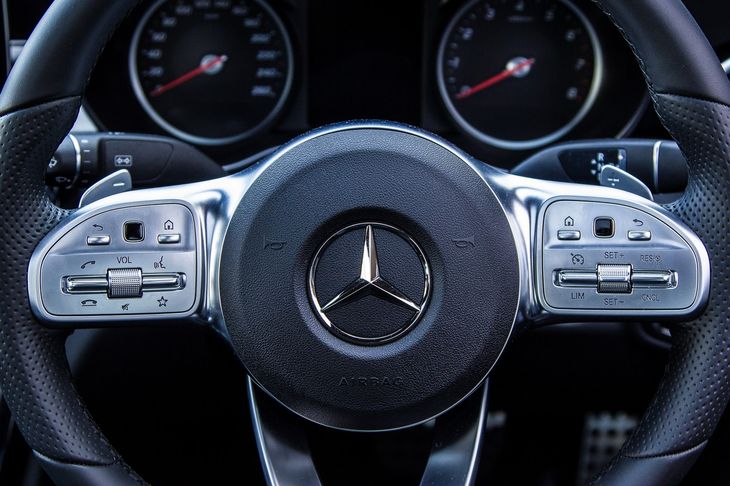 The advanced steering wheel is lifted straight from the S-Class and the cruise controls are integrated, doing away with the additional stalk
"If it ain't broke, don't fix it." Well, while there was not much wrong with the layout of the pre-facelift C-Class' interior, it had begun to look and feel its age. In an era where manufacturers are opting for bigger, crisper and more capable infotainment screens with extended functionality, the C-Class' Comand system was lagging. The good news is that it has all been replaced. The crisp 12.3-inch digital dashboard is admittedly an option, but it's worth considering because it brings the instrument cluster bang up to date. There's also a new steering wheel, which looks identical to the unit found in the E-Class. You'll notice that the cruise control buttons are now on the steering wheel, as opposed to the clumsy stalk of the previous generation.
The revised steering wheel is a highlight. Not only does it look and feel upmarket and modern, but its functionality and controls are improved. With Blackberry-like touchpads, which are located perfectly for thumb swipes, you can customise the info you see and scroll through menus intuitively.
More tech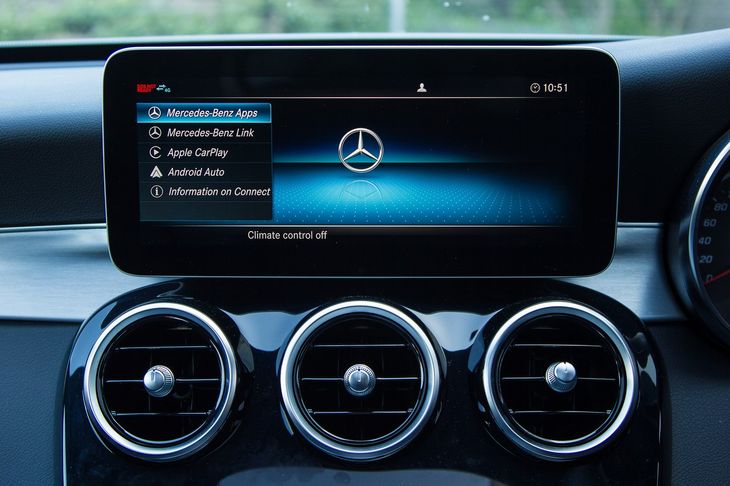 The new infotainment system boasts Android Auto and Apple Carplay compatibility, as well as far more modern graphics.
While some onlookers may bemoan the C-Class' relatively unchanged exterior looks, the fundamental changes (to the sedan's integral systems) are more noteworthy. The facelifted Mercedes-Benz C-Class benefits from an array of new active safety features, most of which are already in use in other Mercedes-Benz products, such as the S-Class. Active Brake Assist is now available as standard and the vehicle is able to drive in a semi-autonomous state in certain scenarios. A digital dashboard is also optionally available for the C-Class, although our test unit didn't have it fitted.
As mentioned earlier, the new generation of Comand infotainment system is much improved; it feels like a smartphone with its great graphics and user experience. We're also happy to report that Android Auto/Apple Carplay is supported and the connectivity is seamless through USB and Bluetooth. For those worrying about phones running out of battery power, there are numerous USB ports as well as a wireless charging pad.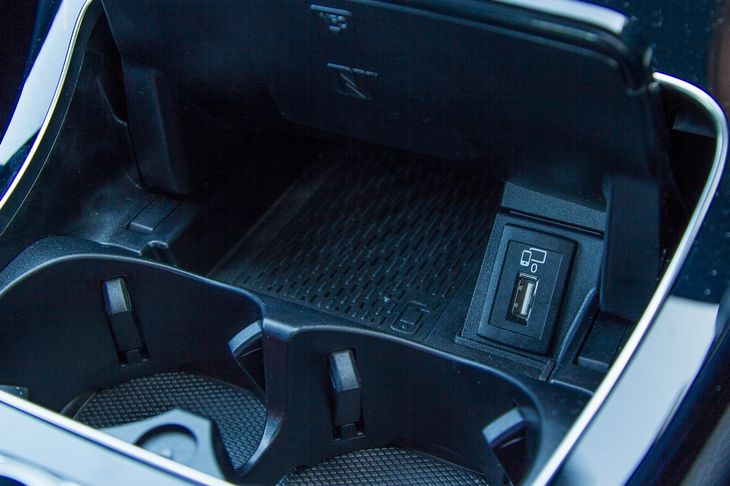 One of the many USB charging points and a wireless charging pad, conveniently nestled in a concealable storage area
Refined driving experience
When there are a variety of engines in the Mercedes-Benz C-Class portfolio, it's hard not to obsess over the more potent or advanced offerings. However, the 2.0-litre turbocharged 4-pot in the C300 is a tremendous engine and the new 1.5-litre 4-cylinder with electric assist in the C200 looks to be frugal. However, in the modest C180, one has to make do with a turbocharged 1.6-litre 4-cylinder engine, which delivers 115 kW and 250 Nm. On paper, those peak outputs don't seem adequate to propel a large German sedan with vigour, but in reality, things are quite different.
Power delivery is smooth, with the 9-speed transmission being all too eager to shift up to save fuel. Often we'd find ourselves around the 90 kph mark, with the transmission seemingly itching to change up to 9th gear. If you want to overtake, the 'box is quick enough to gear down the ratios to find the torque/power sweet spot. The C180 comes with different driving modes and the Sport mode does up the ante and quickens the responses.
The test unit that Mercedes-Benz sent us came with the AMG Line pack, which incorporates the sharp-looking grille and 5-spoke AMG alloy wheels. Despite these bigger wheels, the ride quality is more comfort-biased than harsh, which is what we (and we assume, the majority of buyers would) prefer. In terms of steering, the C-Class has never offered the most direct tiller, with the emphasis being on comfort and relaxing operation.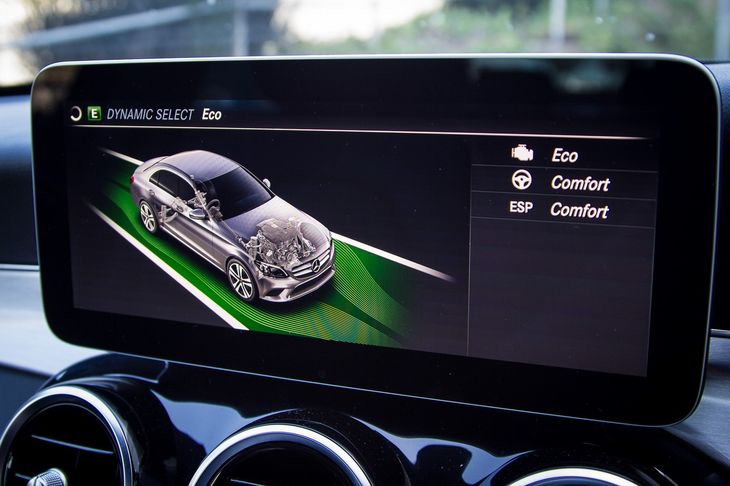 The driving modes make quite a difference to the nature of the car, opt for Eco for the most relaxed and frugal driving
What's not so good?
Some iffy build quality
Despite the Mercedes-Benz C-Class being marketed and priced as a luxury vehicle, we found a handful of marginal trim finishes (evidence of cost-cutting, which is, to be fair, virtually unavoidable). When you depress the plastic air vent surrounds, for example, you're likely to hear a cheap creak, which is a little offputting in a German premium sedan that costs in excess of half a million Rand. Where's the reassuring solidity that can be found elsewhere in the cabin? That being said, the overall quality has jumped tremendously when compared to the pre-facelift Mercedes-Benz C-Class.
Rough engine note
While the C180 is by no means a sporty car, there will be times when you'll need to accelerate hard and unfortunately, the engine doesn't like being revved past the 4 000-rpm mark and the gruff sound is arguably unbecoming of a vehicle that is marketed as a refined, premium executive.
Price and Warranty
The Mercedes-Benz C-Class range starts from R590 169, with our AMG Line-endowed C180 auto derivative coming in at R636 169. This may sound like a considerable jump from the base price, but in reality, Mercedes-Benz explained that there's more specification fitted as standard, as many of the options fitted to the outgoing model had a 100% take-up rate. So instead of Mercedes-Benz making them available as costly options, they're fitted as standard, the firm says. The facelifted Mercedes-Benz C-Class comes with a 6-year/100 000 km maintenance plan.
At the time this article was published, Mercedes-Benz offered a Special Deal on the C180. Check out our Car Specials section.

Buy a new or used Mercedes-Benz C-Class on Cars.co.za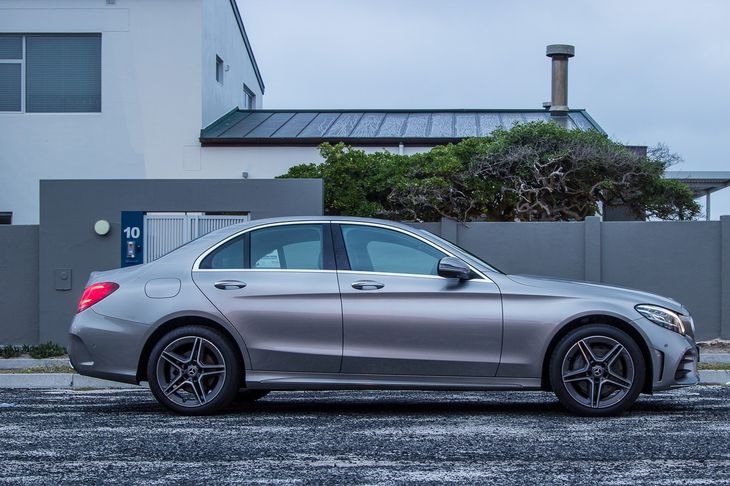 Verdict
The Mercedes-Benz C180 may sit at the bottom of the C-Class range, but it doesn't feel like a piecemeal derivative. It's reasonably refined and indeed, satisfying, to drive, with a streamlined user interface, a raft of integral safety systems and, yes, it offers enough prestige for the money. To put it another way, it does the basics well – it's only when you go through it with a fine-tooth comb that some minor issues present themselves.
With an all-new BMW 3 Series due to hit the South African market early in 2019, the C-Class will have its work cut, especially in terms of competing for buyers who seek a modicum of dynamism from their business class sedans. What's more, Audi will soon offer a facelifted A4, which offers impressive (perhaps class-leading) build quality to the party. Despite the imminent arrival of new competition, however, the 2018/19 #CarsAwards-nominated C-Class remains – and is likely to remain – at the (erm) business end of its segment for a while yet. As ever, it's a class act.
Alternatives (click on the names for specification details)
The Bavarian will be replaced by an all-new model in 2019, but the 3 Series still makes a compelling argument for those wanting their German luxury sedans with a hint of dynamic prowess
Audi's A4 is quietly accomplished and offers impressive build quality and refinement.
Alfa's new torchbearer is a proper driver's car and really looks the part. However, it is still very new and unproven in terms of long-term viability.
Imbued with phenomenal build quality, refinement and specification comes the Lexus IS. It is soon to be made available in a hybrid specification.
Jaguar has tried to go the same route as BMW with a dynamic, rear-wheel drive luxury product and it's not half bad. Rear legroom is a little tight though.
Related Content
Mercedes-AMG C63 S (2018) International Launch Review
2019 Mercedes-AMG C63 S: 5 Key Changes
Mercedes-Benz C-Class (2018) Specs & Price