As opposed to its sporty and youthful A-Class sibling, which is expected to attract a new clientele to Mercedes-Benz, the B-Class appeals to more mature and practically-minded buyers. Essentially a more practical A-Class, the B200 Style we've tested should prove popular among customers who need a bit more space and legroom.
We like: Frugal and smooth powertrain, excellent rear legroom, great driving position, commendable luggage space.
We don't like: Optional AMG kit looks the part, but worsens the ride quality, standard MBUX looks very... basic.
Fast Facts
Price: R526 900
Engine: 1.3-litre turbocharged 4-cylinder petrol engine
Power/Torque: 120 kW/250 Nm
Transmission: 7-speed dual-clutch gearbox
Fuel Consumption (claimed): 5.6 L/100 km
Own a Mercedes-Benz? Tell us about your experience here.
SERIOUS ABOUT BUYING?
What is it?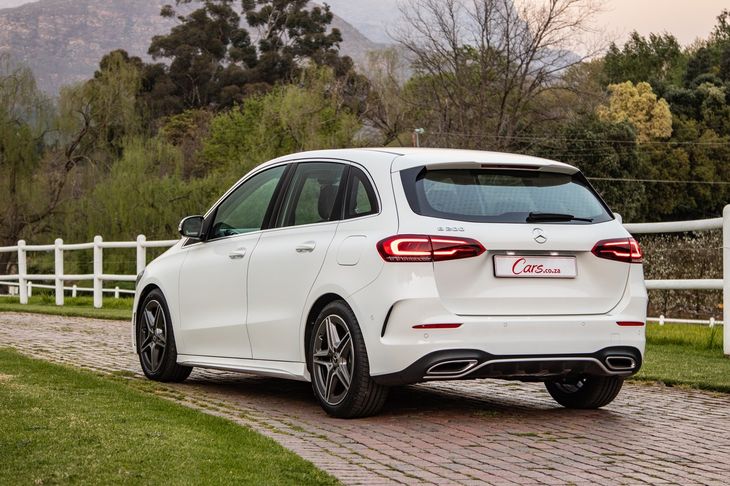 The optional AMG body kit gives the B200 Style a sportier stance, but it stops short of a pseudo-hot-hatch look.
While most would classify the B200 as a hatchback, "mommy wagon/van" and so on, Mercedes-Benz, being the upmarket brand it is, has labelled its B-Class "a sports tourer". The touring part we get, but the sports? Well, that's up for debate. Despite its questionable official description, the Mercedes-Benz B-Class has done surprisingly well for itself, having tallied up more than 1.5 million sales since it first came to market in 2005. Its typical buyer is someone who is looking for a premium small MPV with an SUV-like perched driving position, refinement and, of course, practicality.
The new (W247-generation) B-Class recently arrived in South Africa. The range's lineup is simple... There are 2 versions: a B200 Style turbopetrol or a B200d Style turbodiesel (kudos to the Three-pointed Star for keeping things simple). Of course, you can choose to spec up your Benz to near-ludicrous levels, but whereas most media-fleet vehicles tend to come fully-optioned, our test unit felt comparatively sparsely specced, which allowed us to focus on its abilities without being distracted by the gadgets and gizmos. In fact, when we dug deeper, we uncovered many of its talents.
How it fares in terms of…
Practicality and interior execution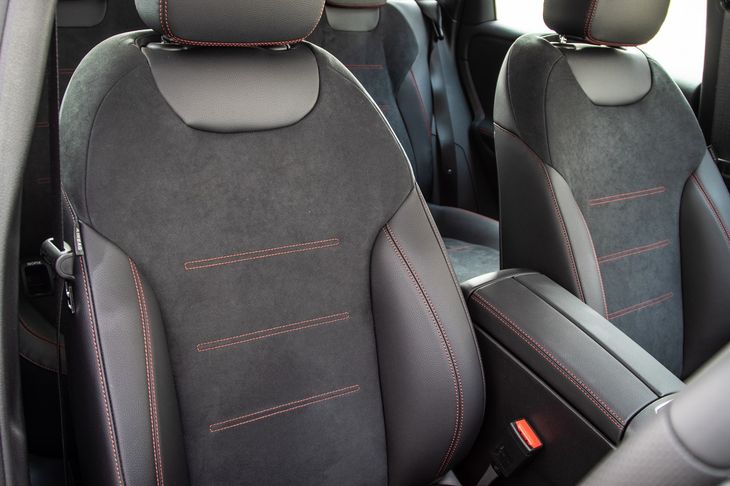 Red stitching provides a subtle sporty touch to the B200 Style's seats, which are trimmed in suede and leather.
Make of the B-Class' conservative styling and "distinguished" clientele what you will – it's a very practical vehicle. We had the chance to go on a weekend getaway with the B200 Style and it easily swallowed up our luggage; we didn't even need to fold the 2nd row of seats down. Mercedes-Benz claims a load bay capacity of 455 litres, which increases to 1 540 litres with the rear bench folded. If you were wondering, the A-Class hatch can only muster 370 to 1 210 litres, so there is a clear-cut advantage to lean towards the B-Class if extra carrying capacity is a key requirement.
The most crossover-like trait of the B-Class is its driving position, which feels more upright than that of a conventional hatchback. Headroom all round and exterior visibility pluses too (testers joked that this car was perfect for those who don top hats)! The additional headspace is a boon for taller occupants and we appreciated how the raised driving position eased ingress/egress. We have to mention the tech as this latest generation of compact Mercedes-Benz vehicles come with the advanced MBUX digital user interface. Consisting of a skateboard-sized horizontal infotainment panel, the MBUX system is slick and intuitive (you'll definitely want the uprated pair of 10-inch screens... the standard offering looks a touch small).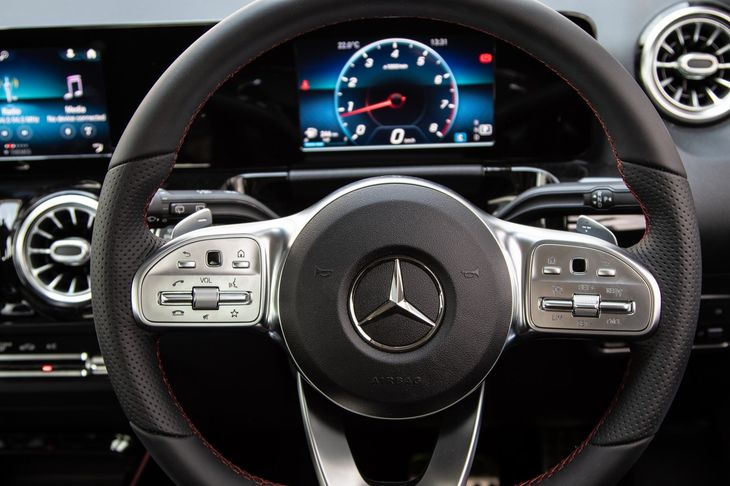 A pair of haptic controller pads supplement the usual buttons and switches on the multifunction steering wheel.
Performance
Co-developed with French carmaker Renault, the B200 Style's 1.3-litre turbocharged engine produces a respectable 120 kW and 250 Nm. Power goes to the front wheels via a 7-speed dual-clutch transmission. Its engine note might be a mite uninspired, but it's a more-than-willing motor that pulls strongly up steep includes (even when 3 adults and their luggage are onboard). For the record, Mercedes-Benz claims an 8.2-second 0 to 100 kph sprint time and, to be quite honest, the little Benz feels that brisk. All in all, it's an admirable performance from such a small-capacity engine.
Its real strength is fuel efficiency, anyway. While most manufacturers' claims are unnaturally low and this is one such case, we managed to come away with a trip computer reading of 7.2 L/100 km. The official claim is 5.6 L/100 km, so we're happy with the B200's frugality. Want a bit more in-gear punch and even lower consumption? Then look to the B200d Style, which features Benz's advanced new turbodiesel motor (the claim for that derivative is 4.5 L/100 km). Drawbacks? Well, if you're really in a hurry, the B200's mill does tend to sound a bit rough higher up in its rev range.
Ride and handling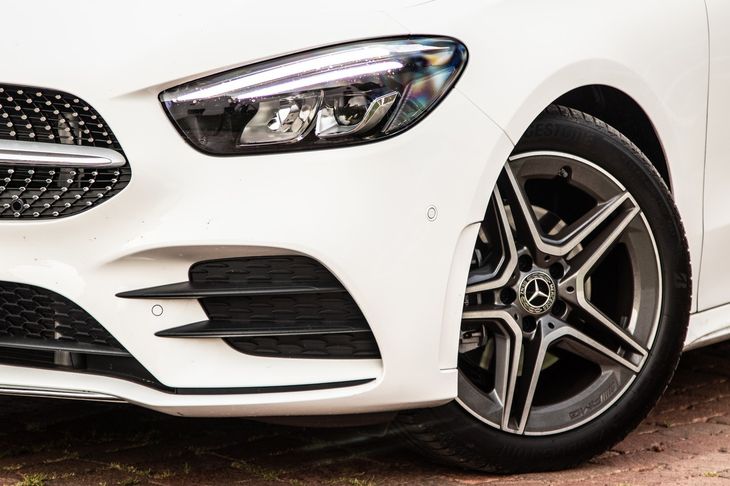 Our test unit came fitted with the AMG Line upgrade, which adds 18-inch AMG-style wheels, the attractive diamond-effect grille and a sporty-looking rear diffuser. Under the skin, the suspension is lowered and the steering is said to be more direct than in the standard car. Speaking of which, the tiller is upgraded too: it's wrapped in nappa leather and has a flat bottom. Interestingly, the B-Class comes standard with a torsion-beam rear setup, but you can get the multi-link suspension thanks to the Engineering Package (which our test car came with). However, we're a tad perplexed by the addition of a sporty AMG suspension on a model that's geared towards a demographic that would rank sportiness as quite low on the priority list.
Despite its MPV shape, the Mercedes-Benz B-Class doesn't have a pillowy ride; it behaves much like its A-Class sibling. The AMG suspension is firm and road noise a tad too high for our liking, but if you're in the mood, you really can usher this B200 Style around twisty corners with reasonable precision. We feel that if you're after some refinement and comfort, then stay clear of the R50 000 AMG Line option. The steering is light (as are most modern units), but there's enough feel to give you some confidence. The lightness is very handy in and around confined urban environments.
Price and after-sales support
The B200 Style costs R526 900 and comes with a 2-year/unlimited km warranty and 6-year/100 000 km maintenance plan as standard.
Verdict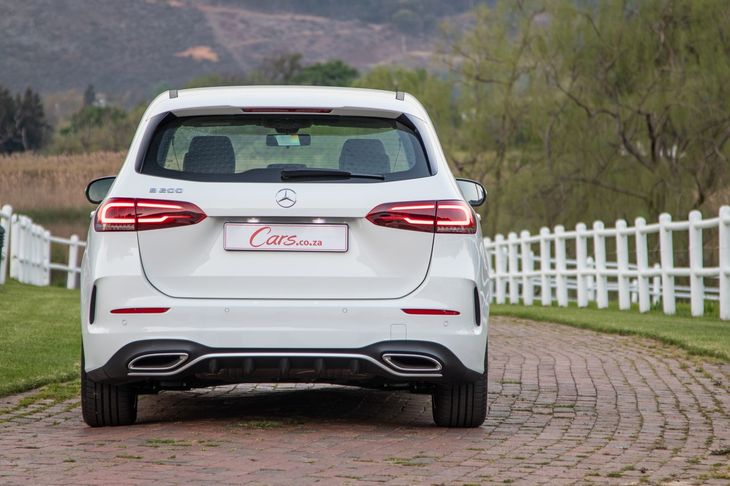 Don't be fooled by those stylised exhaust tips, they're just for show.
Manufacturers invest so much time, effort and marketing money to ramp up their offerings' style, edginess and showroom appeal, but the B-Class does not need to be cool, nor trendy. It largely trades on what it is and what it is capable of. Benz sells commendable numbers of them (and we understand that many buyers are repeat customers), so clearly the Stuttgart-based firm is doing something right with this "sports tourer"...
The high driving position, occupant comfort and luggage capacity are excellent, as is the punchy powertrain, which is reasonably fuel-efficient. Despite our test unit's bizarre spec (R50k's worth of AMG Line kit and R50k's worth of Engineering Package), the B200 Style's defining qualities still shone brightly. If you want sportiness, consider the A-Class, but if you spec this B-Class carefully, you'll get behind the wheel of a highly advanced family hatchback brimming with semi-autonomous safety tech. Alternatively, you could just wait until 2020 for the all-new GLA and GLB crossovers.
Should you buy one? Despite the persistent onslaught of new crossovers and SUVs, we think the Mercedes-Benz B-Class certainly has its merits. While it lacks the glitz and glamour of its A-Class sibling, the focus on comfort and practicality makes it a sensible option, especially for mature buyers, many of whom are scaling down. As far as rivals go, they've all but disappeared (BMW no longer offers the 2 Series Active Tourer).
Looking to buy a new/used Mercedes-Benz B-Class?