On the eve of the 2017 Frankfurt Motor Show, Mercedes-AMG has revealed its hugely-hyped Project One hypercar. Featuring hybrid and Formula One technology, this beast is capable of outrageous performance. Let's see what it's all about. This is a breaking news story and will be updated as more details emerge.
After a few teasers, the Mercedes-AMG Project One has finally been revealed. It looks like a road-going Le Mans prototype racecar and it certainly has the performance to match. This car, when it goes into production, will be a rival to the McLaren P1, Porsche 918 and Ferrari LaFerrari. Also bear in mind that Aston Martin is developing a hyper car.
Powertrain and Performance
The Mercedes-AMG Project One is powered by a hybrid powertrain comprising an F1-sourced, turbocharged 1.6-litre V6 engine from the championship-winning WO7 Hybrid, coupled with a "purely electric and wheel-selective front axle drive concept". The engine will idle at 4 000 rpm and will redline at an eye-watering 13 500 rpm. According to reports, the engine will be good for at least 50 000 km before needing a rebuild, which is probably alright, seeing as most hypercars do so little mileage.
The engine will work in conjunction with 2 electric motors. The first 80 kW electric motor is tasked with keeping the turbocharger on the boil at all times while the second 120 kW motor is linked directly to the crankshaft. An additional 2 electric motors at the front axle will allow for pure electric driving with a range up to 24 km on electric power alone. Essentially, we're looking at a vehicle powered by five engines!
In terms of performance, we're looking at outputs of around 760 kW (1000 hp). With power going to all four wheels, acceleration off the line promises to be brisk with a claim of 2.5 seconds to complete the 0-100 kph run. Perhaps more impressive is the 0-200 kph time of just under 6 seconds.Top speed? 350 kph. While it's no Bugatti Veyron/Chiron top-end slayer, we predict that the instant torque offered by the electric motors means it'll leave pretty much everything behind when it comes to in-gear acceleration.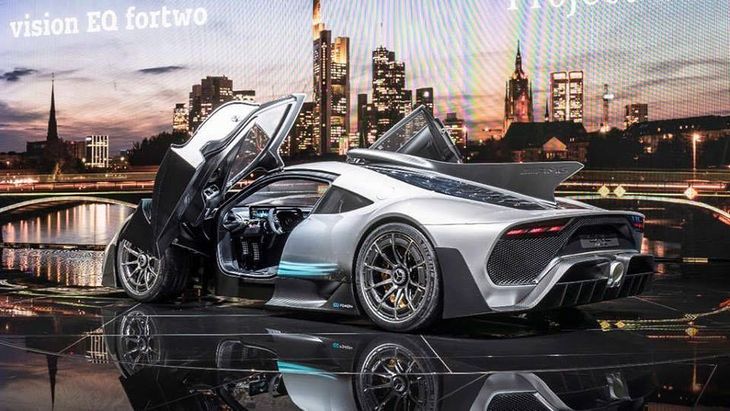 Mercedes-AMG Project One: Note the copious amounts of aerodynamics wings and fins.
The Cabin
When you step into the cabin of the Mercedes-AMG Project One, there is a distinct air of minimalism. It's a strict two seater. The ergonomics and features are purely driver-focused and the majority of the controls have been placed on an F1-style steering wheel. There's extensive use of carbon fibre and the rectangular steering wheel looks radical.
Can you get one?
No, we're afraid not. All 275 units were sold before this announcement and customers are reportedly paying up to 2.2 million Euros for a Mercedes-AMG Project One. The first deliveries will be in 2020.
Mercedes-AMG Project One Video
Related content
Extended Mercedes-AMG GT range (2017) Launch Review
More Mercedes-AMG GT Derivatives (2017) Specs & Price
Jaw-dropping GT C Coupe Joins AMG GT Family

Mercedes-AMG GT R (2016) First Drive

New Mercedes-AMG GT Models to Order in SA

Mercedes-AMG E63 S 4Matic (2017) First Drive
Want to buy a Mercedes-Benz?