With peak outputs of 450 kW and 850 Nm, the Mercedes-AMG GLE 63 S (4Matic+) Coupe is said to catapult from 0 to 100 kph in 3.8 seconds. Set to make its debut at next month's Geneva Show, the kingpin of Benz's premium SUV coupe line-up will most probably arrive in South Africa during the latter half of 2020.
Audi, BMW and Mercedes-AMG have toned down their well-documented horsepower one-upmanship in this era of downsizing and efficiency-minded (green, more-sustainable etc) motoring, but that does not mean that the marques aren't hell-bent on matching one another model for model. As Audi prepares to roll out its 441 kW/800 Nm RS Q8 and BMW is readying its X6 M Competition (460 kW/750 Nm) – both models are expected in the South African market at some point in the year – Porsche's Cayenne Turbo S E-Hybrid Coupe (500 kW/900 Nm ­­combined) is already listed on Cars.co.za's New Car Specs & Test Drives section for a cool R2.8 million-plus-change. Which of the manufacturers have bragging rights on paper? We'll get to that at the end of the article...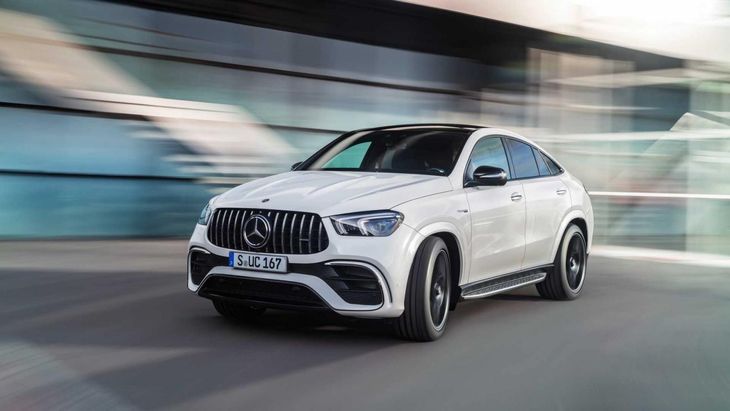 Only a Lamborghini Urus (3.6 sec) and Jeep Grand Cherokee Trackhawk (3.5 sec) is faster from 0 to 100 kph.
Set to share Benz's Geneva Show exhibition area with the facelifted E-Class next month, the Mercedes-AMG GLE 63 S 4Matic+ Coupe throws subtlety to the wind, but understatement has no place in this rarefied sub-segment of the performance premium SUV market. When we published spy shots of the Benz in late January, we expected the production version to look quite purposeful, but no, Mercedes-AMG's SUV-coupe juggernaut kicks its look up another notch.
Apart from redesigned headlamps, an elaborate Panamericana grille and a bumper with enlarged air intakes at the front, the GLE 63 S Coupe features flared wheel arches and -side skirts, 22-inch alloys and, at the back, a diffuser, a lip spoiler on the tailgate and a quartet of exhaust tips.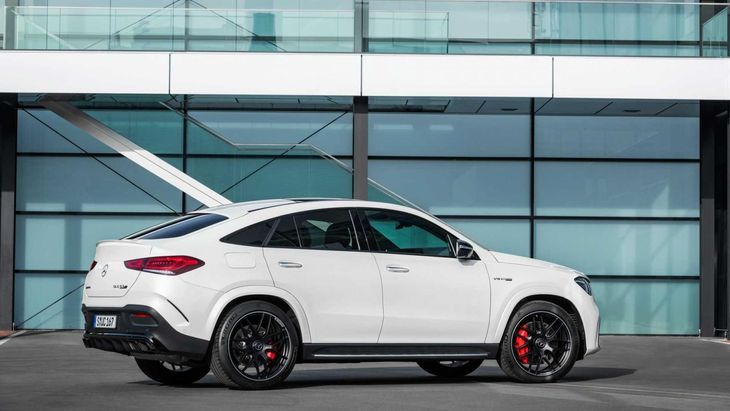 This example is kitted out with the AMG Night Package (the firm probably chose the ho-hum white paint finish for the sake of contrast).
Customers can add to the aggressive look of the Benz by opting for the AMG Night Package; it includes dark-tinted windows as well as black across the front splitter, front and rear apron trim, mirror caps, window frames, and side skirts. In addition, there are high-gloss black tailpipes.
At the heart of the newcomer is a twin-turbocharged 4.0-litre V8 engine (in combination with the Mercedes-Benz's EQ Boost 48V starter-generator mild-hybrid system), which is mated with a Speedshift 9-speed automatic transmission. Torque is dynamically apportioned to all 4 wheels via the AMG Performance 4Matic+ all-wheel-drive system with fully-variable torque distribution.

The chances are that you'll hear this Affalterbach beast long before you see it.
There are as many as 7 selectable drive modes; 4 road-focused settings ("Comfort." "Sport," "Sport+" and "Race"), 2 off-road settings ("Trail" and "Sand") and a personalised driving mode, which allows the suspension, transmission and exhaust settings to be their own specifications.
Derivative-specific technical upgrades include an updated AMG Ride Control+ air suspension system with ADS+ adaptive damping, an electronically-controlled locking rear differential, beefed-up six-piston front brakes (400 mm, with 370-mm discs at the back) and an active roll-stabilisation system, which Mercedes-AMG claims reduces body movement by supporting the loaded wheels under cornering. A ceramic brake package is available as an optional extra.

Who said red striping was the preserve of hot hatches? The GLE 63 S Coupe's interior is rather generic, but still AMG specific.
The GLE 63 S Coupe's interior execution is not as far removed from non-AMG GLE Coupe derivatives as its high-performance underpinnings, but nonetheless features leather-trimmed, AMG-branded sports seats, an AMG steering wheel and a customisable interior ambient lighting system. The 12.3-inch digital instrument cluster and 12.3-inch infotainment system has been retained, but both have been reprogrammed with a range of AMG-specific displays – such as G-meter, a race timer and an engine data screen, which displays oil temperature and instant power output, Benz says.
In conclusion, then, here is the tale of the tape. Whereas the Porsche Cayenne Turbo S E-Hybrid Coupe wins the horsepower (kW) and torque battle, it gains much more assistance from its beefier electric motor (100 kW and 400 Nm respectively, for a combined 500 kW/900 Nm) compared with the 16 kW/250 Nm of the Mercedes-AMG. So, between old foes Audi, BMW and Mercedes-AMG, the GLE 63 S Coupe has 10 kW less than the BMW X6 M (the most powerful at 460 kW), but its 850 Nm beats the Audi RS Q8's 800 Nm into 2nd place. Fastest from 0 to 100 kph? Well, remember what we said about the focus shifting to matching (rather than beating) each another? The claimed times for the Audi, Benz and BMW is 3.8 seconds. The AMG does top out at 280 kph, though...
Related content:
BMW X5 xDrive30d vs Mercedes-Benz GLE 400d (2019) Comparative Review [w/Video]
Mercedes-AMG GLE 63 S Brings Power to LA
BMW X6 (2020) International Launch Review