Mercedes-AMG has revealed two new additions to its GT sports car stable at the Paris Show. Meet the Mercedes-AMG GT Roadster and the GT C Roadster!
By all accounts, the Mercedes-AMG GT is a phenomenal sports car that delivers engaging performance by the bucket load. Not too long ago, Mercedes-AMG revealed the beefed-up GT R and now the AMG performance arm has revealed the latest new members of the GT family, the GT Roadster and the GT C Roadster.

The Mercedes-AMG range now consists of five variants and a local representative from Mercedes-Benz South Africa confirmed that the GT Roadster and GT C Roadster can be expected in South Africa in mid-2017.
"With our two Roadster models, we are strategically expanding the AMG GT family by two exciting variants. With the AMG GT C Roadster, we are also introducing a new model variant to which we have transferred main performance-related components from our top sports car, the AMG GT R. The result: a highly dynamic driving experience in a very exclusive ambience, coupled with that pure roadster feeling," says Tobias Moers, Chairman of Mercedes-AMG GmbH.
Power figures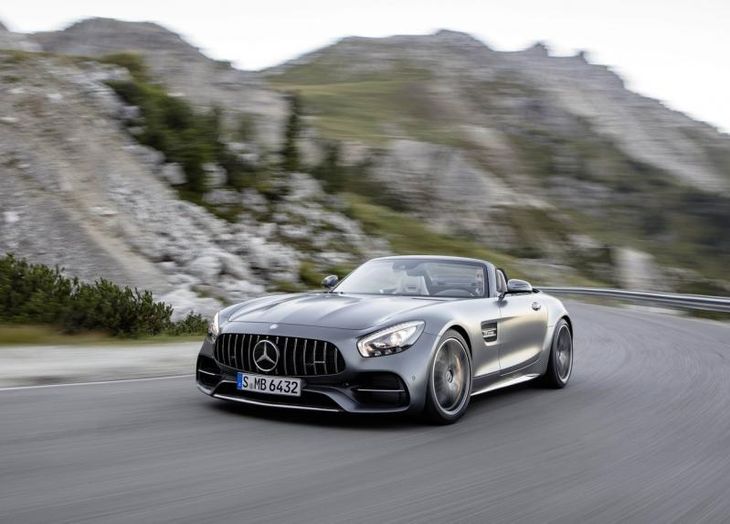 Open-top driving in the Mercedes-AMG GT and GT C Roadster is now a reality with a retractable fabric roof.
The entry-level GT Roadster is powered by a twin turbocharged 4.0-litre V8 engine offering 350 kW and 630 Nm of torque. Power is sent to the rear wheels using a 7-speed dual-clutch transmission, resulting in a zero to 100 kph sprint time of 4 seconds before reaching a top speed of 302 kph.
The uprated GT C Roadster employs some of the technological refinements seen in the GT R and these include active rear axle steering, electronically controlled rear axle locking differential and comes fitted with AMG Ride Control sport suspension.

The GT C Roadster is also powered by a twin turbocharged 4.0-litre V8 engine but offers 410 kW and 680 Nm of torque. That's 35 kW more than the GT S and only 20 kW less than that offered in the GT R. Like the GT Roadster, power is sent to the rear wheels using a 7-speed dual-clutch transmission. The sprint to 100 kph will take only 3.7 seconds in the GT C Roadster, before hitting the speed limit at 316 kph.
Key Features
Both the GT Roadster and the GT C Roadster feature a fabric roof that opens and closes in 11 seconds at speeds up to 50 kph. The fabric roof can be had in three colours including black, red or beige. A total of eleven exterior colours and ten interior colours are on offer.
The GT C Roadster features a nappa leather interior as standard with a performance steering wheel in nappa leather and DINAMICA microfibre. This model also gains an additional RACE transmission mode and comes with an AMG performance exhaust system fitted too, which is offered as an option on the GT Roadster.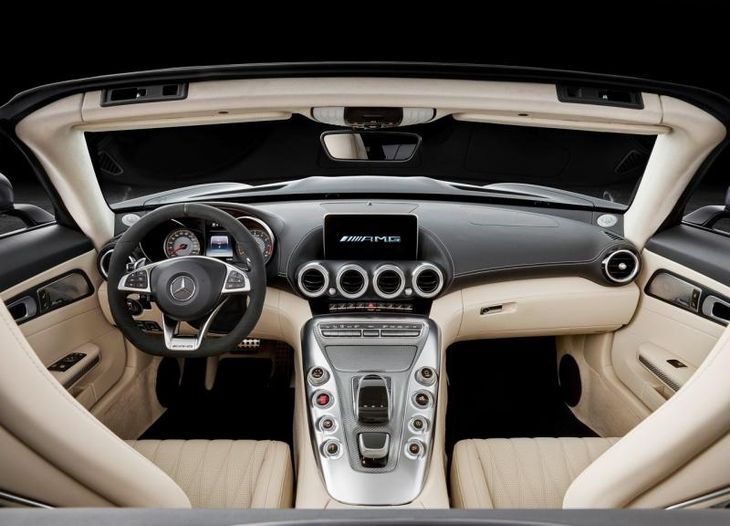 The interior of the GT C Roadster is sporty with the addition of a RACE transmission mode.

Aural pleasure is offered by a Burmester surround sound system or the Burmester high-end surround sound system featuring an Extended Coupled Subwoofer (ECS), providing concert-hall sound quality.
Both GT Roadster models feature active air management, seen on the GT R, incorporating vertical louvres in the lower section of the front fascia. These louvres can open and close to enhance cooling when it's required. A combination of 19- and 20-inch AMG light alloy wheels in a 5-twin-spoke design are fitted as standard.
Pricing details will be announced closer to launch and we will keep you informed as more information becomes available, so stay tuned!
Related content:
Mercedes-AMG Unleashes Hottest AMG GT R
Mercedes-AMG GT S (2015) Review
Five Interesting Facts About The Mercedes-AMG GT S
Want to buy a Mercedes-AMG GT?