The world's most powerful production 4-cylinder motor has found its way into the 2nd-generation GLA. How good is it – good enough to justify an estimated R1.1-million asking price? International correspondent Lawrence Allan clambers aboard to give the high-rider a blast.
Where once it was a bit of a niche-busting oddity, the Mercedes-AMG GLA 45 is now an entirely legitimate proposition within the context of the wider premium compact SUV/crossover market. Back in 2014, when the outgoing car was launched, the European SUV boom was – although firmly on the radar – in its relative infancy. Performance SUVs, particularly smaller ones, were a novelty. The GLA 45 went up against the characterful Audi RS Q3 and bar the larger, slightly-pricier Porsche Macan, not much else.
Now virtually everybody is churning out a performance version of a small luxury sports utility vehicle... BMW's sporting division has given the M-lite treatment to the X2, Volkswagen has launched the T-Roc R and there are countless others. There's a clear appetite for a category that many enthusiasts continue to sneer at today.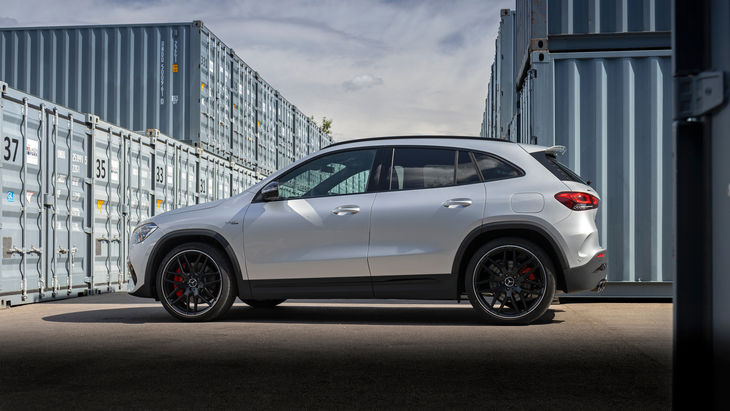 Back in 2014, the GLA had few rivals, now almost every premium brand has a competitor.
Back to the car at hand. As we saw with our first drive of the standard, 2nd-gen GLA, this is now a fully-fledged compact SUV rather than an A-Class that has frequented a gym too often. It can now match the RS Q3 on practicality terms, as well as performance. But does that size increase dampen its appeal relative to the smaller, lighter A45?
Let's discuss the proverbial elephant in the room right away: the GLA 45 is a long way from a value-for-money proposition. When it hits local shores, the newcomer's base price will likely be about R1.1 million (a small premium on the A45S), which is enough to raise eyebrows, but our European-spec left-hand-drive test car (driven in the UK, with international launches still on hold for the time being) featured the German equivalent of the Plus pack, which adds options such as an extra inch of wheel diameter (now 21s), the aero-boosting bodykit, multibeam LED headlights, an upgraded audio system, electrically adjustable front sports seats and additional driver-assist features.
What's it like to drive?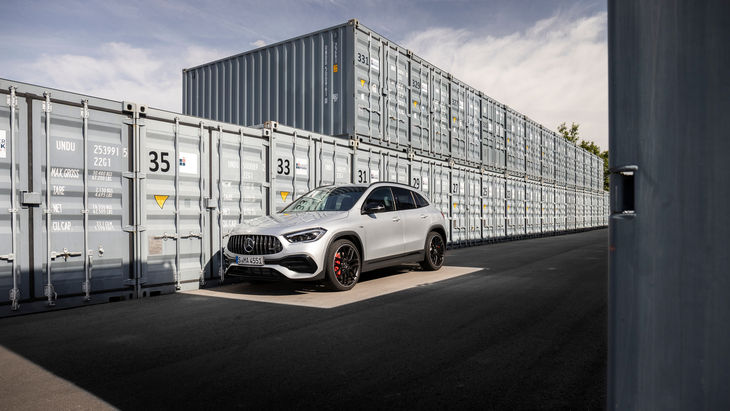 With the most-powerful production 2-litre engine under the bonnet, the GLA45 is on rapid crossover.
As with the old car, the GLA 45's mechanical setup largely echoes that of its hatchback cousin. With Mzansi not receiving the 285 kW "base" variant, there's only the GLA 45 S, which develops no less than 310 kW from its 2.0-litre 4-cylinder turbopetrol motor. It's the most powerful 4-pot in series production, with an specific output of 155 kW/litre.
Crucially, Mercedes-AMG has calibrated the Benz's powertrain to deliver its full complement of torque (500 Nm) at a surprisingly high 5 000 rpm. In an apparent sop to better drivability, the Affalterbach-based from has removed the abrupt power delivery common with many turbocharged cars to facilitate a more peaky, naturally aspirated-like top end.
What this translates to is a car that perhaps feels less muscular than you might expect in the low- to mid-range. There's still ample pick-up once the rev needle hits 3 000 rpm, but there's none of the thump-in-the-back drama of Audi's 5-cylinder unit. It doesn't sound as characterful either, despite the theatrical pops and bangs in the sportiest drive modes, but it's more engaging than the old GLA 45's as the reward is a crescendo of power as the rev needle swings across the dial, catapulting you forward at a rapid rate.
While our road driving didn't allow for properly-timed launches, if the A45's performance is anything to go by we'd confidently say that the GLA 45 S' quoted 0-100 kph time of 4.3 seconds is conservative – this should be a 4-second car (perhaps even quicker than that) in the right conditions.
But this Benz doesn't dish up the kind of one-dimensional driving experience that some all-wheel-driven performance models deliver. Sure, it can be neutral, approachable and unflappable if you want it to be, replete with limpet-like grip levels even in damp weather. Only a touch of torque steer is occasionally evident if you flatten the accelerator pedal in a low-speed corner exit, but otherwise the rack itself is accurate, naturally weighted and more feelsome than those of most performance hatchbacks or crossovers.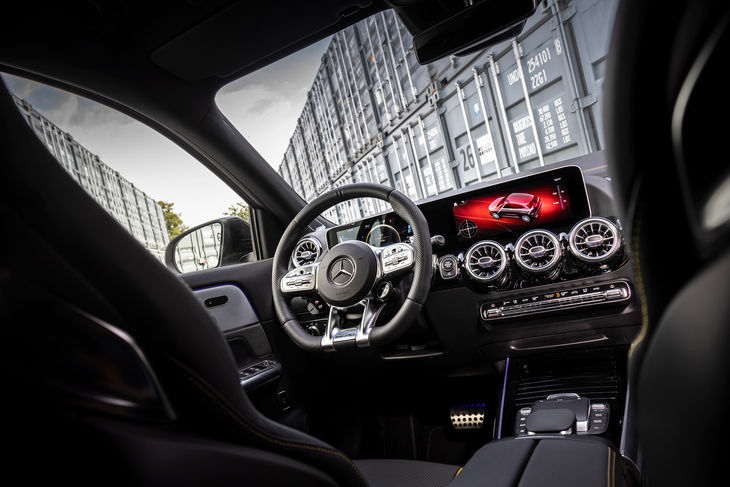 While the interior is attractive, you can't help but feel it's just a standard GLA with some yellow stitching.
No, the GLA 45's most impressive feature is the electrohydraulic 4-wheel-drive system's ability to chuck up to 100% of torque not only to the rear axle, but individually to each rear wheel. This means a more neutral, balanced cornering stance aided by strong stability – and impressively, virtually no understeer. Of course, you can also drift the Benz, which is novel in a small SUV, but in a more natural and progressive way than some similar systems. Once you trust that the back end will swing round (and it will), you'll find that even moderately talented drivers can have fun moments of rear axle rotation that are, of course, effectively managed by the electronics.
It's so entertaining that it's easy to forget that the newcomer is 100 kg heavier (the body is 190 mm taller, by comparison) than the A45. Really, the only noticeable difference is a smidgen more lean on initial turn-in, and a more SUV-like driving position detracting slightly from the overall experience.
Familiar low-speed compromises remain, too. Like the A45, there's a not-insignificant amount of driveline shunt from that otherwise quick-changing dual-clutch automatic transmission when crawling around town or parking, making smooth manoeuvres tricky to execute. The ride is stiff, though not uncomfortably so in the softest setting of our car's (you guessed it, optional) adaptive dampers. And the turning circle isn't great, either.
However, the cabin is a nice place to sit once you're over the fact that, beyond the sporty trim and yellow detailing, it's essentially a standard R600k GLA interior in a R1-million-plus car. One really nice touch is the wheel-mounted controls for the drive modes, including a wheel for each preset and then individual stalks for the drivetrain and suspension behaviour. It's also substantially roomier than the old GLA 45; up front, in the back seats and in the load bay, making it a genuinely versatile family holdall.
Should I buy one?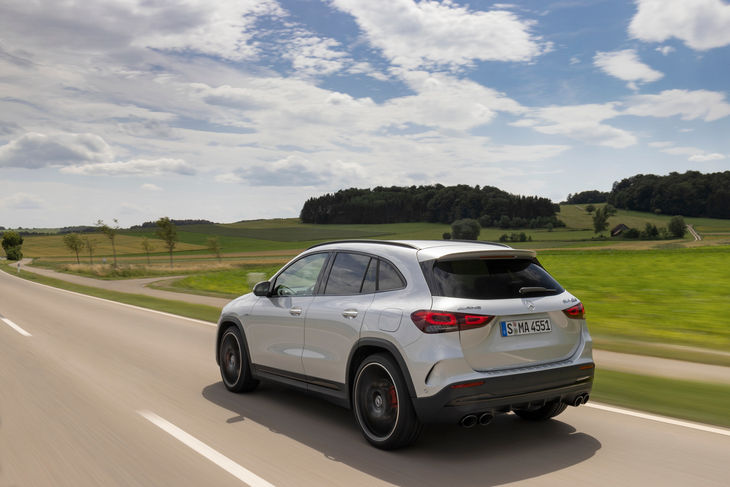 At over R1.1 million, the GLA 45 S pushes perilously close to bigger and more powerful performance SUVs.
That depends if you're prepared to sacrifice exterior styling (and cash) for the GLA's extra space over the A-Class. To our eyes, it's a less attractive car (even than its forebear) while the A45 remains dynamically superior, even though the margins aren't as great as you may expect.
It's serious money, for an admittedly serious car, too. In fact, its pricing puts it perilously close to some larger and more powerful performance SUVs such as the BMW X3 M and Alfa Romeo Stelvio Quadrifoglio. Though with Benz developing a reputation for keenly priced leasing deals, it may not be the financial kick in the teeth it appears at 1st glance.
Regardless of all this, there is currently no small SUV that can hold a candle to the GLA 45's dynamic repertoire, outright pace and (crucially) fun factor. It is proof that not all SUVs must have a compromised driving experience. And for many, that'll will make its premium well worthwhile.
Related content:
Mercedes-AMG A45 S (2019) International Launch Review
Mercedes-Benz GLA (2020) International Launch Review