The new Mercedes-Benz G-Class was recently unveiled at the beginning of 2018, at the Detroit Motor Show. That was the mainstream model and it was only a matter of time before the performance nutters at AMG got hold of it. Here it is, the 2018 Mercedes-AMG G63. Here are all the facts and details you need to know.
The headline here is the introduction of the widely-used 4.0-litre V8 biturbo motor in the G-Class. It replaces the ageing 5.5-litre V8 biturbo engine and in this application, the 4.0-litre produces a monstrous 430 kW and 850 Nm. 0-100 kph is claimed at 4.5 seconds - impressive for a military-grade SUV with the aerodynamic properties of a box. With the AMG Driver's package fitted, it'll run to a top speed of 240 kph.
One of the most important aspects of this engine is its economy and efficiency technology. It features cylinder deactivation to save fuel. In the partial-load range, cylinders two, three, five and eight are deactivated, which significantly lowers the fuel consumption. The combined fuel consumption is 13.2 L/100 km.
The V8 biturbo engine drives all four wheels through the AMG Speedshift TCT 9G gearbox, with a front/rear torque split of 40:60. The suspension of the new Mercedes-AMG G63 has been redesigned by AMG and features coil springs all-round, with the front axle having an independent, double wishbone suspension; while a rigid axle with a five-link suspension is used at the rear. AMG Ride Control adaptive damping is fitted as standard, which will aid ride comfort. There are three settings: Comfort, Sport and Sport+.
"The new AMG G63 brings driving performance to the segment of unadulterated off-road vehicles in unexpected form. It was important for us to tie in with the original character on account of the cult status the G63 enjoys with our customers and fans. The vehicle has nevertheless reached a completely new dimension in terms of technology with the 4.0-litre V8 biturbo engine as well as in combination with the off-road characteristics, the agility and the vehicle dynamics achieved", explains Tobias Moers, CEO of Mercedes-AMG GmbH. "This applies to the entire G-Class model series. Mercedes-AMG is responsible for their suspension and chassis development as well as V8 competence."
The new Mercedes-AMG G63 will be shown to the public at the 2018 Geneva Motor Show, with a market launch scheduled for June 2018.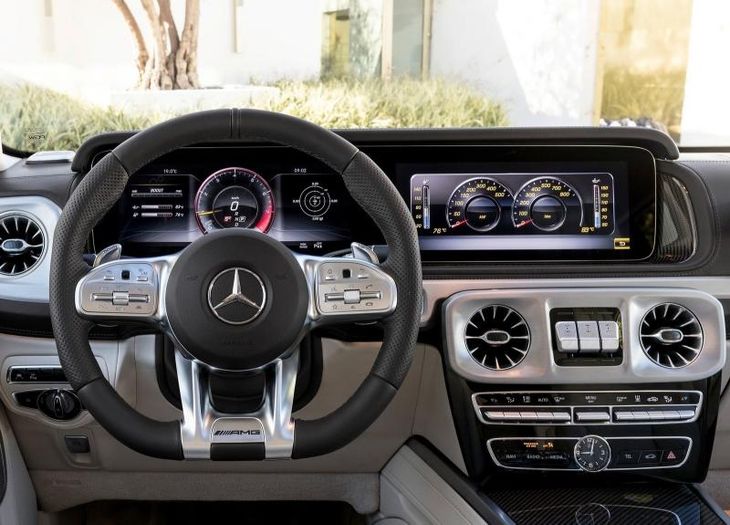 The key feature of the G63 cabin is the digital dashboard.
Further Reading