The introduction of a "baby AMG" to the E-Class line-up seems a godsend to those who seek more performance from Benz's executive sedan package but can't afford the 'bahnstorming E63 S. Does the 295 kW/520 Nm machine represent the ultimate blend of prestige and on-road punch?
We like: Imposing looks, more than enough performance, "sleeper car" status
We don't like: Low-speed ride quality, less-than-brutal exhaust note, clunky Comand interface
Alternatives:
For natural athleticism: Until the ballistic M5 arrives, the 540i is the flagship of the BMW 5 Series range. Sportiness and driver engagement are more inherent to the Five than its E Class rival, but with "only" 250 kW and 450 Nm, the Bimmer can't match the E43's motor's output. Having said that, the 540i's R1m price tag leaves room for up-speccing with M Sport package and adaptive suspension.
Understated performance: Although the Audi A6 is well and truly in the twilight of its model cycle, the 4.0-litre V8 of the S6 outmuscles the E43 with peak outputs of 331 kW and 550 N.m. It costs about the same as the Benz, but in terms of kerb appeal, the S6 is almost anonymous and not all that engaging to drive, sadly.
For sporting pedigree: For reasons that are unclear to us, the Coventry-based marque has resisted the temptation to produce a V8-engined R derivative and offers a supercharged 3.0-litre XF S instead. Outpunched by the E43, and not quite as well made, it seems expensive at R1 264 000.
Click here to compare the E43 with its BMW 540i and Audi S6 rivals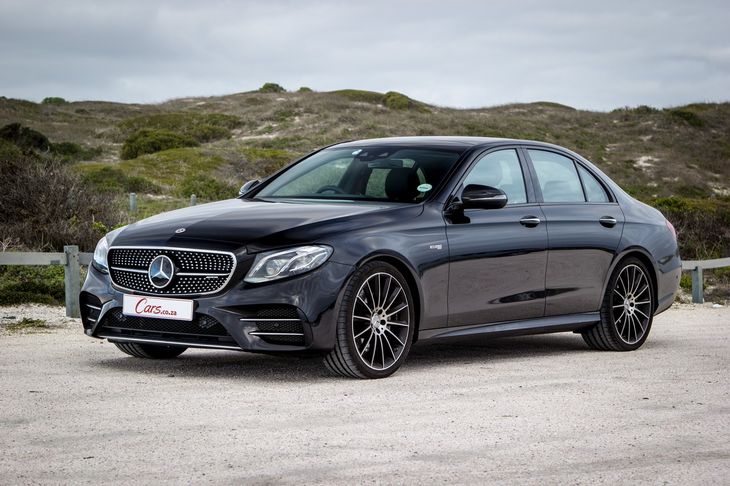 Even though the E43's bumper is "conservatively sporty", the diamond-effect grille and LED headlamps dominate the frontal view.
Facts & Figures
Price: R1 174 008 (November 2017)
Engine: 3.0-litre turbopetrol V6
Transmission: 9-speed automatic
Power: 295 kW @ 6 100 rpm
Torque: 520 Nm @ 2 500-5 000 rpm
Fuel consumption: 8.4 L/100 km (claimed)
0-100 kph: 4.6 secs
Top speed: 250 kph
What is it?
Just when we thought Mercedes-Benz had abandoned notions of producing high-performance V6 engines (after all, a new generation of straight-six motors will be rolled out by the marque in the near future), Mercedes-AMG spawned a plethora of 3.0-litre turbopetrol 43 derivatives in models ranging from the SLC roadster to GLE premium SUV. Although the E43 4Matic is not quite as purposefully styled as its E63 S brother, it sports muscle-bound (even somewhat sinister) looks and with a claimed 0 to 100 kph time of 4.6 sec, it offers more than sufficient performance to please those who want the elegance, sophistication and refinement... accompanied by surges of adrenalin.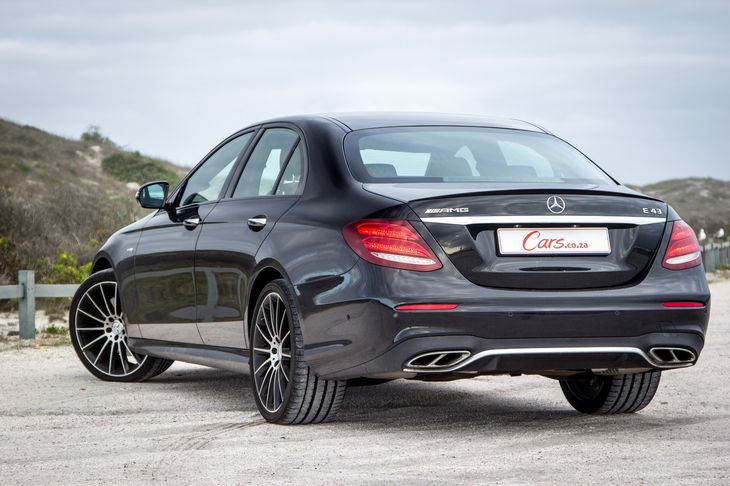 Optional 20-inch titanium alloys beef up the AMG sedan's kerb appeal appreciably. How long will the 43-series stick around? We wonder.
The Good
Just enough sportiness
The design brief for the E43 must have been a tricky one for Mercedes-AMG. The E43 needs to look more purposeful than a standard E-Class specified with an AMG Line body kit, but not as brutish as the awe-inspiring twin-turbo 4.0-litre V8 engined E63 S. To that end, the "baby AMG" sedan errs on side of understatement, the diamond-effect grille, gaping front bumper, gently flared side skirts, quad-tipped exhaust ends and subtle boot spoiler (topped off the optional 20-inch alloys shod with low-profile tyres) endow the midnight black Benz with more than a hint of a menacing presence.
The E43's aesthetic execution drew mixed reactions from our test team members, some of whom liked its dark, brooding looks and others who found the accoutrements did little to liven up a conservative design. As to the question of whether the car would satisfy the tastes of an executive who would like to draw admiring glances but without attracting enthralled mobs whenever they drive their Benz onto a service station's forecourt, the AMG is clearly intended for those who prefer a goold old "humble brag" now and again.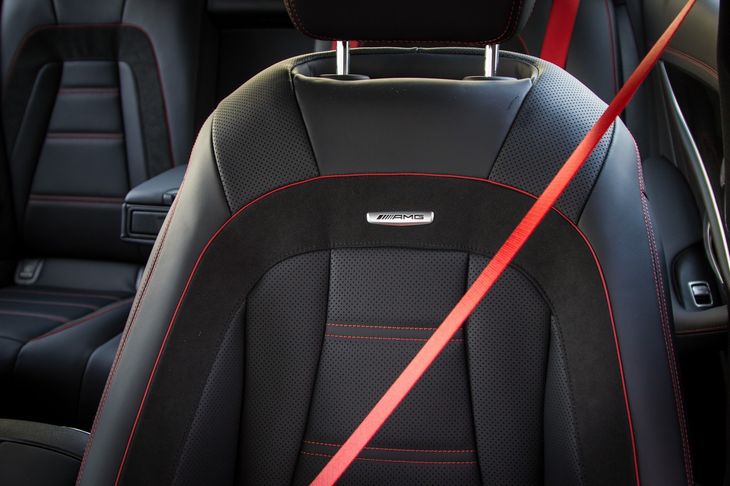 Whereas the AMG's fascia is quite dark & sombre, contrast stitching and red seatbelts left the ambience of the cabin nicely.
Sumptuous interior
The E43's subtly detailed exterior was matched with a black-on-black leather-trimmed interior accented by racy carbon-fibre-pattern fascia insets and a flourish of metallic finishes, the overall effect of which may be a little too brash for some tastes, but the red contrast stitching and matching safety belts added a sense of fun to the cabin.
As is the case with most test units provided by German premium marques, the AMG sedan was laced with optional extras, the most impressive being the so-called widescreen cockpit, which effectively allows the digital instrument binnacle to blend into an expansive infotainment monitor. It looks positively slick and futuristic, it was just a pity that the "top menu bar/bottom menu bar" Comand interface, which can be operated via the touchpad or controller wheel on the centre console, feels a trifle dated in its operation.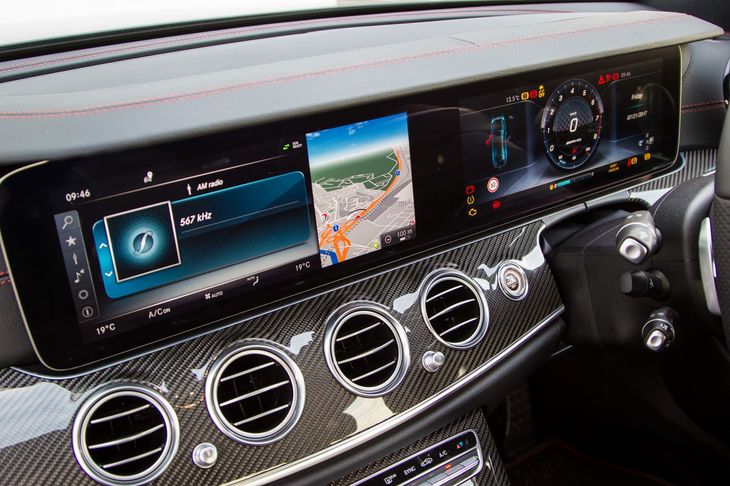 A wide variety of vehicle information can be displayed on the "widescreen cockpit". Note the carbon-fibre pattern of the fascia trim.
Thrusting performance
Some readers may remember the whirring, growling supercharged 3.2-litre engines from the AMG "32" era more than a decade ago, but otherwise Mercedes-Benz's V6 motors are hardly regarded as sonorous. In the E43's defence, this AMG's exhaust note is pressing, rorty and pleasing on the ear – although it stops short of feeling as hard-edged/feral as the V8's does.
Meanwhile, the beefed-up turbochargers of the 3.0-litre V6 help to propel the E43 at a fair lick of pace, to say the least. With outputs of just under 300 kW and more than 500 N.m on tap, the Benz delivers virtually unburstable mid-range acceleration with near-instantaneous responses. To its credit, the sedan's 9-speed automatic transmission, which is native to the E-Class range and not developed especially for AMG, does not baulk and shifts smoothly whether the sedan's crawling in peak traffic… or carving up a mountain pass with zeal!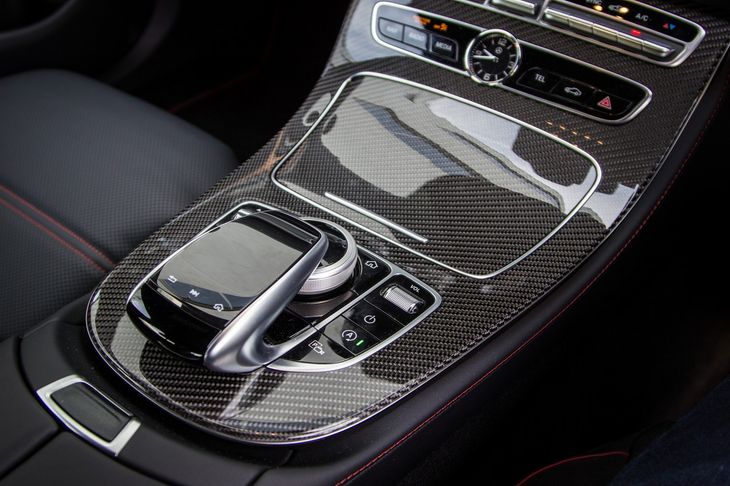 Like conventional E-Class sedans, the E43 has an uncluttered centre console because its transmission lever is on the steering column.
The Not So Good
Compromises are required
The 4Matic all-wheel-drive, which ensures the most effective distribution of the E43's surfeit torque, prodigious grip from the 20-inch tyres and the dynamic responses/adaptability of the AMG sports air body control suspension make the E43 palpably easy to drive quickly. Its driving modes allow a multitude of suspension, engine/transmission and steering mode combinations to suit a driver's taste. Even so, when the driving mode is set to full Comfort mode, however, the ride quality feels particularly nervous at low speeds.
To be fair, the suspension does an admirable job of ironing out road imperfections at higher speeds, and the body control is progressive but almost always composed. For a sedan of considerable heft (just under a tonne), one that can transport 4 adults and their luggage in comfort no less, the E43 feels very wieldy, as if it is oblivious to its own weight. The steering, though accurate and quick, does not convey feedback of any great significance though, which might be a boon when driving long distances, but it lessens driver engagement.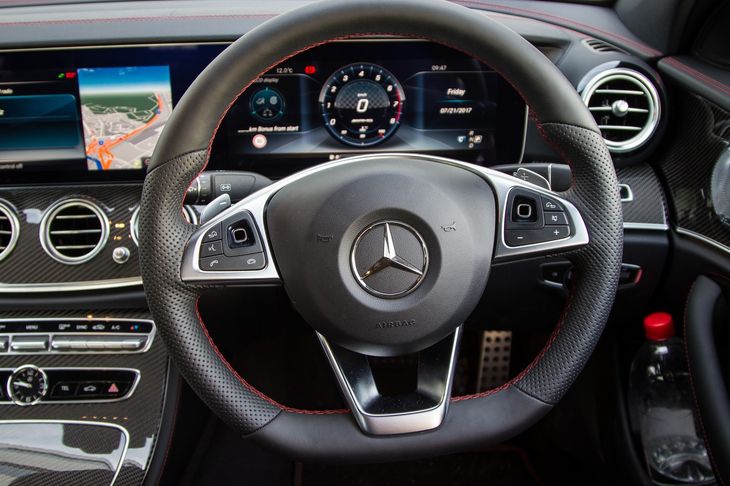 The AMG's digital instrument cluster can be customised to display whichever kind of information the driver finds most useful.
Costly to get a nice one
To get back to the matter of the extras specified to this test unit, it needs to be mentioned that the E43 requires quite a bit of up-speccing to look and feel as lavish as this car.
The handsome LED headlamp clusters are standard, yes, but the multi-spoke 20-inch alloys cost R19 500*. Inside, the electrically adjustable front seats with memory function and 4-way lumbar support (R14 200*), which are heated and ventilated (R19 500*), offer a good blend of comfort with a satisfactory level of lateral support and the Burmester surround sound system produces excellent audio quality for an additional outlay of R15 800* (or R99 800*, if you want the 3D version). These items, and the widescreen cockpit (R15 300*), seem worthwhile.
Meanwhile, the Comand online navigation (including the touchpad, vehicle setup and monitoring, plus live traffic, costs an extra R33 800*. Alternatively Garmin Map Pilot navigation setup costs "only" R14 200*, keyless start is R10 400* and, if you'd like extended climate control (Thermatronic), that's another R10 500*. These options are only a handful of those specced on the test unit, excluding the active safety system packages that are on offer, therefore it is best to consider the E43's new list price as… a rough guideline.

Understatement and AMG are not usually associated with one another, but, believe it or not, the E43 does not appear overly showy.
Price and after-sales support
The Mercedes-AMG E43 4Matic costs R1 174 008* (before options), which includes a 2-year/unlimited km warranty and a 6-year/100 000 km maintenance plan.
* Prices quoted were accurate at time of being published (November 2017).
Verdict
Is it really necessary for Mercedes-Benz to offer two full-fat AMG derivatives in 1 range, even if they offer disparate levels of performance? Comprehensive choice can certainly benefit buyers, yes, but in the case of the E43, the lower-end AMG derivative offers appreciably more exclusivity, but not all that much more performance, than the E400 4Matic. Consider that the latter delivers outputs that are 50 kW and 40 N.m lower than the AMG's, but it costs more than R100k less (in AMG Line spec) than its sibling.

Just how visceral is an AMG model, as opposed to derivative, supposed to be? The E43's approach favours subtlety.
While there is no question as to whether the E43 offers enough performance to satisfy the majority of executive sedan buyers (its refined exhaust note is understandable given the sophistication of the vehicle's target market), the compromise demanded by the AMG's packaging undermine some of the E-Class' finest attributes: on-road poise and refinement.
Ultimately, the E43 succeeds at being a luxury sedan laced with added performance, but it cannot match its flagship sibling at being a hardcore performance sedan clad in luxury…
That we can forgive, given the big difference in their asking prices. However, the biggest disappointment is that this AMG sacrifices too much of the comprehensive refinement that its more affordable siblings deliver with so much ease. It's a model that feels like an afterthought derivative, as opposed to a hidden gem, in the E-Class range.
If you haven't seen it already, watch our video review of the E43 below:
Related content:
Updated: Mercedes-Benz E-Class (2017) Specs & Price
Mercedes-AMG E63 S 4Matic (2017) Launch Review
BMW 540i M Sport (2017) Review [with Video]
BMW M5 Prototype (2018) First Drive [with Video]
BMW 5 Series (2017) Specs & Pricing
Volvo S90 D5 Inscription AWD (2017) Quick Review
Volvo S90 T6 Inscription AWD (2017) Review
Interested in buying a Mercedes-Benz E-Class?