The new Mercedes-Benz CLS gets launched in fast new Mercedes-AMG CLS 53 form - among others. Can the new four-door coupe out-slick the just as new Audi A7? International correspondent Matt Prior reports back from the international launch in Spain.
Fifty-three, then. Not 63, not 43 and, heaven forbid, not 65. The new Mercedes-Benz CLS – the sleek four-door coupé now into its third generation, can you believe? – is here, and the rapid AMG variant, the 53, is almost as significant as the fact that the car itself is new.
Perhaps more so. But let's deal with the CLS bit first. It's a new CLS, seating five and promising to do the same 'sleeker E-Class thing' as it has done during the past 15 years. To that end, it's E-Class sized, 4.98 m long, with a range of turbocharged and electrically enhanced diesel and petrol engines, which will extend to a four-cylinder petrol later.
In '53', a new AMG naming strategy has emerged, as it has for the regular models, where an increasing number indicates merely an increasing power output, albeit derived from a structure originally based around engine capacity.

Mercedes-AMG has chosen the 53 engine to do the heavy lifting in the new CLS. It doesn't disappoint.
On some models, a 3.0-litre straight six-cylinder engine becomes the AMG 43, while there's also a 4.0-litre twin-turbocharged V8 known as the 63. Between these, AMG reckons there's enough room to slot a 53 derivative. Whether a particular car will get 43, 53 or 63 options will, ultimately, be at AMG's whim, but my guess is that if there's a stand-alone AMG model above it, you'll get a 53 and an AMG, and if not, you'll have a 43 and a 63. So the E-Class coupé has a 53 with the AMG GT coupé above it. The CLS has a 53 and the upcoming GT4. The E-Class, say, would have 43 and 63 derivatives. Perhaps. I've been wrong before. Some might get all three.
So what is an AMG 53?
The 53 is a 3.0-litre, and of extraordinary complexity. Deep breath. It's an in-line six-cylinder petrol, mounted longitudinally, all of whose exhaust outlets pass through a single, large, twin-scroll turbocharger, mounted high and near as damnit next to the exhaust ports. To cover the inevitable turbo lag from this, though, there is also an electrically powered compressor, located on the other side of the block, just before an intercooler right next to the inlet ports, which can help suck air through the induction tract before the big turbocharger is boosting properly. Following? Good.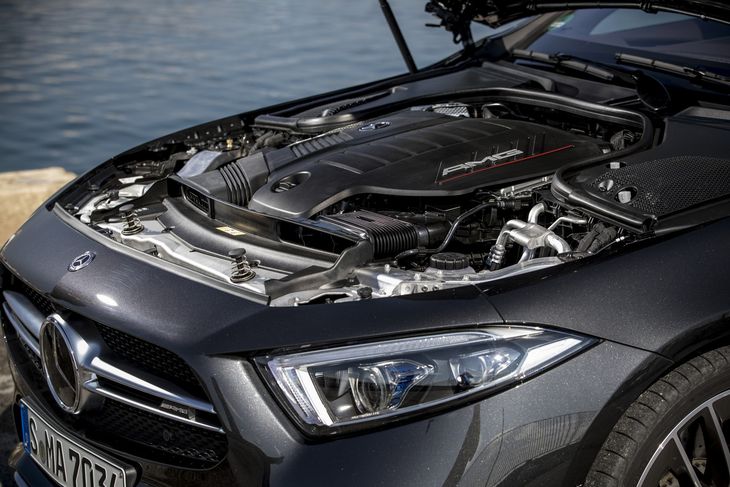 The AMG 53 doesn't feature any belts to power things like the alternator, making it smaller than a normal unit.
The inlet for that compressor comes after the big turbo, where a variable stopper in the main inlet tract, which runs around behind the engine, can divert a little, or all, or any combination – in reality, it'll be varying the proportion constantly – of air through a smaller tube to the electric compressor, after which, suitably pressurised, it flows back to the main inlet tract just before a throttle butterfly. Still following? Sigh, me neither. Anyway, it makes 320 kW and 527 Nm, which is quite a lot in itself.
But in addition to both of these forced inductors, mounted between the engine and the nine-speed automatic gearbox sits an integrated starter/generator (ISG), an alternator/starter motor and flywheel combo, which can contribute 16 kW and no less than 250 Nm to the engine's already imposing output.
Satisfying the boss
Ultimately, though, all of this power goes to the CLS's rear wheels most of the time, with a standard all-wheel drive system on all models diverting it to four wheels when the rears threaten to slip. Unlike, say, the E63 AMG, you can't lock the 53 into rear-drive mode for adolescent slides.
Which is perhaps just as well. Our drive takes place in Spain during the first time for about a decade that it has experienced snowfall. So our CLS53 is wearing winter rubber, which, AMG engineers tell me, will reasonably soften the way it grips and steers.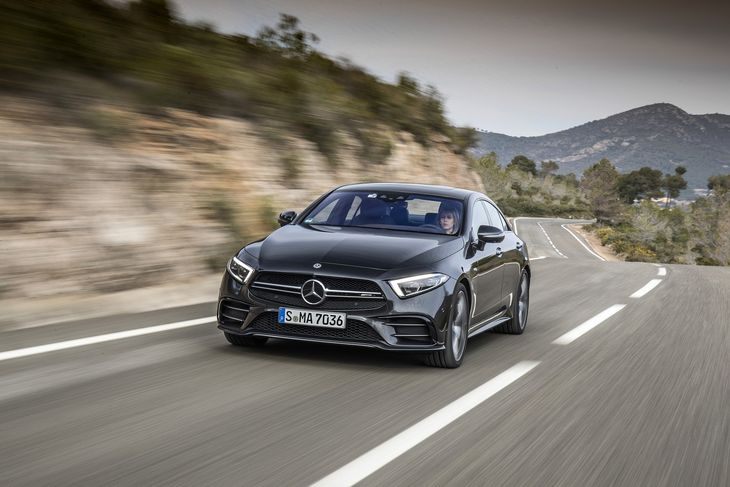 Unlike these pictures, the launch took place under snowy skies meaning the launch vehicles all had special winter tyres fitted.
One of the challenges of the 53 was, by all accounts, to make it feel sufficiently different from a regular CLS to satisfy AMG boss Tobias Moers, who's quite particular. Full-fat AMGs do have quite a distinct character: they're loud, brash and way more capable these days than the hot rods they were a decade or so ago but still dominated by their V8 engines.
That's a harder character to inject with a straight six, obviously, especially one whose exhaust is so muted by turbo and which, by definition, is a bit semi-skimmed next to a 63. But the engine is sparky. It's by no means loud, but throttle response and linearity really are exceptional, with a rev limit at nearly 7 000 rpm and a character and note that has shades of BMW M car. It's a belting engine, in fact. I wonder if Aston Martin, part-owned by Daimler as it is, has thought about one day dropping one into a Vantage.
Air sprung setup
And if regular wheels and tyres – 20-inch and 21-inch will be most buyers' norms, you suspect – sharpen the steering over these winters, it'll be intensely responsive for a big saloon. Okay, okay, big coupé. Because accuracy and steering response are already great. It's probably more responsive to the steering, I'd say, than a BMW M5, while standard air springing brings a level of both control and compliance where coil springs tend to force a compromise to one or the other; only this comes without the echoey 'sproing' that affects some air suspensions.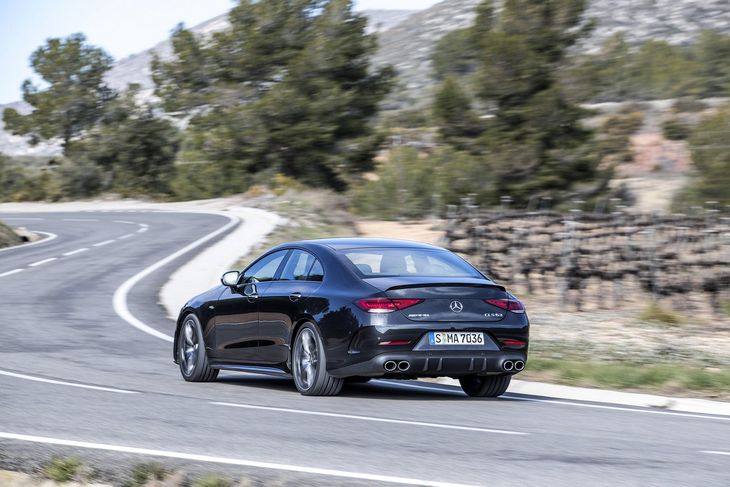 Air suspension is standard on the AMG model and doesn't compromise on control or comfort.
Air springs, although optional rather than standard as they are on the AMG, were also fitted to the two other CLSs I've tried. A 400d, with a 3.0 straight-six diesel and 250 kW, is wickedly fast, while a new four-cylinder petrol, arriving later, is not. Although handling is improved yet again by having a lighter engine in the nose. Both, also, use an ISG (which Mercedes dubs EQ Boost) so throttle response is instant and letting the auto 'box lug it out, rather than changing down yourself, is the easiest way to make good progress.
One of Merc's best interiors
Whatever engine your CLS comes fitted with, though, makes no difference to the way it feels inside, which is little short of excellent. In overall cabin layout and ergonomic decency, things mirror the E-Class here: the driving position is spot on and dead straight, with hugely adjustable wheel and clear, digital instrument panel, plus central monitor. Wiper and indicator stalk to the left, gear lever to the right, controls for one of motoring's better infotainment systems on the centre console.

A well thought out cabin, much like the E-Class except for the air vents, which have their own mood lighting LEDs, bringing them to life.
Material finish is great but it's the vents that are coolest – steampunky-turbine-looking things that bask and reflect the glow of their own diddy central LED mood lights, in low light. Really lovely. Headroom in the rear is, obviously, a bit tighter than in a conventional saloon, for the passengers you probably won't have anyway, and the boot's of a similar 'yeah, fine, whatever' capacity. If it's not big enough, there's always the E-Class, you know?
Summed up
Overall, whether equipped with a lesser engine or with the new AMG 53 unit, the impression you get from the CLS is one of smoothness, slickness: even the 53 is never in-yer-face, never urging you to go harder or, in Australian parlance, 'begging to be fanged'.
Eventually, it turns out Moers was satisfied that the 53 was AMG-ish enough to pass muster, but it took a lot of iterations and a lot of tweaks before it got there. Perhaps in grippier conditions, and on normal rubber, the 53 would feel more like a true AMG than it does to me here, but then I don't mind if it doesn't. Perhaps I'm less picky than Moers, because it strikes me there's not a lot wrong with it this way.
Quick Specs
Price: R1.6 million (est)
Engine: 3.0-litre 6-cyl, turbocharged petrol
Power: 320 kW at 6 100 rpm
Torque: 527 Nm at 1 800 - 5 800 rpm, plus electric motor, 16 kW and 250 Nm
Gearbox: 9-spd automatic
Kerbweight: 1 980 kg
Top speed: 250 kph (limited)
0-100 kph: 4.5 sec
Fuel economy: 8.7L/100 km
Rivals: Audi A7 Sportback, Maserati Ghibli S, Porsche Panamera Sport Turismo
Related content
Spy Shots: Mercedes-AMG's 4-door GT (GT4)
Audi A7 Sportback (2018) International Launch Review
BMW M4 DTM vs Mercedes-AMG GTR - Drag Race