The updated Mercedes-AMG C63 S is now available in South Africa and we got a chance to stretch its legs at the Kyalami Racing Circuit. Is this the benchmark performance-oriented business class sedan in the local market?
We had our first glimpse of the new-look C63 S in Germany in 2018, where we sampled the newcomer on road as well as the technical Bilsterberg circuit. Initial impressions were good and while the changes from the pre-facelift version aren't easy to notice, there are enough alterations under the skin to make this vehicle quite newsworthy. Available in sedan, coupe and cabriolet flavours (alas, there is not enough demand for an estate version in South Africa), the C63 S boasts some slight visual updates, but the real changes can be found under its sheetmetal.
Own a Mercedes-Benz? Tell us about your experience here.
What's new for 2019?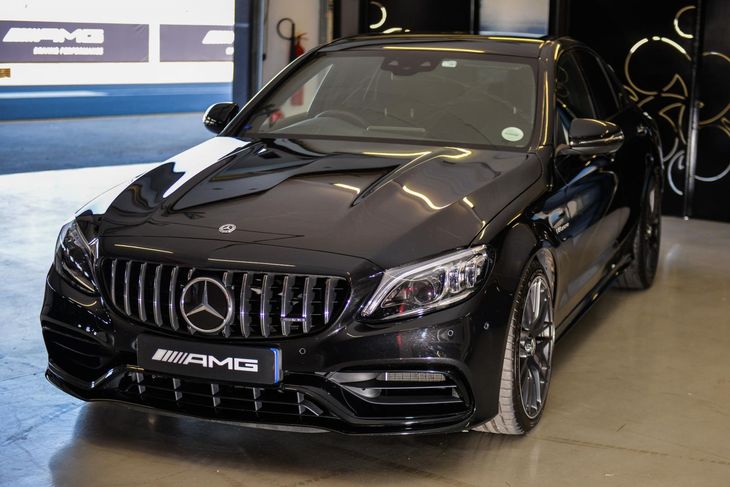 How impressive is that new grille?
The 4.0-litre V8 twin-turbocharged engine remains unchanged, but it's not a deal-breaker by any stretch of the imagination – it's a superb motor. Not only does it deliver a class-leading power output, it's one of the best-sounding engines of all time. For the record, it delivers 375 kW and 700 Nm. The good news is that the older 7-speed transmission has been replaced by a new, fast-shifting 9-speed 'box with a wet start-off clutch. Gearshift times have been reduced and the new clutch setup replaces the torque converter, which in turn, saves weight and is a tad more responsive.
Other nice additions are the new electronically-controlled rear differential, as well as a trick 9-stage traction control system similar to that first seen in the AMG GT R supercar. Visually, there's the flamboyant Panamericana grille dominating the front end, some new-look tail lights, redesigned alloy wheels and some new exhaust tips at the rear. Inside, the vehicle gains a neat digital dashboard, as well as the latest updated steering wheel. You'll notice 2 new features on the steering wheel: towards the middle are 2 controllers, which remove the need to fiddle with the centre console.
You can now easily switch between drive modes using the rotary controller on the right and it's a cinch to scroll through vehicle settings such as those that pertain to manual gear changes, traction control on/off and auto start/stop... there's even a mode to make the exhaust louder.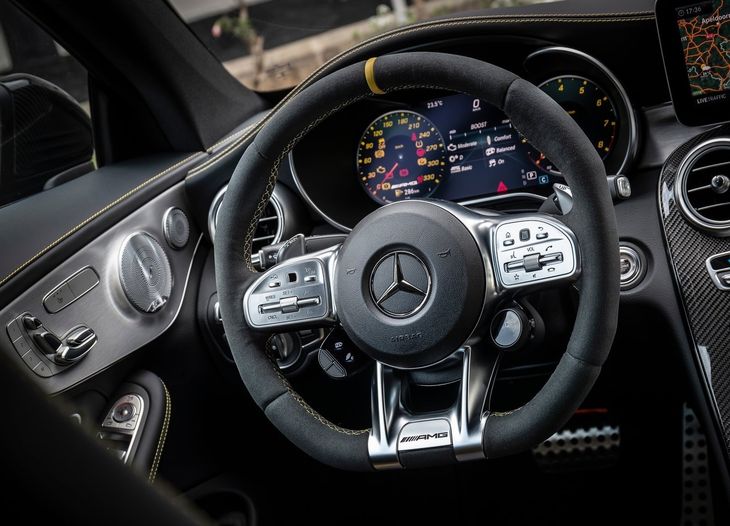 The updated steering wheel features a pair of rotary selector switches. Change driving modes, gearbox settings and more here.
What's it like to drive?
Our time with the updated Mercedes-AMG C63 S was limited to on-track testing. The best thing about being on track is you can really open the taps and thoroughly evaluate the vehicle in a safe environment. Given the tremendous grunt and performance on offer, this was a good thing. We did a few quick laps to test the vehicle's handling and acceleration and conducted an interesting exercise to experience the 9-stage traction control.
One thing that's always impressed us about the C63 S is its adaptability. Thanks to its multitude of driving modes, you can live with the vehicle on a day-to-day basis without fear of falling foul of its tremendous performance potential (it'd take a brave person to try to drive a C63 S on a wet road in its most aggressive mode). When in Comfort mode, the Benz behaves quite politely; the quad exhaust system emits just a subtle audible hint of the fire-breathing V8 lurking beneath its bonnet. But seeing that we were on a racetrack, we duly engaged Race mode, which put all the systems into maximum performance mode. The adaptive dampers firm up, the steering sharpens and the exhaust valves open fully – cue mechanical mayhem.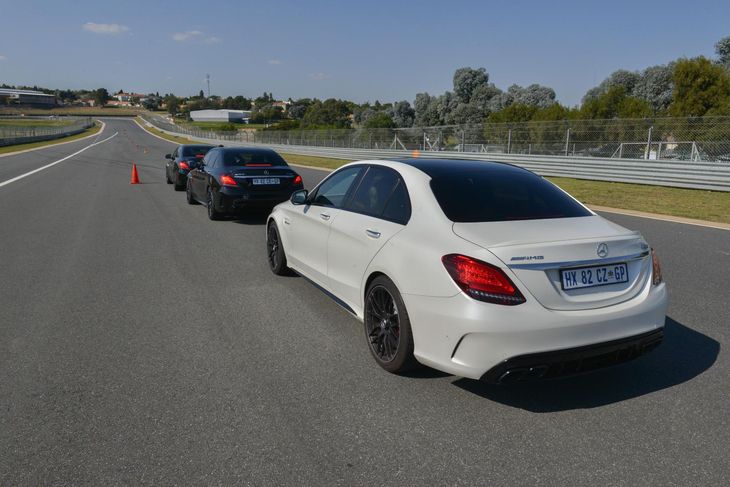 Kyalami: the safest and most logical place to test a V8-powered rear-wheel-drive super sedan.
As we departed the pits and headed out onto the circuit, the first thing that made a positive impression was the C63 S' responsive new transmission. Not only does the vehicle change swiftly, but each shift produces a satisfying thud. With the new trick differential doing its thing, the Benz will mostly behave and not wag its tail, but if you're too eager and generous with the throttle pedal, 700 Nm to the rear wheels will induce glorious oversteer.
Now, about that 9-stage traction control. Having experienced numerous rear-wheel-drive AMG products over the years, we've learnt that they have the potential to bite hard (misbehave) if you're not circumspect with the throttle pedal – in fact, the traction control light can resemble a disco strobe as the car's electronics struggle to maintain traction while trying to accelerate the car as quickly as possible. If you switch the C63 S' traction to a Sport setting, you're very likely to get some wheelspin; in fact, the V8's outright grunt can easily overwhelm its rear tyres. But now, if you switch it off completely, you'll see the new rotary dial on the steering wheel light up with a submenu. Here, the traction control can be programmed to allow some degree of slip. There are 9 settings: 1 will allow minimal amounts of silliness before intervening; 9 is off completely and you're on your own.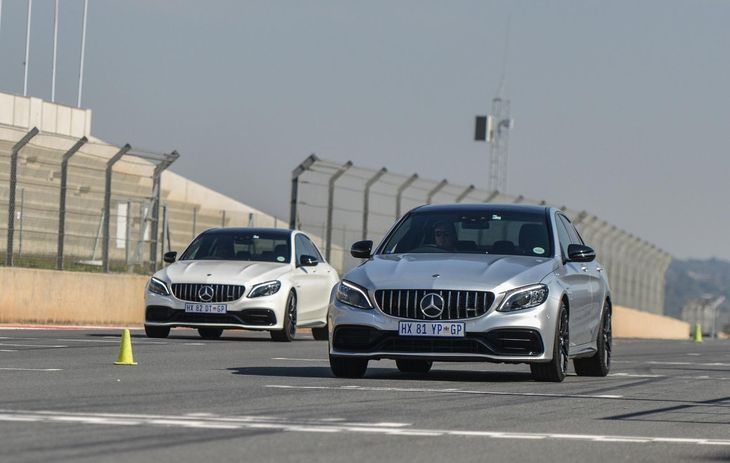 With its new 9-speed gearbox, the C63 S feels eager off the line, with AMG claiming a 3.9-second sprint from 0 to 100 kph.
Mercedes-AMG set up a special course where could experiment with the various settings (we'd say numbers 7 and 8 represent about the most fun you can have safely). The functions allow you to properly hang the tail out while countersteering, while the V8 engine bellows at full volume and converts the rear tyres to smoke. Fun? Absolutely. Necessary? Probably not for your average driver. It's a bit of a gimmick, much like the drift modes of some all-wheel-driven cars, but it's a great talking point. The cool factor of saying, "Well, I do have a 9-stage traction control system" is off the charts and while the vast majority of C63 S owners won't be taking their cars to the track, those who do will have a terrific time "finding their limits".
Does the new transmission help with acceleration? While initial urge will always be a battle for grip, Mercedes-AMG claims its new C63 S will sprint from 0 to 100 kph in just 3.9 seconds (for the sedan) and reach a top speed of 290 kph. We think the additional ratios are mostly for fuel economy.
Summary

The changes are small, but significant and those who venture down this route will find a thoroughly modern and digitally connected cabin.
With the Mercedes-AMG C63 S in the latter half of its product cycle, it needed some updates to keep pace with developments in the marketplace. There are new rivals on the horizon: the next BMW M3 is due to be revealed soon and Audi has just bolstered its RS4/RS5 range in South Africa.
There's just something so alluring about the brutish C63 S, which is quite likely to be AMG's final exclusively rear-wheel-drive performance business class sedan/coupe/cabriolet. Not only is it tremendously powerful, it sounds absolutely wicked and offers a veritable smorgasbord of driving thrills.
The cabin sees the biggest changes. The new-look steering wheel is beautiful both to look at and wield, and the digital dashboard is a big leap forward. It's no MBUX, but we're likely to see that in the next-generation Mercedes-Benz C-Class which should make an appearance in 2020.
While our time with the new Mercedes-AMG C63 S was fleeting and limited to just some track excursions, we're eagerly looking forward to seeing if Affalterbach's road rocket is now a little easier to live with on a daily basis. Some will hope it won't be, but be that as it may, roll on the road test!
Mercedes-AMG C63 S Price in South Africa (May 2019)
C63 S R 1 560 136
C63 S coupe R 1 623 015
C63 S cabriolet R 1 743 374
Further reading:
Facelifted Mercedes-AMG C63 Shown
Facelifted Mercedes-AMG C43 Announced
BMW M4 DTM vs Mercedes-AMG GTR - Drag Race
Drag Race: BMW M5 vs Mercedes-AMG E63 S
Mercedes-AMG GLC 63 S (2018) Launch Review
Want to purchase one?