Following a mild facelift and a few technical upgrades, the Mercedes-AMG A45 4MATIC remains the most potent performance hatchback available in South Africa. But, given the introduction of the Audi RS3 and a coupe-based competitor in the shape of BMW's M2, is the A45 4MATIC still the ultimate compact performance machine?
We Like: Performance, handling, interior quality
We Don't Like: upright driving position, price premium for a hatchback-based sportscar
Alternatives
For more power: The BMW M2 might hold the edge in terms of torque output, but the A45 remains the most powerful weapon of choice, especially in the all-wheel drive super hatchback stakes. There is still no 4-cylinder petrol engine in series production that produces higher outputs than the Benz's motor.
For better practicality: Even though the A45 won't be bought with luggage space requirements foremost in mind, the Audi RS3 is more tastefully packaged (for more conservative, less image-conscious buyers) and the A3 model's practical advantages over the A-Class remain.
For kerb appeal: Given the Benz's lofty price tag, many buyers may consider more conventional sportscars, such as the two-door BMW M2 or Porsche 718 Cayman, both of which offer excellent pedigrees and appeal to performance driving connoisseurs.
Compare the Mercedes-AMG A45 4MATIC with the Audi RS3 and BMW M2
When the A45 arrived in 2013, it instantly became one of the most desirable super hatchbacks on the market, for two good reasons. It catapulted the already fashionable A-Class into a rarefied performance realm, and its all-wheel drivetrain harnessed the 265 kW and 450 Nm of torque with zeal.
Enthusiasts (including us) revelled in the Benz's outright ability and the car featured in numerous Cars.co.za drag races where it put on mightily impressive performances – watch a drag race video in which the facelifted A45 goes head to head with the M2 and be sure to visit our YouTube channel. The A45, in a short space of time, became widely regarded as the benchmark vehicle in the performance hatchback segment.
The A-Class recently received a facelift (read a review of the A220d), and the 4MATIC (all-wheel drive) A45 sits at its pinnacle. AMG had a good product to build on and this latest incarnation comes with a host of improvements, including improved power and torque outputs, plus updated transmission mapping.
Understated looks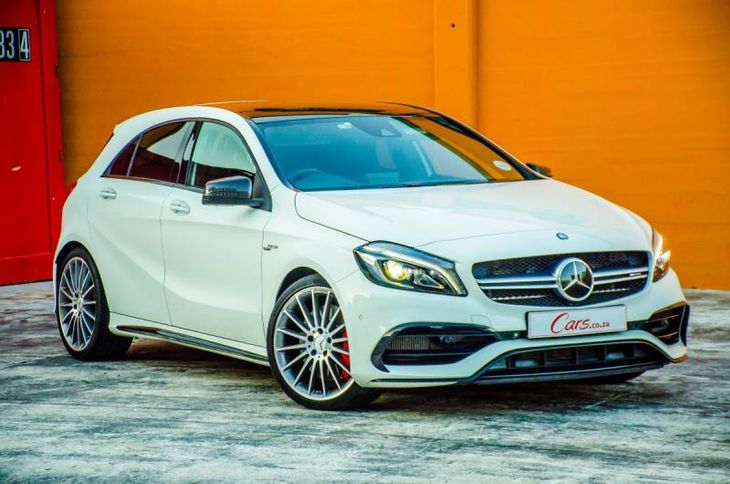 Optional dark-tined glass and 19-inch alloys make the otherwise mild A45 look sinister and mean.
Our test unit was finished in a Cirrus White body colour and featured a host of optional extras to make it stand out visually. This Mercedes-AMG was kitted out with, inter alia, 19-inch multispoke alloy wheels (R13 500), red-painted brake callipers (R7 000), automatic panoramic sliding sunroof (R13 000), dark tinted class (R11 000), AMG performance exhaust (R8 500) and carbon fibre side mirrors (R16 600).
More Details
Five Improvements: Facelifted Mercedes-Benz A-Class
How does it fare in…
Performance
The turbocharged 2.0-litre engine now offers a significant bump in power and torque over its predecessor with a total of 280 kW (+25 kW) and 475 Nm of torque (+25 Nm). Those numbers are delivered to all four wheels using a revised 7-speed dual clutch transmission that can be operated manually by utilising the steering wheel-mounted shift paddles. By adopting revised ratios, AMG has measurably improved the way the A45 responds to throttle inputs and, in conjunction with more flexible performance, the super hatchback's zero to 100 kph acceleration time has improved to 4.2 seconds.
Four driving modes are available to the driver and these include Individual (customisable engine, transmission and ESP settings), Comfort (for general driving conditions), Sport (engine and transmission enhanced) and Sport+ (engine and transmission optimised for sporty driving). In Sport and Sport+ mode, the engine note becomes distinctly louder and the A45 emits a series of percussive pops and growls under hard acceleration. There's also an exhaust button on the centre console that will amplify the engine's barks. It's awesome, but unlikely to score you brownie points with the neighbours (to say the least).
Over and above the rate of acceleration, the Benz remains "poised and planted" while it lays its power down on the asphalt. Suffice to say that with such sizeable power and torque reserves on tap, driving slowly requires a lot of forethought and application. Performance is definitely this car's strongest attribute.
Handling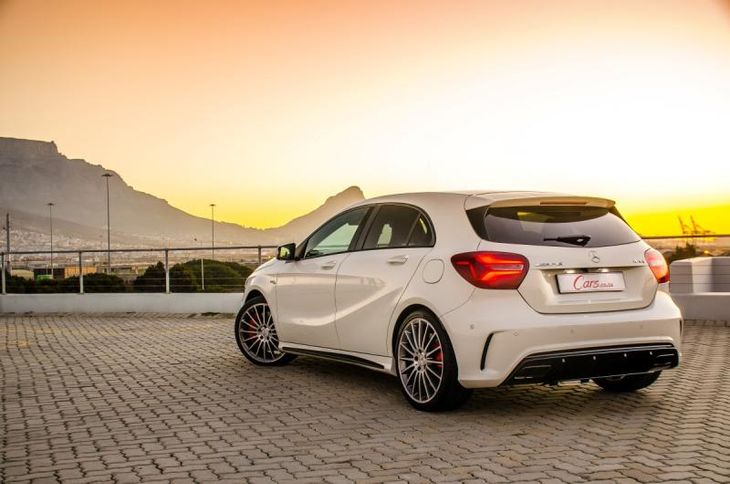 Although quad tips are standard, the optional AMG exhaust system emits a provocative soundtrack.
When we tested the Mercedes-AMG on track (at Cape Town's Killarney circuit), the test unit could show its true colours. On the road, the A45 feels muzzled and caged because opportunities to access all of its power and dynamic ability are virtually non-existent, but on a track it's a different story altogether. The 4MATIC system is able to dynamically distribute power to the ends of the vehicle where it's most needed. It's extremely effective on corner exit where you can feel the system quelling understeer and pulling the front wheels to the inside. In most systems, the traction control system limits the power in order to keep the car from understeering wide but, in the A45, you don't feel it as much; it feels ballistic when you mash the throttle on the way out of a corner.
It is quite an easy car to get to grips with and steadily, evenly, increase your driving speed. The 4MATIC system is forgiving and it's never twitchy nor snappy – even if you panic brake or lift off the throttle mid-turn. To match its sporty demeanour, the suspension setup of the A45 is firm. On even road surfaces, ride quality is fair, but the suspension gets quite crashy on bumpy roads. The adaptive suspension option is a must for ride comfort's sake.
Fuel economy
With a claimed fuel consumption figure of 7.3 L/100 km, one would expect the A45 to be quite economical. That's not the case in reality, though. During our tenure with the A45, we achieved over 12.0 L/100 km with a mix of normal and spirited driving. With its 56-litre fuel tank you should be able to squeeze 500 km from a full tank.
In Comfort mode, the ECO start/stop function is activated, which aids fuel economy when you are stationary by switching off the engine. In Sport and Sport+ modes, the ECO start/stop function is deactivated and as is to be expected, you will burn more fuel driving in these modes, but that is something that most buyers are likely to embrace because, for them, the A45's performance capabilities are likely to be far more important than its thirst.
Interior comfort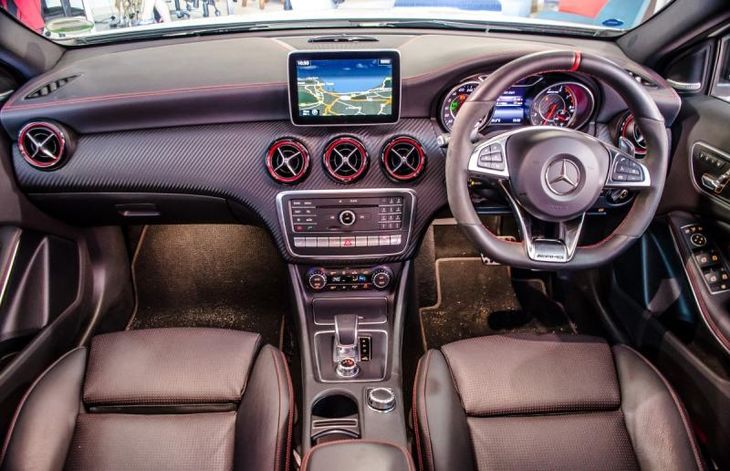 The strategic application of Alcantara on the steering wheel makes its rim extra grippy.
The interior of this A45 is sporty and well-appointed. The flat-bottomed multifunction steering features perforated leather and the column is adjustable for rake and reach. The sports seats offer maximum comfort with sufficient bolstering and seat cushion adjustment is standard to accommodate different body sizes. Optional seat heating (R4 200), as well as seat memory function (R8 000) was also fitted.
In terms of infotainment, the optional COMAND Online system (R24 000) takes care of navigation, audio and telephonic requirements via an 8-inch display. We found the system easy to use and navigate. The optional Harmon Kardon surround-sound system (R8 900) was additionally specified.
Although practicality may not be the A45's forte, it does offer 341 litres of boot space. With the 60:40 split rear seats folded flat, space increases to a sizable 1 157 litres. Rear passengers should be reasonably comfortable in the back too, with enough leg, head and shoulder room.
Safety features
The A45 is equipped with ABS, EBD, brake assist, traction control and stability control, plus seven airbags as standard. Optional safety features fitted to this particular test unit includes lane keeping assist and blind spot assist (R10 500), reversing camera (R4 600), parking pilot (R8 900) and distance pilot DISTRONIC (R12 900).
Mercedes-AMG A45 4MATIC price in South Africa
The Mercedes-AMG A 45 4MATIC is priced from R737 314 and is sold with a 2-year unlimited km warranty and a 6-year / 100 000 km maintenance plan.
Verdict
It may be a hatchback, but its firm, sporty ride setup and ferocious thirst make the A45 less than not the most practical car on the road . Yes, its performance and handling capabilities have improved compared with those of its predecessor and its cabin is attractive and well-built, providing high levels of comfort and refinement. Overall, the A 45 is well-accomplished and is worth consideration if sheer performance and head-turning looks are what you are looking for.
But there's a caveat. Although the A45 is about R40 000 cheaper than the Audi RS3, ticking options can translate into a massively inflated price tag. This test unit was fitted with nearly R200 000 worth of optional extras, which pushed the price up to over R920 000, which is rather excessive for a hatchback, albeit a stupendously fast one. We feel that, on balance, the A45 is a trifle overblown. Granted, it's not an everyman's car and will suit some buyers to a tee, but as the A45 ventures into sportscar territory, there are rivals that offer a better balance between racy packaging, performance, comfort and price.
Mercedes-AMG A45 4MATIC – quick specs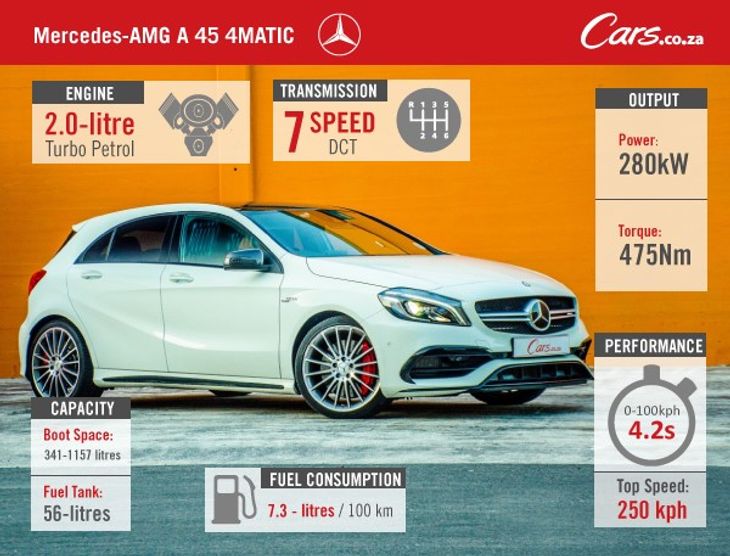 Look for a new Mercedes-AMG A 45 4MATIC
Look for a used Mercedes-AMG A 45 4MATIC
Watch a drag race video featuring the A45 going up against the BMW M2: