Packing 563 kW and 800 Nm from its 4.0-litre twin-turbo V8, the McLaren 765LT utilises myriad carbon fibre components and incorporates several upgrades – not least technologies from its Senna sibling – to establish itself as the ultimate Longtail in the Woking-based manufacturer's model lineage.
With a limited production run of only 765 units, the 765LT needs to be pretty darn special… and it most certainly is. In its leanest, most stripped-out configuration the newcomer tips the scales at 80 kg less than the 720S (for a dry weight of only 1 229 kg and a power-to-weight ratio of 36.9 kW/tonne) by virtue of a plethora of weight-saving measures.
Carbon fibre was used extensively for the construction of the McLaren's front bumper and splitter, one-piece front floor, side skirts, rear bumper and wing, the lengthened aft diffuser and even the car's licence-plate holder. That's the standard specification – additional panels can be optioned in carbon fibre as well.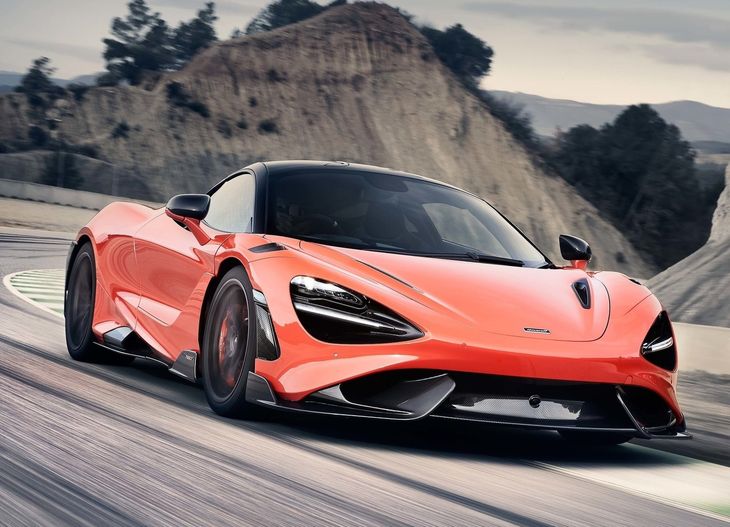 McLaren has lowered the 765LT's front end and widened its track to improve frontal downforce and overall turn-in precision.
Compared with the 720S, the 765LT's carbon fibre-shelled racing seats save 18 kg, the 10-spoke ultra-lightweight forged alloy wheels (with titanium bolts) 22 kg, full-titanium exhaust system 3.8 kg, lithium-ion battery 3 kg, the "helper" suspension springs 1.5 kg (more about those a little later), a bespoke centre tunnel 1.4 kg and optional carbon fibre fenders 1.2 kg.
Over and above the optimisation of powertrain and chassis parts and deletion of comfort and convenience features (although most of these can be specified at no extra cost), the McLaren's wind- and rear screen and side glass panels have been made thinner.
In terms of its appearance, the 765LT's front splitter sits closer to the ground because of a 5-mm reduction in front ride height to increase vehicle rake and create more front downforce. The nose section is 48 mm longer (the front bumper and -splitter have been moved forward), while the new active rear wing stretches rearwards by an additional 9 mm, all of which adds 57 mm to the car's overall length.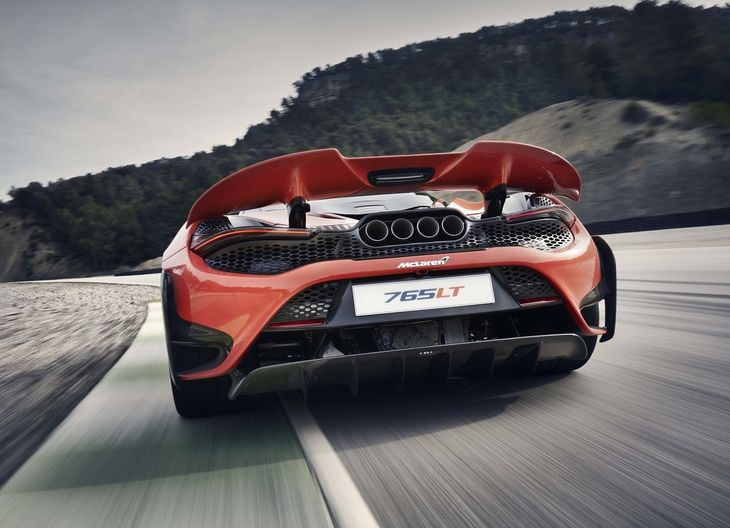 By channelling hot exhaust emissions over its active rear ring, the 765LT effectively plasters its tail end to the asphalt.
Upgrades to the 4.0-litre twin-turbocharged V8 engine include LT-specific forged aluminium pistons, a 3-layer head gasket (shared with the McLaren Senna) and ultra-efficient, carbon-coated followers in the valvetrain, an additional fuel pump, as well as a revised oil pump. The motor delivers its peak power at 7 500 rpm and maximum torque at 5 500 rpm.
Furthermore, the transmission's gearing is optimised to help the 765LT to deliver in-gear acceleration up to 15% quicker than the class-benchmark 720S. The newcomer's claimed 0-to-100 kph time is 2.8 seconds and 0-200 kph is said to take a mere 7.2 seconds!
Compared with the 720S, the newcomer's front track is 6 mm wider, while lightweight main springs feature additional "helper" springs to reduce unsprung mass and maintain load in the suspension on full-rebound (when the car hits a road imperfection at high speed, for example). Roll stiffness has also been increased to further enhance vehicle stability, plus advances made during the development of the McLaren Senna have enabled the Woking-based company to revise the 765LT's Proactive Chassis Control II suspension system algorithms for even greater precision and control.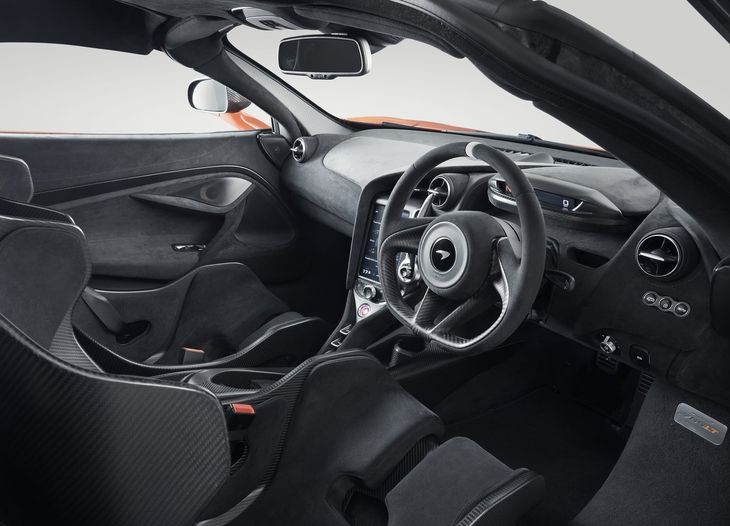 Apart from carbon fibre accoutrements, McLaren has festooned the 765LT's cabin in swathes of Alcantara.
Of course, the aerodynamic performance of the 765LT is key to the car's on-track abilities, but also optimises its higher-speed road driving behaviour. The extended front splitter and active rear wing ­– which stands 60 mm higher than on a 720S – work in conjunction with the carbon fibre floor, door blades and the extended rear diffuser to deliver 25% more aerodynamic downforce than the latter.
And what about stopping power? The newcomer comes equipped with the latest generation carbon-ceramic discs with calipers from the McLaren Senna, which are equipped with F1-inspired integrated cooling technology that the Woking-based firm claims reduces brake-pad temperatures by up 50C during track driving to ensure consistency of pedal feel and, of course, braking performance.
Not just speed, feel and fury too...
But for all of the 765LT's astonishing technology and lightweight construction, driving aficionados may appreciate the small detail improvements McLaren has made to its big-daddy Longtail the most…
The newcomer's electro-hydraulic assisted setup endures, but it has been further honed with a quicker ratio and a stiffer torsion bar for improved feedback. What's more, a new "limit downshift" transmission function has been introduced to allow a driver to over-rev their 765LT – a little – by allowing the engine revs to "bounce" momentarily on the rev-limiter before a lower gear is engaged.
Stiffer engine mounts are used not only to meet dynamic performance targets, but also to increase the physical engagement with the V8 powertrain. They effectively radiate the engine's low-frequency sounds into the cabin. "Every change in rpm is amplified, not only to occupants' ears but also as a feeling through the seats because low-frequency sounds can be both heard and felt," McLaren says.
The "highly intense, emotional connection" between driver and machine is further enhanced through the unique full-titanium, quad-exit exhaust… The pipe diameter increases the exhaust volume, while the relative position of each pipe delivers the precise harmonic content required to create a high-pitched, engaging note that becomes sharper as it builds to an incredible crescendo at high engine revs.
Related content:
McLaren Speedtail Breaks 403 kph in Testing
McLaren 620R Is a Road-Legal Racecar