McLaren has unleashed a new hybrid supercar! Meet the Artura!
McLaren is renowned for producing beautiful and very fast supercars and the brand's latest reveal, the Artura, remains true to the brand while also pushing the boundaries ever outwards in terms of design and performance.
The Artura is McLaren's first series production High-Performance Hybrid (HPH) supercar and it's built on the new McLaren Carbon Lightweight Architecture (MCLA) which has resulted in the lightest dry weight of 1 395 kg (kerb weight of 1 498 kg) with a said class-leading power-to-weight ratio of 359 kW per ton.
The Artura is powered by an all-new twin-turbocharged 3.0-litre V6 petrol engine that develops 430 kW and 585 Nm of torque. This engine combines with a 70 kW electric motor that produces an additional 225 Nm. The Artura is equipped with a new 8-speed dual-clutch transmission.
While McLaren has yet to validate final acceleration figures, it's said that the Artura will accelerate from zero to 100 kph in no less than 3.0 seconds flat and will reach 200 kph in just 8.3 seconds and 300 kph in 21.5 seconds. Top speed limited to 330 kph. The Artura also boasts an electronically-controlled differential (E-diff), a first for McLaren, which independently controls torque distribution at the rear axle which ultimately enhances traction during cornering while an integrated rear spoiler provides the necessary downforce.
The electric motor uses a 7.4 kWh battery pack with 5 lithium-ion modules which allow the Artura to travel in pure electric mode for at least 30 km. Using a standard EVSE cable, the Artura's battery can be charged up to 80% capacity in 2.5 hours.
A new rear suspension system is also fitted, featuring a top upper wishbone with 2 lower links and a tie rod which maximises stability and precision while also reducing understeer when accelerating out of a corner. The Artura rides on next-generation Pirelli P Zero Corsa tyres with a technology called Pirelli Cyber Tyre, which includes a 'chip' that provides real-time data to the Artura's stability control system in an effort to optimise tyre performance.
Interior Features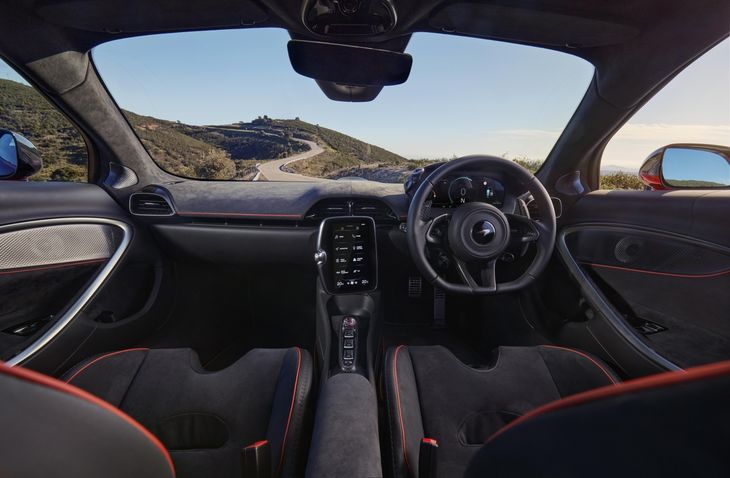 The Artura places the focus on the driver with all the basics close at hand.
As for the interior, the cabin is focussed around the driver and the driver can change driving modes on the steering wheel and can choose between E-mode (electric driving), Comfort, Sport and Track.
The Artura also showcases a new Clubsport seat design which combines the range of motion of a moveable backrest and with the lightweight support of a bucket seat. The whole seat pivots through an elliptical arc when adjusted and provides under-thigh support, height adjustment and backrest movement in one movement. Comfort seats are also offered.
The infotainment system, MIS II, uses 2 high-definition screens that deliver high levels of responsiveness. Smartphone mirroring is possible. Users can also access McLaren's apps including McLaren Track Telemetry and Variable Drift Control. The instrument binnacle features a redesigned navigation map and only features key information to minimise distraction. Stealth mode further hides non-essential information to promote full driver concentration.
Do you like the look of this new McLaren Artura?
Related Content
McLaren Sabre is a US-Only Supercar
McLaren Announces New Electrified Platform