With the official unveiling of the turbocharged Mazda3 derivative only days away, the peak outputs of the new flagship of the premium hatch range have already been revealed by Mazda Mexico. The newcomer's motor may not be that powerful, but it certainly is torquey! Here's how its headline figures stack up with those of its rivals...
Since the retirement of its Mazda3 MPS in 2013, the Hiroshima-based firm has not marketed a family-car-based performance derivative, although driver engagement remains an important part of the brand's DNA, as embodied in the previous World Car of the Year winner, the Mazda MX-5. The introduction of turbocharging in the 4th-generation Mazda3 – a finalist in the premium hatch category of the 2019/20 #CarsAwards, powered by WesBank – has raised hopes that the brand will soon rejoin the hot-hatch melee.
After all, the prospect of a 2.5-litre turbopetrol engine being bolted into the stylish Mazda3 evokes memories of the 2nd-generation forced-induction 2.3-litre Mazda3 MPS that the Japanese firm briefly produced at the beginning of the previous decade (it was briefly offered in South Africa, back when Mazda was still under the custodianship of Ford).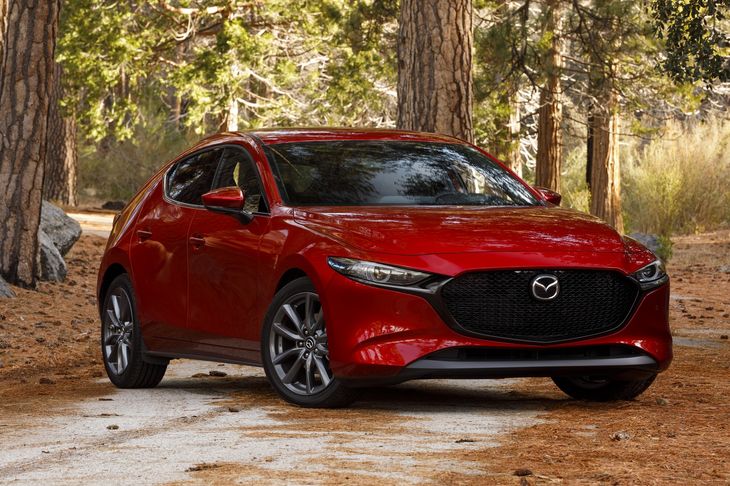 The new Mazda3 flagship won't look much different, apart from more gloss black exterior details, including 18-inch alloys.
What's more, Mazda will combine the 2.5-litre turbopetrol engine with an all-wheel drivetrain (as it did with the 2.3-litre turbo motor in the 1st-generation Mazda3 MPS), although this is not a new development for the Japanese brand – it already offers the CX-5 family car, Mazda6 sedan and CX-9 crossover with that configuration in some markets.
For the South African market, however, in which the 2.0-litre naturally aspirated motor in the top-of-the-range 2.0 Astina develops middling outputs of 121 kW and 213 Nm (and 2.5-litre naturally aspirated Mazda3 derivatives aren't offered), the prospect of a new 2.5-litre turbocharged derivative, which some sites believed would be good for 186 kW and 420 Nm (as we previously reported) is certainly a tantalising one, even if few believe that there is a realistic chance of Mazda resurrecting its MPS nameplate...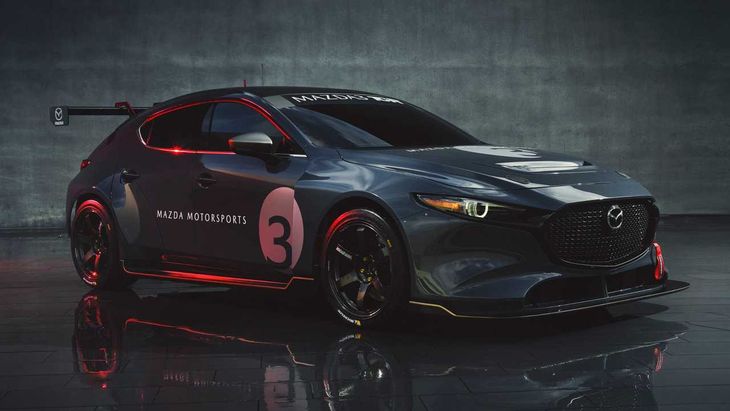 Hot hatch aficionados were hoping the newcomer would resemble a TCR race car, but Mazda has other plans.
By some inexplicable oversight, Mazda Mexico has now pre-empted the official media announcement of the turbocharged 2.5-litre all-wheel-drive Mazda3 by announcing the outputs of the newcomer as well as its (market-specific) specifications in a video presentation. While the new flagship derivative looks virtually identical to its 2.0 Astina sibling and its maximum output is less than expected (170 kW), the peak torque figure is right on the money: 420 Nm... and that should certainly bother its hot hatch rivals.
To put those numbers in context, here's what the market's headlining hot hatches produce:
According to Mazda Mexico, the turbocharged 2.5-litre all-wheel-drive Mazda3 will be equipped with a 6-speed automatic transmission with manual mode, supplemented by steering-wheel-mounted shift paddles. It will be available in that market in S Grand Touring and Signature derivatives; feature automatically activated LED headlamps, as well as gloss-black grille, -side-mirror housings and -18-inch alloys on the outside. Standard interior features will include, inter alia: full leather trim, a sunroof, an Apple CarPlay and Android Auto-compatible infotainment system, including a 12-speaker Bose audio setup, self-dipping rear and side-view mirrors, a reverse-view camera and rear PDC.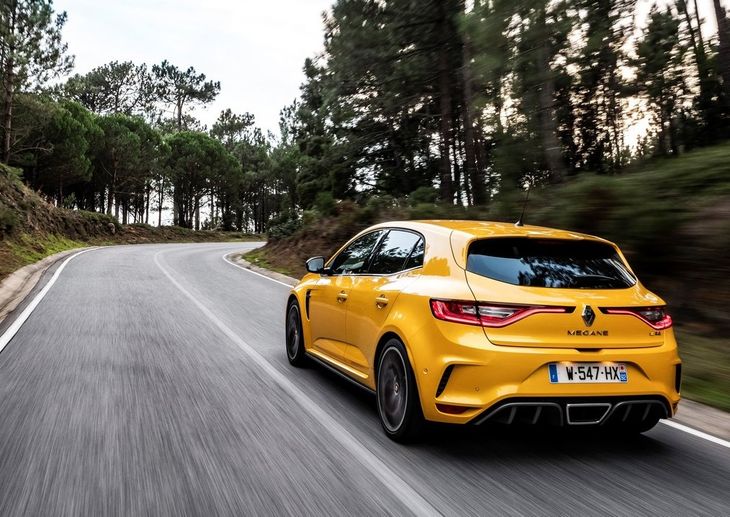 The Mazda3 2.5T AWD might not have a track-tuned suspension, but it produces as much torque as the Renault Megane RS 300 Trophy.
So, given the local market's predilection for hot hatchbacks, which explains why the Volkswagen Golf GTI has outsold its lesser 7.5-generation siblings by a ratio of about 4 to 1 and Hyundai and Honda offer the i30 N and Civic Type R in South Africa – but no other derivatives of those cars' respective ranges – it stands to reason that Mazda would be well served by introducing a hot hatch version of the Mazda3 in the local market. The newcomer just about matches the outgoing Golf GTI for peak power, but its peak torque figure eclipses those of all the current (admittedly front-wheel-drive) hot hatch contenders, apart from the extremely low-volume Renault Megane RS 300 Trophy Automatic.
However, Mazda3 is purposely not positioning its new Mazda3 as a hot hatch; there are no elaborately flared wheel arches or bulging side skirts; no motorsport-inspired bumpers with gaping air intakes and faux diffusers, no tailgate spoiler and additional large-bore exhaust tips. Instead, it's a luxuriously-equipped flagship derivative with a decidedly sporty bent. Remember that in other markets, the Mazda's all-wheel-drive configuration could improve its selling proposition (such as in the harsh winter climate of North America) and its torque gain (by virtue of turbocharging the larger-capacity 4-cylinder engine), should improve drivability, in-gear acceleration and touring ability.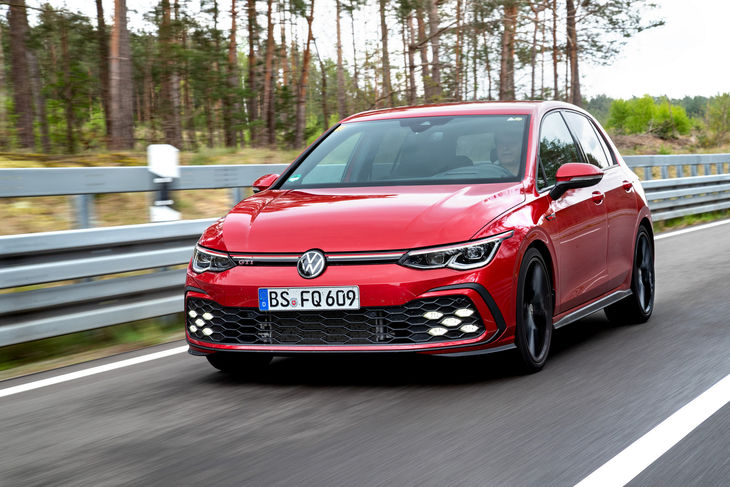 The new flagship Mazda3 produces 10 kW less than the upcoming Golf 8 GTI, but its product positioning is very similar.
What is undeniable, however, is that Mazda now has a solid platform from which it could develop a more hardcore performance derivative, should it ever want to bring back the MPS nameplate, for example. Who knows, the Hiroshima-based brand might even produce a version that will go head to head with the 245-kW, all-wheel-drive Golf 8 R.
As soon as we receive info about the newcomer's likelihood of being introduced in South Africa (it does not look all that promising, seeing as the current line-up ends with the 2.0-litre version), we'll be sure to let you know.
Related content:
Mazda Plans Straight-6 Engines
Volkswagen Golf 8 GTI officially revealed