Mazda recently bolstered its Mazda2 compact hatchback lineup with the addition of a highly-specced 1.5 Individual Plus Automatic derivative. We recently had it on test and this is what we thought of it…
We like: Interior and exterior styling, lots of standard features, comfortable ride
We don't like: Engine labours under hard acceleration and lacks punch, no stability control.
Alternatives
Bang-for-buck: Consider the Renault Clio 88 kW Turbo Expression Automatic priced at R264 900. A healthy 190 Nm of torque is on offer from its 4-cylinder 1.2-litre turbopetrol engine and like the Mazda2, it employs a 6-speed automatic transmission. The Clio was updated earlier this year, so it's fresh and ready to woo you with its vibrant French looks. If you want something sportier, then the Clio 88 kW GT-Line is going for the same price with more torque at 205 Nm, but you will have to settle for a manual transmission. Either way, it's good bang-for-buck.
The safe, if pricey, bet: Consider the Volkswagen Polo 1.2 TSI Automatic priced at R292 300. Just bear in mind that the all-new Polo is expected to make landfall early in 2018 and the current car's 1.2-litre turbo engine might be replaced with a 1.5-litre turbocharged unit (yet to be confirmed for SA). Nonetheless, the Polo 1.2 TSI is a safe, if pricey, bet... just take account that its standard specification is not as comprehensive as the Mazda2's (it does have ESC, for example).
Rio grande: Consider the recently launched, all-new Kia Rio 1.4 Tec Automatic priced at R287 995. It closely matches the Mazda2 on features and price and is similarly equipped with a naturally aspirated engine offering 74 kW and 135 Nm of torque and mated to a decidedly old-school 4-speed automatic transmission.
Compare the Mazda2 1.5 Individual Plus automatic with the Renault Clio 88 kW Turbo Expression Automatic and the Volkswagen Polo 1.2 TSI Highline Automatic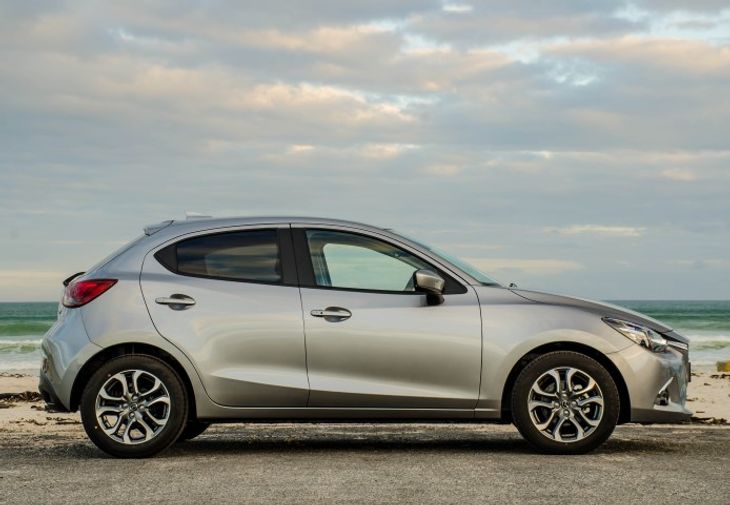 Cute, capable and full of features, the Mazda2 Individual Plus Automatic has much to offer.
Facts & Figures
Price: R286 200 (June 2017)
Engine: Naturally-aspirated 1.5-litre
Power: 82 kW
Torque: 145 Nm
Transmission: 6-speed automatic
Fuel consumption: 5.7 L/100 km
0-100 kph: 10.4 seconds
Top Speed: 184 kph
Where does it fit in?
There are now 7 Mazda2 derivatives on offer and this 1.5 Individual Plus automatic is the most feature-rich, petrol-powered Mazda2 available, slotting in below the range-topping 1.5 DE Hazumi diesel automatic. The Mazda2 sells relatively well in South Africa and competes in a hotly contested segment against formidable rivals such as the Volkswagen Polo, Ford Fiesta, Renault Clio, Kia Rio and Hyundai i20. Should you consider this new high-spec Mazda2 Individual Plus automatic over its rivals? Let's find out...
The Good
Kerb appeal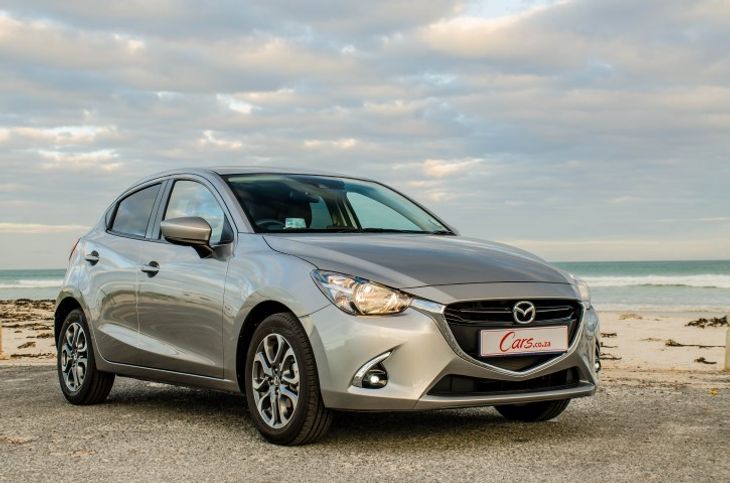 Attractive exterior styling and a modern, well-built interior have contributed to the Mazda2's relative success in SA.

The Mazda2 is arguably one of the better looking compact hatchbacks in our market; it shares its Kodo design language with other Mazda products such as the CX-3, CX-5, Mazda3 and Mazda6. The Mazda2 offers a sophisticated and elegant look and rides on (standard) 16-inch alloy wheels. We like the Mazda2's styling, but any aesthetic appreciation is subjective.
Performance and ride quality

This Mazda2's propulsion comes courtesy of a naturally aspirated 82 kW/145 Nm 1.5-litre engine that drives the front wheels via a 6-speed auto transmission. The test unit's in-gear acceleration was linear and smooth; we found a driver could get the most from the power unit by steadily feeding in the throttle, but it's not a particularly entertaining way to drive.
Similarly, measured driving inputs enable the transmission to work through its gears unobtrusively and the driver can execute manual shifts by using the steering-wheel-mounted paddles. What's more, performance can be sharpened further by flicking the "Sport" switch found on the centre console, but, in truth, we found the difference to be barely perceptible.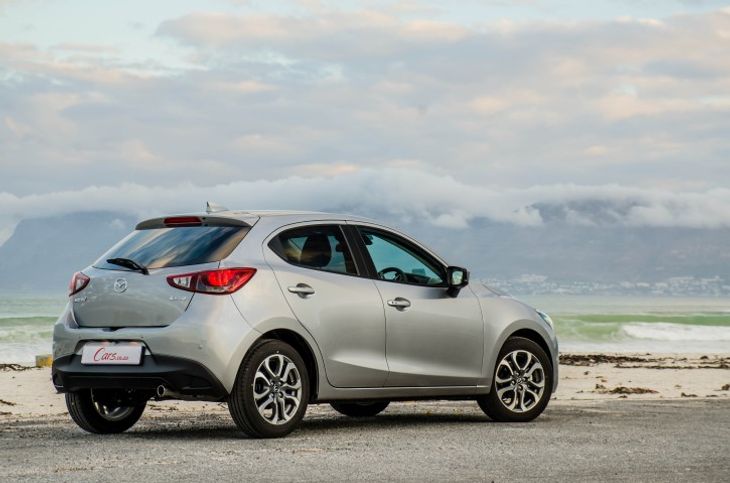 Performance is adequate, but the 1.5-litre naturally aspirated engine can't match the punchiness offered by the Mazda2's rivals.
Meanwhile, despite riding on larger-than-average wheels and a suspension predisposition that is sportier than most cars in its segment, the Mazda delivers a comfortable ride quality. The suspension copes well over bumpier surfaces, yet it's just firm enough to endow the Mazda2 with an immersive, sure-footed driving experience.
In terms of fuel consumption, Mazda claims 5.7 L/100 km and during our test period, the fuel consumption monitor returned an average figure of 6.8 L/100km, which is acceptable.
Interior quality and features
The Mazda2's cabin is attractively styled with a premium look and feel. There are some welcome soft-touch surfaces and the quality of the switchgear and general build quality is good. The instrument cluster has a sporty look to it and an adjustable heads-up display provides information such as speed, navigational information and safety alerts without having to take your eyes off the road. This is a feature that none of the Mazda's direct rivals can match.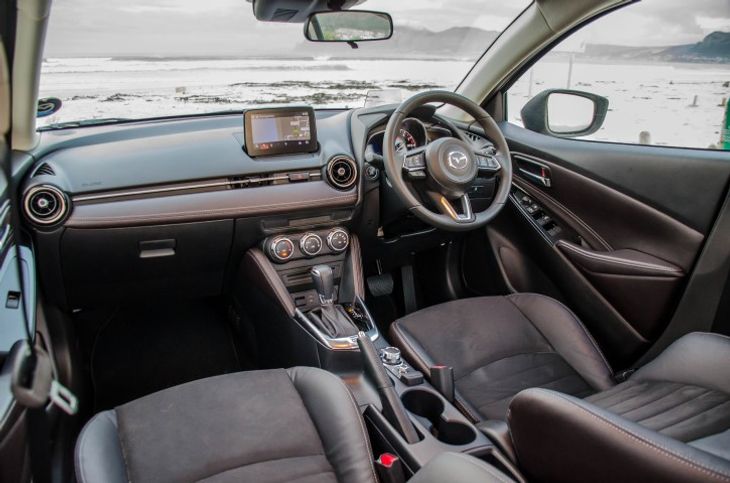 The Mazda2 Individual Plus' minimalist interior is both comfortable and well-stocked with features.

The seats (upholstered in a combination of leather and cloth) are reasonably comfortable, but some testers found them a bit too firm. A 7-inch floating touchscreen infotainment system is fitted, which can also be controlled using the rotating dial in the centre console, and its menu layout is intuitive to use. Navigation is standard and the system easily syncs with your smartphone via Bluetooth, which can then be controlled using the steering mounted controls. You will be happy to know that 2 USB ports, as well as an auxiliary port, are standard,
Other standard features on this derivative include cruise control, climate control, electric windows, electrically folding side mirrors and a rake and reach adjustable steering wheel,
The bad
Practicality could be better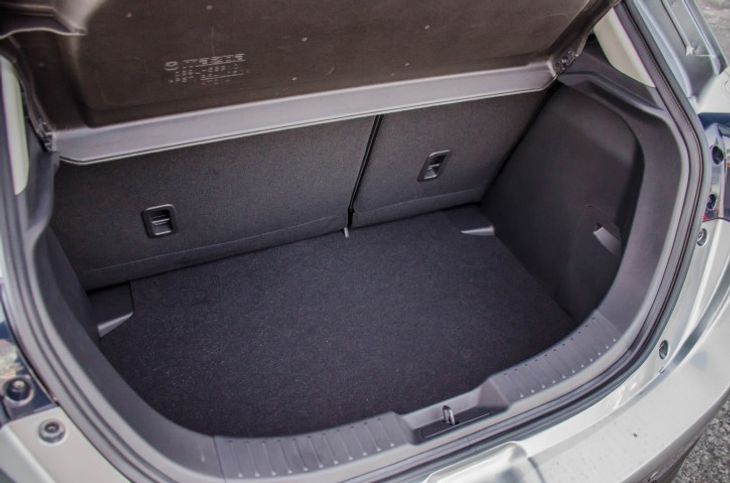 Luggage space is on the small side, but more space is available once the 60:40 split rear seats are folded down.
The Mazda2's luggage bay is claimed to offer 280 litres of space, which is the same purported for the Polo and marginally larger than that claimed for the Fiesta (276 litres). By comparison, the Kia Rio offers a notably more sizable luggage bay (325 litres) and even the Renault Clio (300 litres) and Hyundai i20 (294 litres) are more capacious.
Because the Mazda2 is on the smaller side of the spectrum in terms of luggage capacity, it may deter buyers who require more practicality from their compact hatchback. The rear seatback can, however, be folded down in a 60:40 configuration to accommodate larger items. All the door mouldings have bottle holders and 2 front cup holders are also included for the front passengers. Leg- and headroom for rear passengers are just about adequate, but taller passengers may start experiencing bouts of claustrophobia, especially on longer journeys.
Does not like to be hustled
Mazda claims a leisurely 10.4 seconds for the 0 to 100 kph sprint, but under full acceleration, the engine sounds anything but relaxed. It labours and becomes noticeably louder while the transmission hangs onto each gear, squeezing every ounce of acceleration from the engine. You get the sense that this Mazda2 automatic doesn't like to be driven hard.
Good safety spec, but...
There is a plethora of safety features in the 1.5 Individual Plus, including 6 airbags, ABS with EBD, brake assist and lane departure warning. Rear park distance control with a reverse camera is also standard and ISOfix child seat mounting points are fitted. Curiously, Electronic Stability Control (ESC) is missing, which is a pity on car that costs close to R300k.
Price and warranty
The Mazda2 1.5 Individual Plus Automatic is priced at R286 200 and is sold with a 3-year/unlimited km warranty and a 3-year/unlimited km service plan.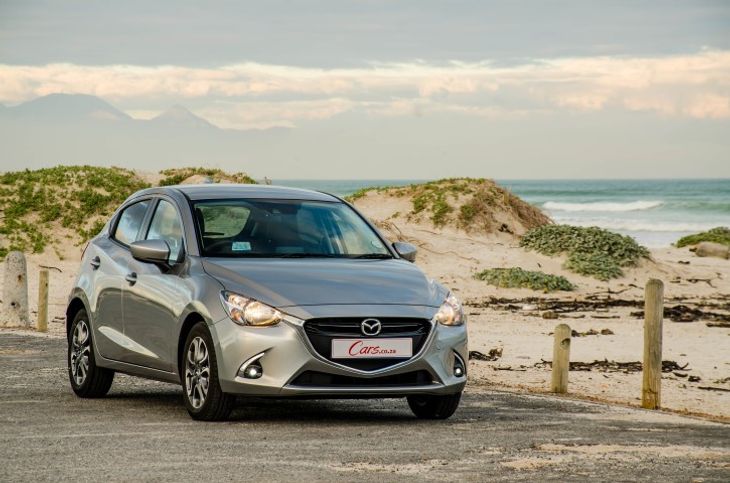 Verdict
Overall, the Mazda2 1.5 Individual Plus Automatic is a well-packaged product; it is almost ideal for those who want a self-shifting, luxuriously-equipped compact hatchback. It may not be the most spacious or punchy offering in its segment, but the Mazda2 has enough charm and sophistication to warrant your attention – it's packed with features that its rivals can't quite match. We found it delivers sufficient performance for both city and highway driving, although it lacks a degree of excitement and zesty punch that some of its turbocharged rivals offer. Having said that, if outright performance isn't a priority for you, then the Mazda2 Individual Plus automatic has much to offer.
Related content:
Extended Test: Mazda2 1.5 DE Hazumi [with Video]
Mazda2 1.5 DE Hazumi (2016) Review
Mazda2 1.5 Dynamic (2015) Review
Preview: 2018 VW Polo vs 2018 Ford Fiesta
6 Rivals the 2018 Volkswagen Polo Needs to Beat
New Volkswagen Polo Finally Revealed
Facelifted Renault Clio (2016) First Drive
Want to buy a Mazda2?