The Mazda2 has been a firm favourite across the globe, but has been in need of a replacement for a while now. Thankfully as part of Mazda South Africa's rebranding strategy we've seen a whole host of new and facelifted models make a welcome return to the market (read our Mazda6 review). The Mazda2 has already won Car of the Year in Japan so there's no doubting Mazda has put together a good product, but has it got the specification right for the South African market? We got to grips with it over the course of a week's test.
New Stuff
It's an all-new car for 2015 and Mazda has adopted a very different strategy to other manufacturers in the segment. Mazda has gone with a naturally-aspirated petrol engine that spearheads fun performance where everyone else in the segment seems to be focusing on economy. The interior has a new infotainment system that's controlled either by touch or by a rotary knob in the centre stack behind the gear lever. This sort of setup is usually reserved for premium German cars so that's an impressive upgrade Mazda has managed to implement across the range. Styling has obviously changed and the Mazda2 looks quite athletic and sporty for a B-segment hatchback.
Engine
Our petrol unit in the Dynamic spec Mazda2 is an 82 kW, 145 Nm 1.5-Litre engine. The petrol engine claims 5.5L/100km, but over the week we had it on test we saw 7.1L/100km, but there's a reason for that. The naturally aspirated engine loves to be revved and rewards you with excellent performance when you drive spiritedly. Unfortunately that has a negative effect on fuel consumption. It's a fun engine combined with a smooth shifting six-speed gearbox that will sprint to 100kph in a claimed 8.7 seconds. That's miles quicker than any other car in this segment – cementing Mazda's plan to offer exciting cars to the public. Those performance figures make the Mazda2 the
fastest accelerating car in South Africa for under 200k
.
Interior
The Dynamic spec model we have here is essentially a bottom to mid-spec Mazda2, but as mentioned it still comes with the seven-inch touchscreen infotainment system. The system is easy to use and intuitive, and it also has all the modern day amenities such as Bluetooth, USB and an Aux jack. On the styling side the Mazda2 interior is smart, it's bathed in black with soft touch materials, but there is the odd bit of nasty black plastic. The centre console in particular degrades the interior and doesn't feel particularly solid. Overall though it's impressive and space inside is excellent, especially for rear passengers who have a healthy amount of legroom.
Safety wise the Mazda2 covers all the essentials with things like ABS, EBD and Brake Assist as standard features. It's also equipped with driver and passenger airbags. Further up the range there are more airbags available as well as stability control.
Ride and Drive
This is the section where Mazda aims to please and the Mazda2 does it in a unique way. You feel when you start to push the Mazda2 that it was built to be entertaining to drive, a driver's car. Its high revving engine also accentuates the experience. Send it through a few switchbacks, or sharp bends and the Mazda2 absolutely loves it. You can really push on and derive a lot of pleasure from the driving experience. The ride is a bit stiff so potholes and harsh bumps in the road tend to crash into the cabin, but it's not something you can't live with. The steering is decent too and feels well-weighted, providing good feel for what's happening underneath you.
Verdict
The Mazda2 showcases a different take on what a small hatchback can be. It's fun to drive like no other in the segment and its naturally aspirated, high revving engine adds to the fun factor. The interior is modern and well equipped with most of the latest technologies we've come to expect in a modern city runabout. There are some small iffy questions about a few of the materials used in the cabin, but nothing to be overly concerned about. If you're looking for a B-segment hatch, that's a little cheeky and more than just an A to B shuffler then the Mazda2 will be right up your street, and the best news is that it's well priced, too.
Mazda2 Price in South Africa
You can step into a Mazda2 for as little as R188 000. Our test unit here costs R199 900 and has just about everything you need. If you want a few more interior features and some nice wheels then you can step up to the Individual range that starts at R211 400. Top-of-the-range is the 1.5 Hazumi turbodiesel model that's a bit more expensive at R259 900.
Second Opinion
The Mazda2 is Mazda at its best. It's a small car packed with big car features at a price that undercuts its key rivals. The infotainment system on the Dynamic model is a highlight and in terms of performance, the naturally-aspirated engine is perky, with fun handling to match. The downsides are few, but odd nonetheless; you can't have park distance control or leather seats at all, even if you want to pay for them. However between this and the Ford Fiesta, its my pick of the segment.- Ciro De Siena
We Like: Fun factor, high revving engine and driving dynamics
We dislike: Interior materials scratchy in places
Also try: Volkswagen Polo, Ford Fiesta, Hyundai i20, Renault Clio and Kia Rio.
Compare the Mazda2 with its competitors here!
Mazda2 Quick Specs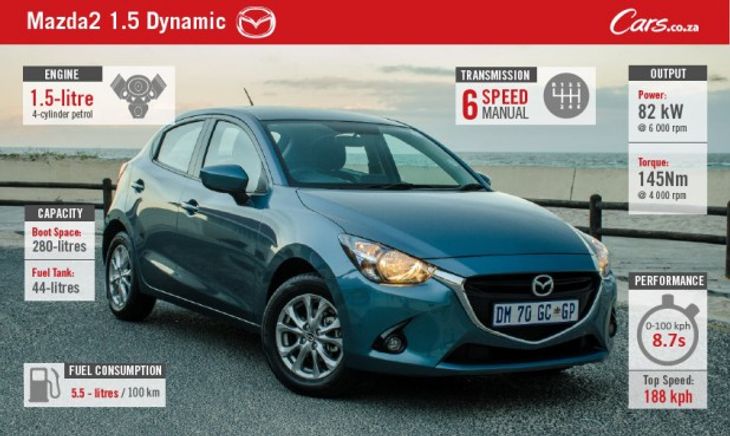 Buying Advice: New Mazda2 (Video)